A DraftKings Reignmakers Craft And Burn Review: It's Easier Than You Think
Sponsored by DraftKings
Your cards will never go stale with Craft & Burn, an exciting way to refresh your deck on DraftKings Reignmakers.
In this post, we'll look at Craft & Burn and how to exchange your old cards for new cards.
We've teamed up with DraftKings to cover everything from how the system works to tiers of rarity, how to get cards and more. Plus, even the bigger questions, like defining Daily Fantasy Sports.
If you haven't had the chance to read the first review, please do so right here. This Reignmakers Craft & Burn article is supplementary.
Since we really enjoy Reignmakers, we're working with DraftKings to give you a free pack just for signing up at this link.
Now, let's learn to craft & burn!
Sign-up To DraftKings Reignmakers to get your free starter pack.
First, what is DraftKings Reignmakers?
To understand why you need to Craft & Burn, you need a general feel for DraftKings Reignmakers and how it works. While we encourage you to read our full article, here's a summary.
DraftKings Reignmakers combines daily fantasy sports and sports card collecting in a refreshing way that allows collectors to build decks and then use players they have cards of to compete for cash prizes in Reignmakers contest.
The cards, which are officially licensed by the NFLPA, UFC and PGA Tour all represent players that owners can draft in fantasy contests throughout the year.
Sign-up To DraftKings Reignmakers to get your free starter pack.
Like traditional DFS, the athletes score points based on their in-game performance.
And you don't have to have a huge deck of digital cards to win. According to DraftKings, "There are a wide variety of fantasy contests posted in the Reignmakers lobby that cater to participants with both large and small Reignmakers' player card collections. "
Another win for Reignmakers? There's no entry fee for Reignmakers contests provided you own enough cards to complete a lineup.
Here's our full DraftKings Reignmakers review video.
Why would you want to Craft and Burn and how does it work?

Imagine if you could turn all your old base cards into a new pack of cards? It's sort of the same concept.
Craft & Burn is designed to prevent your old cards from going stale.
You can "burn" the cards/collectibles that you own in your DraftKings portfolio while following a Craft & Burn recipe. Then, as DraftKings explains, "once you have filled each requirement slot you can submit those collectibles to be burned in return for crafting a specific reward.
Once they're burned, the items you gave up will be out of the total circulation for the cards. It's not "catch and release" back into the pull, so to speak, but rather "burning" them forever.
Here's our in-depth video to show you everything you need to know about Craft & Burn.
Sign-up To DraftKings Reignmakers to get your free starter pack.
Where do you find Craft and Burn?
It's easy. When you're logged into Reignmakers, just go to "My Cards." You'll see a menu that gives you three options: Cards, Packs, Craft & Burn. Pick the last one, and you're good to go.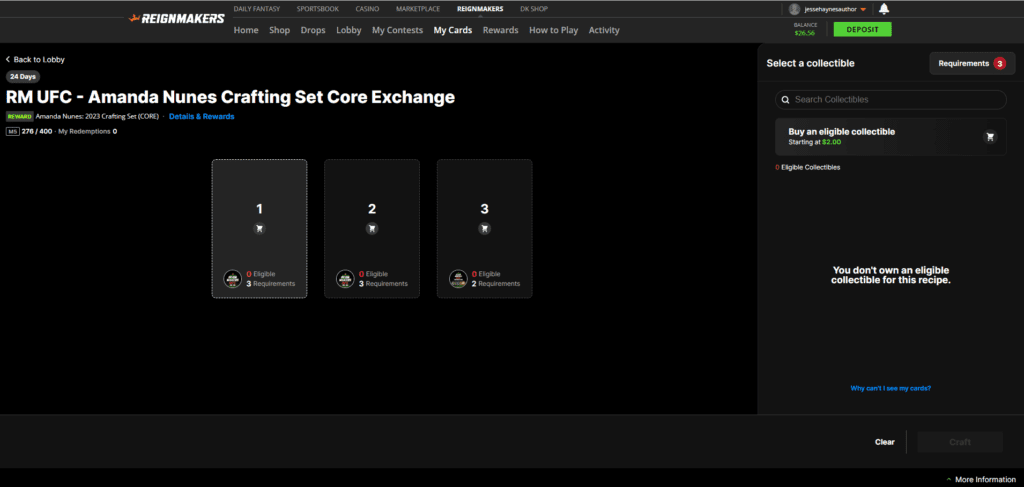 DraftKings Reignmakers Craft & Burn Tokens
To Craft & Burn, most recipes require a Craft & Burn Token.
These are tokens that are color-coordinated by tier and used in recipes. To figure out what kind of token you need, simply click on the recipe in the Craft & Burn menu and look at the requirements.
Here's DraftKing's full description: To complete a crafting recipe, you must add eligible editions for all of the inputs shown on the recipe page. Then confirm you want to burn your collectibles in exchange for your reward. When you submit your collectibles to be burned, those collectibles will be permanently removed from your Marketplace portfolio.
Each crafting recipe has a required number of inputs you'll need to fill out before completing and receiving the recipe reward. The number of inputs for completion may vary across different recipes.
Not all the Craft & Burn recipes require tokens. In our sample video, we turned a card of a PGA player that wasn't playing in the upcoming event into one who was — no token required. But if you need one, there are a few things that you need to know.
Sign-up To DraftKings Reignmakers to get your free starter pack.
Where to find Craft and Burn Tokens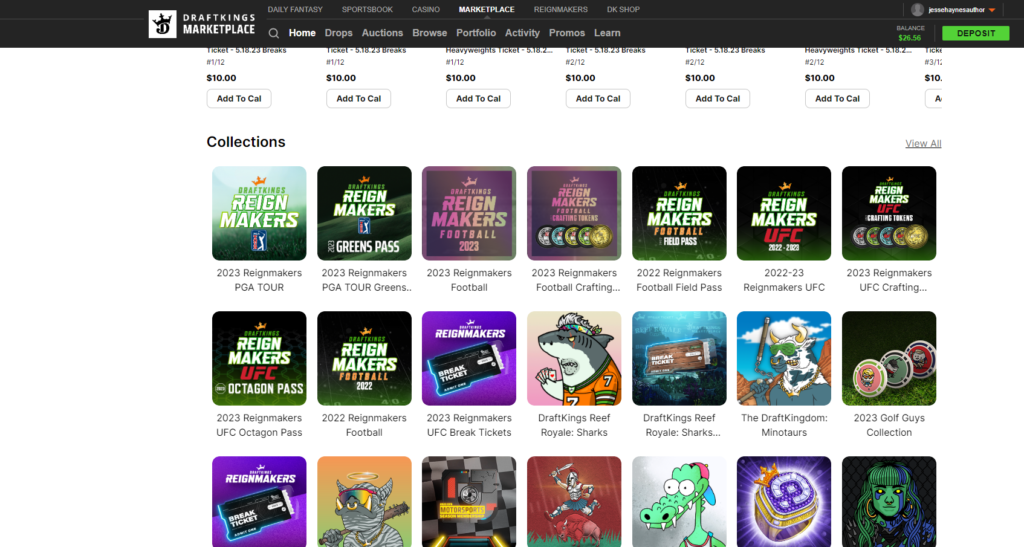 Finding Craft and Burn tokens is easy. Just click on Marketplace and scroll down to the "collections," where you'll be able to select Craft and Burn tokens by sport.
Note that each Crafting Token comes in tiers of rarity, just like the cards themselves. To make certain recipes, you'll need tokens of different tiers. And they cost different amounts, too!
Here's an example of the different pricing for the different tiers of football tokens upon writing this article (May 16):
Core: $2.19
Rare: $10.53
Elite: $45
Legendary: $280
Reignmaker: $1,769
Clearly, crafting can be very expensive based on the tier you're using, but if you have cards in the tier, it's only a small price to pay for the potential winnings.
Sign-up To DraftKings Reignmakers to get your free starter pack.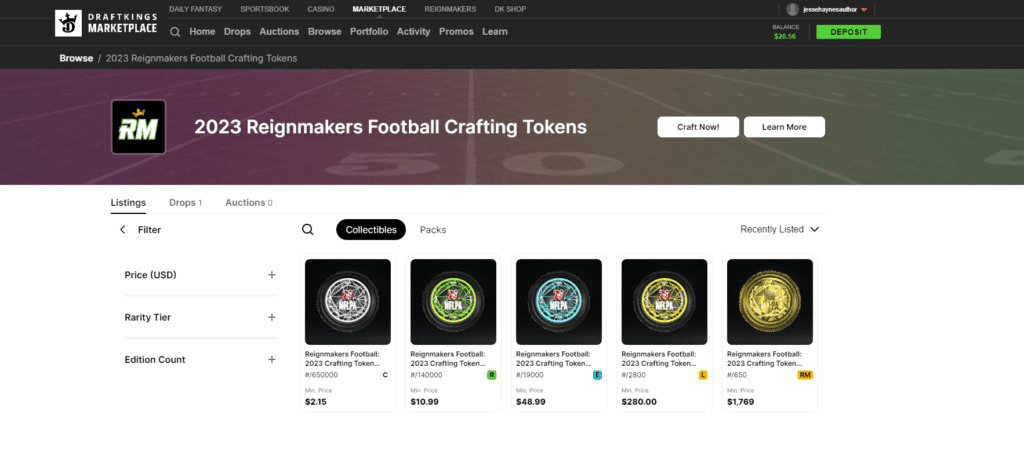 Conclusion: Crafting and Burning is easy and valuable
Confession time: when I started writing this article, I was a bit intimidated. I thought Craft and Burn was going to be complicated and confusing.
It's not.
Thankfully, DraftKings does a great job of making it easy and straightforward — a valuable skill to understand for competing in Reighmakers contests.
Remember, if you sign up today using this link, you'll get a free pack, on us. Try out Reignmakers for yourself and let us know what you think on Twitter @card_lines. And don't forget to sign-up for our free newsletter!
Now, go make it Reign.
Sign-up To DraftKings Reignmakers to get your free starter pack.