Are Fractional Share Marketplaces Worth It?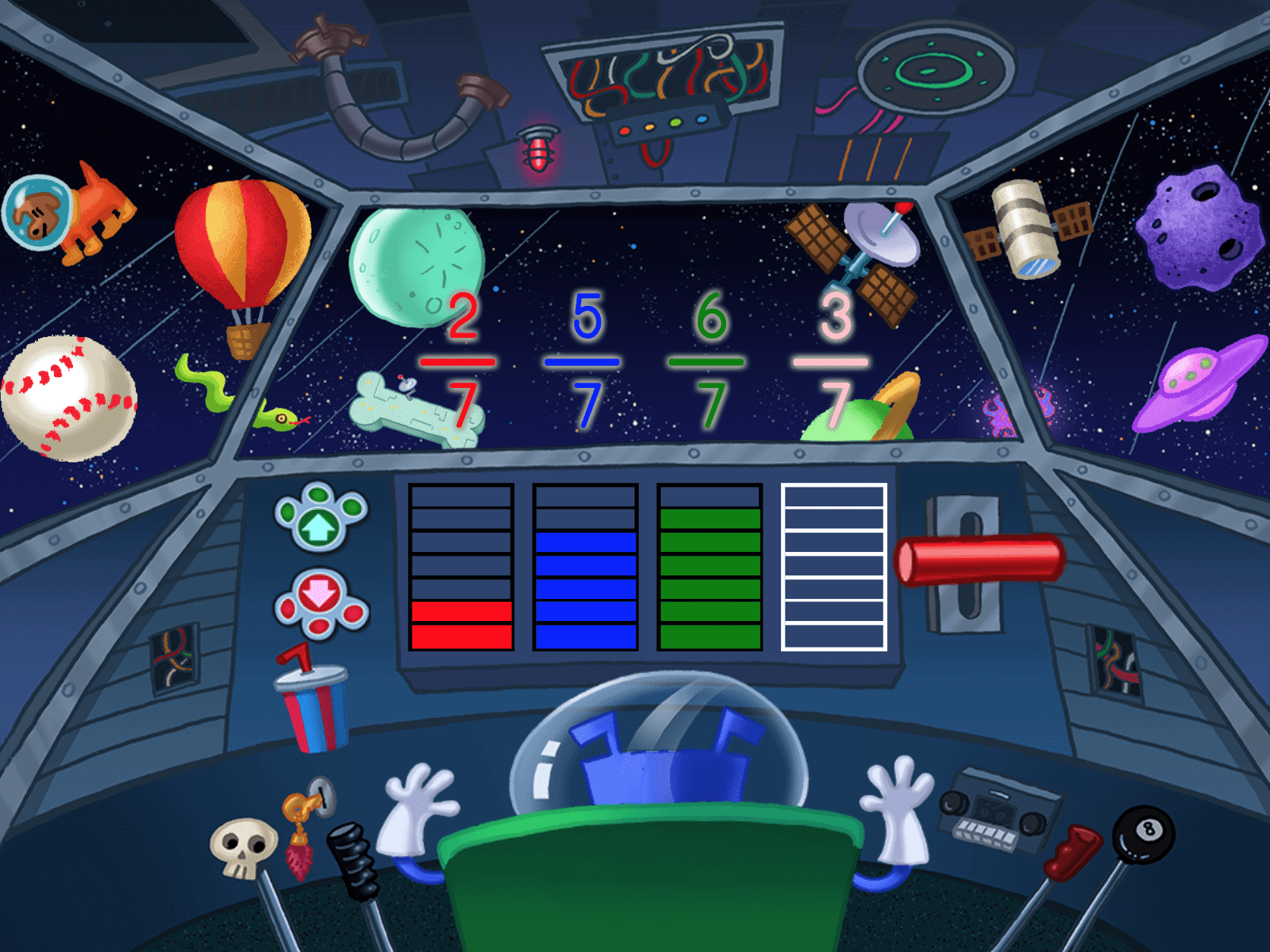 Fractional share marketplaces are making a stir in the collecting world. So, what is the idea behind them?
If you like a particular company and want to invest in them, you don't buy the company—you buy its stock. Owning stock is the equivalent of owning a small percentage of a company and the only way it's affordable.
The new fractional share marketplaces cropping up online share a similar principle. These sites allow sports card collectors to own a fraction of a big-ticket card or memorabilia piece—one which can cost hundreds of thousands of dollars.
This post will examine the approach, the process and assess whether it provides value to you.
What Are Fractional Share Marketplaces?
While there are a few unique approaches to fractional share marketplaces, they all have the same goal: allowing the average fan access to historically significant sports cards and memorabilia.
The process involves breaking down a big-ticket item into shares and selling it to individual owners in affordable "shares."
Here's an example. The company acquires a game-used Michael Jordan NBA finals jersey worth $200,000. They sell 20,000 shares at $10. A year later, the same jersey is worth $300,000, and the shares are worth $15 apiece.
Collectors don't have to hold the shares for any particular amount of time, but if the company opts to sell the memorabilia piece (based on a vote amongst owners), they cash out the shares.
The concept is as close to stock trading for sports cards as there's ever been.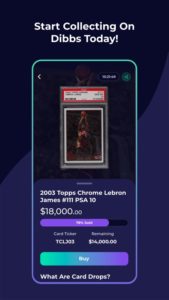 Where Can I Find Them?
Currently, there are four major players in the alternative investment market dealing with sports cards. Let's look at them, and their differences:
Collectable
Collectable has established itself as the most significant player in the early days of this market, focusing on sports cards and memorabilia. The owners tout their platform as one that can "make the top end of the market accessible to all and create affordable opportunities for buying and trading shares of iconic" sports cards and memorabilia pieces.
Thus far, everything Collectable has sold returned a positive ROI for the investors (ranging from 35-177%), and the company is expanding assets with new "IPOs" becoming increasingly more frequent. Everything on the Collectable website is valued at over $20K but made affordable by being split into shares.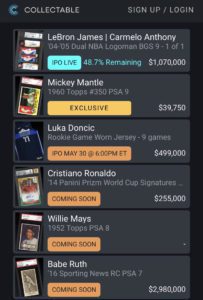 Dibbs
Dibbs focuses on sports cards exclusively, and although it's only in the Beta phase and accessible via early registration, it hopes to provide a unique approach to fractional shares. All the cards Dibbs owns are stored in a vault and converted into blockchain tokens. Therefore, collectors who buy shares of the card earn ownership of tokens physically backed by the physical card. If a collector acquires 100% of the tokens, he/she can opt to have the physical card sent their way instead.
While Dibbs offers some high-end cards, they're not all as expensive as what you'll find on Collectable, so this means eventually achieving total ownership is entirely possible. Or, if that's not the end goal for collectors, Dibbs provides a great way to diversify a collection and reduce risk.
Rally
Functioning similarly to Collectable, Rally deals with high-end collectibles. These items include—but are not limited to—sports cards.
Rally gathers its assets and turns them into a company, according to SEC standards. In other words, the SEC must approve every investment and upholds it. Once confirmed, the investor holds an IPO, allowing members to purchase shares and build a portfolio. After 90 days, investors can sell shares in-app or buy more shares during periodic "trading days," which occur through registered broker-dealers. In other words, you can only sell claims during specific times, unlike Dibbs and Otis.
Otis
Otis has embraced fractional ownership of "cultural assets," which includes cards, but it is not entirely sports-driven. All the Otis assets are securitized and registered with the SEC (U.S. Securities and Exchange Commission), before being broken into shares. You can buy and sell the shares 24/7.
Otis users can buy shares of their assets in either the IPO (or "asset funding stage," as they call it) or through trading once the percentage is on the Otis marketplace. Although Otis isn't exclusively into sports, it does allow for a variety of alternative investments.
How Do You Sell Your Share(s)?
Selling shares is a straightforward process on any of these sites/apps. With Dibbs and Otis, You can sell shares in real-time with a one-click process. Think along the lines of Robinhood or any other app-friendly stock trader.
With Collectable and Rally, the process is a little different.
To ensure liquidity, Collectable only allows trading between 3-4 PM EST on M-F. While that seems like a narrow window, the daily offering still provides plenty of time for collectors to move their shares. Plus, with a focus on retired players, Collectable cards are less likely to shift dramatically in price over the day, so real-time trading is better suited for Dibbs.
Rally follows the same structure, but instead of designated hours, trading takes place on designated days.
Are They Safe?
All three of these sites have taken necessary precautions to ensure buyers know precisely what they're getting. In many cases, this involves working with the SEC. Additionally, Dibbs provides the option to earn the physical card by owning all the digital tokens.
That said, please perform due diligence before investing in any of these sites/apps.
The SEC and Fractional Share Marketplaces
As we have mentioned, some of these companies work with the SEC. The SEC is a federal commission, charged with upholding the integrity of the stock market. One of their main missions is to protect investors from fraud. Therefore, a company that reports to the SEC must accurately report and distribute the earnings associated with your asset. Otherwise, they could face fines and jail time.
Each of the four companies we have profiled has its own arrangement with the SEC:
So our check shows that all four of these companies are registered with the SEC and they are overseen just like any other stock. However, we have concerns about Rally Inc. and suggest that our readers avoid them if possible. There are plenty of other options out there.
Do Fractional Cards Sell At A Premium?
Some investors have wondered if fractional shares sell at a premium. Or, perhaps, below market value?
The short answer is it's tough to tell.
The price of fractional cards corresponds to the value of the whole. Therefore, the major problem is how to price the entire card.
Why? For companies such as Collectable or Rally, the assets are high-end and there are few comps. Meanwhile, when they do sell, the market changes quickly. As a result, estimates are often inaccurate.
That said, on an app like Dibbs, many of the cards can be price-checked on eBay. The fractional price remains closely aligned to the overall value. More often than not, the fractions tend to sell at a slight premium because collectors who can't afford the total card will pay a bit more for part of it.
For example, say you split a Luka Doncic rookie selling for $5,000 on eBay into $100 shares. The value of each share should be $50 based on the selling price. However, Dibbs shares might go for $53-55/share—a slight markup.
Ready To Fractionally Invest?
If you visit an online forum, you'll probably encounter a good deal of collectors who push back against the idea of fractional shares. The criticism is predictable.
That said, all four sites described in this article have done well for themselves in the early days, and there's a reason for that: they're not necessarily targeting seasoned collectors. People who have been collecting for a long time—before there was ever much value in it, even—manage to do exactly that: enjoy their physical cards.
These apps cater to sports card enthusiasts looking to make some money off alternative investments. If it sounds interesting to you, be sure to check out each site, read the FAQs, and then give it a go!