Guide To 2022 Topps Series 2 Pitcher Rookies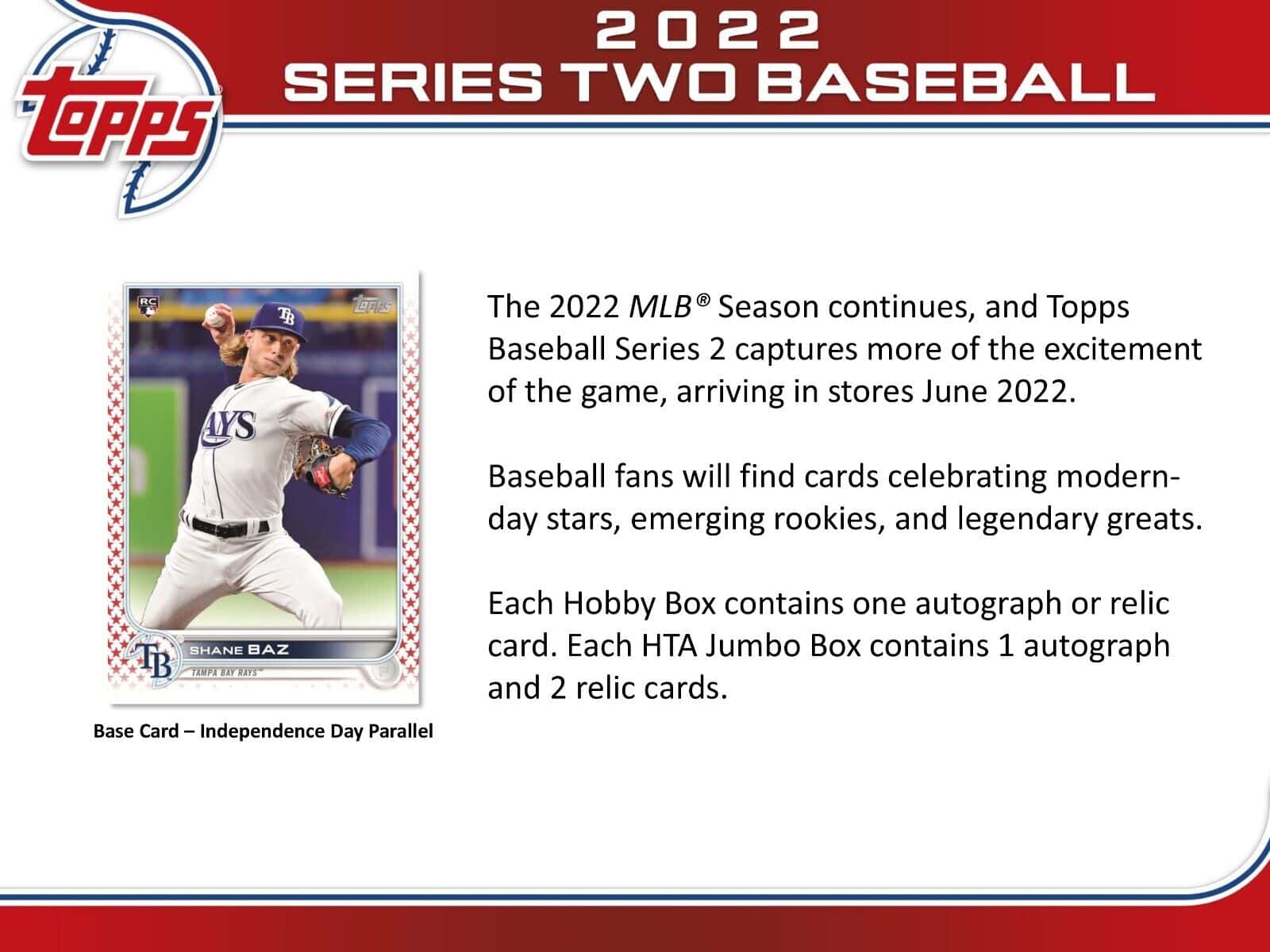 The checklist for the 2022 Topps Series 2 release is another disappointing one. In my rookie hitters breakdown, I mentioned a ton of rookie hitters I'm surprised didn't make the checklist. Now on my followup, the Guide To 2022 Topps Series 2 Pitcher Rookies, we see the same issue.
There are a few pitchers I expected to see, including Hunter Greene, Nick Lodolo, and MacKenzie Gore, but Topps did include a few top rookie pitchers in the checklist that are worth your attention. Those players make up my first tier.
Read: 2022 Topps baseball factory set
The Tiers Of Our Guide To 2022 Topps Series 2 Pitcher Rookies
Overall, there are 57 rookies in the 2022 Topps Series 2 release. I've broken all 33 pitchers down into the following tiers:
Pitchers with the most upside.
High risk/minimal confidence/low reward = may not be worth the headache.
Pitchers with little to no value in the hobby.
READ: 2022 Topps Update rookies
A Note On Collecting Pitchers

Keep in mind that the hobby generally prefers hitters to pitchers. However, there are a few that might be worth an investment. And, of course, Hall Of Fame pitchers are usually strong investments. My rule of thumb for pitchers is this: I'm not sure there are "pitchers worth ripping for," but the players in the first tier are the ones fans will be looking out for. Indeed, they may have the upside to compete with my second-tier hitters.
Tier One Of The Guide To 2022 Topps Series 2 Pitcher Rookies
Get 2022 Topps Series 2 blasters from eBay. 
Shane Baz, Tampa Bay Rays RHP (#421)
If you're wondering how the Rays feel about Baz, you need to look no further than how they used him in 2021. After just three big league starts, manager Kevin Cash handed the 22-year-old the ball in the playoffs. He didn't pitch great in that game, but the team is no less convinced that Baz will hold down a top rotation spot for many years. The right-hander has been sidelined with an injury but, just in time for the 2022 Topps Series 2 release, is set to make his 2022 debut later this week.
In his three regular-season starts last year, Baz's 80-grade fastball was among the best in the game by various advanced metrics. He touches 100 mph with his four-seamer and compliments it with a plus slider that induces a ton of whiffs. Baz is currently Baseball America's #6 prospect in MLB and the pitcher investors should be most excited about.
The Rays consistently are slow to promote their prospects, but after Baz earned a spot in the club's postseason rotation, he should be a key part of Tampa Bay's rotation in 2022 and beyond. He has front-of-the-rotation potential and the highest upside of any Rays starting pitching prospect in years, thanks to his rare combination of premium stuff plus control.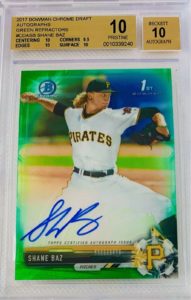 Shane Baz looks like the real deal. Will he be an ace? Look for his auto Bowmans on eBay. 
 Edward Cabrera, Miami Marlins RHP (#566)
He's only made two starts so far this season. Nonetheless, it's clear why Cabrera is hailed as one of the best arms in the Marlins' farm system. His first start in Colorado was a delightful surprise. He kept the Rockies scoreless on one hit, four walks, and nine strikeouts and collected 17 whiffs. These numbers would be incredible for any rookie pitcher, especially when done at Coors Field.
Cabrera works with a plus-plus fastball and mid-to-high-90s changeup. There are two question marks for me here: command and health. His second start highlighted Cabrera's difficulty finding the zone with his fastball and changeup. The pitcher even left some pitches over the heart of the plate. He's also dealt with his fair share of injuries, missing time with his back, shoulder, and biceps injuries.
Cabrera has plenty of upside to pitch in the middle of a rotation, but he needs to sharpen his command and fringe-average control to reach that ceiling.
 Joe Ryan, Minnesota Twins RHP (#390)
Ryan was one of the Twins' biggest surprises to start the season. He has even featured in the (way too early) 2022 AL Rookie of the Year sweepstakes. Ryan currently holds a 2.29 ERA, limits base runners, and induces a lot of soft contact from hitters. He gets more called strikes and whiffs on his four-seam fastball and slider than the average pitcher. Meanwhile, he's doing it on a team that looks like a legitimate contender. I'm not blown away by the metrics, but it's working well for Ryan and the Twins.
Ryan has always been a fastball-dominant pitcher. He used that pitch to power through the minors. While evaluators wanted to see him take strides with his secondaries, he continued to pitch overwhelmingly off his fastball (65.8%) with the Twins and continued to find success with it. The pitch has below-average velocity (91.2 mph) and spin, but a low slot and impressive carry up in the zone have allowed it to perplex and stymie hitters, nonetheless.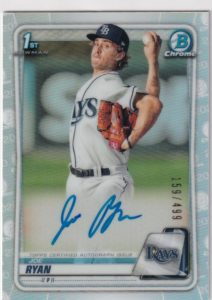 Joe Ryan is the best performer among this crop so far. Look for his Bowman autos on eBay.
 Roansy Contreras, Pittsburgh Pirates RHP (#543)
A trade from the New York Yankees to the Pittsburgh Pirates won't grab as much attention as its opposite. Nonetheless, Contreras took significant strides after arriving in Pittsburgh. His fastball has touched 98 mph. He has also been working on a wicked slider. The underlying metrics on Contreras look good. He's flying under the radar, but not for long.
The Pirates worked with Contreras to better sync the release point of his breaking balls with his fastball, unlocking more deception and improved spin rates on his curveball, which now tickles 2900 RPMs with better depth. Contreras' command can waver at times when he gets over-aggressive with his delivery, but his athleticism allows him to make necessary adjustments on the fly. The more significant concern from evaluators is whether the 6-foot Contreras can sustain both stuff and health against the rigors of a starter's workload for an entire season.
 Matt Brash, Seattle Mariners RHP (#561)
The hype around Brash coming into the season was off the charts. His first start lived up to the hype. Then, however, the wheels fell off when he began to walk more batters than he could strike out. The potential here is enticing, but the right-hander is back in the minor leagues and trying to work on his control. His fastball/slider combo is lethal, with Baseball America grading them as plus-plus (70) pitches.
However, because he pitched poorly in his last few starts, Brash was demoted to Triple-A. Therefore, some collectors may sell low on Brash. The question for me is, can he establish a quality third pitch along with better control? If not, he might be destined for the bullpen, pushing him down my list.
His high-spin, 93-97 mph fastball collects swings and misses in bunches, and his dastardly, mid-80s slider with power sweep and sharp dive is a plus-plus pitch that some observers grade an 80…Brash has some effort to his delivery, and his control can be scattered, leading to differing opinions on whether he projects best as a starter or reliever.
Tier Two Of The Guide To 2022 Topps Series 2 Pitcher Rookies
Joan Adon, Washington Nationals RHP (#360): Plus fastball with an above-average slider. However, his command struggles may push Adon into the bullpen.
Ryan Feltner, Colorado Rockies RHP (#373): Ryan has three good pitches (fastball, curveball, slider) and excellent command. However, he does not project to be an ace.
Jon Heasley, Kansas City Royals RHP (#430): His arsenal and command hover around average. However, Jon has been described as having a "bulldog mentality and extreme competitiveness." As Heasley develops, a strong competitive mentality may push him into a higher tier.
Glenn Otto, Texas Rangers RHP (#437): Good secondary pitches but a poor command. Therefore, Glenn will likely end up in the back end of the rotation.
Spencer Strider, Atlanta Braves RHP (#509): Plus-plus fastball and above-average slider. However, the lack of a third pitch may push him into a relief role.
Hans Crouse, Philadelphia Phillies RHP (#642): Former top prospect with three above-average pitches (fastball, slider, changeup), but injuries have been an issue.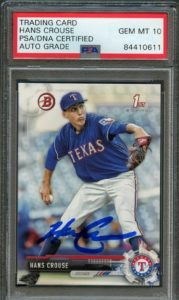 Hans Crouse cards may be a steal if he can get over injury problems. Look at the prices on eBay. 
Tier Three Of The Guide To 2022 Topps Series 2 Pitcher Rookies
Jhonathan Diaz, Los Angeles Angels LHP (#332)
Luis Frias, Arizona Diamondbacks RHP (#338)
Connor Overton, Pittsburgh Pirates RHP (#339)
Jovani Moran, Minnesota Twins LHP (#387)
Kervin Castro, San Francisco Giants RHP (#413)
Sean Guenther, Miami Marlins LHP (#471)
Austin Warren, Los Angeles Angels RHP (#495)
Mike Baumann, Baltimore Orioles RHP (#502)
Stephen Ridings, New York Yankees RHP (#516)
Marcos Diplán, Baltimore Orioles RHP (#517)
Cooper Criswell, Los Angeles Angels RHP (#521)
Connor Seabold, Boston Red Sox RHP (#524)
Packy Naughton, Los Angeles Angels LHP (#540)
Elvis Peguero, Los Angeles Angels RHP (#541)
A.J. Alexy, Texas Rangers RHP (#547)
Oliver Ortega, Los Angeles Angels RHP (#554)
Angel Zerpa, Kansas City Royals LHP (#559)
Janson Junk, Los Angeles Angels RHP (#594)
Reiver Sanmartin, Cincinnati Reds LHP (#619)
Charlie Barnes, Minnesota Twins LHP (#641)
Kutter Crawford, Boston Red Sox RHP (#645)
Justin Bruihl, Los Angeles Dodgers LHP (#658)
Do you disagree with Nicole on Kutter Crawford? Look for his cards on eBay.
Bottomline Of The Guide To 2022 Topps Series 2 Pitcher Rookies
Pitchers are rarely the top chase in a baseball product. 2022 Topps Series 2 is no exception. However, the presence of strong young pitchers means it may be worth picking up some cards on the cheap. The top tier has no less than 5 pitchers, and each may become a legitimate ace.