A Breakdown Of 2022 Topps Update Rookies [Updated]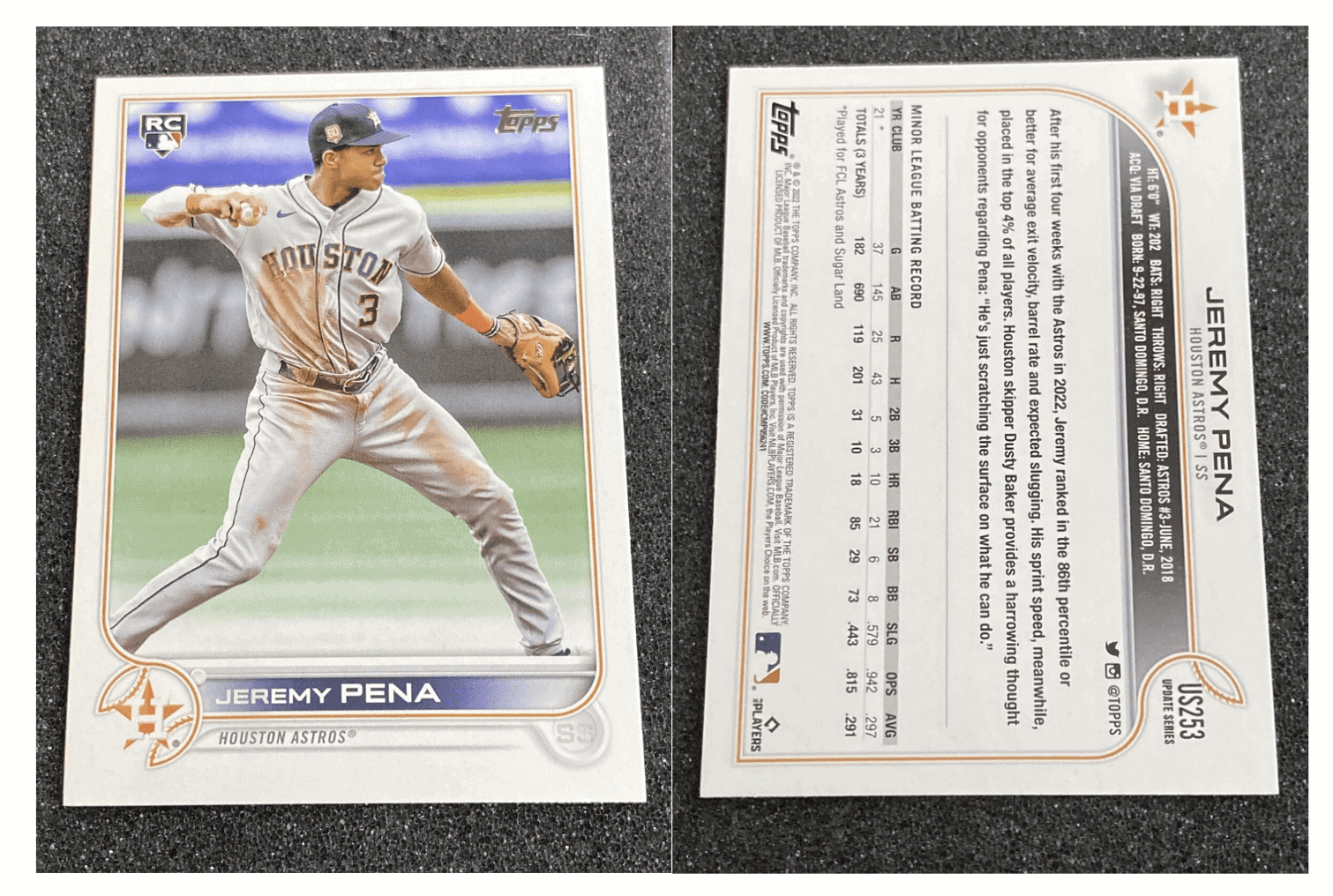 2022 Topps Update is set to hit shelves on Friday, October 28. CardLines is here to break down all 62 of the rookies in the checklist, giving you the analysis you should consider if you're going to rip a hobby box or want to invest in baseball's best young players.
Like I've done with previous Topps Baseball breakdowns, I'll use the following four tiers to rank the rookies in 2022 Topps Update:
Tier 1: Rookies worth ripping for.
Tier 2: Rookies I'm cautiously optimistic about.
Tier 3: Rookies with a higher risk than the potential reward.
Tier 4: Rookies with little to no value in the hobby.
There are 36 hitters and 26 pitchers with rookie cards in the base set. These 62 players are the ones I'll cover in this breakdown. The rookies I won't cover in this checklist are those with "rookie debut" or "rookie combo" cards. Here's why:
The players with rookie debut cards have their regular RCs in the Topps Update base set that I'm already covering (Spencer Torkelson, Steven Kwan, Bryson Stott), or their RCs are in Topps Series 1 or Series 2 (Wander Franco, Oneil Cruz, Vidal Bruján) and have already been analyzed.
The players with rookie combo cards are not worth investing in.
After the nonexistent short print controversy in the 2022 Topps Chrome release, collectors and investors should expect a much smoother release with 2022 Topps Update.
Below you'll find the players in my top tier, the rookies who offer the highest upside for investors. Check back next week to see where I rank the rest of the rookies in 2022 Topps Update.
Looking for 2023 Topps Rookie Rankings?
Tier 1: Rookies worth ripping for in 2022 Topps Update.
Spencer Torkelson, Detroit Tigers 1B (#US20)
| Spencer Torkelson | G | R | 2B | HR | RBI | BB% | K% | BA | OBP | SLG | OPS |
| --- | --- | --- | --- | --- | --- | --- | --- | --- | --- | --- | --- |
| 2021 (A,AA,AAA) | 121 | 89 | 29 | 30 | 91 | 14.5% | 21.5% | .267 | .383 | .552 | .935 |
| 2022 (AAA) | 35 | 18 | 6 | 5 | 18 | 14.8% | 26.5% | .229 | .348 | .389 | .738 |
| 2022 (MLB) | 110 | 38 | 16 | 8 | 28 | 9.2% | 24.5% | .203 | .285 | .319 | .604 |
Spencer Torkelson was one of the best hitters in college baseball during his time at Arizona State from 2018 to 2020. As a result, the Detroit Tigers drafted him with their No. 1 overall pick in the 2020 MLB Draft.
Torkelson's calling card is his 80-grade power, something investors love. The slugger also showed mature plate discipline in college and the minor leagues, making him a more complete hitter than most young sluggers in baseball.
The 2022 season didn't go like Torkelson and the Tigers would have hoped. After making the Opening Day roster, he struggled in the first half of the season and was demoted to Triple-A. He didn't demolish opposing pitchers in the minors like he had in 2021 but the team called him up in September anyways. There were some improvements, but he wasn't the slugger everyone was hoping to see in 2022.
Despite this, Torkelson still deserves your attention. You don't go from breaking Barry Bonds' home run records in college to forgetting how to hit. I think sometimes investors are too quick to cut bait on players whose expectations were sky high as a prep or college prospect.
We forget that this game is really hard and not everyone gets off to a blazing hot start. I'm confident that keeping him in Tier 1 is the right decision.
With strength in both physical appearance and performance, Torkelson punishes baseballs to all fields with 80-grade raw power and hits jaw-dropping home runs that demoralize opposing pitchers. More than just an all-or-nothing slugger, Torkelson complements his power with a polished eye for the strike zone, excellent hand-eye coordination and a mature approach that make him a plus hitter.

Baseball America
Check out prices for 2022 Topps Update Spencer Torkelson rookie card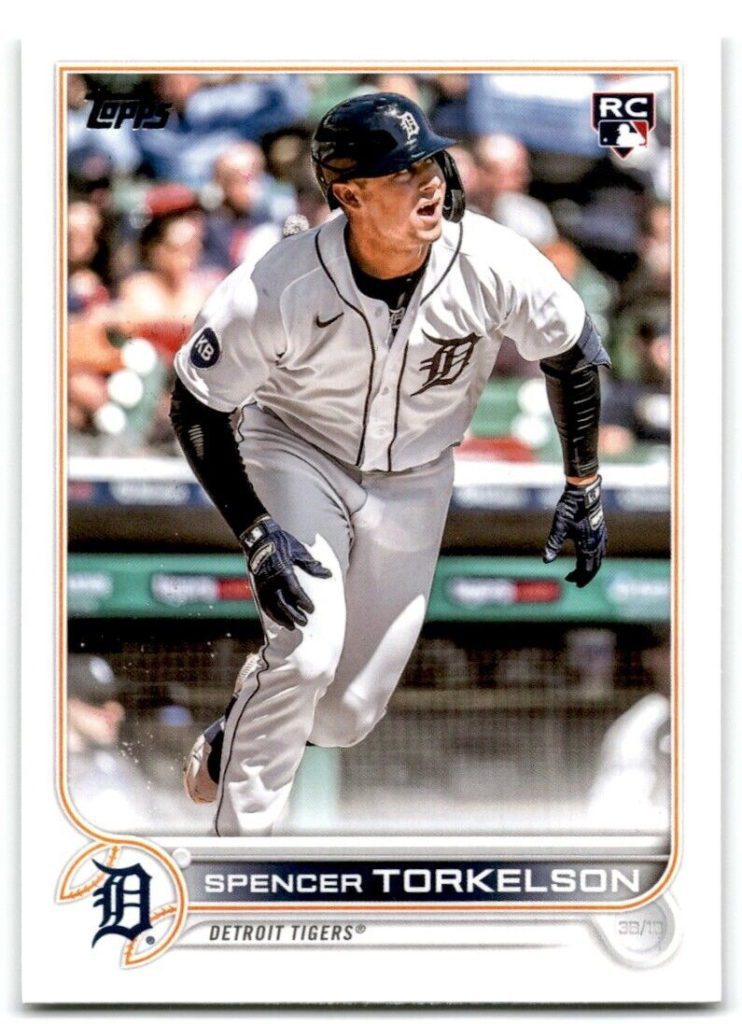 ---
CJ Abrams, Washington Nationals SS (#US34)
| CJ Abrams | G | R | 2B | HR | SB | BB% | K% | BA | OBP | SLG | OPS |
| --- | --- | --- | --- | --- | --- | --- | --- | --- | --- | --- | --- |
| 2019 (Rk,A) | 34 | 41 | 13 | 3 | 15 | 6.7% | 8.5% | .393 | .436 | .647 | 1.083 |
| 2021 (AA) | 42 | 26 | 14 | 2 | 13 | 8.2% | 19.7% | .296 | .363 | .420 | .782 |
| 2022 (AAA) | 38 | 42 | 6 | 7 | 14 | 5.4% | 17.7% | .310 | .360 | .480 | .840 |
| 2022 (MLB) | 90 | 33 | 12 | 2 | 7 | 1.7% | 16.6% | .246 | .280 | .324 | .604 |
CJ Abrams was the headliner of the package going from the San Diego Padres to the Washington Nationals in the Juan Soto trade. He has 80-grade speed, a plus-plus (70) hit tool, and surprising power for a shortstop.
He's an incredibly athletic and electric player, someone who can spray the ball all over the field and wreak havoc on the base paths. There's hope that Abrams will develop more power as he matures, with Baseball America noting that 20-homer seasons are "not out of the question" for the young shortstop.
Abrams' 2022 stat line won't convince you to invest in him, but I urge you to look beyond his early production. After getting traded to the Nationals, Abrams struggled for the first few weeks before settling in by September. During his final 28 games, he hit .314/.321/.410 with a hard-hit rate of 36% while striking out only 8% of the time.
The hard-hit and strikeout rates jump out to me as big improvements — before September, he sat at a 27% HardHit% and 21% K%. If he can continue to improve his plate discipline, he'll be a much more dangerous hitter and someone the Nationals can rely on in the leadoff spot.
Although he's far from a finished product, Abrams showed flashes of the player fans can expect to see in 2023 and beyond. The looming question is what kind of power he'll wind up having. If it's consistent double-digit home runs, Abrams can turn into a dynamic force for the Nationals.
When he is on the field, Abrams stands out for all the right reasons. He has a flat, fluid swing and elite hand-eye coordination…Abrams' frame is long and lean, but he's no slap hitter. He makes loud contact off the barrel and can drive the ball out to all fields. It's not out of the question for him to develop 20-home run power as he matures.

Baseball America
Find prices of CJ Abrams 2022 Topps Update rookie cvard on eBay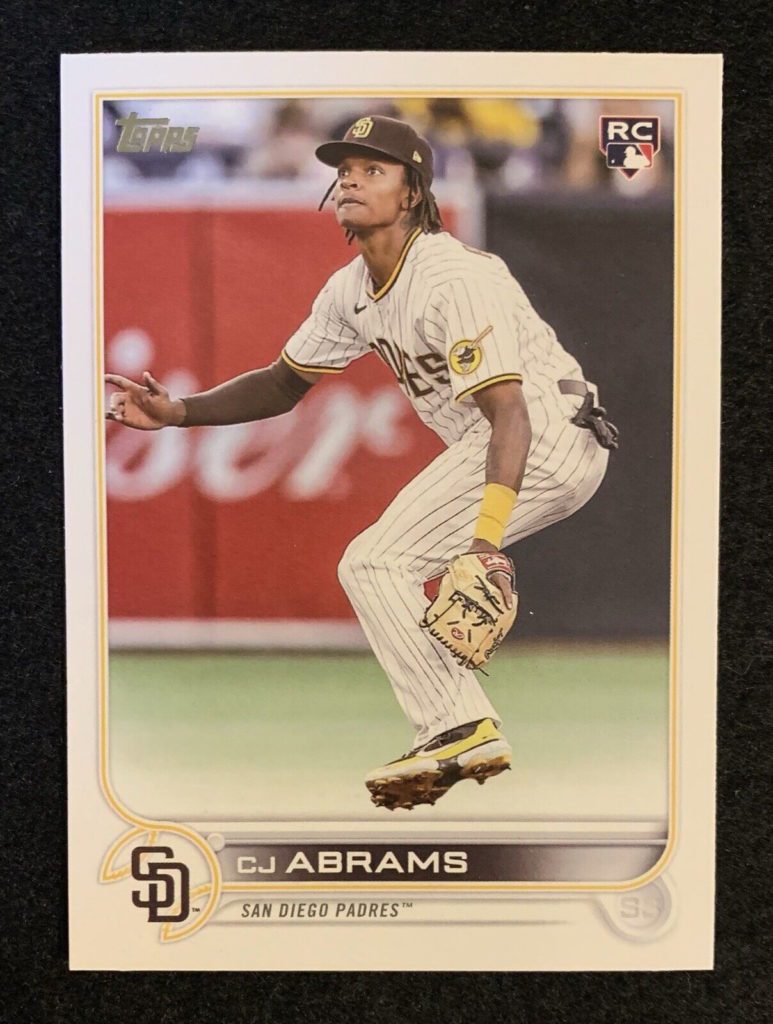 ---
Julio Rodríguez, Seattle Mariners CF (#US44)
| Julio Rodríguez | G | R | 2B | HR | SB | BB% | K% | BA | OBP | SLG | OPS |
| --- | --- | --- | --- | --- | --- | --- | --- | --- | --- | --- | --- |
| 2018 (Rk) | 59 | 50 | 13 | 5 | 10 | 11.8% | 15.7% | .315 | .404 | .525 | .929 |
| 2019 (A) | 84 | 63 | 26 | 12 | 1 | 6.8% | 20.7% | .326 | .390 | .540 | .929 |
| 2021 (A,AA) | 74 | 64 | 19 | 13 | 21 | 12.6% | 19.4% | .347 | .441 | .560 | 1.001 |
| 2022 (MLB) | 132 | 84 | 25 | 28 | 25 | 25.9% | 7.1% | .284 | .345 | .509 | .853 |
I'm not sure I have to convince anyone that Julio Rodríguez is worth your attention. He put up a fantastic rookie season that's sure to win him the 2022 AL Rookie of the Year Award, while also helping the Seattle Mariners break their 21-year playoff drought.
There's a laundry list of accomplishments from this season, including putting up the fourth-highest WAR among rookies in the past decade, reaching a 20/20 season in record time, and introducing himself to fans all over the country by hitting 81 long balls in the Home Run Derby.
Rodríguez was ranking Baseball America's No. 2 prospect coming into the 2022 season for a reason. He's a mature 21-year-old with five tools who is revered for his charisma and ability to lead a clubhouse.
His numbers were among the best in baseball this year, posting elite exit velocities, barrel rates, sprint speeds, and defensive metrics. With the perfect combination of skills, stats, and personality, it's not a stretch to say that Julio Rodríguez is captivating Seattle in 2022 like Ken Griffey Jr. did in 1989.
Rodriguez's talent and personality have him set to be not only the face of the Mariners franchise, but one of the faces of baseball. As long as he stays healthy, he projects to be a perennial all-star and MVP contender who competes for home run titles.

Baseball America
Shop for 2022 Topps Julio Rodriguez rookie cards n eBay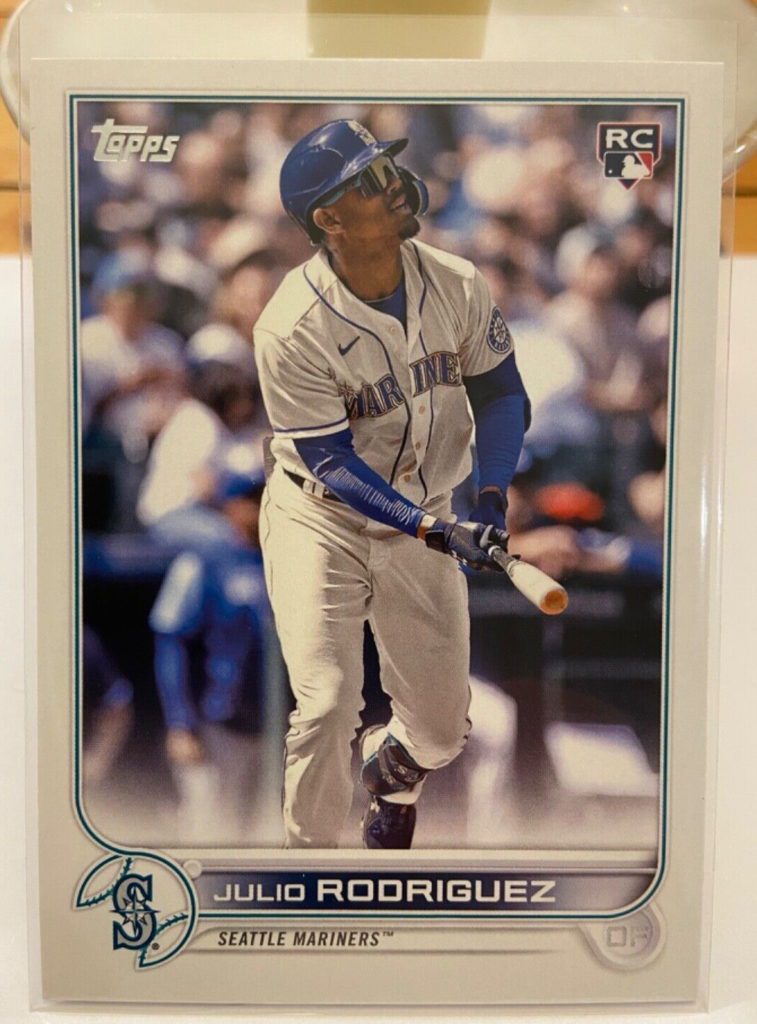 ---
Bobby Witt Jr., Kansas City Royals SS/3B (#US100)
| Bobby Witt Jr. | G | R | 2B | HR | SB | BB% | K% | BA | OBP | SLG | OPS |
| --- | --- | --- | --- | --- | --- | --- | --- | --- | --- | --- | --- |
| 2019 (Rk) | 37 | 30 | 2 | 1 | 9 | 7.2% | 19.4% | .262 | .317 | .354 | .670 |
| 2021 (AA,AAA) | 124 | 99 | 35 | 33 | 29 | 9.0% | 23.2% | .290 | .361 | .575 | .936 |
| 2022 (MLB) | 150 | 82 | 31 | 20 | 30 | 4.8% | 21.4% | .254 | .294 | .428 | .722 |
Although he's the son of a former big league pitcher, Bobby Witt Jr. didn't wind up on the mound. He's an infielder with a dynamic power/speed combination that's kept him at the top of prospect rankings since being drafted No. 2 overall by the Kansas City Royals in 2019.
The 21-year-old started his first full professional season at Double-A in 2021, crushing opposing pitchers and taking advantage of opposing catchers. The Royals quickly promoted him to Triple-A where he regularly faced pitchers who were more than five years his senior. He continued to dominate opponents, earning himself Baseball America's Minor League Player of the Year Award.
Witt grades out at plus or better in every category, with scouts noting his ability to take advantage of his athleticism and instincts. He was in the early conversation for AL Rookie of the Year before Julio Rodríguez took off, but Witt's season shouldn't be overlooked. Witt led all rookies with 30 stolen bases, 57 extra-base hits, and 80 RBIs. He also became the fifth rookie ever to hit 20+ home runs and 30+ stolen bases.
Despite a great freshman campaign, there's still room to grow. Cleaning up his approach at the plate would serve Witt well, who chased pitches out of the zone at a much higher rate than the league average. As a player gets more experience at the big league level, plate discipline can improve.
Laying off pitches out of the zone while putting good swings on pitches he can drive will also improve his quality of contact, which hovered around the 47th percentile in 2022. I'd also be remiss to point out Witt's defensive troubles, but this matters much less to investors than it does for the Royals.
Witt checks all of the boxes for a true five-tool player, with all of his tools grading plus or better. What really makes him special is his cognitive ability and unique baseball instincts that allow him to simplify the game… He projects to be a franchise cornerstone who impacts games at the plate, on the bases and in the field.

Baseball America
Shop for Bobby Witt Jr. 2022 Topps Update rookie cards on eBay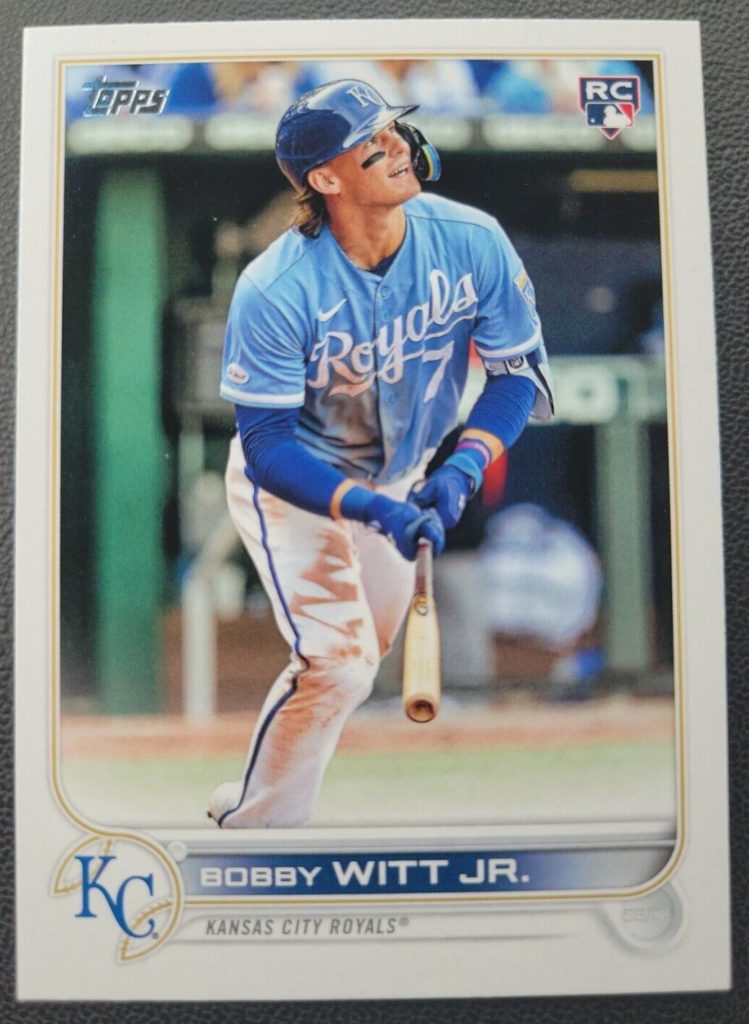 ---
Jeremy Peña, Houston Astros SS (#US253)
| Jeremy Peña | G | R | 2B | HR | SB | BB% | K% | BA | OBP | SLG | OPS |
| --- | --- | --- | --- | --- | --- | --- | --- | --- | --- | --- | --- |
| 2018 (A) | 36 | 22 | 5 | 1 | 3 | 11.5% | 12.2% | .250 | .340 | .309 | .649 |
| 2019 (A) | 109 | 72 | 21 | 7 | 20 | 9.9% | 19.0% | .303 | .385 | .440 | .825 |
| 2021 (AAA) | 37 | 25 | 5 | 10 | 6 | 5.0% | 25.6% | .297 | .363 | .579 | .942 |
| 2022 (MLB) | 136 | 72 | 20 | 22 | 11 | 3.9% | 24.2% | .253 | .289 | .426 | .715 |
I've been impressed with Jeremy Peña's rookie season, writing in early September that I liked him from a long-term investment standpoint. After watching him erupt in the postseason, I'm more confident than ever.
Peña dealt with doubters before he even stepped on the big league diamond because he was expected to fill the shoes of long-term Houston Astros shortstop Carlos Correa. He quickly silenced those doubts by flashing elite speed and defense, while also holding his own at the plate.
Based on his regular season production and underlying metrics, Peña can take a step forward in 2023 by refining his plate discipline. He was in the 4th percentile in walk rate, 8th in chase rate, and 18th in whiff rate. When he made contact, a lot of it was ground balls to the pull side. In the postseason, however, he looks like a different hitter.
Against the Mariners in the ALDS, Peña went 4-for-16 with the series-winning home run in the 18th inning of Game 3. His performance against the Yankees in the ALCS, Peña went 6-for-17 with two doubles and two home runs.
This earned him the AL Championship Series MVP and the chance to play in the World Series during his rookie year. It's also put the 25-year-old shortstop on the map, making him the most popular investment according to ALT.
Pena is making the offensive strides and showing a power surge that will make him an everyday major league option…Pena's body and build have generated praise from across the sport, but he has not sacrificed plus defense at shortstop, where he shows one of the organization's best infield arms.

Baseball America
Shop for Jeremy Pena rookie cards from 2022 Topps Update here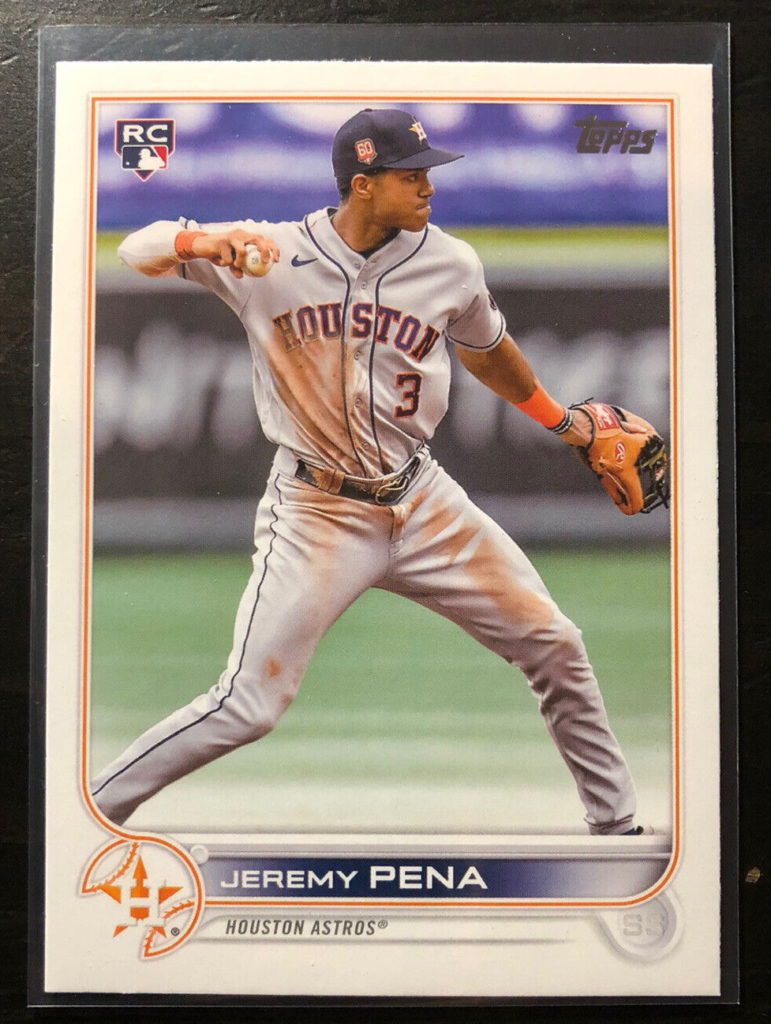 ---
Tier 2: Rookies I'm cautiously optimistic about.
MacKenzie Gore, Washington Nationals LHP (#US81)
Pitchers are a finnicky thing, especially in the card investment world. MacKenzie Gore is a prime example. He was the third overall pick by the San Diego Padres in the 2017 MLB Draft, had a fantastic season at High-A in 2019, and was the top pitching prospect going into 2020. But then the pandemic cancelled the minor league season in 2020 and Gore returned in 2021 and struggled mightily.
Much of Gore's struggles at the alternate training site in 2020 and in Triple-A in 2021 were, according to scouts, because of mechanical issues. His command had generally been shaky, so losing his mechanics sent him spirally. Fortunately, Gore rectified those issues by the end of the season and look more like himself — a lefthander with a fastball that flirts with triple digits and three above average secondary pitches.
Gore made his debut with the Padres in 2022 before dealing with an elbow injury that, understandably, made early investors nervous. His 1st Bowman Chrome Autograph peaked at $545 in mid-June before plummeting to $119 just two months later.
Despite the injury, the Washington Nationals were confident in both Gore's long-term health and potential as an ace. He was the other major prospect they received in the Juan Soto trade. He didn't end up pitching for the Nationals in 2022, who opted to take his recovery slow.
Gore has the biggest risk of any player in this tier, but all the public information on Gore remains positive. That, plus his upside as a potential ace went into my decision to place him in Tier 2 rather than Tier 3.
---
Royce Lewis, Minnesota Twins SS (#US105)
Royce Lewis, shortstop with above-average tools across the board, was the No. 1 overall draft pick in 2017. He had an impressive trio of tools in solid contact skills, impressive raw power, and blazing speed. He played well in the lower levels of the minor leagues but struggled at both High- and Double-A in 2019. But then in the Arizona Fall League, the offseason league for top prospects, Lewis went on a tear and earned himself the 2019 AFL MVP.
Since then, Lewis' professional career has been marred by injuries. He missed all of the 2021 season with a torn ACL in his knee. When he returned in 2022, he played well enough in Triple-A to earn himself a big league debut. He played well in his few weeks with the Twins but suffered another season-ending ACL injury in just his 12th game.
Health has been the biggest hurdle for Lewis, who was primed to take over the shortstop position if Carlos Correa opts to become a free agent in a few weeks, so the injury was a huge blow to the Twins' top prospect. In my opinion, the Twins' offseason moves will determine how investors should approach Royce Lewis:
If the team signs a veteran shortstop to a one-year deal, this likely means they still see Royce Lewis as their long-term shortstop. This would make me more comfortable as an investor.
However, if the team signs one of the bigger free agents (think: Correa, Xander Bogaerts, Dansby Swanson, Trea Turner) to a large, long-term deal, this may mean they're uncertain about Royce Lewis' health or ability to stick at shortstop going forward. This would make me much more hesitant as an investor.
For these reasons, Royce Lewis is someone I'd consider snagging if I could buy low. He's not my first choice or someone I'd seek out for a high price tag, however. If the Twins take the former avenue (short-term, veteran shortstop), Lewis will remain in Tier 2; if the team takes the latter road (long-term, top shortstop), I'd move Lewis down to Tier 3.
---
Hunter Greene, Cincinnati Reds RHP (#US160)
Next to flamethrower in the dictionary should be a photo of Hunter Greene. The 23-year-old's average fastball velocity is 99 mph, the best in all of baseball. At worst, it's a plus-plus (70) pitch, but some scouts have it at the top of the 20-80 scale as an 80-grade pitch. Greene has thrown 337 pitches at 100 mph or faster, the most of any starting pitcher since pitch tracking began in 2008. He did so in just 24 starts. For context, the second-most in 300 by Jacob deGrom in 209 starts.
The Cincinnati Reds selected Greene, then a two-way player, with the No. 2 pick in the 2017 MLB Draft. They preferred him on the mound rather than at shortstop, a decision that looks like the right one in hindsight. He missed significant time after undergoing Tommy John surgery in 2019 and dealing with a cancelled 2020 season because of the pandemic.
When Greene is at his best, he's a dominant force that is nearly unhittable. There are two issues, however, that kept me from sliding Greene into the top tier: control struggles and his propensity for giving up home runs. A mid-May game captured the first point completely. He no-hit the Pirates through 7 1/3 innings, walking five and striking out nine. No hits and nine strikeouts will play, but five walks won't. Towards the end of the season, however, his control improved and gives me hope he can both consistently limit walks and keep pitches out of the heart of the zone.
On the surface, the home run problem is puzzling. 17 of Green's 24 home runs allowed came on the fastball. How does a pitcher with the fastest four-seam fastball give up the third-most home runs on that pitch? Although his fastball has elite speed, it doesn't have elite spin or movement. This, as many people have noted, makes his fastball look flat and predictable to the hitter.
The upside is incredible, but there's a sizable risk involved with Greene. The answer? Baseball America's J.J. Cooper says it well:
But the conundrum that Greene has always faced remains true. He has to figure out a way to generate more movement on his fastball or add some deception. The other alternative is he needs to figure out a way to sit at 100 mph or harder. That may be doable as a reliever, but so far that's been impossible for any starting pitcher. —J.J. Cooper, Baseball America
---
Bryson Stott, Philadelphia Phillies SS/2B (#US224)
Rookie shortstop Bryson Stott is on the biggest stage of his life at just 25-year-old. His Philadelphia Phillies snuck into the postseason and find themselves in the 2022 World Series. After three fantastic years at UNLV, Stott was a first-round pick in the 2019 MLB Draft. He played well in the minor leagues, including holding his own at three different levels in 2021.
Stott made the 2022 Opening Day roster but struggled in the first half, leading to a demotion to Triple-A early on. He hit a big walk-off home run in June just days after the Phillies fired the manager. Both the team's and Stott's second half were much better, and both now find themselves just a few wins away from history.
I wavered with where to put Stott, and ultimately went with Tier 2 rather than Tier 3. Stott is a power/speed threat with a good track record and, although his rookie numbers weren't magnificent, he made strides in the second half. Plus, he's one swing away from turning himself into a World Series star.
---
Tier 3: Rookies with a higher risk than the potential reward.
Jose Miranda, Minnesota Twins 1B/3B (#US120): Miranda put together a solid rookie campaign with the Twins, hitting 15 home runs in 125 games. His hit and power tools carry him, with Baseball America ranking him as their #90 prospect in 2022. I'm not sure, however, that this is enough to make him a relevant investment.
Brendan Donovan, St. Louis Cardinals IF/OF (#US150): Donovan was never a top prospect, but he became a major contributor to the Cardinals during his rookie season. He slashed .281/.394/.379 with a 129 wRC+ and played all around the field for St. Louis. Despite this, Donovan's below-average power and role as a utility player don't inspire me from an investment standpoint. If he has a power surge and finds an every-day defensive home, that might change.
George Kirby, Seattle Mariners RHP (#US207): Kirby was impressive this year for Seattle. The righthander utilizes six pitches and throws everything for strikes, and he also earned the save that helped the Mariners win the AL Wild Card. I think he's great, but would rather you pursue him in your fantasy leagues than as an investment. And I mean that in the best possible way.
Alek Thomas, Arizona Diamondbacks CF (#US212): Thomas has above-average tools across the board and produced at every level in the minor leagues. This made his rookie struggles a bit surprising, especially his second half which led to a demotion to Triple-A. I think Thomas will be fine long-term but he doesn't inspire me from an investment standpoint, especially because he'll be sharing the outfield with Corbin Carroll and eventually Druw Jones.
Steven Kwan, Cleveland Guardians LF (#US261): I want to preface this by saying that, as a fan, I really like Steven Kwan. I love his approach at the plate and deserves Gold Glove for his defense this year. That said, when it comes to investing, I feel like Kwan is a novelty that most will fail to appreciate. And that's a shame because he's a really great ballplayer.
Seiya Suzuki, Chicago Cubs RF (#US250): Suzuki played nine seasons in Japan's Nippon Professional Baseball league where he was a five-time All-Star. He signed with the Chicago Cubs at 27-years-old and put together a strong 2022 season, slashing .262/.336/.433 with a 116 wRC+. I'm not sure these numbers are enough to grab investors' attention, especially because he's relatively new to American investors. Of course, that's no fault of his own.
Nick Lodolo, Cincinnati Reds LHP (#US298): Lodolo started off really bad, so his surface numbers look worse than what he ended up showing in the second half. He has two plus pitches, a curveball and sinker, but he doesn't have a reliable third pitch yet. His teammate Hunter Greene is in a similar two-pitch spot, but I prefer the flame-throwing Greene if I had to choose. From an investment standpoint, I kind of see Nick Lodolo in the same boat as George Kirby.
---
Tier 4: Rookies with little to no value in the hobby.
Josh Winder, Minnesota Twins RHP (#US6)
Simon Muzziotti, Philadelphia Phillies CF (#US19)
Beau Brieske, Detroit Tigers RHP (#US23)
Alex De Goti, Houston Astros 2B (#US29)
Lucius Fox, Washington Nationals SS/3B (#US38)
Gosuke Katoh, Toronto Blue Jays 1B/2B (#US41)
Bryce Elder, Atlanta Braves RHP (#US52)
Andre Pallante, St. Louis Cardinals RHP (#US59)
Alex Faedo, Detroit Tigers RHP (#US64)
Jason Krizan, San Francisco Giants LF (#US65)
Kyle Bradish, Baltimore Orioles RHP (#US66)
Rylan Bannon, Baltimore Orioles 3B/2B (#US70)
Tommy Romero, Tampa Bay Rays RHP (#US76)
Adrián Martínez, Oakland Athletics RHP (#US77)
Diego Castillo, Pittsburgh Pirates 2B/SS/RF (#US85)
Luke Williams, Miami Marlins IF/OF (#US104)
Ryan Pepiot, Los Angeles Dodgers RHP (#US109)
Elehuris Montero, Colorado Rockies 3B/1B (#US110)
Nick Allen, Oakland Athletics SS/2B (#US117)
Joe Dunand, Miami Marlins 2B/3B (#US126)
René Pinto, Tampa Bay Ryas C (#US153)
Heliot Ramos, San Francisco Giants RF (#US154)
Ron Marinaccio, New York Yankees RHP (#US165)
Chase Silseth, Los Angeles Angels RHP (#US192)
William Woods, Atlanta Braves RHP (#US195)
Cole Sands, Minnesota Twins RHP (#US208)
JP Sears, New York Yankees LHP (#US210)
Kevin Smith, Oakland Athletics 3B/SS (#US217)
MJ Melendez, Kansas City Royals C/OF (#US223)
Félix Bautista, Baltimore Orioles RHP (#US225)
Joe Perez, Houston Astros 3B (#US234)
Jack Suwinski, Pittsburgh Pirates OF (#US236)
Nick Plummer, New York Mets OF/DH (#US247)
Gabriel Arias, Cleveland Guardians IF (#US248)
Ethan Roberts, Chicago Cubs RHP (#US256)
Anderson Severino, Chicago White Sox LHP (#US265)
Jhoan Duran, Minnesota Twins RHP (#US277)
José Azocar, San Diego Padres OF (#US280)
Joey Wentz, Detroit Tigers LHP (#US295)
J.J. Matijevic, Houston Astros DH/1B (#US297)
Konnor Pilkington, Cleveland Guardians LHP (#US304)
Jake Walsh, St. Louis Cardinals RHP (#US306)
Richie Palacios, Cleveland Guardians LF/2B (#US308)
Cooper Hummel, Arizona Diamondbacks LF/C (#US314)
Bryan Lavastida, Cleveland Guardians C (#US317)
Francisco Morales, Philadelphia Phillies RHP (#US318)
---
What's in the 2022 Topps Update rookie checklist?
| | |
| --- | --- |
| US6 | Josh Winder |
| US19 | Simon Muzziotti |
| US20 | Spencer Torkelson |
| US23 | Beau Brieske |
| US29 | Alex De Goti |
| US34 | CJ Abrams |
| US38 | Lucius Fox |
| US41 | Gosuke Katoh |
| US44 | Julio Rodriguez |
| US52 | Bryce Elder |
| US59 | Andre Pallante |
| US64 | Alex Faedo |
| US65 | Jason Krizan |
| US66 | Kyle Bradish |
| US70 | Rylan Bannon |
| US76 | Tommy Romero |
| US77 | Adrian Martinez |
| US81 | MacKenzie Gore |
| US85 | Diego Castillo |
| US100 | Bobby Witt Jr. |
| US104 | Luke Williams |
| US105 | Royce Lewis |
| US109 | Ryan Pepiot |
| US110 | Elehuris Montero |
| US117 | Nick Allen |
| US120 | Jose Miranda |
| US126 | Joe Dunand |
| US150 | Brendan Donovan |
| US153 | Rene Pinto |
| US154 | Heliot Ramos |
| US160 | Hunter Greene |
| US165 | Ron Marinaccio |
| US192 | Chase Silseth |
| US195 | William Woods |
| US207 | George Kirby |
| US208 | Cole Sands |
| US210 | JP Sears |
| US212 | Alek Thomas |
| US217 | Kevin Smith |
| US223 | MJ Melendez |
| US224 | Bryson Stott |
| US225 | Felix Bautista |
| US234 | Joe Perez |
| US236 | Jack Suwinski |
| US247 | Nick Plummer |
| US248 | Gabriel Arias |
| US250 | Seiya Suzuki |
| US253 | Jeremy Pena |
| US256 | Ethan Roberts |
| US261 | Steven Kwan |
| US265 | Anderson Severino |
| US277 | Jhoan Duran |
| US280 | Jose Azocar |
| US295 | Joey Wentz |
| US297 | J.J. Matijevic |
| US298 | Nick Lodolo |
| US304 | Konnor Pilkington |
| US306 | Jake Walsh |
| US308 | Richie Palacios |
| US314 | Cooper Hummel |
| US317 | Bryan Lavastida |
| US318 | Francisco Morales |