Guide To PSA Collectors Club Value Pricing
The guide to PSA Collectors Club Value Pricing is here to celebrate this exciting development. On June 9th, PSA made another announcement about its returning service levels. Famously, PSA was forced to shut down accepting cards on March 30th, 2021, due to an overload of submissions. But it has been steadily reopening its services.
The Slow But Steady Return Of PSA Services
PSA has slowly been reopening its services. At first, it focused on the higher-priced and quicker turnaround service levels. The changes included the return of "Regular" service at $100 per card back on December 10th. More recently, PSA has been holding limited "events" where Collector's Club members can get up to five slots at the Economy level for $50 per card via a lottery system. Finally, on May 10th, PSA's $50 Economy service level returned with no limitations.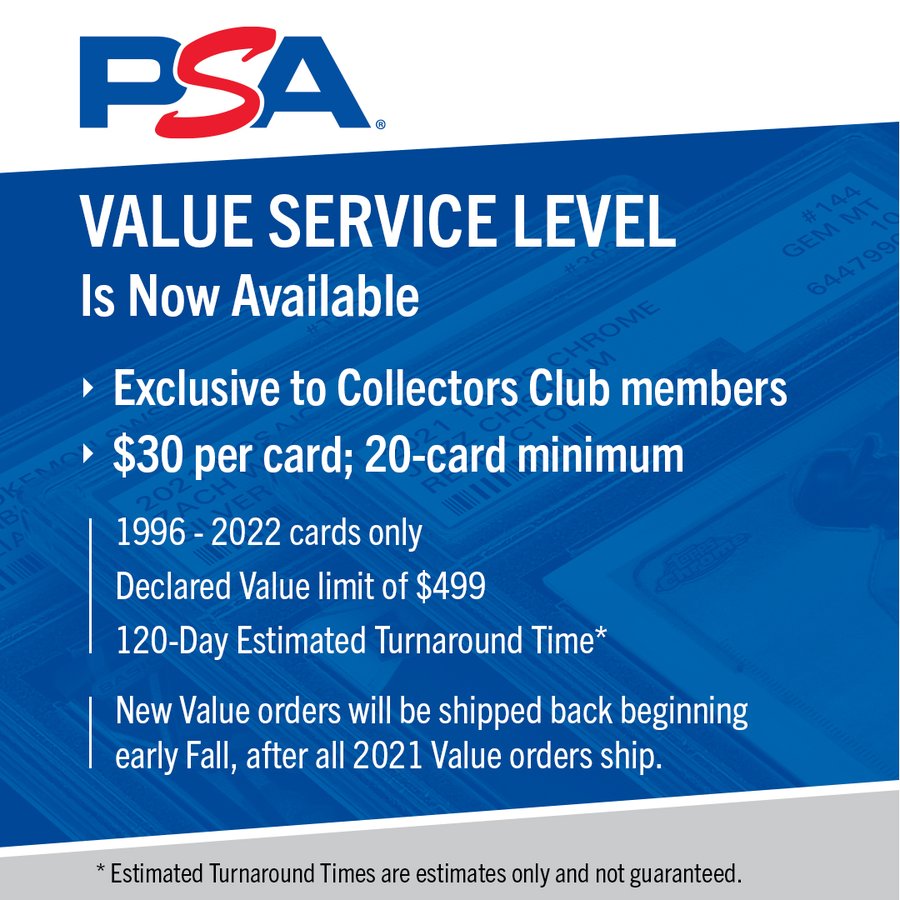 Our Guide To PSA Club Value Pricing Return 
PSA's announcement via their blog states:
"PSA is pleased to announce the return of its Value service level at $30 per card, which is now available exclusively for Collectors Club members. The Estimated Turnaround Time for Value orders is 120 calendar days, and submissions must include a minimum of 20 cards with a declared value limit of $499 per card. In addition, PSA requires customers to only submit cards from 1996 to 2022 at the Value level."
Dual Service For Autos
Fans of grading autographed cards will be excited by this additional development:
"As part of the reintroduction of Value, we also offer Dual Service options for customers at $36 per card. This allows PSA Collectors Club members with autographed cards to submit for authentication purposes (card and autograph) or dual grading, which will provide two numerical grades for the card and autograph."
Note that to take advantage of these changes, you MUST be a member of PSA's Collector's Club. That privilege costs $99 per year.
During the submission process, collectors will be asked to select the submission type, between Value – Sports & Non-sports (1996-Present, 20-card minimum) and Value – TCG (1996-Present, 20-card minimum).
Also of note is that new Value orders will only start shipping after all 2021 Value orders have shipped. Therefore, it is likely that PSA will be through that value submission backlog sometime in the early fall.
The new Value service only applies to regular-sized cards (3.5" x 2.5") and does not include pins, packs, tickets, or jumbo cards.
What Changed With This Announcement?
Collectors now have the opportunity to submit cards that aren't cost-effective at higher grading price points. At $20 per card less than the previous lowest cost service level, this offers significant savings for collectors who aren't in a rush to get their lower-cost items back graded.
In general, this is a positive development as it means that PSA is continuing to open up additional service levels and processing more cards while working through the backlog.
What About the Backlog?
As part of this announcement, PSA also offered their reasoning behind the move to open Value level submissions now and their effect on the remaining backlog items:
"You may be wondering why we are reopening the Value service level when we still have nearly three million cards in our backlog. There are multiple steps in the authentication and grading process. Early stages like unboxing, order entry, and research. Mid-stages such as grading and assembly. And late stages like verification, quality assurance, and imaging. For new Value submissions, we anticipate this being a 120-day process.
The backlog is nearly entirely in the mid and late stages of the process, so the early stages are available for receiving and researching orders. PSA set the new Value level submissions to enter the late stages of the grading process when the last backlog orders are being shipped. Therefore, new Value orders won't jump in front of backlogged Value orders. They are simply beginning their grading journey while the backlogged orders complete theirs. This is the best and most efficient way to get your new Value orders completed."
Our Guide To PSA Collectors Club Value Pricing And Its Implications
This is a promising development and hopefully means we're well on the way to the backlog becoming a thing of the past.
One thing coming out of all this is that PSA will have a significantly larger capacity for grading cards than in the past. That is an impressive fact. The company has taken the crush of submissions and turned them into an opportunity. As a result, now more than ever, PSA is the king of the graded card industry.
Who Should Use The PSA Value Level Submissions?
The return of Value level submissions is excellent news for collectors. However, the rate is still more than double the value-level group submission rates pre-shutdown. Indeed, it was $12 per card as recently as March 2021. So while a rush of these lower-price-point cards (and a ton of Pokemon cards) was a significant driver of the PSA shutdown, there are legitimate use cases for lower-cost grading.
Indeed, the sports card bubble has likely burst, and we won't see people submitting ultramodern base cards by the thousands again (hopefully). However, there are a lot of vintage commons of appeal to graded set builders (see The PSA Set Registry Guide Effect) and lower-cost rookie cards from the '80s, '90s, and 2000s that make sense to grade at a lower cost than $30 per card.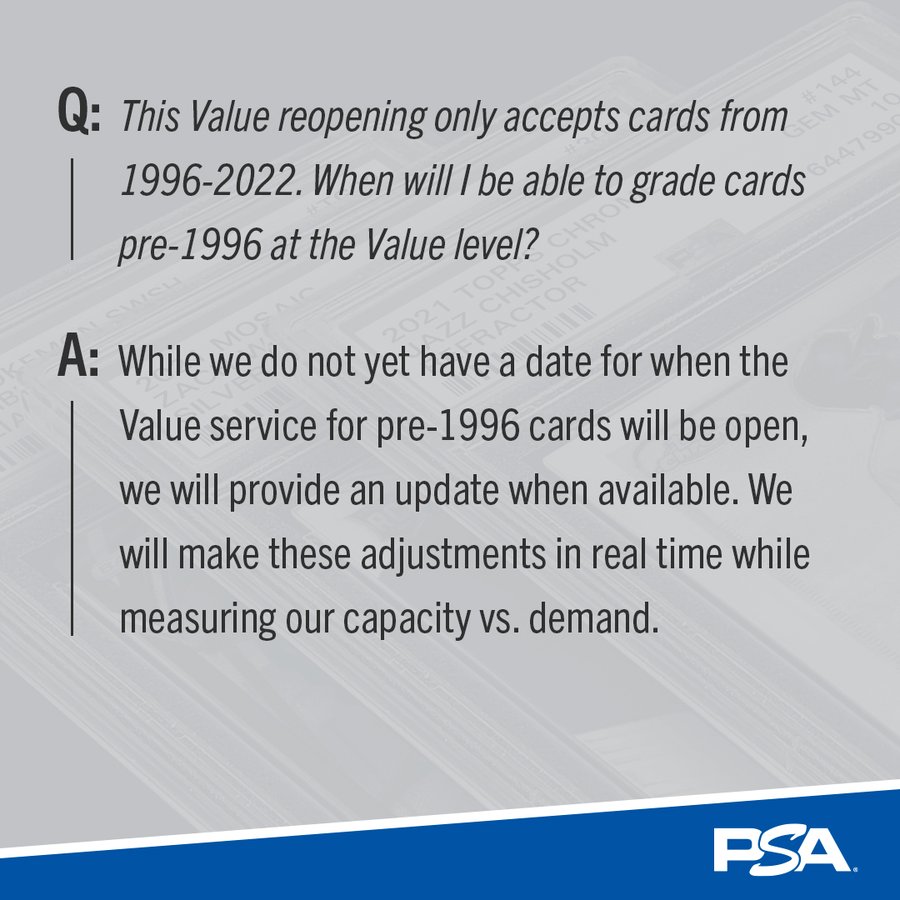 What's Next for PSA?
I suspect that when PSA wrap up the backlog, the company may lower the cost of their value level submissions and quarterly specials. My guess is at a price point well below $30 per card.
As they have done with prior service levels, PSA will likely open these service levels slowly, either starting with quarterly specials or bringing back the lottery system.
I have a big stack of cards to start waiting for the return of lower-cost grading to make economic sense. PSA needs that level to return to be whole again and maximize its potential market. However, the company will also want to avoid another flood of submissions and eventual shutdown.
The Final Word Of Our Guide To PSA Collectors Club Value Pricing
The announcement today from PSA is good news for collectors and submitters of PSA-graded cards. However, if, like us, you think that PSA will continue to dominate the graded card market, this increases the gap between PSA and its competitors.
Collectors will excitedly await the opening of additional service levels. However, keep an eye on submission levels and the backlog. Let's hope we never see a repeat of early 2021.