How To Invest In Unopened Wax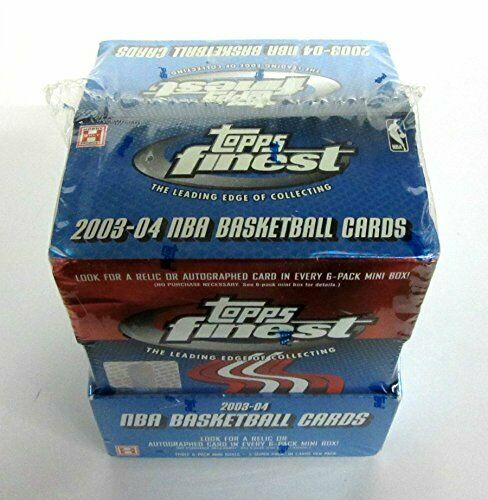 Do you want to invest in unopened wax? Cardlines is on a quest to bring you all the best insight into trends and strategies in sports card investing. In keeping with the goal, this article will discuss wax investing or investing in sealed boxes. A good wax investment strategy can lead to MAJOR payouts if done well. However, like everything else, there are also risks.
What Is Wax Investing?
Wax investing is investing in factory-sealed boxes, sets, packs, and other sports card products. There's no wax involved anymore, but the name has stuck in the popular imagination.
How To Invest In Unopened Wax: The Advantages
Wax investing is a smart strategy for several reasons. We have compiled the major ones for your perusal.
Represents An Entire Draft Class
The greatest single thing about wax investing is that it represents the entire draft class. Every standout rookie helps boost the value of the investment. For example, if you bought a Mitchell Trubisky rookie in 2017, it wouldn't be worth much today. However, if you purchased a box in 2017 and held onto it, it would be worth a lot today because of Mahomes, McCaffrey, and the other great rookies in that class.
Less Affected By Injury
Closely related, sealed boxes diversify risk because all your eggs aren't in one player's basket. If you own a John Smith rookie card, his card will drop in value if he gets injured. The other rookies will help prop up the value of a box despite the unfortunate Injury.
Mystery Is More Alluring Than Reality
I'll let you in on the sad reality of boxes (this is top secret, shhh): 90% of the time, you'll regret ripping. However, the hope of what you might find inside is usually more valuable than the actual content. Therefore, leaving the box sealed is probably the safest investment you can make.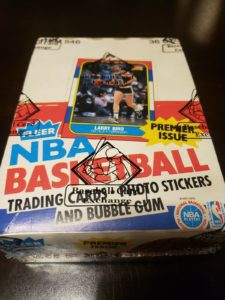 How To Invest In Unopened Wax: The Disadvantages
There are some drawbacks of wax investing, too. Let's give them a look.
There Are Still Bad Years
There are a few draft classes that are just flat-out bad. For football, think of 2006: with Vince Young, Matt Leinart, and Reggie Bush as big-ticket rookies, that class was guaranteed to be awesome, right? Sadly, no. There's not a card in that set that still demands big bucks. Instead, great years hit just around 2006. For example, 2005 Topps has Aaron Rodgers, and 2007 has Adrian Peterson, Calvin Johnson, and many more. Much like the 2006 football class, some years just fizzle out.
Brand Popularity Is Hard To Predict
While some brands are shoe-ins to be popular for a long time, others come and go. For modern basketball and football, Prizm and Optic seem like the best options to sit on. For baseball, it's a bit harder to tell. Bowman, Topps, and the chromium step-brothers are always good bets. Bottom line: there are so many brands that nobody knows which will remain popular and demand a good price, especially with the pending Fanatics merger.
It's Hard To Sit On Wax!
Lastly, sitting on wax is just hard to do! Tell me you can walk past a sealed box, look at it every day, and not be at least slightly tempted to rip it and see what's inside. If so, you're a better man than I. I struggle with this every day. Pro-tip: whisper "ROI" under your breath every time you walk past your storage area.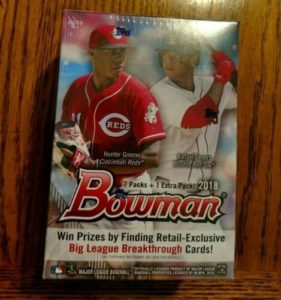 How To Invest In Unopened Wax: Forms Of Wax
Here's the list of the four different types of wax to invest in, along with the relevant risk and rewards.
Vintage Wax
What counts as vintage wax? Think the early 80s and older (you don't want any from the 90s, trust me). Most of this is full of big-dollar cards, but there are a few duds mixed in depending on the year and sport. But, again, age and nostalgia help these sell, along with the eternally high demand for past-its-sale-date bubblegum.
Modern Wax
Modern wax is full of rookies still actively playing, and its price has adjusted to the talent level of the draft class. Of course, that doesn't mean the price is set.  However, there is less volatility because collectors have an idea of what's inside.
Release Day Wax
Release Day Wax is buying modern cards at release day prices. This move is probably the riskiest.  After all, you are banking on the rookie class being good and the brand maintaining popularity. So, it's a higher-risk, higher reward. Sometimes release day prices double overnight. But they have been known to crash just as quickly.
Retail Wax
Buying retail wax is a significant short-term flip if you are fortunate enough to find some in the wild. However, try to only buy this in the wild at around retail price. Unless the Walmart and Target near you impose a limit on cards, it will take a tent and a lawn chair to find this stuff.
How To Invest In Unopened Wax: 3 Investment Tips
Investing in wax can be profitable. You can avoid many losses by following these simple tips.
Avoid 2020- Retail
Big red flag on this, and that probably won't be a popular opinion. If you want to get a quick flip in, that's one thing. However, buying COVID-19 boom-era wax to hold is unlikely to pay off. I think ten years from now, we will zoom out and see the market was flooded with low-quality retail boxes at this time.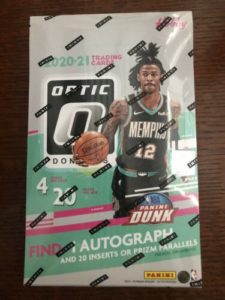 Avoid Packs
There are enough pack searchers out there that ruin the idea of buying packs for many people. In other words, sealed packs are worth less than they should be because they're easier to manipulate and find packs with valuable cards. For example, here's an article we wrote about Donruss Fat packs from 2020-21 basketball and why they're a honeypot for pack searchers.
Avoid Cheap Brands
Just because a box is cheap doesn't mean it's poised to be a great long-term hold. There are so many football brands out there that I'd recommend investing in smaller quantities of the good brands. Avoid buying a bulk amount of brands nobody will want in 10 years (like Prestige).
How To Invest In Unopened Wax: 4 Top Picks
Now that we've discussed the four different types of player investments, here's a sample from each category type.
2018-19 Prizm Basketball
Talk about a loaded rookie class. And many of them are still developing. Headlined by Luka Doncic, Trae Young, DeAndre Ayton, Michael Porter Jr., Shai Gilgeous Alexander, and others, this very well might be the most talented draft class ever to get a Prizm set. If you can find these boxes sealed, the value will only climb.
2018 Topps Chrome Baseball
Easily the least expensive product on the list, 2018 Topps Chrome could yield a strong return. With rookies of Ohtani (and many others), the product will continue to rise if the young two-way star continues to dominate consistently.
2017 Prizm/Optic Football
Mahomes and McCaffrey. That alone should be enough to understand just why these boxes are so pricey, but both of them are putting together cases for immortality. So it is more than likely that their rookie cards will increase in value.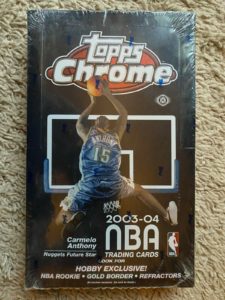 2003/04 Topps Or Topps Chrome Basketball
Finally, if you can find any sealed Topps or Topps Chrome basketball from LeBron's rookie year, it's as close to a blue-chip investment as you might find in sports cards. Every year this product ages, the value will increase. LeBron's career is already one for the history books.
Bottomline On How To How To Invest In Unopened Wax
Whether you're looking to lock up sure-fire returns or take a chance that could lead to a massive payout, wax investing is a great strategy for you. So who are your favorite players for investment? Let us know on Twitter @Card_lines.