What Are Chibi Dinos?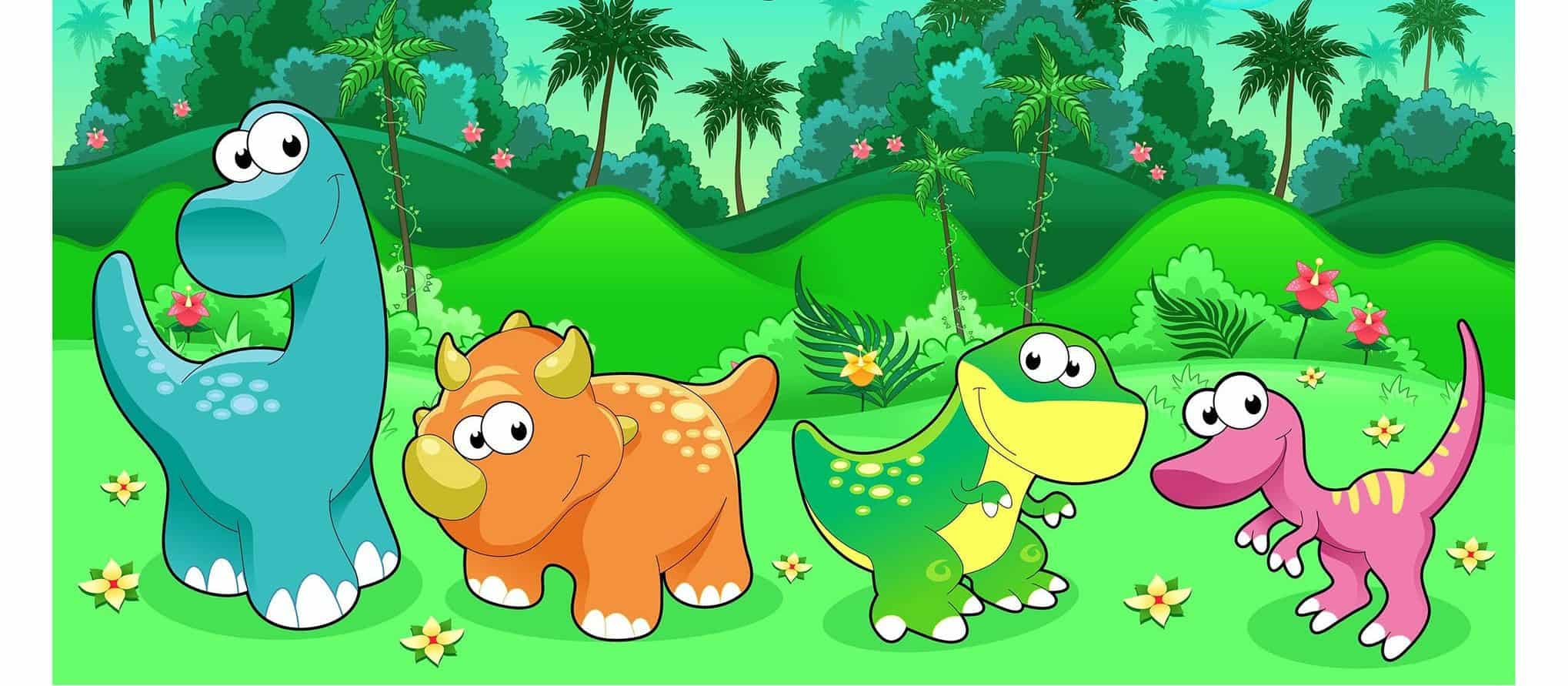 One of the most notable sports-oriented NFT releases is Chibi Dinos. Combining an anime aesthetic with a sports collecting sensibility, it has attracted notice. So, as a form of public service, we will answer the question, what are Chibi Dinos?
Sean Kelly is only 24 years old, but he is no stranger to entrepreneurship. He began selling rap star jerseys from his dorm room at Rutgers and turned it into a multi-million dollar industry.
His latest venture is also a take on the collectibles market. And once again, it is inspired by basketball jersey chic. Indeed, Kelly is targeting card collectors with this release. He told Forbes that, "It's considered a collectible, like a Pokémon card."
While Kelly is clearly the public face of this venture, it was a team effort. Kevin Moses, Dan Rozenberg, and Roxy Jager make up the rest of the team that brings you Chibi Dinos.
What Are Chibi Dinos?
According to the platform website FAQ: "Chibi Dinos are 10,000 cute NFTs of different Chibis wearing Dino Suits. Jerseys of 10 different basketball teams are randomized. Each Chibi Dino is completely unique."
If you go on the OpenSea marketplace, you are advised that: "Chibi Dinos live to play ball. Pick the highest IQ or the freshest Chibi for your chance at glory. The 10,000 Chibi's live on planet Hoop and will defend it with their lives, so watch your step!"
What does this mean? I had literally no idea. But I don't have a Ph.D. by being afraid to do some research!
An NFT is a non-fungible token, which allows unique and verifiable ownership of digital assets. If you want more info on NFT's, check out our intro piece.
That is not a lot of information to go on. I would expect a bit more on what makes the product worthwhile and unique. But I guess NFT entrepreneurs are too cool for old-school salesmanship?
So, I did some of my research on the basics. For example, what on earth is a chibi? It is a slang Japanese word, referring to something short and chubby. It has come to refer to caricatured small and rotund figures drawn with large heads and stubby limbs. The head is particularly prominent and usually around half the size of the body. The figures often feature in manga and anime works and the popular culture which surrounds them.
Every Chibi Dino has 262 assets which are set programmatically. Some of the unique features that set each Chibi Dino apart include its hair, head, jerseys, face, tattoos, and so on.
If I may add my own two cents, Chibi Dinos are way cuter than the highly popular SlothNFTS. Each one looks like a human (albeit an anime human) wearing a dinosaur suit, which is, in turn, wearing a basketball jersey. Or at least, that is what I see here.
The Basketball Theme In Chibi Dinos
The Chibi Dinos are divided into ten teams. Each has its name, unique jersey, and real-life basketball players as a team captain. While Chibi Dinos have been unable to score any big stars for the teams, they have managed to get 9 NBA players and one college player with a famous father associated with the release.
These are the teams included in the release:
Outstanding Omnivores- Their team captain is RJ Hampton, shooting guard for the Orlando Magic.
Mesozoic Minions- Captained by Michael Carter-Williams, point guard for the Magic.
Archaic Athletes. The team captain is Josh Hart, shooting guard for the New Orleans Pelicans.
Fabulous Fossils- Their symbolic captain is Kendrick Perkins, the former NBA center and current ESPN basketball analyst.
Prehistoric Predators- Capiatned by Quinn Cook, Golden State Warriors point guard, and two-time NBA All-Star.
Honest Herbivores: Kendrick Nunn, point guard for the LA Lakers.
Crazy Carnivores: Shareef O'Neal, power forward for the LSU Tigers and son of Hall-Of-Famer Shaquille O'Neal.
Extinct Eaters- captained by Brandon Clarke, the Canadian power forward for the Memphis Grizzlies.
Jurassic Jumpers- symbolically led by De'Aaron Fox, point guard for the Sacramento Kings.
Cretaceous Creatures- headed by Gary Harris, shooting guard for the Denver Nuggets.
Real-life jerseys of the ten teams will be made available in the near future. The team has already ordered them and displayed them on their Twitter account.
How Much Do Chibi Dinos Cost?
Each Chibidino costs 0.06ETH on minting day. For those of us that are cryptocurrency illiterate, 0.06 Ethereum is currently worth about $180. However, cryptocurrency is volatile, so it may be quite different when you read this article.
However, the secondary price of the NFT's tends to be significantly higher. Currently, the lowest priced Chibidino goes for 0.08ETH (223$). The average sale price is presently 0.1307ETH, which is $363.
The rarest Chibi Dino, at least currently, is the wonderfully named #134. It is worth $56,857.80, or 20ETH. Like in most NFT platforms, the rarity of the items is randomized. The rarity is certainly not determined by visual appeal, because to my mind, #134 is the most unappealing Chibi Dino I have seen. I guess the lack of color adds to the value? I dunno.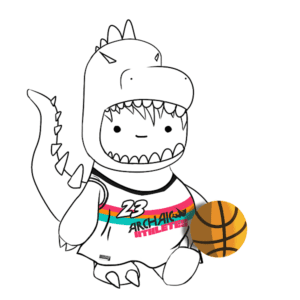 How Do You Get Your Chibi Dinos
The Chibi Dinos are minted at allotted times. The best way to keep track is by following the Chibi Dinos Twitter or signing up to their Discord server. When a new minting has taken place, you can purchase at https://www.chibidinos.io/
What Is Next For Chibi Dinos?
No one can accuse Sean Kelly of lacking ambition. The young entrepreneur already set up a roadmap before minting the first Chibi Dinos.
First Stage: Mint 10,000 Chibi Dinos. That has been done, and all of the NFT's were sold, which is a good sign.
Second Stage: Sell out 25% and use the funds to finance community managers and staff for the Discord server. Chibi Dinos has succeeded in this and has a very active and impressive Discord server.
Third Stage: To have Chibi Dinos featured on tools. That platform provides ranking for the rarity of NFT's. That goal has been achieved.
Fourth Stage: Establish partnerships in the NFT space and continue to grow the community. Though vague, this standard has been achieved.
Fifth Stage: Issue Chibi Dinos basketball jerseys and other merch. They have not done this yet.
Sixth Stage: Sell out 100% and launch a press campaign. Considering that pieces on Chibi Dinos have already appeared on New York Weekly, Forbes and Bloomberg, it is safe to say that this stage is well underway.
Seventh Stage: Get the collection verified on OpenSea.io. I checked, and they have indeed received the coveted blue checkmark. Chibi Dinos have been available on that platform since August 20, 2021.
Eighth Stage: Integrate Chibo Dinos into the Metaverse. This one is a bit tricky, so we will explain it in detail.
Ninth Stage: Chibi Dinos will airdrop new NFTs to their members. This is already occurring. The company offers occasional specials, including airdrops into members' wallets, and advertises them on Discord and Twitter.
Tenth and Eleventh Stage: Turn Chibi Dinos into "3d Dino eggs with something special inside." This hasn't happened yet.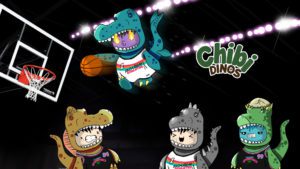 Chibi Dinos And The Metaverse
This one is a bit tricky, considering that the Metaverse does not exist yet. What is the Metaverse? In straightforward terms, it is a new concept for the internet distinct from the traditional World Wide Web. It will be based on the virtual reality presence of Metaverse participants. Unlike today's virtual reality, you would be able to hop from one activity to another. So, we are not there yet. But apparently, Chibi Dinos plans to be part of this when it happens.
Sean Kelly explained that when integrated into the Metaverse, it will be in the form of a game. Each Chibi Dino has an IQ that will play a part in the game, which we can only assume will be basketball-based.
How Successful Is Chibi Dinos?
So, as you can see, this is a release with a highly ambitious plan. And the company has proved able to meet its goals regularly. This is a promising sign for anyone heavily invested in Chibi Dinos or interested in getting started.
Plans to integrate Chibi Dinos into the Metaverse are the most ambitious and risky of all. Kelly hopes the create a game out of Chibi Dino collecting and gain an endless supply of players by integrating it into the future virtual reality hub.
All of the Chibi Dinos sell for above the initial price, and some go for high prices. So, there is undoubtedly a market for Chibo Dinos. The initial offerings sold for $2 million in its immediate release and raised a further million and a half by additional sales on secondary platforms.
The release has been successful thus far for two main reasons. It is the first chibi NFT release and therefore has an audience amongst fans of the genre. Second, the founder Mark Kelly has a good reputation as a far-seeing entrepreneur.
According to rarity.tools, Chibi Dinos currently ranks 96th for weekly activity amongst NFT platforms. However, it is not a cultural sensation on the level of, say, Bored Ape Yacht Club. Part of the problem is that the community of owners is relatively small. There are only 2,200 unique owners. The low number is good for creating a tight-knit community, but it limits the broader cultural impact of Chibi Dinos.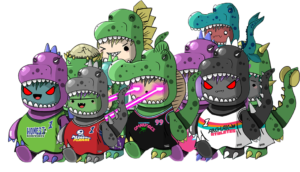 The Bottomline
The NFT landscape is very fast-moving, and it isn't easy to gauge which brands (if any) are likely to enjoy a long shelf-life. However, Chibi Dinos have a better chance than most. What impressed me most is their clear and coherent game plan and how swiftly and completely it is being fulfilled. In addition, the benchmarks and goals for the company are highly sensitive to changes in the market and potential innovations such as the Metaverse. That is, of course, an excellent sign for investors.
The company will soon release its road map for 2022, and the chances are that they will succeed in matching it since previous performance is the best gauge of future endeavors. Therefore, you can be reasonably confident that if you invest in Chibi Dinos, your investment will maintain and likely appreciate the value in short to mid-range. Beyond that, the future of any NFT is tough to predict.