How To Make Money On Top Shot
NBA Top Shot is the latest digital collecting craze. In this medium, collectors can purchase game highlights through blockchain technology. Many users have successfully monetized their collection. If you are wondering how they did it, we have the full guide on how to make money on Top Shot.
Right now, there is substantial money to be made through this medium.
The market boomed ridiculously earlier this year, with sales worth over $400,000 racked up in a single week.
Once they have purchased a Top Shot, the collectors have ownership over the highlight through a blockchain NFT. What is that? An NFT is a non-fungible token that proves your ownership and is unchangeable without consent.
So how do you get in on the action? We have collected the best tips for you right here.
How to Get Top Shot Digital Packs
One of the biggest challenges is even getting your hands on Top Shot packs. The primary official way of getting involved is by participating in pack drops.
Demand is high, therefore, you are put into waiting rooms for drops. Those in the waiting room are given a random spot in line for the drop.  Luck determines if the number you receive is low enough for you to receive a pack.  Top Shot will publicize how many packs are available and how many people are in front of you in the queue, so you will know where you stand.
This process sounds like a major hassle, and it can be. However, if you do get a pack, the pack itself (and the moments within) will likely be worth the wait and expense.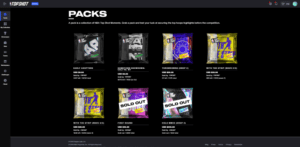 Which NBA Top Shots are the Most Valuable?
Every form of collectible develops its premiums and desirable traits. While it is early days for Top Shots, a couple of clear trends have already emerged.
In some ways, it is a reasonably regular sports collector's market. Like in any marketplace, scarcity determines value. That is one of the reasons series one cards are usually worth more. They have more limited circulation.
Dapper Labs divides Topshots into common moments and limited-edition ones. The common highlights (tagged as CC) are more common and may have more issues shortly. Meanwhile, the limited edition (marked LE) will remain at current circulation levels.
Just like card markets, rookie moments are more highly sought after.
The Top Shot market is particularly volatile in response to the performance. So, you can make a quick buck by offloading after or even during a strong performance by a player.
Each card has a serial number, and they have proven very important in the value of specific highlights. For example, a beautiful assist from Donovan Mitchell of the Utah Jazz has over 9000 serial numbers. #2 is valued at $10,000, while #9952 is valued at $199 (as of March 6, 2021).
Another thing to look out for are cards with serial numbers matching the players' jersey. For example, Kelly Oubre Jr. of the Warriors wears a no. 12 jersey. A series 2 dunk moment of his is worth around $500—however, the #12 serial number lists for $12,000 (as of March 6, 2001).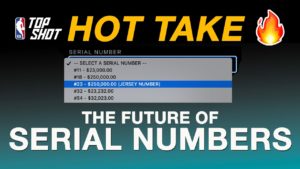 How To Make Money on Top Shot: Short-Term
Honestly, the easiest way to make any money right now is to get your hands on a pack. With many of the packs costing $9 (for three moments) or $14 (for 5), the immediate value of each moment will be far higher.
But there are other effective ways to turn a profit. One easy way to make money is to buy up the lowest ask prices for a specific moment. For example, if a particular highlight has only three asking prices below $100, you can but up all three for say $200 and change. All of a sudden, bam, you have three moments worth at least $300.
You may be thinking, but wait, now my moments are at the lowest price. But they don't have to be. You can raise the price as much as you want. But if you are looking for a quick buck, cornering the market at the lowest asking price is a good idea.
Keep in mind that everyday newbies are piling into the site looking for a taste. They will pick up your lowest-priced cards quickly.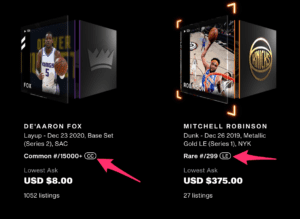 How To Make Money on Top Shot: Large Investments
Challenges are one of the best ways to get limited edition moments. For example, you may have a challenge that requires that you acquire 12 specific moments. Winning the challenge may be expensive, but it is often worthwhile.
The moment you gain from winning the challenge is only available to the winner and can be extremely exclusive. In some cases is one of a kind. If there is a challenge with few cards needed, you may be able to recoup a massive return on investment if you win the challenge.
If the market for Top Shots continues to rise, challenge award moments could be precious. Some of them are already selling for well over $100,000.
If you can't afford to win a challenge, you should still keep track of the challenges. If you hold one of the moments needed for a challenge, you can hold on to them and sell them to collectors desperate to win a challenge for a high markup.
Is Top Shot a Bubble? Strategize Accordingly
There is no question that you can make a good deal of money on Top Shot right now. But whether you want to apply short-term or long-term strategies depends on the significant x-factor: Is this a fad, a bubble that will maintain some value or the future of collecting.
However, the skeptics have been amazed at how well early investors have done. Just look at the early posts on this Blowoutforum for a good laugh.
Unless you believe that Top Shot will maintain the crazy values it is currently enjoying; it is probably wise to stay away from overpriced moments featuring mediocre players even if they are relatively uncommon.
The players with the highest value on Top Shot are not very surprising. They include LeBron James, Giannis Antetokounmpo, and Kevin Durant.
It is also a good bet that first edition rookies have a better shot than most at holding or increasing value. So obviously, Lamelo Ball, James Wiseman, and Tyrese Haliburton's moments are strong investments.
Must-Have Top Shot Tools
Though Top Shot is a recent phenomenon, there are already essential tools available for the collector. First and foremost, check out evaluate.market.
Though the website is still in beta, it provides all the essential info you need. It tracks the overall market, as well as the value and circulation of specific moments. The tool also provides a stock market of sorts, providing the recent value changes of particular moments.
Another option is Cryptoslam, which has an intuitive setup and tracks the market minute by minute.
If you are competitive like us, it also has a leaderboard to see where your collection ranks in value.
Using Discord for Top Shot
Most of the action in terms of getting the latest buzz and sharing resources is happening on Discord. In case you don't know, it is a community-oriented messenger service.
These are the must use channels right now:
Stress-testers-announcements: A great way to hear about new pack drops.
Site-status-issues: Where you can get updates on the (many many) maintenance issues on the site.
Buying/Selling/Marketplace-chat: You can get some fantastic deals on this channel.
Honestly, if you don't have Discord and collect Top Shot seriously, go to the app store now.
Bottomline On How To Make Money on Top Shot
The market for Top Shot seems too big to disappear. While we cannot advise you to invest assets long-term, it seems a waste not to dip into this highly lucrative market with medium-term investments.