Can I Buy and Sell NBA Top Shot Packs?
The marketplace for NBA Top Shot packs, and NFT's in general, is booming. Therefore, many of us collectors are interested in buying and selling Unopened NBA Top Shot Packs. However, Dapper Labs and the NBA are not making it easy.
If you want to buy and sell packs but are not sure how (or whether) to do it, you have come to the right place.
The Mystery of an Unopened Pack
An unopened card pack has an undeniable allure. We sense a whiff of mystery and visceral excitement when any hit is possible. Once we open the pack, the mystery fades, and we feel a sense of disappointment
Any collector worth their salt loves ripping packs open. Therefore, it requires a certain admirable restraint level to keep our packs unopened for a prolonged period.
As we all know, there can be a significant upside to keeping your sportscards boxes and packs sealed. In most cases, the value of the cards within is not as high as the unopened ones. That is because the price takes into account the possibility of unlikely high-value hits.
Unopened NBA Top Shot NFT Packs
How does this logic apply to the Top Shot craze? In the first pack releases, it simply didn't. Collectors were unable to keep their cards unopened.
However, back in September 2020, Dapper Labs announced that collectors would be able to hold unopened packs indefinitely if they so desire. Until the policy changed, you could not buy new packs while leaving old ones unopened. Therefore, keeping them unopened was not practical as releases sell out quickly.
The Top Shot website tells us excitedly that this option allows you "to quickly buy packs before they sell out, then savor the opening later. This gives you that flexibility."
Unfortunately, that seems to be the only thing collectors can do with their packs right now. But collectors and flippers are more concerned about reselling than savoring closed packs. Indeed, it is so hard to get your hands on a pack right now that savoring it is probably the last thing on your mind when you nab one.
However, in their announcement, the Top Shot people promised this was a first step "towards a near future where you can gift, sell, and trade packs as well."
In more practical terms, Dapper Labs promises that the marketplace feature will include the option of buying, selling, and trading packs on the site. However, anyone who has dealt with the Top Shot marketplace has noticed that they have been unable (or unwilling) to operate existing features reliably. The prospect of them adding new operational components very soon seems unlikely.
eBay as a Secondary Marketplace for Unopened Top Shot Packs
As always, eBay comes to our rescue. With the Top Shot marketplace unable to provide an outlet for unopened packs (or for anything else half the time), collectors use eBay to fill the void.
Sellers list their packs on eBay at widely varying price points. They mostly range from $500 to $2500, depending on the release and the sellers' whims. Considering that many packs cost as little as $9, sellers are marking up prices substantially. In many cases, around 1000% higher than the original price.
However, considering how quickly the packs sell out, the prices are not unreasonable (aside from a few I've seen at $5,000 and up). After all, prices are a simple result of supply and demand, and in this case, supply is limited and demand ridiculously high.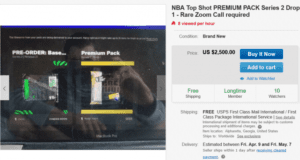 Are Unopened Top Shot Packs a Good Investment?
There are obvious cases in which holding on to a pack would be a bad idea. For example, Dapper Labs linked the Cool Cats and The Gift packs to specific challenges. Therefore, their value is likely to decrease significantly after the company ends the relevant challenge.
It comes down to Top Shot's most crucial question at the end of the day: is it a bubble or a solid long-term investment. If the Top Shot market is a long-term one, the value of early unopened packs could be tremendous. Every pack will hold the promise of a rare Lebron or Zion.
If the packs are a fad, the smart money is on opening and selling quickly.
The strongest argument in favor of keeping boxes unopened is the law of supply and demand. Since there is currently no organized marketplace for unopened packs, very few collectors are maintaining unopened packs. Besides, the skyrocketing prices of Top Shot moments create a powerful incentive to open.
Therefore, unopened packs from the early releases will be pretty rare. In comparison, there will likely be a good number of unopened packs available from releases dating after Dapper Labs has set up a marketplace for them.
Fraud, Cheating, and Unopened Packs
Top Shot unopened packs also have another significant advantage. The old-fashioned wax packs are shockingly easy to open and reseal. Therefore, unscrupulous characters have long taken out the valuable cards and relaced them with commons.
Steve Hart of Baseball Card Exchange estimates that at least 50% of the sealed products sold on eBay are opened and then resealed. We can't verify this, but it is most likely a very high percentage.
Law enforcement rarely catches the perpetrators of this type of fraud, and it is even less common that they face serious charges. In 2008, a court sentence Roger Hooper to over a year in jail and ordered him to pay $129,000 in fines and $67,881 in restitution. However, that is an extremely rare case. In truth, unless you buy unopened packs from a highly reputable dealer, you don't know what you are getting.
We are also all aware of the unpleasant phenomenon of pack searching and weighing at retail stores. If people are feeling up packs at Walmart and Target in full view, you can bet they are doing it in private before selling online.
Besides, people are known to forge or tamper with individual cards, and there is no reason to assume they do not do this to sold packs as well. The number of ways charlatans can tamper with cardboard cards is staggering. Therefore, the unopened pack market is particularly vulnerable to fraud.
NFT Gives You Complete Security
NFT's solve that problem. Since there is no way of altering the information in the blockchain, a buyer can be 100% certain of unopened packs' authenticity. Read more in our handy guide to the advantages and disadvantages of NFT's.
Therefore, in theory, an unopened NFT pack is a superior product to an unopened physical pack of cards. Consequently, it is more than likely that unopened NFT packs will become a mainstay of the collecting world.
What Else do I Need to Know about Buying Unopened Top Shot Packs?
Right now, the market for buying and selling unopened Top Shot packs is unregulated and must occur off-site. Therefore, the security involved in Blockchain data storage cannot make up for the lack of security in the means of an off-site transaction.  If you intend to buy and sell off-site, do so with a counterparty that you trust.  Remember, fraud can come from both buyers and sellers.