How To Invest in Wander Franco Cards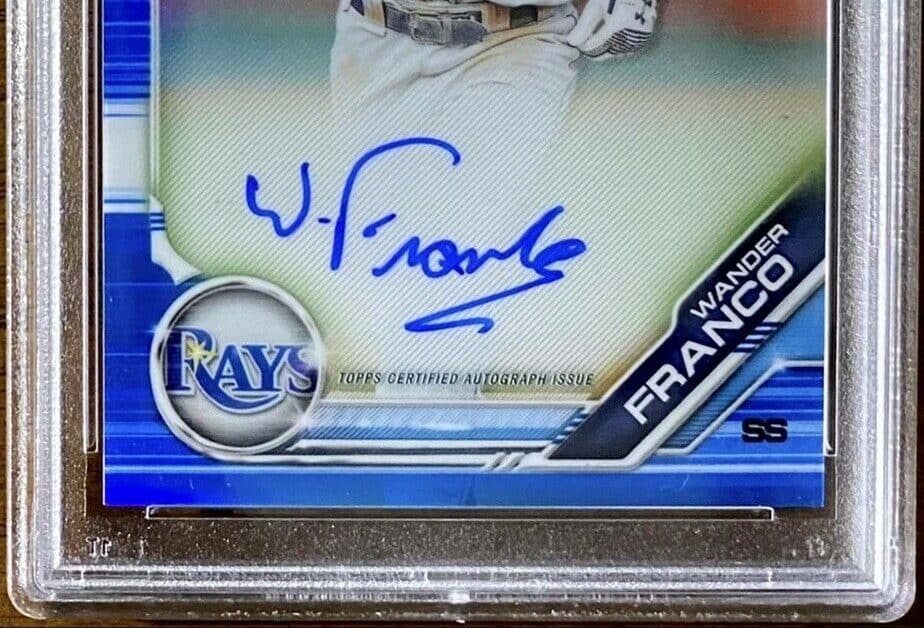 The Devil Rays finally called up Wander Franco on June 22nd. To top things off, he hit a home run on his debut. He also doubled and drove in three runs and showed aggressive baserunning. In short, he is beautiful to watch, and the considerable hype surrounding him has only increased.
Of course, this does not mean that Franco will immediately become an MLB superstar. Mariners outfielder Jarred Kelenic was called up to great fanfare and hit a home run on his debut on May 15th. However, Seattle has since sent him down to the minors.
Update: Wander Franco cards plummet in wake of allegations.
Why Is Wander Franco's Call Up Such A Big Deal?
Franco has been the most highly-rated prospect in baseball in years. Wander has said that he is "born to hit." The scouting reports agree. The shortstop has been the consensus #1 prospect for two years running now.
Of course, as a caveat, there was no minor league play for a long chunk of time. Therefore, Franco was more of a default choice since no one could unseat him.
As you can see, MLB.com has him first, as do Baseball America, Sporting News, and so on. What has been quite remarkable about this is that he has held the top spot for two years.
He played in the Midwest League and hit in the cold. He raked up in the boiling and humid Florida State League. Wherever you put this guy, he cleans up.
His tools are almost perfect. Wander is a switch hitter, with perfect contact scores on his scouting reports and considerable power. What is particularly remarkable is that it seems he was born with plate discipline. Franco has 95 minor league walks to a mere 75 strikeouts in 829 at-bats.
Perhaps most importantly, the shortstop does all that from a high-value defensive position at which he excels.
No one is a sure thing as a prospect. But Franco comes close.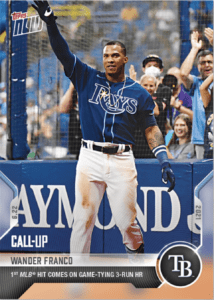 When Do The First Wander Franco Rookie Cards Come Out?
There is some chance that Wander Franco will appear in the Topps Update release later this season.
However, we doubt it. The most likely play for Topps is that they build their 2022 releases around Franco and hold him until then.
Topps Now gives a strong indication of the intentions of the company. For example, if they use the 'Call-Up' designation on a card, it usually means this is not considered their rookie season. On the other hand, the RC logo is an indication of official rookie season designation by Topps.
As you can see, the Wander Franco Topps now cards are designated as Call Up.
Should You Invest In Wander Franco Cards?
Though Wander is an up-and-coming prospect, the answer is complicated. Too much hype tends to overinflate card value. And lord knows, this kid has been hyped and then hyped some more.
While Franco is the most promising prospect, some of the others are close. In particular, the following four are incredibly promising. However, the ceiling for all the top prospects is of Cooperstown height. No one would be shocked if, for example, Julio Rodriguez ended up having a better career than Franco.
But what is the buy-in price? Here is a comparison of the card prices of the top 2021 prospects. All cards are valued as PSA 10's:
| | | |
| --- | --- | --- |
| Player | Bowman Chrome 1st | Bowman Chrome Auto 1st |
| Wander Franco | $350 | $4,200 |
| Adley Rutschman | $243 | $950 |
| Julio Rodriguez | $111 | $300-1400 (comps all over the place). |
| Jarred Kelenic | $150 | $675 |
| Spencer Torkelson | $114 | We couldn't find recent comps. A buyer nabbed the card for $1,200 in April. It would be significantly less now. |
These numbers should certainly give investors pause. Sure, Franco is the #1 prospect, and therefore by definition, rated above the other guys. But is he six times more likely to be a superstar than Kelenic, as the auto value differential would indicate? Over four times more likely than Rutschman?
Absolutely not. Wander's value is far too high. It is not surprising because intense hype has that effect.
Getting some of those low-priced Rodriguez autos looks like the play to me. In general, the Wander hype will somewhat soften the other prospects' prices, so keep an eye on that.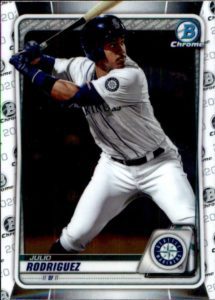 Which Wander Franco Cards Should You Invest In?
Despite the high buy-in price, there is a case to be made for investing in Wander. Look at Lebron, for example. Of course, everyone knew he was coming, and his cards were expensive from the get-go. But that doesn't mean his rookie cards weren't a good investment!
If Franco is indeed a generational talent, investing in his cards is a good idea. But which ones? His official rookie cards are not expected to drop until 2022. But if you think that narrows down your choice, you would be wrong. The player had 755 cards printed before taking his first MLB at-bat.
We looked to the population report for some clues. We found that the pop for some of his rookie cards is astronomical. In the long-term, this will decrease the value.
| | | |
| --- | --- | --- |
| Card | Value | Population |
| 2019 Bowman Paper Prospects | $149 | 5,284 |
| 2019 Bowman Prospects Chrome | $324 | 12,228 |
These are alarmingly high pop-numbers. So obviously, these more basic cards are not the play. However, the Bowman 1st logo is iconic. So you will want those on your Wander Franco cards but in a lower pop version.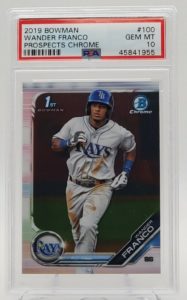 Wander Franco Auto Cards
If you have the money to invest in autos, Wander's signed cards are proving very popular.
However, even the most popular auto cards do not have a high pop, simply because there aren't many in circulation. We can easily imagine these going up significantly in value
| | | |
| --- | --- | --- |
| Card | Value | Population |
| 2019 Bowman Chrome Prospect Autographs | $700 | 148 |
| 2019 Bowman Chrome Speckle Refractor Prospect Autographs | $5,800 | 58 |
| 2019 Bowman Mega Box Autographs | $2,500 | 152 |
Wander Franco Refractors
Wander has some great and rare refractors out there. While they will not reach the heights of the autos in terms of price, the buy-in is also lower and are likely to be a better deal than the high-pop common cards of the prospect. Of course, if you get an auto refractor, expect to pay more than regular autos. But the pops will remain in your favor.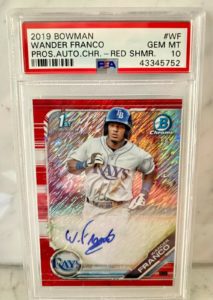 Which Wander Franco Cards Aren't Worth It?
No matter what the pop numbers or how common the Bowman's become, it is hard to imagine the Panini or Leaf releases holding much value in the long-term. Even the autos are unlikely to have a great future.
We also advise against buying any of his Topps Now call-up or debut cards. Yes, even the one commemorating his home run. Those cards do not hold much value since too many people order them. Instead, check out our guide to which Topps Now cards to get.
The Bottom Line On Wander Franco Cards
Franco is an incredible prospect, and there is rightfully a good deal of excitement surrounding his call-up and debut. However, there are pitfalls in jumping into collecting him right now.
With all of the hype surrounding the shortstop, his cards are skyrocketing in value. However, with the market as soft as it is right now, the value may go down. As a result, the Bowman's may also lose some value when the first Topps cards come out.
Therefore, consider investing in some of the other prospects instead. At least right now.
If you do go after Franco, do not invest a lot in his common Bowman 1sts because the pops are incredibly high. Instead, spend a bit extra on low pop autos and refractors instead.