Investing In Sports Cards: Card Quest 10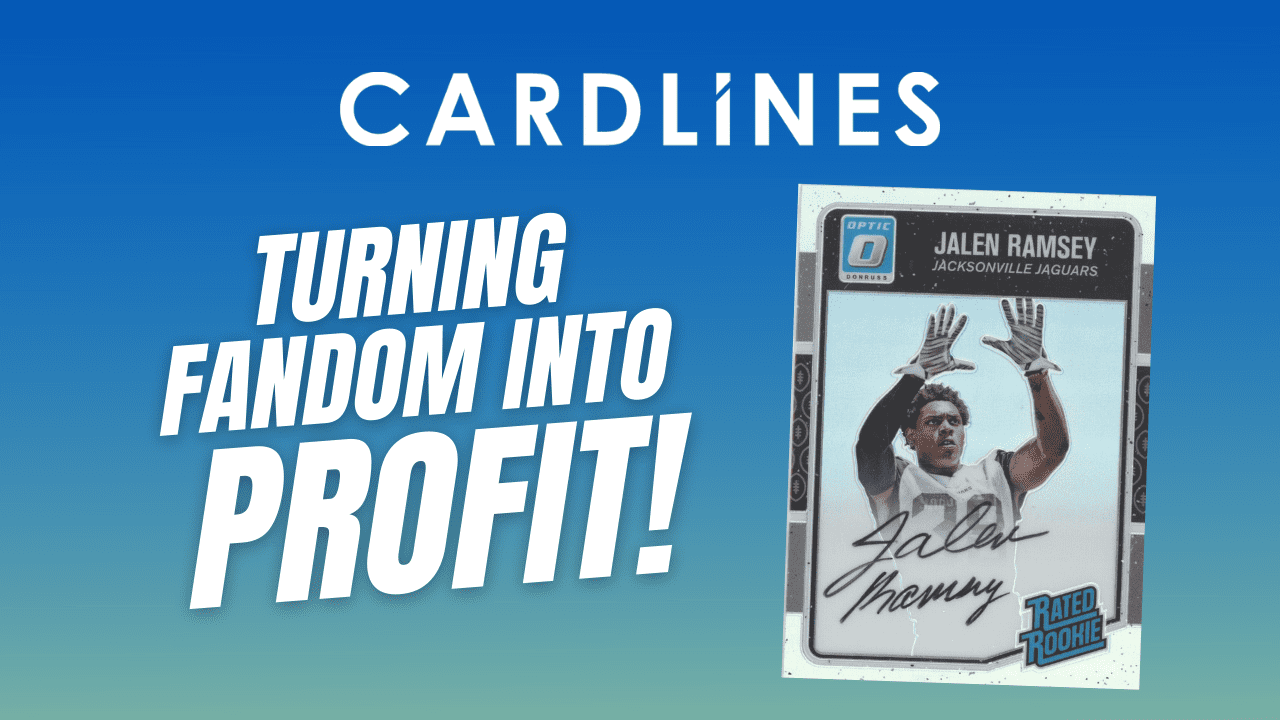 It's Week 10 of the Investing In Sports Cards: CardQuest, where I'm on a quest to show how viable sports card investing can be as a form of investing.
This is a significant milestone. It's been TEN WEEKS of this exciting quest, and I couldn't be more than happier with the results we're about to unpack.
Investing In Sports Cards With Jesse: The Rules Of The Game
But first, as always, here are the rules. Every week, I'll be spending about $100 on cards and telling you what I purchased, why I bought them, what strategies I used, and how you can apply them to your collecting.
We're tracking progress, too. Every week I'll share:
My total amount spent
My total amount sold (once I start selling some)
Total value (the comp price of my cards + total amount sold).
From there, we'll be able to calculate my gains.
I challenge you to take on this initiative, too. Invest more or less than me–totally up to you–but track your progress.
Together, let's show the world the power of card investing.
Week 9 Of Investing In Sports Cards With Jesse Purchases
First, note that these purchases came over about 10 days because, simply put, I didn't spend my $10 in the first week. It was a chaotic week (partly because of preparation for more AWESOME Cardlines announcements coming soon), so I dropped the ball.
To make up for it, I spent $150 and prorated it out, but we're just going to call it Week 10 to keep things simple.
Now, what did I buy?
Purchase One: Chuba Hubbard Elements Rookie Auto /27
The first purchase came while I was sitting on the couch and watching the Panthers play the Texans. I was playing against McCaffrey in fantasy football, so it was a "keep an eye on the enemy sort of thing."
Unfortunately, McCaffrey went down with an injury in the first quarter (and I mean it when I say "unfortunately." I like the guy and never want an injury–especially for something like fantasy football).
While that was a bummer, it was also an opportunity.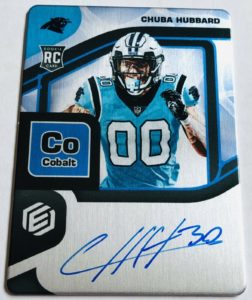 I hopped on eBay just as McCaffrey was going into the injury tent to be evaluated (I'd seen this movie last year) and bought a Chuba Hubbard Elements Auto /27. As an Oklahoma State fan, I've watched Chuba run for several seasons and know he has what it takes to shine in the running back-driven Carolina offense while McCaffrey is recovering.
Sure enough, his cards nearly doubled in value over the next hour. I paid $17 for mine, and the latest comp is at $43. I'm listing mine for $50 as soon as it arrives.
Get well soon, CMC.
While this is a grim circumstance, it's still a testament to how watching games and reacting in real-time can make you quite a bit of money. Odds are, if I had spent $100 on Chuba that night, it would lead to even better returns.
Purchase Two: Jalen Ramsey 4 Card RC's
This purchase was not a lot; it consisted of four different cards from the same seller. However, I don't want to write about all four as separate purchases when the same logic applies to all of them:
Jalen Ramsey is a Top 5 NFL player, and that's conservative. The Rams are looking like an absolute powerhouse. People will hop on the Ramsey Hype train when playoffs come around, and these cards will climb.
I was fortunate, too. These cards ended right after the Rams took their first loss (despite Ramsey doing work on Deandre Hopkins.) That alone resulted in them selling for less than recent comps.
Here are the four cards:
I paid $132 for this lot after getting a $20 shipping discount for buying multiple, and recent comps have them at $175. I think I'll get more, honestly, just by listing them BIN since most of them don't have a for-sell comp on eBay.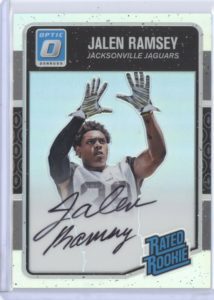 For reference, the Dak Prescott Holo /99 Auto see=lls for about $1,200, and I paid $40 for the Ramsey. They're the same year, and I'd argue Ramsey is a better football player. However, he is not a quarterback, so there will always be a significant price gap. However, the difference will hopefully shrink over time.
Investing In Sports Cards With Jesse: Progress
I sold two more cards!
While the Rams were beating the Bucs, my Matt Stafford rookie /99 sold for $100. I bought it for $40 and had it comped at $75.
I also sold my three Tylan Wallace cards that I'd bought for $51 for $100 at a local card show (he's an Oklahoma State fan favorite). S/O to not having eBay fees.
That means:
Investing In Sports Cards With Jesse: Cards Held
Gilgeous-Alexander Rookie Lot: Bought $75, Comp $130
SGA Prizm Rookie: Bought $121, Comp: $185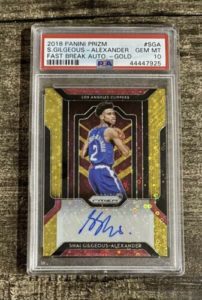 Tannehill Triple Threads Auto /25: Bought $83; Comp $90
Tannehill Rookie Card Lot: Bought $17; Comp $50
Alexander-Walker lot of 96 Hoops Rookies: Bought $40, Comp for $144
NAW lot of 5 Optic Silver Wave: Bought $25, Comp for $55
NAW lot of 11 Rookies: Bought $10.81, Comp for $74
Minshew Prizm Lot: Bought $50, comp $75
20 Card Football Lot: Bought $31.77, Comp: $100
Ryan Tannehill Rookie Lot: Bought $60, Comp $90
Trey Sermon Certified RPA: Bought $41, Comp $41
Trey Sermon Certified RPA: Bought, $39, Comp $39
Investing In Sports Cards With Jesse: Cards Sold
McCaffrey Rookie /100: Bought $36, Sold $80
Heinicke Contenders Auto: Bought $37, Sold $125
Heinicke Rookies and Stars Auto /50: Bought $19, Sold $100
John Wall Rated Rookie /25: Bought $14.58, Sold $100
Tylan Wallace 3 Card Lot: Bought $50.80, Comp $100
Matthew Stafford Contenders Rookie /99: Bought $43.06, Sold for $100
Investing In Sports Cards With Jesse: The Totals
Spent: $1023
Held (Comps): $1471
Sold: $609
Value: $2080
Profit: $1056.24
Net: 203% increase
Ten weeks in, and our money has essentially doubled. Love to see it.
What will I be buying next week? Then, come back next week for the next update.
Are you taking on this project yourself? Tweet me @realjessehaynes or @card_lines to tell us about it!