Investing In Sports Cards: Card Quest 14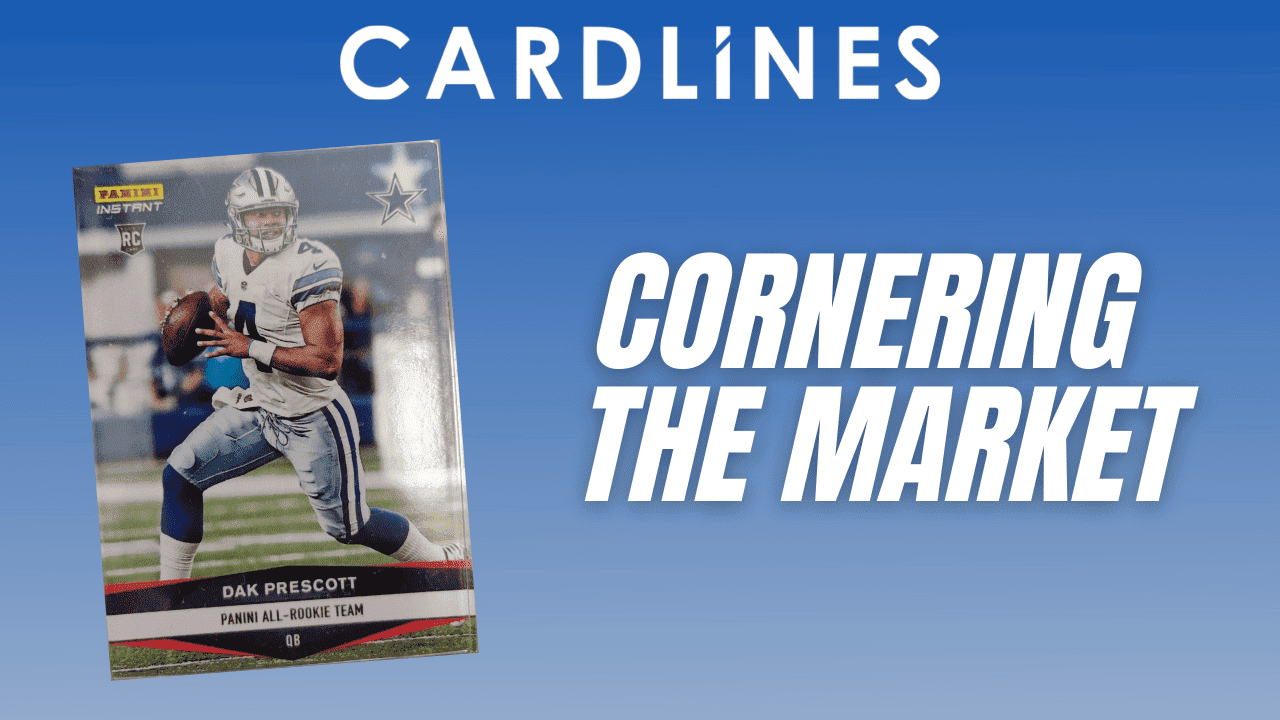 It's Week 14 of the card quest, where we are proving the value of investing in sports cards. It's another week of both NBA and NFL at play and money to be made, and this week we're going to talk about a new concept: cornering the market.
If you are not up to date, check out the earlier installments in the series.
Investing In Sports Cards With Jesse: The Rules Of The Game
But first, as always, here are the rules. Every week, I'll be spending about $100 on cards and telling you what I purchased, why I bought them, what strategies I used, and how you can apply them to your collecting.
We're tracking progress, too. Every week I'll share:
My total amount spent
My total amount sold (once I start selling some)
Total value (the comp price of my cards + total amount sold).
From there, we'll be able to calculate my gains.
I challenge you to take on this initiative, too. Invest more or less than me–totally up to you–but track your progress.
Together, let's show the world the power of card investing!
Week 14 Of Investing In Sports Cards With Jesse Purchases
On paper, this seems like my laziest week. Of fine, it was my laziest week.
But this week, I bought 10 lots of a $10 set of cards, so I spent $100 very quickly and effectively.
Here's what I bought:
The One And Only Purchase: Panini Instant 2016 NFL Rookie Lot of 24 (x 10)
I was up to my usual tricks of looking for misspelled listings on eBay, and I stumbled upon this lot while searching "Dak -Prescott 2016."
It's a Panini Instant NFL Rookie lot of 24 cards total, and the rookies include Dak Prescott, Ezekiel Elliot, Michael Thomas, Tyreek Hill. However, there were NO Derrick Henry cards in there (sad day).
There were only 335 of these lots made, so each card is /335.
But why did I buy 10 sets?
Primarily, only one seller had these listed as a lot (lots have the cards broken up as singles), and that one seller had ten of them. They were $10/each with $5 shipping, but I messaged him, and he agreed to sell 10 at $10 each with $5 total for shipping. So, because of that, I bought all 10 sets for $105, shipped.
The better news?
The last Dak Prescott of these that sold went for $20.50, shipped. Of course, that's just the Dak. Factor in Hill, Zeke, and the other rookies, and I think I can get $30+ each with the proper listing (and quantity of 10). Here's an eBay rule to live by: if you are the only one with an item listed, you can set the market price. That's what we call cornering the market.
That said, I'm going to conservatively comp the lots for $200 each and say I bought the lot for $105, and the value is $200. But, of course, I'll adjust that if I can sell them for more.
With no new sales this week, that means here's where we stand:
Investing In Sports Cards With Jesse: Cards Held
Shai Gilgeous-Alexander Rookie Lot: Bought $75, Comp $130
SGA Prizm Rookie: Bought $121, Comp: $185
Tannehill Triple Threads Auto /25: Bought $83; Comp $90
Tannehill Rookie Card Lot: Bought $17; Comp $50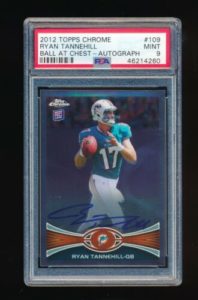 Alexander-Walker lot of 96 Hoops Rookies: Bought $40, Comp for $144
Nickeil Alexander-Walker Mosaic Auto Fusion Red: Bought $25, Comp for $55
NAW lot of 11 Rookies: Bought $10.81, Comp for $74
Minshew Prizm Lot: Bought $50, comp $75
20 Card Football Lot: Bought $31.77, Comp: $100
Ryan Tannehill Rookie Lot: Bought $60, Comp $90
Trey Sermon Certified RPA: Bought $41, Comp $41
Trey Sermon Certified RPA: Bought, $39, Comp $39
Nickeil Alexander-Walker Mosaic Auto Fusion Red: Bought, $47, Comp $70
Nickeil Alexander-Walker Optic Red Choice /88: Bought $29, Comp $55
Jaren Jackson Jr. Prizm Lot of 3: Bought $30, Comp $42
Tyler Herro Prizm and Purple Scope Rookie: Bought, $15.55, Comp $22
OG Anunoby Optic RC: Bought, $6, Comp $8
OG Anunoby Certified RC /25: Bought, $25, Comp $35
DeShaun Watson Prestige /150: Bought, $15, Comp $25
DeShaun Waston Rookies and Stars Auto /75: Bought, $85, Comp $100
10x 2016 NFL Panini Rookie Set: Bought $105, Comp $200
Investing In Sports Cards With Jesse: Cards Sold
McCaffrey Rookie /100: Bought $36, Sold $80
Heinicke Contenders Auto: Bought $37, Sold $125
Heinicke Rookies and Stars Auto /50: Bought $19, Sold $100
John Wall Rated Rookie /25: Bought $14.58, Sold $100
 Tylan Wallace 3 Card Lot: Bought $50.80, Comp $100
Matthew Stafford Contenders Rookie /99: Bought $43.06, Sold for $100
Aaron Rodgers Bowman Rookie /200 SGC 8: Bought  $80.46, Sold $335
Nickeil Alexander-Walker  Donruss Auto /35: Bought, $51, Comp $125
Desmond Bane Absolute Auto: Bought, $23.02, Comp $50
Investing In Sports Cards With Jesse: The Totals
Spent: $1,455
Held (Comps): $1828
Sold: $1118
Value: $2,946
Profit: $1,490
Net: 202% increase
I look forward to listing these Panini rookie sets when they come in. I'll use as many player names as I can on the listings. Then set the inventory to 10 and get these suckers moving. Of course, finding the ideal price will be a challenge, but I'm thinking of starting at $39.99 or the best offer. Then I will adjust in accordance with developments. Stay tuned.
What will I be buying next week? Come back next week for an update.