Investing In Sports Cards: Card Quest 5
It's that time again! I'm back for Week 5 of our investing in sports cards project. This week I have a new strategy to discuss.
Plus, preseason football is in full swing, fantasy teams are being drafted, and football card value is poised to climb. Good stuff!
Investing In Sports Cards With Jesse: The Rules Of The Game
As a reminder, here are the rules: Every week, I'll be spending about $100 on cards. ]
We're tracking progress, too. Every week I'll share:
My total amount spent
My total amount sold (once I start selling some)
Total value (the comp price of my cards + total amount sold).
From there, we'll be able to calculate my gains.
I challenge you to take on this initiative, too. Invest more or less than me–totally up to you–but track your progress.
Together, let's show the world the power of card investing.
Week 5 Of Investing In Sports Cards With Jesse Purchases
Sometimes it's fun to take risks.
This week, I did precisely that, but I also did so in the safest way possible.
I invested in young, promising backup quarterbacks. Two of them in particular: Taylor Heinicke and Garner Minshew.
Taylor Heinicke
Minshew is well-known, but some of you might be asking, "Who's Taylor Heinicke?" If so, you're doing it with good reason.
Heinicke was a free agent but ended up starting during the Washington Football Team's Playoffs matchup last season against the Bucs. Indeed, he lived on his sister's couch before Alex Smith's unexpected injury led him to get a call. Then, in one of the craziest stories of the season, he went from free agent to playoff starter in a week.
While Washington lost the game, Heinicke threw for over 300 yards and a score. He also rushed for 46 and another touchdown. The gritty performance against the future Super Bowl champs impressed the team enough to sign him. Heinicke is now the backup for Ryan Fitzpatrick.
Garner Minshew
Meanwhile, Garner Minshew is one of the best backups in the NFL. However, he will stay on the bench as long as Trevor Lawrence is healthy.  The Mustached-man has quietly thrown for 37 touchdowns and only 11 interceptions through two years as a Jaguar, and it's not out-of-question to see Minshew traded this season.
While neither of these backup quarterbacks might see a single snap this season, their cards are priced accordingly. And, if one of them gets a chance, buying their stock on the dip will have major returns.
That said, here are my purchases.
Purchase 1: Garner Minshew Rookie Lot (Facebook)
As mentioned last week, Facebook card groups can be a great place to find bargains. I posted a request seeking the best $50 Garner Minshew lot that a group member could put together. As a result, I ended up getting 4 rookie cards for $50 shipped. The individual cards were:
Prizm Red Ice Minshew RC
Prizm Gold Lazer Minshew RC
Elite Minshew Rookie /15
Rookies and Stars Minshew Rookie Auto /65
Considering the cards I got, that felt like a great purchase. To reinforce that, these cards, as singles, currently comp at $75 on eBay (assuming the /15 rookie is worth about $15). In other words, I bought them to hold long-term, but I could also flip them and make a few bucks immediately if I wanted. That's always a good sign for a long-term buy.
Heinicke doesn't have many rookie autos, especially in an NFL uniform, making this purchase even better. I paid $36.53 for it, which feels like quite a bit for a rookie autograph of a backup. However, the scarcity and potential make it a worthwhile investment in my eyes.
There's already potential for a flip: these have sold for $56, $57, and $100 over the last month.
So why did mine end so low?
The auction ended at about 8 AM for me. But, as I wrote in a Cardlines story about bad eBay ending times, bad times can lead to a 30%+ discount!
I'm comping this card for $53 right now.
I bought this card at an auction for $18, with shipping. So once again, this feels like a steal (and, once again, it ended as a terrible time).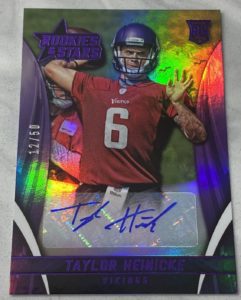 It's hard to comp because of scarcity. Nonetheless, the /99 version sold for $42 last month, and that's the closest comp around. I'm currently comping this one at $50 as a BIN, which tends to sell for more than auctions.
Investing In Sports Cards With Jesse: Sold Cards
I did it! I actually sold a card this week. I've been stashing everything I've bought thus far, but I listed my McCaffrey Rookie /100 for $120; it sold for $80, best offer. So while I might have got more out of it, I bought it for $36 and was content with the price.
Also, I tend to be a conservative comper. Since I'd been comping this one at $50, seeing it sell for $80 was a pleasant surprise.
Investing In Sports Cards With Jesse: Progress
Finally, here's the updated running list of the cards I'm still holding and their most recent comps.
Tannehill Triple Threads Auto /25
Bought $83; Comp $90
Tannehill Rookie Card Lot
Bought $17; Comp $50
SGA Rookie Lot
Bought $75, Comp $130
SGA Prizm Rookie
Bought $121, Comp: $158
NAW lot of 96 Hoops Rookies
Bought $40, Comp for $144
NAW lot of 5 Optic Silver Wave
Bought $25, Comp for $40
NAW lot of 11 Rookies
Bought $10.81, Comp for $74
Minshew Prizm Lot
Bought $50, comp $75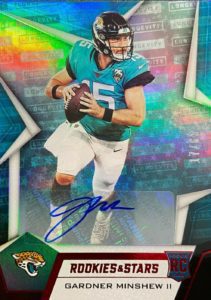 Heinicke Contenders Auto
Bought $37, Comp $42
Heinicke Rookies and Stars Auto /50
Bought $19, Comp $40
SOLD McCaffrey Rookie /100: Bought $36, Sold $80
The only change of the previously held cards was a slight increase in the SGA rookie lot, moving the comp up to $130 after a couple of SGA Status Rookies sold this week.
Investing In Sports Cards With Jesse: The Totals
Spent: $514
Held (Comps): $854
Sold: $80
Total Value: $934
Net: 81% increase
This week's purchases were good because 1) they could be flipped right away if I needed the money, but 2) they're intended as long-term investments that could yield some big returns.
Will Minshew or Heinicke ever see the field? That remains to be seen, but that's also part of the fun!
What will I be buying next week? Come back next week for the next update.
Are you taking on this project yourself? Tweet me @realjessehaynes or email Cardlines to tell us about it!