You Won't Believe How Keith Comstock Was Able To Pose For The "Crotch Shot" Baseball Card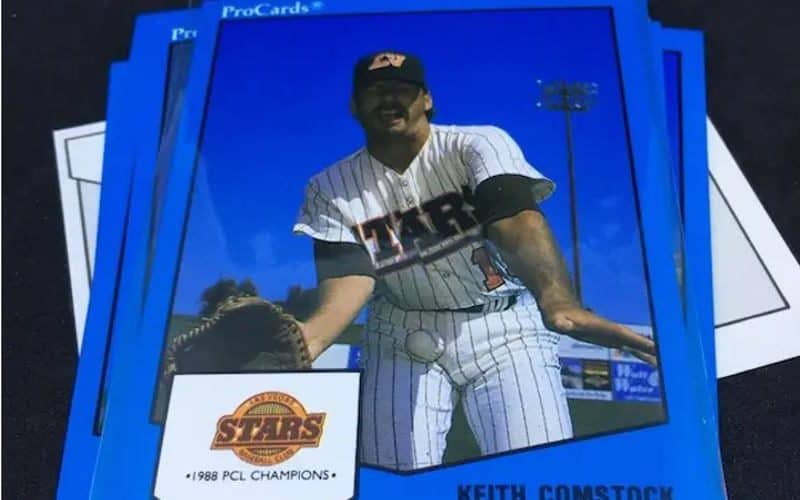 From the first baseball cards produced in the mid-1800s to the modern era, collectors have seen countless images of players in various poses and settings. Many of these images showcase the grit, determination, and passion of the athletes who dedicated their lives to baseball. However, some of the photos on these cards are anything but serious.
Indeed, some of the most memorable cards are the ones where players let loose and show off their goofy sides. From posing with snakes, oversized props, leaving their pant fly open, making funny faces, and even milking a cow. These cards have become iconic for their strange, unique poses that intrigued collectors.
In this article, we'll take a closer look at a card with one of the most unique poses ever featured on baseball trading cards – the 1989 ProCards Keith Comstock baseball card. We'll explore the story behind this unforgettable image.
Shop for Keith Comstock ProCards on eBay
Who is Keith Comstock?
Keith Martin Comstock was an American baseball relief pitcher. He played in Major League Baseball (MLB) for six seasons, spending time with the Minnesota Twins, San Francisco Giants, San Diego Padres, and Seattle Mariners.
He also played for the Yomiuri Giants of Nippon Professional Baseball (NPB) and several Minor League Baseball teams in various countries. By the end of his 17-year career, Comstock had played in teams across the United States, Canada, Mexico, Venezuela, Japan, and Puerto Rico. Despite such an eventful career, Comstock might be best known for appearing on a memorable 1989 minor league baseball card.
Shop for Keith Comstock ProCards on eBay
The Keith Comstock "Crotch Shot" card
Comstock's 1989 ProCards card instantly stands out at first glance. While most players strike one of the several regular poses, Comstock's is much more striking. In the photograph, Comstock s in full uniform with his hands stretched out in front of him. His eyes are squeezed shut, and he has a pained look on his face. His mouth is open like he's letting out a scream. Comstock wouldn't be the first player to make a funny face on his trading card.
Players have been making funny faces for their card pictures since trading cards were a thing. What makes this card truly stand out is the location of the baseball in the photo. The baseball is perfectly placed to give the impression that Comstock has just taken a shot to the groin. The ball's position and Comstock's expression create an image that's both painful and hilarious.
Shop for Keith Comstock ProCards on eBay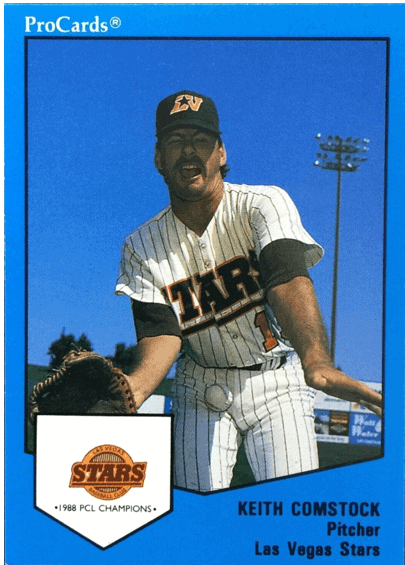 The interesting story behind the card
This card undoubtedly captured the interest of everyone that set eyes on it after it was released. Curious collectors wondered if it was a perfectly timed shot or a well-planned shenanigan. Thanks to an ESPN interview, we know the inside story behind this iconic baseball card.
Today, the card is considered a classic piece of sports memorabilia and is widely recognized as one of the most unique and memorable cards ever produced. However, the story behind the card is interesting and shows just how funny players can be when they let their hair down.
Shop for Keith Comstock ProCards on eBay
I'm gonna take it to the nuts
The shooting day for the 1989 ProCards set started as most minor league shooting days go. Comstock said his iconic shot wasn't the only "prank" planned for the day. His teammates were discussing their plans for their cards. This wasn't new; players have always tried to prank photographers since trading cards were a thing (see Lew Burdette's 1959 Topps card).
"While that guy was setting up for the shoot, my teammates started talking about how they wanted to sabotage their own cards. One by one, they stepped up and posed. Right-handed batters tried to hold the bat like a lefty; left-handed pitchers wore right-handed gloves. They tried everything. The photographer caught every one of them. He had a sheet, or something, that had our numbers and lefty-righty stuff on it. He was really, really strict. He wasn't having any of it."
With the photographer spotting and saying no to even the tiniest subversion, one would think Comstock would rethink his pose idea. However, when it was his turn, he didn't hesitate.
"Finally, it was my turn. The photographer asked me what I wanted to do, expecting I'd do one of the basic poses. I thought about it for a second, and then it came to me: "I want it to look like a comebacker hit me in the nuts," I said. The photographer didn't like that. "Sorry, man," the guy said to me. "I'm under strict rules. I can't take that picture."
If a junior player had made such a request, that would have been the end of the idea and we'd never have gotten this iconic card. However, Comstock was a veteran and had been to the major league. The squad looked up to him. Todd Simmons, the team's prankster, heard about his rejected plan for the baseball card and knew what had to be done.
"Todd told me, 'You're the veteran,' and said I needed to tell the guys in the clubhouse that they shouldn't sign their card contracts unless this photographer allowed me to get a ball to the crotch."
The clubhouse mutiny
Baseball players had to sign a contract to get their pictures taken for the set. It authorized trading card companies to use their image in their set. While most players had taken their photos, a good number had not. The potential stars were the players who were yet to take their shots, as the photographer got all the regulars to take their pictures first.
I went to the clubhouse, told the guys my idea about the ball, and said they shouldn't sign their contracts unless I got this picture taken. They didn't hesitate. It wasn't like some movie moment, though. I didn't mandate anything from them. I wasn't Mel Gibson in "Braveheart." There was no chanting or cheering. Like I said, these guys were 30 minutes from leaving the clubhouse. They were like, "Go ahead." I'm sure they didn't really care.
Preparing for the shot
With the players behind him, Comstock got to work preparing for his shot.
"I went to the dugout, got some really sticky baseball tape, and tried to stick it to the ball and then to my pants' crotch. The ball was too heavy. It kept falling off. I tried to circle the tape around my quad, but the tape blocked out the ball's seams. I went up and down the dugout, looking for anything that was strong enough to hold a ball.

Then I found the Super Glue…. I didn't want to ruin my game pants, so Todd ran to the clubhouse and got a pair of old ones. I squeezed the Super Glue tube over half the ball. I doused it. I put on the pants, pressed the glued-up ball to them, then tried to let go.

The ball was stuck to my hand. I tried to pull it off, but the ball was about to peel off my pants. I moved my hand, and the pants moved. I thought, I am not taking this photo with my hand on my crotch. Someone grabbed a tongue depressor from the trainer's kit and slowly started to pry my fingers off the ball. It took a while, but my hand finally got free. Now I just had to get the photographer."
Sweet victory
While the photographer didn't give in initially, the threat of several potential major leaguers not signing their card contract did the magic. The card company needed them in the set, and they wouldn't take their picture if Comstock didn't get his picture taken.
"I walked up with the ball stuck to my pants, and the guy was like, "No-no-no." I was expecting that. I told him that I had a clubhouse full of players who weren't going to sign their card contracts unless I got a ball in the nuts. I looked as serious as possible. The photographer stared at me for a second, trying to figure out if I really meant it. "Son of a bitch," he finally said. "Go ahead."
The iconic shot
While most photos require several shots to capture the perfect moment, Comstock's photo was taken in just one go, making it even more remarkable.
"He gave me one shot. I could feel the ball starting to fall off. "Take the picture! Take the picture!" I yelled. I threw up my hands and closed my eyes. That was it. The guys couldn't believe I pulled it off. I had no idea what the card was going to look like. We got the little set of team cards delivered to the clubhouse one day, and we opened them. Sure enough, there I was, taking one to the nuts. The guys thought it was hilarious. I signed the card for any teammate who wanted it. I even signed one for Steve Smith, our manager. That was a great day."
Why did Keith Comstock pose for the ProCards baseball card?
While players having inventive ideas for their pose isn't exactly new. The ball to the crotch idea hadn't been done before, and few wondered why Comstock came up with the idea. Luckily we know why now – boredom.
"I had so many minor league cards of myself that I was getting bored with them…. There was absolutely zero creativity with minor-league cards. You should see my old ones. There was the balance position, where the photographer told you to raise your leg like you were ready to throw. There was the one where you extend your throwing hand like you've just released a pitch. There's the one where you're standing with a ball and glove, doing nothing. Like I said, zero creativity. I'd done so many of those that I was sick of it."
This trading card has become a cult classic among collectors and baseball fans. While the card has been criticized for its lack of taste and appropriateness, it has also been celebrated for its sheer absurdity and the fact that it captures the playful side of the sport.
Shop for Keith Comstock ProCards on eBay
Card collector's reaction to the image
Contrary to the photographer's fear, Comstock's card was a hit with collectors when the set was eventually released. It was relatable and showed the playful side of the sport. There wasn't any bad press following its release, and ProCards even mailed Comstock a gift.
"ProCards must not have been too upset about what I did. Sometime after the set's release, I got an 8-by-10 in the mail from the company. There I am: pinstripe Stars jersey, hat on, eyes closed, mouth open. I framed the photo and for years it hung at my house in Arizona, in a place that I call my Wall of Shame."
However, it wasn't always the iconic card that it is today. People probably had a laugh or two over the card and moved on. A funny pose from the minor league wasn't enough to cause any buzz worth recording. This was reflected in the card's value which stayed below $5 for several years after its release.
However, the ESPN interview with Comstock brought this card to the notice of collectors who otherwise wouldn't dabble with minor league cards. This made an instant sensation and a major topic of discussion. It gained a cult following among collectors and baseball fans in the years that followed.
Shop for Keith Comstock ProCards on eBay
Value of 1989 Procards Keith Comstock
The 1989 ProCards Keith Comstock card grew in popularity after the ESPN article. It became a popular topic of conversation on various forums, with collectors trying to track down the elusive card.
Before the ESPN article, this card sold for between $3 to $10. However, since the ESPN article ran on August 21, 2019, the 1989 ProCards Keith Comstock prices have soared. For the next several months, it consistently sold for upwards of $100 – $300 on eBay. There was even a $250 sale for a raw card.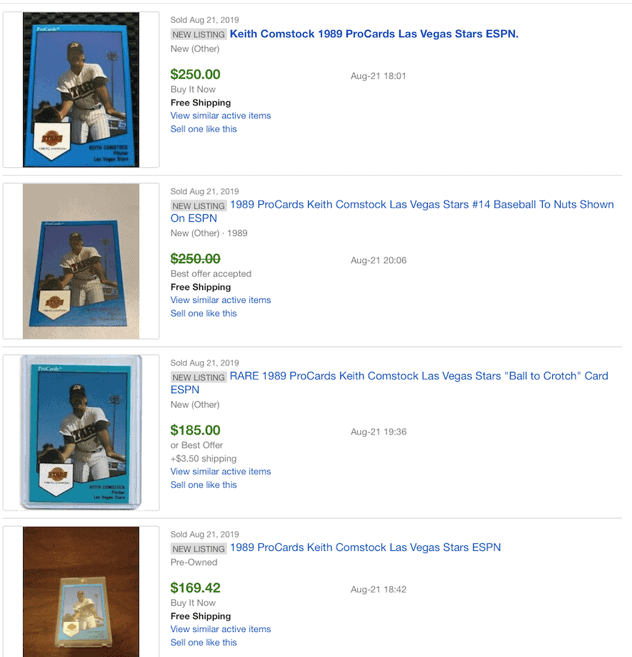 However, its value has dwindled from the heights it once reached. The value of the 1989 ProCards Keith Comstock today card ranges between $30 – $150, depending on the card's condition. Sure, it is much higher than it was before the ESPN story sent it to extreme heights, but has dipped in recent years.
Shop for Keith Comstock ProCards on eBay
Bottomline of the 1989 ProCards Keith Comstock card
Today, the 1989 ProCards Keith Comstock card is widely recognized and considered a quirky part of classic baseball card history.
The popularity of the Keith Comstock card among collectors further highlights what happens when a baseball card gets the attention of mainstream media. For the first time, a card from an obscure minor league set is legendary. It was dubbed the funniest baseball card ever made by ESPN and many collectors consider it a must-own for their collection.
This card isn't Comstock's only iconic card; his 1988 Topps Keith Comstock #778 with white Padres letters error card is particularly valuable and highly sought after by collectors.
Shop for Keith Comstock ProCards on eBay