Are Minor League Cards Worth Anything?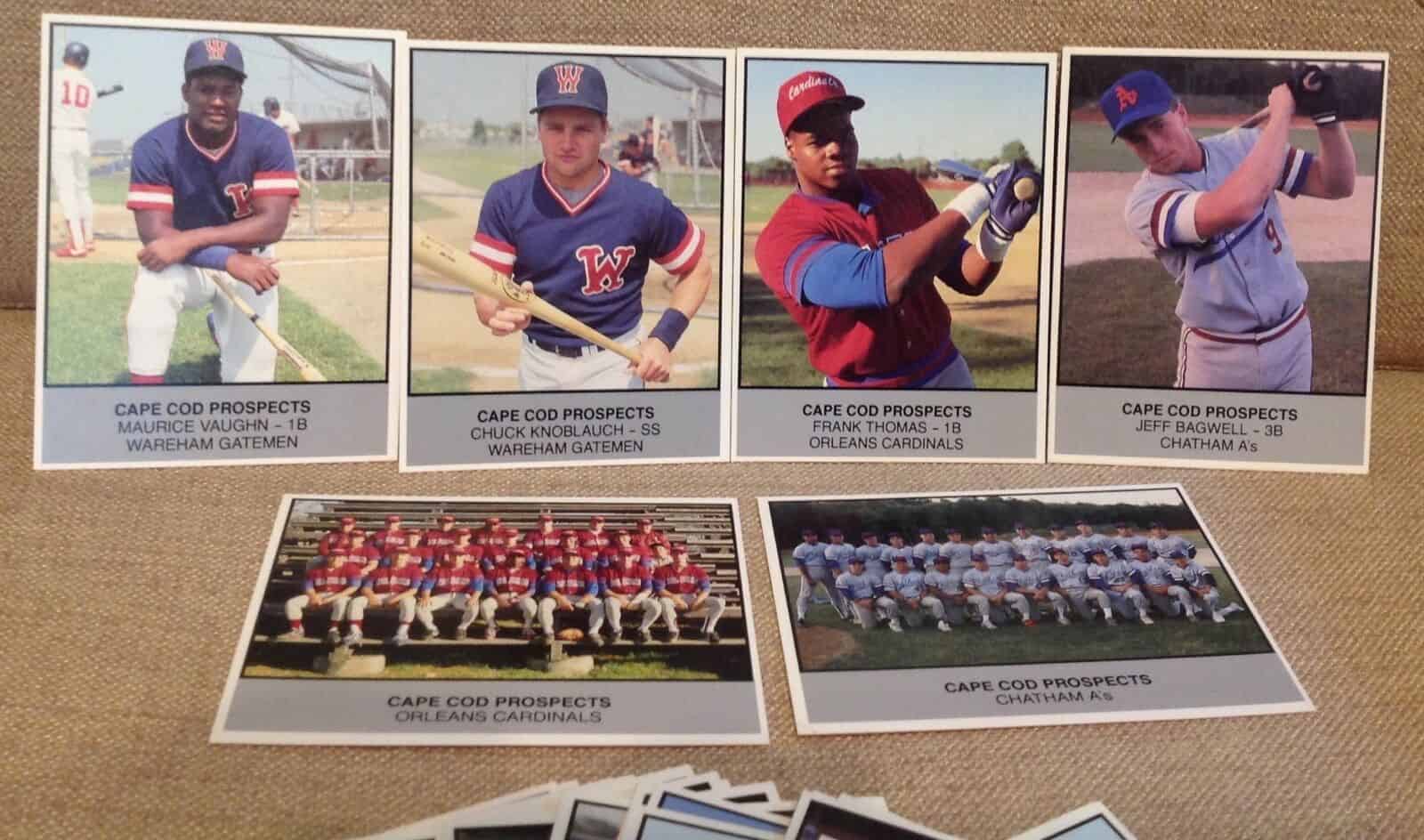 Minor League cards have been around for over a century. They are treasured by certain types of collectors and can fetch a good amount of money if the card is right. Therefore, many minor league cards are worth quite a bit.
In addition, some of the more popular card sets are technically minor league cards. For example, Bowman prospects are usually minor leaguers. Today, we will look at different sets of minor league cards, why people collect them, and their value.
 Minor League Card Releases
 There are many local releases of minor league cards. However, very few mass-produced sets. While this makes them a bit more difficult to obtain, it lowers the population reports and presents some good opportunities for investment.
Topps Heritage Minor League Baseball
Today, the main minor league card release, the Heritage series, looks just like the often maligned MLB Heritage set. However, it comes out once a year and is quite affordable. You can get a 2020 Hobby Box for under $80.
Note that they are not a bad investment when unopened because there is a minimal supply. For example, 2017 Hobby Boxes are hard to find and will cost you almost $300 if you find one.
Maybe it's just me, but the old-fashioned Heritage set looks much better to me with off-beat minor league team names and uniforms. I wouldn't be remotely surprised if the big names in this series retain their value more than some of their equivalents in the MLB Heritage releases.
Unique Minor League Baseball Sets
 Unfortunately, Heritage is the only mass-produced minor league set out there nowadays. But most minor league teams put out sets. Unfortunately, they are typically low pop and used to be quite hard to get.
However, the internet has made everything more readily available. One incredible source for unique sets from throughout the years is STB Sports. They have a wide array of team sets and individual minor league cards.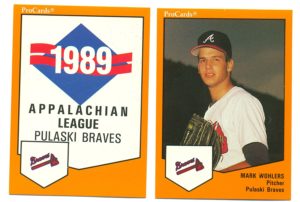 Bowman Prospects
 Bowman cards feature minor league players, who are believed to be strong potential prospects for the majors. However, the pictures feature the prospects in major league uniforms, and this helps raise their value. The series also features veteran major leaguers, and that further blurs the issue.
For this reason, some of the minor league collecting purists, like the folks at Blowout Forums, don't consider them to be genuine minor league cards.
But let's get real. No one is buying Bowman to get a fifth-year Kris Bryant card. Collectors and investors are looking for prospects, and these are still minor league players. Shoving them in an MLB uniform doesn't change that. And, of course, no one needs to tell you how much value Bowman 1sts can hold. So, we do not include them in this overview because of the uniforms and the inclusion of veterans. But so that you know, it is a controversial point.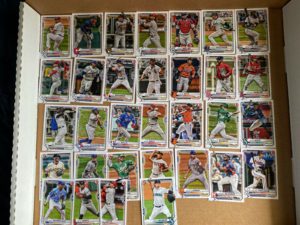 Who Buys Minor League Cards?
There are some hard-core minor league card collectors out there. And they buy up interesting cards. But that isn't where the money is.
There are two main buyers you want to target, and they are related and sometimes overlapping:
Personal Collection Enthusiasts
If you want to have a complete personal collection of a player that stands out above the norm, their main minor league cards are essential. These collectors will pay good money for the rare releases in particular.
PSA Registry Enthusiasts
The PSA Set Registry program puts a premium on getting the highest graded versions of cards in a set. As a result, many of those sets include minor league cards.
How Does The PSA Registry Determine What Minor League Cards Are Worth?
Let's take a look at a couple of examples. If you are a big collector of future Hall of Famer Miguel Cabrera, the marquee registered collection for you is the Miguel Cabrera master set.
There are several minor league cards necessary to finish that set. Keep in mind that you also need the highest graded available versions to get ahead on the leaderboard:
| | | | |
| --- | --- | --- | --- |
| Card | Highest PSA Grade Found | Value | Population |
| 2000 Just Minors Miguel Cabrera Mystery Signatures | 10 | Couldn't find a sold graded card. Going for $2,500 | 25 |
| 2000 Multi-Ad Miguel Cabrera Utica Blue Sox | 10 | $167 | 124 |
| 2000 Royal Rookies Futures Miguel Cabrera Auto | 10 | $2,000 | 95 |
| 2001 Connies Pizza Kane County Courgars Miguel Cabrera | 9 | $45 | 5 |
| 2001 Multi-Ad Midwest League Top Prospects Miguel Cabrera RC Rookie | 9 | $27 | 36 |
Some of the cards on the registry list seem almost impossible to find. And PSA has put a premium on their inclusion in the set. For example, if you tried to find the 2002 Upper Deck Minor League Signature Collection card, you would not be able to purchase it on eBay or other platforms like COMC. However, since there is a population of 3 PSA 10's, and it is an auto, it would likely fetch a good price.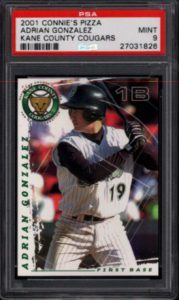 If so, keep an eye on the PSA Set Registries. If a minor league card is included in a desirable set, that is a good sign for its future value.
The PSA Set Registry And Hall-Of-Famer Sets
It may feel like Miguel Cabrera has been around forever, but he is still a recent player. In fact, he is still playing (and has a healthy OPS at age 38!).
But how do minor league cards figure into the collections of vintage players? First, we looked at a few popular Hall-Of-Famers.
| | | | | | |
| --- | --- | --- | --- | --- | --- |
| Player | Card | Highest Grade Found | Price | Population | Set Registry Weight |
| Derek Jeter | 1995 Columbus Clippers Yearbook | PSA 9 | $2,974 | 3 | 10.0 |
| Ken Griffey Jr. | 1988 Best Platinum Ken Griffey Jr. San Bernardino Spirit Auto | PSA 10 | $4,400. | 5 | 4.0 |
| Tony Gwynn | 1982 TCMA Hawaii Islanders Team Set | PSA 10 | $3,606 | 112 | 10.0 |
The PSA Set Registry And Young Star Registry Sets
 To see what sort of role minor league cards are likely to play in the future, we looked at how they are treated in the set registries of the young superstars of today.
| | | | | | |
| --- | --- | --- | --- | --- | --- |
| Player | Card | Highest Grade Found | Price | Population | Set Registry Weight |
| Ronald Acuna Jr. | 2017 Topps Heritage Minor League Real One Auto | PSA 10 | $625 | 130 | 6.0 |
| Vladimir Guerrero Jr. | 2018 Topps Heritage Minor League Red Jersey | PSA 10 | $50 | 275 | 4.0 |
| Fernando Tatis Jr. | 2017 Topps Heritage Minor League Gray Border | PSA 10 | $999 | 7 | 5.0 |
While by no means the most valuable cards of these young phenoms, these cards are worthwhile investments. They have a good weight in the PSA Registry Set and stand out in the registry list.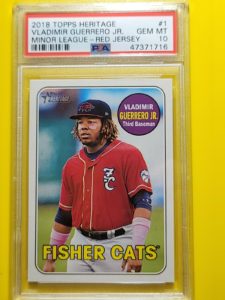 It is worth noting that while base minor league cards are often quite worthwhile for Hall-Of-Famers from the 80s and 90s, they are basically worthless today and will probably remain so. The smart money is on refractors, variations, and autos with low pops.
Cool Minor League Cards Worth A Lot 
With all due respect to the PSA Set Registry, there are other elements that determine the value of a minor league card. Lets look at a few examples of desirable minor league cards.
Babe Ruth – 1914 Baltimore News #9
This card features some random minor league pitcher called 'Ruth.' A PSA 4 sold for $925,000.
Shoeless Joe Jackson – 1910 Old Mill (T210) Series 8
One of very few Shoeless Joe cards and easily the one with the best picture. This card catches Joe during a brief stint in the minors and is one of his most valuable. It shows Joe when he was young and yet to be tainted by scandal. A PSA 3.5 sold for $600,000.
Mike Schmidt – 1972 Puerto Rican League Sticker
Mike was a seriously hard worker as a prospect and would spend winters sharpening his game in the Puerto Rican winter league. Unfortunately, the only release for that league was stickers, so very few survive in decent condition. A PSA 8 went for a bit over $2,000. PWCC (not our favorite seller) is selling the only PSA 10 copy for $100,000. I am very curious if anyone will buy it.
Michael Jordan – 1994 Upper Deck Minor League Gold
Jordan's strange baseball adventure didn't amount to much. After all, he played a single MLB exhibition game. However, it left behind a bunch of cards. A PSA 10 of this went for $2,550.
Cal Ripken – TCMA Cal Ripken Jr. Rochester Red Wings #15
There is an unquestionable mystique surrounding Cal Ripken. His iron man reputation, in particular, inspired many young athletes. As a result, this card has fetched over $1,000 on eBay recently.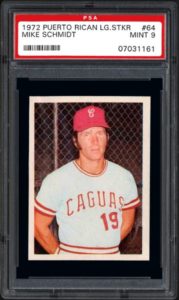 What Determines Minor League Card Worth
After looking at the market for minor league cards, I have compiled the characteristics of a worthwhile minor league card:
A player with mystique: there is something about a player with a legendary aura in a minor league uniform that is captivating. The innocence before the storm is alluring. Think players like Shoeless Joe or Daryl Strawberry over your Mike Trout and Stan Musial types.
Eye appeal: since minor league cards are not 'supposed to be' valuable, they need to have that particular oomph to send them over the top.
Low pop: even if they are currently valued on the low side, nice cards with a low population can be good investments.
Novelty factor: Collectors into minor league cards like that unreplaceable off-beat quality that comes with the territory. So look for cards with strange set names, team names, pictures, or anything else that sets it apart.
The CardLines Pick
Here is our pick for a minor league card that is likely to become more valuable over time: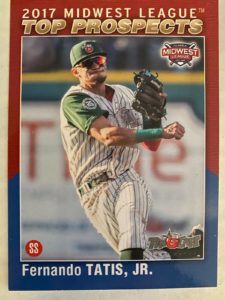 Consider the 2017 Choice Fernando Tatis Jr. Midwest League Top Prospects. It has eye appeal, a charismatic player with mystique and that quirky minor league feel. Most importantly, there are only 19 graded cards out there. So the only way it doesn't pay off is if Jr. doesn't pan out. We will let you figure out how likely that is. If you don't like Fernando, there are excellent Vlad Jr. and Wander Franco cards in that series as well.
What Are Minor League Cards Worth? The Bottomline
It is not particularly difficult to make some money off minor league cards. However, keep in mind that the prints are lower, and people grade them less, so the pops are considerably low. The truly cool and unique older minor league cards of old-school Hall-Of-Famers are pretty valuable and are only likely to appreciate in value.
What about minor league cards coming out today, I hear you ask? I am reasonably optimistic about their future value. If you look at the card lists for today's crops of stars, the few minor league cards really pop out. Between the 20 gazillion Bowman prospect refractors, that one Midwestern Grapefruit League Pensacola Blue Wahoos card sticks out. And I think the passing of the years will only make them stand out more.
Because of PCs and the PSA Set Registry, there will always be a market for graded minor league cards of future stars. In particular, early autos are pretty valuable. The wild and wacky world of minor league cards is both fascinating and potentially rewarding.