MLB Free-Agency Trades And Card Value
There's never a lack of trade and free-agent signing rumors. As the MLB postseason winds down and a new champion is crowned, the hot stove begins to simmer. Baseball fans debate their favorite team's most likely move and feverishly check and re-check their social media feeds. But how do MLB Free-Agency, trades, and card value intersect?
Blockbuster trades and record free-agent deals can impact the value of cards. In a recent article here at CardLines, we found that prospects tend to carry a heftier price tag if they play for a more popular team. Additionally, big-name players briefly see a boost in their card value after a trade to a big market team. An example from the previous article mentioned a Francisco Lindor card going from $125 to $239 after a trade from the Cleveland Indians to the New York Mets. Do other players in baseball see similar changes?
MLB Free-Agency, Trades, And Card Value: The Dynamics
Max Scherzer saw a similar bump in his card value pre-and post-trade. In the first half of 2021, PSA-10 Max Scherzer Rookie Cards went for between $300-$400. After the Washington Nationals traded Scherzer to the Los Angeles Dodgers, the same card shot up over $500 and as high as $819.05 within the first month and a half with his new team.
Card values also increase after a player signs a free agent contract with a big market team, like when Gerrit Cole left the Houston Astros to join the New York Yankees. When he signed a free-agent contract with the Yankees at the end of 2019, a PSA-10 Gerrit Cole Rookie Card sold for $5.99. After he signed a 9-year/$324 million contract in December 2019, Cole's Rookie Card hit a high of $77.00 a few months later.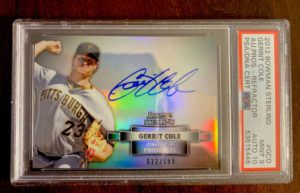 When MLB Free-Agency, Trades, Do Not Increase Card Value
But the dynamic is not quite that simple. Not all transactions garner a drastic change in trade value, even if the player is among the league's top players.
Sterling Marte is a great example of this. He played eight seasons with the Pittsburgh Pirates, putting up All-Star caliber offensive numbers and playing fantastic defense. The Pirates traded Marte to the Arizona Diamondbacks before the 2020 season, who traded him to the Miami Marlins by the 2020 trade deadline. He was then traded to the Oakland Athletics at the 2021 trade deadline. Simple.
All four teams' payrolls are consistently below league average and, with the recent exception of Oakland, finish with worse than a .500 winning percentage every year. Nevertheless, the 32-year-old put up some of the best numbers of his career in 2021 — .308 BA, 47 SB, 133 wRC+, 5.4 fWAR.
Nevertheless, a PSA-10 of Marte's Rookie Card maintained a $13.50 value in 2021. This offseason, Marte is a free agent, and unless he signs with a famous club, his card value will likely remain below similar players with more popular teams such as George Springer or Christian Yelich.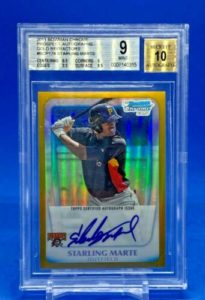 What Can We Expect In The Coming Season?
That brings us to the current season. The upcoming free-agent class includes big names from popular and not-so-popular teams. There are also a few players who may be key trade pieces this offseason. Next, we'll dive into the outlook for three players who could make a splash in the next few months.
MLB Free-Agency, Trades, And Card Value: The Elite Shortstops
Among the current class of free agents, the shortstops stand out as a class above. That is not surprising when we are talking about Trevor Story, Carlos Correa, and Corey Seager. So we'll look at all three of these shortstops here.
Trevor Story
It's somewhat surprising that the Colorado Rockies are letting their star shortstop walk. They had many chances to trade Trevor Story, but he stayed put through a tense trade deadline. This fall, despite an uncharacteristically weak offensive season from Story
Story's three seasons between 2018-2020 were remarkable. The 60-game sprint in 2020 offered fewer chances to match the previous season's numbers, but his numbers remained comparable.
In the two full seasons between 2018 and 2019, Story hit 72 home runs and posted the highest slugging percentage among shortstops. He also stole a combined 50 bases, the third-best in all of baseball.
Story amassed 11.1 fWAR over those two years, which put him right among the best shortstops in the league. There will always be questions of whether Rockies players are as good as their numbers suggest because of the "Coors Effect," but the Other Coors Effect is usually overlooked. Hitter numbers on the road tend to improve significantly after leaving. Therefore, a change of scenery may benefit Story!
Carlos Correa
Correa has taken the criticism from the Astros cheating scandal in stride. He seems to find being booed at every stadium oddly motivational. His 21 Defensive Runs Saved at shortstop is not only the best at shortstop but the best in baseball at any position. Correa's plate disciple has also improved, and he's making higher-quality contact.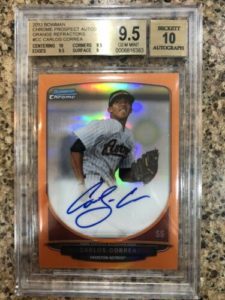 Corey Seager
Rounding out the big three is World Series MVP Corey Seager. The biggest question with Seager is his injury history. He missed almost three months with a broken bone in his hand this season. The problem is nothing new. He managed just 26 games in 2018 when he got Tommy John surgery.
When he's healthy, however, he's one of the best. His 2016-2017 are an example of his abilities. That year Seager hit a combined .302/.370/.497 and posted a 12.9 fWAR.
How Do The Elite Shortstops Compare
Let's take a look at the offensive stats of the three players.
Offensive Performance
All three players are high performers. However, a closer look shows that while Story has showier HR and stolen base numbers, his overall contribution (as recorded by wRC+) is lower. Adjustments for Coors Field at least partially explain that.
| | | | | | | | | |
| --- | --- | --- | --- | --- | --- | --- | --- | --- |
| | Games | Home Runs | Stolen Bases | Batting Average | On-Base Percentage | Slugging Percentage | wOBA | wRC+ |
| Story | 745 | 158 | 100 | .272 | .340 | .523 | .362 | 112 |
| Correa | 752 | 133 | 33 | .277 | .356 | .481 | .356 | 128 |
| Seager | 636 | 104 | 12 | .297 | .367 | .504 | .368 | 132 |
Defensive Performance
On the defensive side of things, Story and Correa appear to be substantially better than Seager. I will note that defensive statistics are not perfect. They work best when looking at multiple seasons at a time. They're also counting statistics, which means the more playing time a player amasses, the better they will perform.
| | | | |
| --- | --- | --- | --- |
| | Innings on defense | DRS | OAA |
| Story | 6304.2 | 69 | 19 |
| Correa | 6553.1 | 68 | 27 |
| Seager | 5182.0 | -5 | -17 |
It's interesting to see how well Story and Correa have performed since their teams use very different defensive strategies. Story and the Rockies shift less than almost every team in baseball. Conversely, Correa and the Astros shift more than just about any other team. Similarly, the Dodgers shift just as much as the Astros. Seager, however, is a poor defender by both DRS and OAA. (A note: UZR was omitted because some numbers are skewed because it does not take shifts into account.)
Which Shortstop Will End Up In A Big Market?
All three of these players will receive substantial contracts, and rightfully so. However, some teams will steer clear of Seager because of his defensive inadequacies. So besides the Astros and Dodgers going after any of these three players, they could also land with the following teams: New York Yankees, Cincinnati Reds, Philadelphia Phillies, Oakland Athletics, Los Angeles Angels, or even a Rockie reunion in St. Louis!
The most recent prices for each player's PSA-10 Rookie Card are:
Story, Correa, and Seager are all worthy of a big pay-day. All three are widely popular players, and whoever lands with a big team will see the most significant boost in card value. However, keep in mind that Seager is already a star in one of the two biggest markets.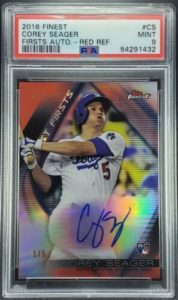 MLB Free-Agency, Trades, And Card Value: Willson Contreras
The Chicago Cubs have emptied their championship-winning roster at a record pace. Both Bryzzo boys and El Mago were shipped off in the middle of the 2021 season, and other star players waltzed their way into free agency or were traded for what felt like loose change.
It appears that Willson Contreras will be the next player dealt. There isn't a bevy of quality free-agent catchers available, so Contreras will be a hot commodity.
Comparing Contreras To Other Catchers
Contreras contributes more runs to his team than all catchers not named Yasmani Grandal. This comparison is based on all catchers' 2016-2021 cumulative weighted Runs Above Average (wRAA): Yasmani Grandal has a total of 81.9 wRAA, Contreras has 57.1 wRAA. That's better than J.T. Realmuto (55.2 wRAA) and Buster Posey (52.8 wRAA). The table below shows a breakdown of Contreras' offensive numbers compared to the aforementioned catchers.
| | | | | | | | | |
| --- | --- | --- | --- | --- | --- | --- | --- | --- |
| Combined through 2016-2021 | Games | Home Runs | Batting Average | On-Base Percentage | Slugging Percentage | wOBA | wRC+ | wRAA |
| Grandal | 689 | 132 | .240 | .357 | .471 | .355 | 123 | 81.9 |
| Contreras | 621 | 95 | .259 | .349 | .458 | .346 | 114 | 57.1 |
| Realmuto | 729 | 102 | .278 | .338 | .461 | .340 | 112 | 55.2 |
| Posey | 618 | 56 | .291 | .367 | .430 | .343 | 115 | 52.8 |
Contreras On The Basepaths
Where Contreras loses value, however, is on the basepaths and in the field. The following charts show the same four players' values on the basepaths and in the area.
| | | | |
| --- | --- | --- | --- |
| Combined through 2016-2021 | wSB | wGDP | UBR |
| Grandal | -2.7 | -4.1 | -21.4 |
| Contreras | -4.3 | -3.4 | -8.8 |
| Realmuto | 2.5 | 3.0 | 14.9 |
| Posey | -0.5 | -7.8 | -8.6 |
Realmuto is the only above-average baserunner in the group which isn't a surprise considering he's the fastest catcher in the league. (His 28.8 ft/sec sprint speed is near the 30 ft/sec, regarded as elite.) Contreras is the least valuable for stolen bases (wSB) and ground into double plays (wGDP) at a high clip. Ultimate Base Running, UBR, accounts for smart baserunning that avoids outs on the bases. Contreras is the worst of the bunch in UBR.
| | | | | | |
| --- | --- | --- | --- | --- | --- |
| Combined through 2016-2021 | rSZ[1] | rCERA[2] | rSB[3] | rGFP[4] | DRS |
| Grandal | 51 | -5 | 1 | -4 | 50 |
| Contreras | -21 | 8 | 18 | 6 | 12 |
| Realmuto | -8 | -32 | 14 | 11 | -4 |
| Posey | 26 | -6 | 7 | 12 | 44 |
Contreras Defensively
Contreras has only averaged two Defensive Runs Saved per year through his six years in the big leagues. (Side note: Realmuto stands out as the only catcher on the list that has cost his team runs behind the plate, but the number is kind of misleading of Realmuto's current approach behind the plate. He was worth -15 DRS with the Marlins over five years but has been very good with the Phillies for three years (11 DRS).)
He has improved recently, but Contreras is a very poor framing catcher overall. However, he does have one of the strongest arms among catchers behind the plate and is quick to throw out base stealers. If there's a good sign on defense for teams considering trading for Contreras, it's that the 2021 season was the best he's had defensively with 8 DRS.
Where Will Contreras Go?
Looking ahead at potential trade candidates, a few teams stand out. First, the Miami Marlins were rumored to be interested in trading for Contreras the last offseason, and they desperately need to tend to their catching issues. The Marlins, however, are unlikely to influence card value.
The Seattle Mariners were unlikely contenders in 2021 and are always looking to engage in trade talks. None of their three regular catchers hit above .202 or provided an above league-average offense. The Mariners, like the Marlins, aren't a big market team and probably won't make a dent in card value.
I hesitate even to mention the Los Angeles Angels because their track record of improving the team is not great, but with their two-way phenom vocalizing his displeasure about the team's state, they should do something. Lastly, the grumbles in the Bronx about catcher Gary Sánchez have hit an all-time high. A spike in card value, which currently sits around $40 for a Rookie Card, would be the flashiest if the Yankees trade for Contreras.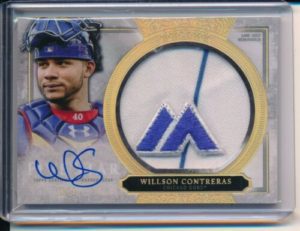 MLB Free-Agency, Trades, And Card Value: Freddie Freeman
I don't think anyone imagined that Freddie Freeman would be testing free agency by the end of the season. Freeman embodies the Atlanta Braves. The 2020 NL MVP has been vocal about wanting to remain in Atlanta for the duration of his career but was adamant that he did not want to negotiate in-season.
So, here we are. Freeman is set to become a free agent this November, but not before he does all he can to bring a championship to Atlanta. That includes, most recently, launching a go-ahead home run against one of the best relief pitchers in baseball to send the Braves to the NLCS.
Freeman is one of the best players in baseball. According to bWAR, Freddie is the sixth-most valuable player in Braves franchise history. The first baseman excels in nearly every category, both in old-school statistics and advanced metrics. Every team in the league wishes they had their own Freddie Freeman; after the 2021 season, they can.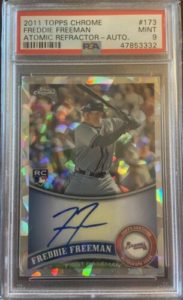 Comparing Freeman To Paul Goldschmidt
When trying to estimate a potential contract for Freeman, the best comparison is probably Paul Goldschmidt in his last free agency year. Goldschmidt, well-rounded offensive threat and Gold Glove-caliber defender, was entering his age-31 season when he signed a 5-year/$130 million extension in 2019.
Let's see how they compare:
| | | |
| --- | --- | --- |
| Freeman (2010-2021) | | Goldschmidt (2011-2018) |
| 1565 | Games | 1092 |
| 271 | Home Runs | 209 |
| .295 | Batting Average | .297 |
| .384 | On-Base Percentage | .398 |
| .509 | Slugging Percentage | .532 |
| .379 | wOBA | .393 |
| 138 | wRC+ | 144 |
| 42.2 | WAR | 36.2 |
In the three years since signing his extension, Goldschmidt has seen a slight decline in his performance. Nonetheless, he is still a valuable offensive threat and an above-average defender.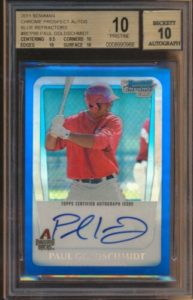 Meanwhile, Freeman somehow seems to be getting better at the plate. He's significantly reduced his strikeout rate while maintaining his power. FanGraphs' ZiPS 3 Year Projections have Freeman essentially maintaining his offensive production. He's also been a durable player for the Braves, playing in all 162 games twice. He isn't getting younger, but the physical demands of first base aren't as much of a concern for an aging player.
Comparing Goldschmidt and Freemans Card Values
The main difference with the Cardinals' first baseman is that he was acquired in an offseason trade with the Diamondbacks. Before the trade, a PSA-10 Paul Goldschmidt Rookie Card sold for $77.77. However, after the transaction and shortly after he signed an extension with the Cardinals, Goldschmidt's Rookie Card sold for $99.99 and soon jumped to $134.09.
So, where could Freeman land? The Braves will make a great effort to entice Freeman to return to Atlanta, but they'll have a good deal of competition. The Yankees are not coy when it comes to spending money. At the trade deadline, they traded for left-handed-hitting first baseman Anthony Rizzo, but he is set to become a free agent this offseason. Freeman signing as a free agent with the Yankees is sure to heighten his popularity and will likely boost his card value, as Gerrit Cole's signing did.
The Philadelphia Phillies should be pushing with Bryce Harper in his prime, and they may be interested in a first baseman due to Rhys Hoskins' injury history. However, the designated hitter rule will likely be implemented in the National League for the 2022 season and beyond. Therefore, a new lineup spot is opening up for NL teams. This development may open the door for the Milwaukee Brewers, Cincinnati Reds, and San Francisco Giants to step in with an offer.
A PSA-10 Freddie Freeman Rookie Card currently hovers around $150, but his card value will likely increase if Freeman lands with a big market team. I'm not sure if it's because of the team he plays for or his mild-mannered personality, but Freeman seems to be underappreciated. Regardless of where he ends up, however, the hype is justified.
Bottomline On MLB Free-Agency, Trades And Card Value
If there's one good part about the offseason, it's debating which stars will be traded next or who will sign the biggest free-agent deal. These acquisitions have the power to skyrocket a player's card value or barely make a dent depending on where each player lands. The stove will be hot, so make sure you don't get burned.