What Are Socios.com Fan Tokens?
European soccer clubs have a long history of solid fan involvement. In some cases, this has stretched to collective ownership, most notably in the case of mega-club Barcelona FC. But in the last few years, Socios.com has greatly expanded on this tradition by issuing fan tokens. These tokens will soon be launched in the US as well. So, what are Socios.com fan tokens?
What Is Socios.com?
It is an app targeted primarily at soccer fans across the globe. However, it plans to expand offerings in other sports. We will get into that later.
Fans by tokens which can provide them with a symbolic stake in their favorite teams. The greater the number a fan possesses, the more say they have with the team. At least in theory. The release really caught on during the height of the COVID-19 pandemic. With no spectators allowed on the grounds, teams scrambled to increase revenue and fans searched for novel methods of staying involved.
Founder Alexandre Dreyfus explains that the tokens only add to the revenue of teams: "It's not cannibalizing any other revenue they have, and that's important. It doesn't touch ticketing; it doesn't touch merchandising — it's an additional revenue for a new type of consumer, which are these digital fans all over the world."
The benefits include:
Voting rights: Clubs run polls within the socios.com app. Token holders get votes per the number of units they hold. The team then abides by the results and implements them.
Matchday experience: Token holders get opportunities to attend practices or warm-up games and training sessions.
VIP attendance at events: Token holders may attend special events to meet players either in person or online.
Winning prizes: Holders can win merchandise or tickets to games through various giveaways and opportunities.
The tokens have turned into a tangible form of revenue for soccer clubs. In the first two years of its existence, member clubs reportedly raised over $200 million through the platform.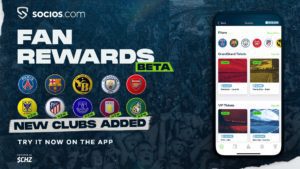 What Do Fans Get Out Of Socios.com Fan Tokens?
Every team can determine how much influence the fans get in exchange for their tokens. Obviously, teams do not want to have their major strategic decisions determined by a group of fans. So don't expect to have a say in player acquisitions or sponsorship deals.
On the other hand, if the teams do not give fans a genuine voice, their tokens will be less popular. So teams try to create a space for influence on matters of (how shall we put this) lesser significance.
Here are some examples I found of burning decisions you can vote on with the Socios.com app.
Choose a player for a unique behind-the-scenes glimpse into their lives through the Socios Instagram (Everton FC). If you are curious, Andros Townsend was chosen by a nose over Andre Gomez.
Choose the fan experience you want to see regularly implemented at the new stadium (Appolon Limassol FC). The options are a pre-game fan zone, a half-time show, matchday stadium tours, or players meet & greet.
Choose a headrest design (Legia Warsaw). The app then provides three options for the headrest on the plane the team will take to Champions League games.
Choose the title for the new official song of the 2021 Copa America Champion (the Argentine national team). The choices were: The Champion; Crazy about You; Tattooed in our Hearts. If you have ever seen the arms of their players, you know the last option is the best choice.
How Do You Buy Socios.com Fan Tokens?
Download the Socios.com app off Google Play or the Apple App Store.
Use your Socios.com wallet to purchase CHZ cryptocurrency, which can be used to buy tokens.
Tap add CHZ and enter the amount you wish to purchase.
Enter your method of purchase and currency.
Go to the trading tab.
Select the token you want and click "buy."
How Much Do Socios.com Fan Tokens Cost?
The tokens are traded like cryptocurrency. Therefore, they can swing wildly depending on their popularity. So, you can take the prices here as a momentary snapshot rather than a reliable guide.
For every purchase, there is a 4.5% buyer's fee. So, make sure to add that to your calculations of price. The tokens can be sold or traded to other socios.com users or on the Binance cryptocurrency exchange.
You can use a credit card, debit card, or cryptocurrency to add to your token wallet. However, your currency will be converted into CHZ cryptocurrency.
Prices are given in CHZ cryptocurrency. Unfortunately, it is currently illegal to trade CHZ in the United States due to Federal cryptocurrency oversight rules. But we have translated the prices into US Dollars for you. Yes, we are that helpful.
Argentina National Team – $2.22
Atletico de Madrid – $14.42
AS Roma – $7.24
Aston Villa – $2.76
Arsenal FC – $2.76
FC Barcelona – $16.75
GNK Dinamo Zagreb – $1.53
Everton FC – $2.76
FC Internazionale Milan – $8.62
Galatasary S.K – $7.96
Juventus – $14.58
Leeds United – $2.76
Legia Warsaw – $2.29
Levante – $3.43
Manchester City FC – $15.95
Paris Saint-Germain – $23.24
Portuguese National Team – $1.56
Valencia – $2.28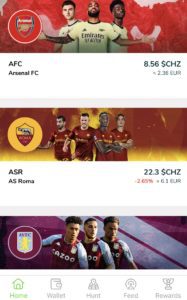 It seems that hype has more to do with the prices than performance on the pitch. That would explain why PSG has by far the highest token price. They may not have won anything yet, but the transfer of Lionel Messi to the Parisian club has given it a massive global profile.
What Are Socios.com Fan Token Prizes?
There are games and quizzes on the app. To participate, you must own at least one token of the relevant team.
Winners can receive one or more of the following prizes:
com merchandise
Merchandise from the relevant team
Signed gifts
Matchday experiences
Here are some examples I found on the app:
Pick your favorite Arsenal goal against Spurs for your chance to win a signed football.
What Are Socios.com Fan Tokens Offerings (FTO)?
When you buy preexisting fan tokens, you have to do so at the market price. Since the Socios.com marketplace is crypto-based, it is highly volatile.
An FTO is an offering of new fan tokens at a fixed price. In most cases, this allows users to purchase them at a lower price. The more desirable the tokens, the better deal you will get on these releases. FTOs are fixed in time and the number of tokens issued. Therefore, it is a good idea to keep abreast of new FTOs.
What Are Token Hunts?
It is an "augmented reality geolocation enabled token discovery feature."
How do you engage in this augmented something or other? Glad you asked.
Go into your Socios.com app
Click the "hunt" tab at the bottom
Click on the relevant hunt
A map will appear with tokens in your area
Tap the location to see the easiest route to the physical area
When you get close to the token, a green circle will appear around it
You will be prompted to view the token
Click and take the token
It will be added to your Socios.com wallet immediately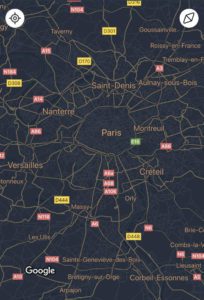 I was able to get some tokens even though I am in the United States. I could even do some of them without getting off the couch, which at my age is always appreciated.
Are Socios.com Fan Tokens Worth It?
The popularity of the tokens with young fans speaks volumes. For many die-hards, the opportunity to engage with their team and have a say is priceless.
Nonetheless, some fans are unhappy with the tokens. They believe that the price does not justify the participation level it buys and that supporting the top teams is already expensive enough.
Malcolm Clarke heads the English and Welsh Football Supporters' Association. He believes clubs are "trying to squeeze extra money out of supporters by making up inconsequential 'engagement' online polls. Neither is a good look."
Are Socios.com Fan Tokens Only For Soccer?
No. The platform is soccer-focused because of the massive global reach of the sport. However, the designers have always envisioned broader applications in the sports world. It is also easy to imagine expanding this format into other fields such as fashion and entertainment.
Currently, there are significant offerings in other sports.
Cricket – The Caribbean Premier League, Kolkata Knight Riders, Punjab Kings, and Royal Challengers Bangalore have tokens.
MMA – The Professional Fighters League and the UFC each have league tokens.
Motor Sports – Alfa Romeo Racing, The Aston Martin Cognizant F1 Team, and Roush Fenway Racing have tokens.
Tennis – The Davis Cup has tokens.
But the format will expand to other teams and sports worldwide, including the most prominent sports market of all.
When Can We Expect Socios.com Fan Tokens To Come To The US?
I planned to buy one of the tokens to get a more hands-on experience for this review. And let's be honest, because I want one. However, as of now, I cannot do so. Unfortunately, I live in California, which is part of the United States (sort of). So, as of now, the platform is not accessible in this country.
If you access it from the United States, you will receive the warning: "Our app has limited functionality for U.S. residents
right now, as we're working on launching a more tailored US-facing platform experience."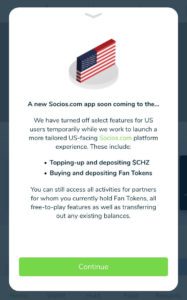 Socios.com is heavily engaged in an effort to bring the format to the United States. Right now, they are focusing on the NBA. They have signed up several high-profile teams. As of now (October 21, 2021), the following times have signed up and will have tokens available soon:
Atlanta Hawks
Boston Celtics
Brooklyn Nets
Charlotte Hornets
Chicago Bulls
Cleveland Cavaliers
Detroit Pistons
Golden State Warriors
Houston Rockets
Indiana Pacers
Los Angeles Lakers
Los Angeles Clippers
Memphis Grizzlies
Miami Heat
Milwaukee Bucks
Minnesota Timberwolves
Oklahoma City Thunder
Orlando Magic
Philadelphia 76ers
Phoenix Suns
Sacramento Kings
San Antonio Spurs
Utah Jazz
Washington Wizards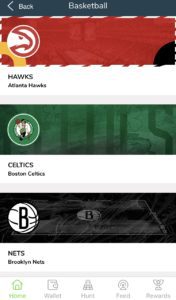 What's Next For Socios.Com?
The Socios.com plan to enter the American market is focused on the NBA. That makes sense because the league has a more significant international profile than any other North American sport.
However, it will not stop there.
There are also plans to enter the NHL market. Some teams, like the New Jersey Devils, have already signed up. So we can expect hockey tokens soon. The company has already discussed plans to expand into the NFL, MLB, and MLS as well.
What Are Socios.com Fan Tokens? The Bottomline
Socios.com markets these tokens as a way to have a genuine voice in the team you support. The actual experience falls far short of that goal (pardon the pun). Nonetheless, it does provide fans with a fun illusion of influence and plenty of giveaways.
Hardcore fans are always hungry for insider status and a sense of belonging, and therefore the success of the platform isn't all that surprising. Even the most expensive Socios.com tokens are pretty affordable, so we don't buy the claims that these tokens fleece fans. Fan tokens seem like engaging and harmless fun to me.
I look forward to getting a Mets or Knicks one soon in an effort to deepen my suffering.