Notable Sports Card Auctions In May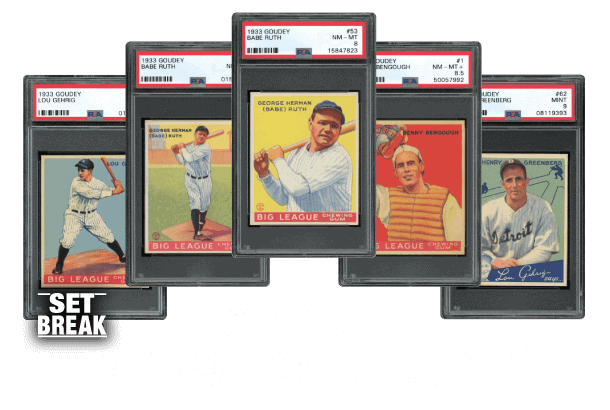 May is here. Baseball season is getting into a groove, and the playoffs for basketball and hockey are underway or starting soon. It's an exciting time of the year to be a sports fan. Going along with that, it's an exciting time of the year to explore sports card auctions in May!
If you missed our article on April's auctions here on Cardlines, you can find it here. If you're not familiar with the major auction houses, check out our reviews of Goldin, Heritage, and REA.
Today we'll look at several auctions from the major houses closing in May.
The Collector Connection Sports Card Auctions In May
The POST WAR SPORTS CARDS & COLLECTIBLES XVI wraps up on May 1, so you better look fast if you want to bid. As you'd expect, post-war vintage rules this auction, with graded and ungraded examples. Baseball makes up the bulk of the auction. However, there are a few cards from other sports.
In many auctions, the cards are museum pieces, and prices are through the roof. However, this one includes a mix of low grades, and raw cards are available within an affordable range. If you've never bid with an auction house, this may be a good one to dip your toes in the water with.
Auction Basics
Items of Note
The featured items include low-grade copies of classic post-war vintage cards. Examples include a PSA 3 1948 Leaf Satchell Paige, a PSA 1 1952 Topps Mickey Mantle, and a PSA 1 1947 Tip Top Break Ralph Kiner RC.
Want something a bit higher grade? How about a 1959 Topps Roberto Clemente in PSA 7?  Or a 1964 Topps Phil Neikro RC in PSA 8? There's a 1991 Topps Desert Shield Nolan Ryan PSA 9 if you're more into rare junk-wax-era cards.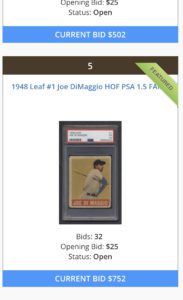 My favorite item? It's a raw and rough card. However, the 1939-46 Exhibit Salutations Joe DiMaggio HOF FAIR is an excellent "The Yankee Clipper" card.
Heritage Sports Card Auctions In May
Heritage Auctions Spring Sports Catalog Auction is a big one! With over 4,600 items, this one likely has something for every collecting taste. While baseball is the best-represented sport here, there's still plenty of basketball and football. In addition, there is a spattering of other sports and non-sports offerings.
Auction Basics
| | |
| --- | --- |
| Auction: | Heritage Auctions: Spring Sports Catalog Auction |
| Website URL: | Heritage Auctions |
| Auction Dates: | End: May 12-14, 2022 |
| Bid Open: | Open |
| Number of Lots: | 4,600+ |
| Bidding Guide: | Heritage Auction Bidding Guide |
| Buyer's Premium | 20% w/ minimum |
Items of Note
The sheer quantity of graded baseball cards ranging from 1878 to 2021 is impressive. While it is a vintage-heavy offering, there are some real beauties on hand.
The pre-war war era is very well represented, with cards like an 1887 Allen & Ginter Cap Anson or a 1907 Wolverine News Ty Cobb, to name a couple.
The post-war offerings are just as impressive. They include a 1948 Leaf Jackie Robinson SGC 5 and a 1951 Bowman Mickey Mantle PSA 8 among the featured lots.
Is baseball not your thing? If you're into vintage basketball, the 1961 Fleer Wilt Chamberlain PSA 8 is an amazing card. Or the 1986 Fleer Michael Jordan RC PSA 9? Another pretty card.
There are Tom Brady RCs, vintage game-used bats, unopened material from different years and sports, and lots more. You could spend hours paging through the items in this auction, and I'd argue that's a pleasant way to spend time.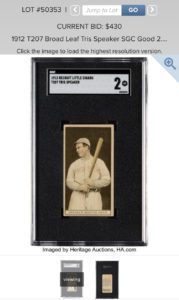 My favorite item? It's a tough call. But if forced to choose: I'll go with this item: 1969 Charles Schulz Peanuts Original Sunday Comic Strip Artwork from The Joe Garagiola Collection. Yup, there's nothing not to like in that lot!
Memory Lane Sports Card Auctions In May
Memory Lane is back with its spring 2022 auction. While details of the entirety of this auction won't be clear until it opens, there's enough in the 90+ previewed items to know this one should be impressive.
COMING IN MAY! Our Spring Auction featuring the Manny Gordon Collection! View our Zmags Catalog https://t.co/oT6a2S5HYJ OVER 311 High-end 1933-34 Goudeys ALL PSA 8s and 9s! #memorylaneinc #sportscards #goudey #baberuth #auction #baseballcards pic.twitter.com/ZNCAzlQUIE

— MemoryLaneInc (@MemoryLaneInc) March 17, 2022
Auction Basics
| | |
| --- | --- |
| Auction: | Memory Lane Spring 2022 Auction |
| Website URL: | https://memorylaneinc.com/site/Lots/Gallery |
| Auction Dates: | May 21, 2022 |
| Bid Open: | April 30, 2022 |
| Number of Lots: | TBD |
| Bidding Guide: | Terms |
| Buyer's Premium | 20% |
Items of Note
There are some fabulous high-grade vintage unopened packs in this auction. This includes a 1948 Leaf Wax Pack graded PSA 8, and a 1976 Topps Football Cello Pack graded PSA 10. That's a fantastic condition for old packs!
The auction also features cards from the "Manny Gordon Collection," including some fantastic 1933-34 Goudey cards from the collection of the late collecting icon. That includes three different 1933 Goudey Babe Ruth PSA 8 cards. First, there's Lou Gehrig's in PSA 8 and PSA 9. Indeed, the museum-grade Goudey cards go on and on, featuring Hall of Famers, minor stars, and commons.
I won't pick a favorite here, but I will say that if you have ANY interest in 1933-34 Goudey or love and respect old cards in great shape, this auction is a must-view.
The Bottomline On Notable Sports Card Auctions in May
Only a few major auction houses have auctions ending in May. But there is still a lot to like here. While vintage rules this month, there's a mix of sports, companies, and price points to keep collectors interested. And the sheer volume of beautiful vintage cards is remarkable.
Other sports cards auctions by month