Panini Has Sued Fanatics For Poaching Employees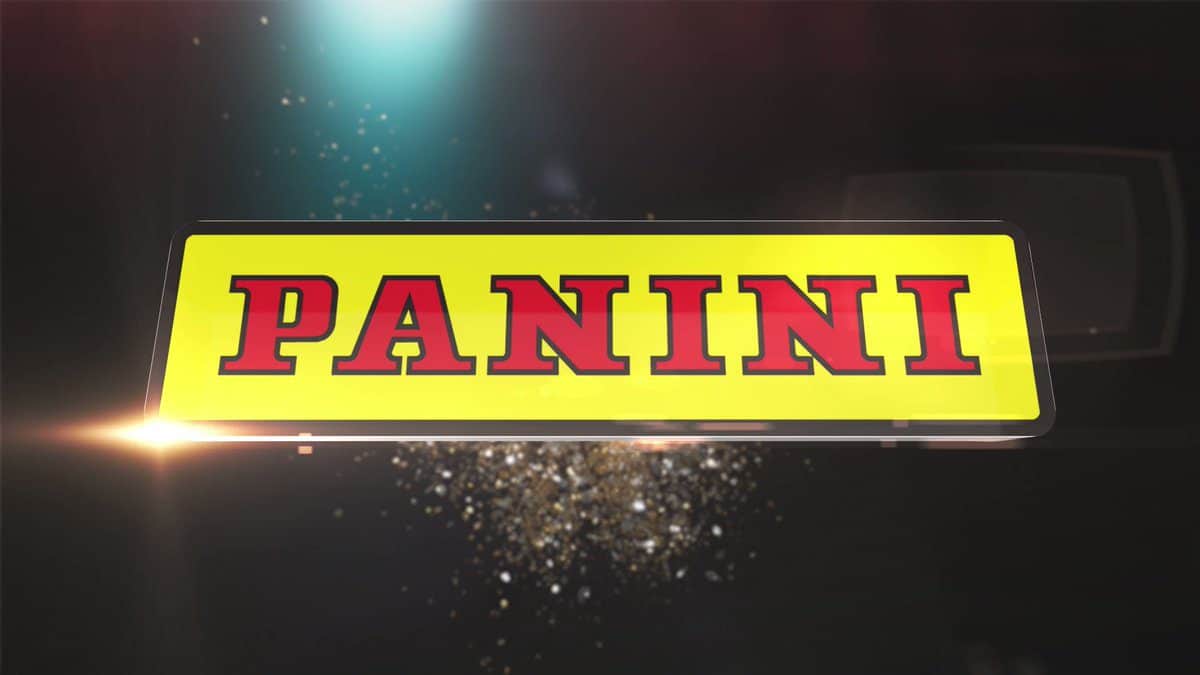 Update; This article has been updated to reflect that Panini and Fanatics agreed to a temporary restraining order in late May 2023.
Panini has sued Fanatics but there is more to the story than meets the eye. The hobby became strange when Fanatics won the rights to the NBA and NFL starting in the 2025 season.
Panini was still the most prominent card company in America and the world. But Fanatics and their daughter, Topps, were set to inherit Panini's prime assets and disinherit them of their crown. It is like when the kingdom's king dies, and everyone waits for the inevitable to happen.
However, it appears that Fanatics was not patiently waiting for a change in power. Instead, they allegedly have been poaching some of Panini's most skilled and treasured employees. To seek redress for this, the Texas card giant has sued Fanatics to stop the bleeding and prevent their rival from hiring employees.
As a result, Panini has filed a lawsuit designed to "halt the illegal raiding of Panini's employees by several former high-level and trusted Panini employees…and their new employer, Fanatics."
READ: Fanatics countersues Panini
Of course, taking employees is not illegal in and of itself. But Panini is accusing them of targeting employees to take advantage of trade secrets: "Panin understands that these individuals are or soon will be working in the exact same position with Fanatics as they previously held with Panini, and will be necessarily using confidential information and trade secrets they learned at Panini to perform their jobs on behalf of Fanatics." The court date has been set for April 8, 2024.
The lawsuit was not only aimed at the rival company. Panini is also targeting some of its former employees. The seven individuals named are Eli Nicholas Matijevich Jr., Carlos Torrez, David Sharp, Brian Bayne, Alexander Carbajal, Joseph Reyes, and Elizabeth Galaviz. But now, the two sides have agreed to a mutual restraining order which pauses the entire process until the trial commences in 2024. Here is the full story.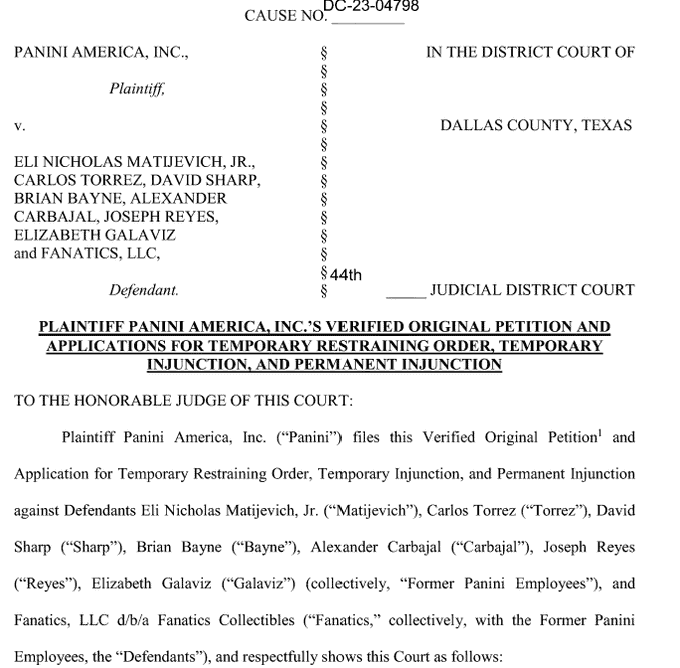 Why Panini Sued Fanatics
According to the lawsuit, 34 individuals resigned from Panini over a week. Most of the employees left during the April 4-6, 2023, period. However, they almost immediately began working in similar or identical roles at Topps. Panini noticed the problem when three individuals immediately changed their affiliation on the online professional network LinkedIn to Fanatics.
Panini charged that "on information and belief, these resignations were coordinated, unlawful, done in tandem with Fanatics, and calculated to inflict the most harm on Panini. Moreover, on information and belief, these employees were all hired by Fanatics into the same and substantially similar roles as they held with Panini so that Fanatics can unlawfully use and benefit from Panini's proprietary information and trade secrets."
In the lawsuit, Panini details the roles and experiences of the seven employees named in the filings. They claim all are "highly trained and high ranking employees" with "access to highly confidential and proprietary information."
The lawsuit also notes that the former Panini employees "abruptly resigned." The Texas company was also alarmed when these individuals refused to "sign an exit document reaffirming their understanding of the previously signed nondisclosure and non-solicitation agreements."
There has been a lot of speculation that the wheels for the dramatic wave of resignations began turning at the MINT Collective in Las Vegas. After all, Fanatics and Panini staff were in close proximity only a week before these events occurred.
ALSO READ: Panini sues Fanatics for monopolistic practices
What rules are Fanatics allegedly breaking?
Panini's lawsuit claims that Fanatics violates the Texas Uniform Trade Secrets Act. They also allege that the employees signed and are currently in breach of Panini's NDA and Invention Assignment Agreements.
According to the lawsuit, all seven individuals named in the case signed "agreements with Panini" to manage their use of confidential and trade secret info after terminating employment. According to these agreements, the employees agreed they would "not use, publish, disclose, transfer, deliver, or divulge any Proprietary Information."
Most importantly, these agreements continue to apply even after the termination of employment. Therefore, Panini claims that the contracts contain the following language: nondisclosure agreements "shall survive the termination of their employment with Panini regardless of the reason for the termination."
Therefore, Panini seeks an injunction relief against all law and NDA violations. In addition, they asked for damages from Fanatics.
The legal basis for why Panini sued Fanatics
There is no evidence that the former Panini employees have breached their NDA agreements materially. However, as we have said, those agreements also protected Panini against the possibility of being broken. And the plaintiffs did provide some evidence of that.
For example, they noted that in the exit interview with Nick Matijevich Jr., he "indicated that he did not intend to protect certain of Panini's proprietary trade secret information, specifically product form breaks and that he believed he was free to use, and did intend to use, some of Panini's confidential and proprietary break information in his employment with Fanatics.
Indeed, all seven of the defendants refused to sign an agreement reaffirming the terms of their NDAs.
Regarding breaking Texas law, the case is a bit more sketchy. Panini claims that the efforts of Fanatics have "been targeted almost exclusively at key members in Panini's production and acquisitions team. On information and belief, these solicitations have been directed by the former Panini employees and/or based on the use of Panini's Proprietary Information and trade secrets."
If so, the basis for the lawsuit is problematic. It's not so much that Fanatics is not breaking the law or will not in the future. It is more than Panini came nowhere near being able to prove that Fanatics was doing so.
The problem with how Panini sued Fanatics
Legal analyst Paul Lesko Tweeted regarding the justification for the lawsuit: "So, the basis of this suit really is 1) one former employee basically said, "Fuck some of your trade secrets…which I don't think are trade secrets," 2) then a bunch of former employees refused to sign reaffirmation oaths.
Panini believes since these peeps are basically doing the same shit at Fanatics that they did at Panini, so to do their new jobs, they'd have to spill some of Panini's trade secrets…which, if they do, the former employees would break the law.
But there is one thing their lawsuits do not mention, which can be just as important as what they do. I saw no references to non-compete clauses in the suit. That is a clause in the contract or a separate agreement wherein the employee agrees not to seek employment with a competitor in the same business or start a similar company.
Clearly, if this were included in the contract, that would be the basis of Panini's case. Therefore, the contracts must not have included a non-compete clause. That is a testament to the confidence Panini enjoyed as the most robust company in the hobby, afraid of no one, but how the tables have turned.
Panini sued Fanatics for what damages?
According to the NDA agreements, employees agree that monetary compensation would be "difficult or impractical to calculate accurately." Nonetheless, for any violation or even threat of violation, Panini would be entitled to:
Immediate injunctive relief to prevent such a violation.
The recovery of fees and costs incurred by Panini in redressing the violation.
Panini may incur any other legal and equitable relief from the breach or threatened breach.
The weakness of Panini's case is that there has been no known violation of the NDA by the employees. But as you can see from the language here, Panini tried to make the NDAs, and therefore the lawsuit provides damages in case the agreement is threatened.
The Judges ruling
It is easy to see why Panini is upset at the predatory tactics of their richer rivals. However, it is unclear whether the courts will see things their way. Before hearings start on May 1st, Panini filed for a temporary restraining order designed to halt any Fanatics attempts to hire further Panini employees.
They also asked the judge to order the seven employees in the suit to hand over all Panini property or documents that may include protected trade secrets. They also requested that they be forbidden from trying to recruit former colleagues to Fanatics, as this would be a violation of the Texas Uniform Trade Secrets Act.
The Texas judge ruled that Fanatics is within its rights to contact another company's employees and recruit them. The judge explained that the legal red line comes if the individuals who have switched companies try to recruit their former colleagues.
However, the court did find in favor of Panini on the matter of materials containing protected trade secrets. The seven employees named in the lawsuit were ordered to turn anything of this nature back to the Texas card company.
Finally, the judge ordered the relevant individuals against deleting or altering their electronic or otherwise records from April 4th. The court was quite sympathetic to Panini's position on these materials and warned: "There is a reasonable probability that unless Defendants are immediately restrained and ordered as set forth below, harm to Plaintiff (Panini America) is imminent, and Plaintiff will be irreparably injured."
Therefore, the former Panini employees will now be under a good deal of scrutiny.
What does the way Panini sued Fanatics mean?
We really don't know. You may be thinking, but you have all those court documents. Doesn't that give you all the info you need on this lawsuit? Not even close, my beloved hypothetical reader.
All court documents tell us what the sides to a lawsuit claim are. But unfortunately, they provide very little information on what motivates the sides.
Now, I am just a country lawyer. Ok, I am not a lawyer at all. But this case doesn't seem to be based on much evidence. So, you have to wonder what Panini is thinking. They are about to lose their cash cow in 2025. So, do they really believe this is the best way to use their remaining money and influence?
Possibly. But another possibility is that Panini is trying to cause enough problems for Fanatics to force the new big boy in town to buy them out. But, of course, their board may prefer that to bleed to death from 2025 and onward slowly.
Meanwhile, there is a possibility that this lawsuit is precisely the opposite. Instead of an attempt to get Fanatics to buy Panini, this could be a way to fend off the predators.
Some have speculated that all the poaching of executives from Panini is an attempt by Fanatics to weaken the company and lower its value before a takeover of the ailing Texas card company.
Ok, there are a few things we do know about Panini suing Fanatics means
If there is one thing we have learned from Fanatics' recent moves, they are preparing a seamless transition to producing basketball and football products. Even before receiving the rights to these sports, Topps has begun to churn out products like Topps Finest Basketball and Bowman University. The products are already quite good and will obviously have more value when fully licensed in 2025.
But Topps ensures they have executives with plenty of experience releasing cards for these markets. Of course, the new hirings may also have other motives; we just don't know. But Fanatics is undoubtedly aware that these hirings will go a long way towards ensuring that the transition to licensed basketball and football cards goes smoothly.
Adding insult to injury from Panini's perspective, Fanatics announced that their new collectibles division headquarters would be in Dallas, Texas. A mere 18-minute drive from Irving, where Panini America is headquartered.
Panini And Fanatics Agree To A Mutual Restraining Order
The latest twist in this story came on May 25, 2023. The two companies in question, Panini and Fanatics, filed a mutual request for a temporary restraining order (TRO). Often restraining orders are forced on the sides, but in this case, it is a mutually agreed process. Unfortunately, that meant that the trial, originally scheduled to begin on May 24, 2023, has now been delayed by almost a year. The current date for opening statements is April 8, 2024.
Following the filing, Judge Ronald B. Hurdle ordered that the individuals named in the case would not be able to use or in any way transfer confidential information to their new employers at Fanatics or anyone else. The order also does not allow Eli Nicholas Matijevich Jr., Carlos Torrez, David Sharp, Brian Bayne, Alexander Carbajal, Joseph Reyes, and Elizabeth Galaviz to delete or in any way alter records, documents or emails that are relevant to their employment in either company. The order includes records relating to their time working at Panini and since they commenced employment at Fanatics after being poached.
Panini released a statement regarding the TRO through their attorney Charles E. Phipps: "We are pleased with the agreed temporary injunction signed by the court, which importantly protects Panini America's highly valuable confidential information and trade secrets. Panini will continue to enforce its rights and pursue all appropriate protections and remedies under the law."
Strange Timing
The decision to delay the trial through a TRO comes a few days after a break into Panini HQ in Irving, Texas. It is unclear if these contributed to the decision to serve a TRO and delay the trial. Panini's records may have been compromised in the break-in. Additionally, the occurrence of a suspicious break around the time a sensitive litigation process was scheduled to commence has raised eyebrows across the hobby.
Final word on how Panini sued Fanatics
The case is interesting in and of itself. It is evidence of the somewhat predatory way Fanatics is preparing for their takeover of the NBA and NFL rights in 2025. Of course, we aren't legal experts here at Cardlines. But reading the court documents, it's hard to see how this case goes in favor of Panini.
Certainly not in a meaningful sense. After all, this is America, and workers can choose their place of employment. Companies regularly poach workers from elsewhere, and nothing is illegal.
Panini is really worried about the knowledge accumulated by their executives benefitting their rivals at Fanatics and Topps. But there is nothing the court can do about that in practice. At worst, the employees will have to hand over materials and perhaps pay a fine. But the real damage Panini is worried about is unavoidable.
These 34 employees know how Panini does things and can use that to improve Topps card production. Their knowledge of processes also means Fanatics can counter plans by their rivals.
But there is plenty of speculation that the details of the lawsuit are not the real story here. Instead, it is part of a delicate dance between Panini and Fanatics in preparation for the latter's inevitable takeover of the former. And indeed, that is a distinct possibility.
Fanatics have the means and has shown a predilection for taking over rivals. The only question is, what is Panini worth to Fanatics, and how much will it cost to acquire the company? There is no question that the move weakens Panini. Losing those 34 executives makes the company easier to pluck.