Platinum Card Breaks Scams And Scandals [Updated]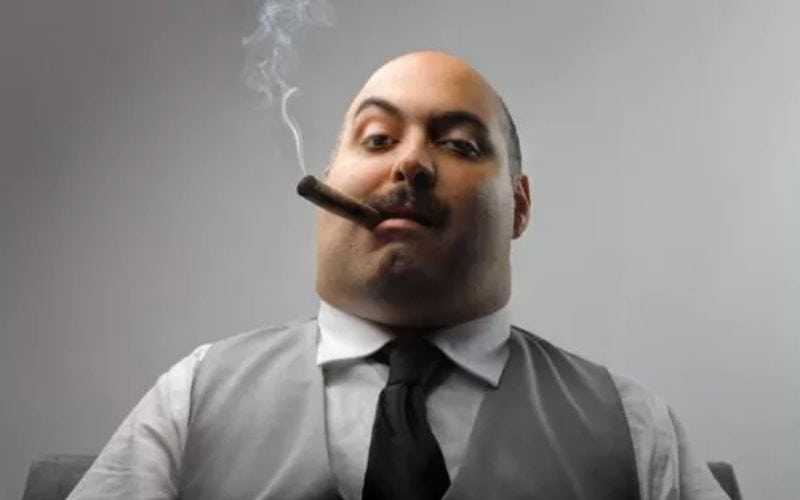 It seems like the hobby has been hit by scandal after scandal. One of the most troubled areas is breaking. With no concrete rules regulating breaks, it is fertile ground for possible scams. The latest accusation has been leveled at Platinum Card Breaks. There are many issues with this company and they all seem to center on owner G. Here is a full breakdown of all known incidents related to that company.

Who Are Platinum Card Breaks?
Platinum Card Breaks is one of the biggest card breakers in the country. Located in North Carolina, the breaking company has over 48,000 followers on Instagram.
They are associated with some of the biggest names in the hobby. Most notably, Bolillo Lajan San, known as Shyne, is best known for selling the $4.6 million 2018-19 National Treasures Luka Doncic.
Platinum Card Breaks Scams And Scandals: The Box Cutter Scandal
The video clearly shows G, the owner of Platinum Card Breaks threatening Austin with a box cutter. He fastens it to the person's neck repeatedly despite his strident protests. G then appears to hit Austin more than once.
The hapless employee says that he "wants to go home." The victim ignores the hits because he is largely concerned about the knife, and at one point says, "you are getting that blade way too close to me."
G forces Austin to say, he is sorry, that he will never go home, and to promise to paint G's car as well. The owner also ominously says "you are not going home. Ever." G forces Austin to "kiss his cheek." At which point Austin whines, "why are you doing this to me?"
After that G begins a break. However, Austin disappears. And who can blame him? However, Austin later released a statement. He said the matter had been taken out of context:
"I feel like people think G and I just have a work relationship. We work together. Yes. I am an employee. But you guys gotta understand. Me and G are family. I've worked for the man for a long time, since 2017. I go to this guy's kids sporting events. Our relationship is completely different than just the employee. Me and him are legit family off camera. Do we get carried away sometimes on camera? Yes. But you know, its gotten way too out of hand, for real. It was literally a complete joke. "
Reactions To The Box Cutter Scandal
Topps/ Fanatics responded, saying that "the video on Platinum Breaks is disturbing and we certainly do not condone this behavior. For your information, Fanatics collectibles does not sell to Platinum Breaks One our products are distributed, we ultimately cannot control where it goes or what people do with it."
Panini similarly stated that "contrary to popular belief, Panini does not sell directly to online exclusive breakers. In 2018, Panini America banned Platinum Breaks from attending its future National VIP parties due to inappropriate behavior. While we find the alleged content of the video to be abhorrent, Panini will have no further comment on the alleged behavior, which is out of our control."
It is worth noting that with Fanatics starting to sell directly to breakers, Platinum Breaks may find reasons to regret its many scandals. The company may boycott the Platinum Breaks and make life quite difficult for them in the future.
Platinum Card Breaks Scams And Scandals: 2021 Panini Football National Treasures Break
The break in question was of four cases of 2021 Panini Football National Treasures. Platinum Card Breaks has a sophisticated setup with the cameras shooting live. One is a standard view; the other shows the break from above and a camera providing a closeup of the breaker's face.
The breaker announced that he had accidentally thrown out some boxes in a trash bag earlier. The staff opened the bag in question and retrieved the Flawless boxes. The first three boxes had nothing in them. But the final one contained a redemption.
What had happened here? One of the customers who bought into the break, Jordan, noticed that a card had been missed. The breaker said, "you just saved Clay Mayer a nice hit." Opening the garbage bag with the boxes in it, the breaker found a for a Justin Fields Rookie NFL Gear Signature Combo card. He later said, "look at that monster! I didn't even see it, bro."
However, it is not clear whether that was indeed the card in the hijacked box. Instead, it may have been something far more worthwhile that was exchanged for the Fields card.
How Was The Alleged Platinum Card Breaks Scam And Scandal Executed
The box holding the Justin Fields redemption was one of four sitting on the table before breaking. The breaker opened the first two boxes and disposed of them by pushing the containers straight down into the trash.
However, with the third one, he did something different. That box contained the Justin Fields redemption. Once he identified that card, the breaker tapped on the box twice, presumably to alert his colleagues that the box had a big hit he wished to hide. He then moved the box to the right before shoving it down. In other words, the entire procedure was different from the first two boxes.
When the customer identified that a redemption had been disposed of, G called on his colleagues to bring back the trash bag with the empty boxes. However, he did something else first.
Why did he move to the right? The camera on the breaker reveals it clearly. There is another box strategically placed off to the side. After identifying the big hit, the breaker moved almost imperceptibly to grab that spare box. He made sure to do it while looking in another direction to throw off the viewers. The breaker then opened the door behind him with the spare box in his right hand and handed it to one of his colleagues.
You can see all this in the following clip:
Why This Scandal Is Particularly Problematic
As YouTube user Card Breaker Scammer notes, G has highly developed sleight of hand skills and had a good feel for camera blind spots. I would be shocked if he had not pulled the same maneuver multiple times in the past.
What really bothers me about this incident is how easily it could have been missed. The incredible detective work of YouTube user Card Breaker Scammer was why we know about this scam. The other is somewhat self-inflicted by Platinum Card Breaks. They provide three separate camera angles for their breaks, something most breakers do not. Thanks to the combined footage from these different angles, we can put together the complete picture.
Another thing to ponder is the value of the card. A Justin Fields Rookie NFL Gear Signature Combo redemption is not a particularly valuable card. While I have seen some people argue it is worth $4,000-5,000, it is worth a lot less. The most recent eBay sale for the card was $1,255.
If Platinum Card Breaks is scamming people out of $1,000 cards, you can imagine what they are doing with the genuinely massive hits.
The Unpleasant History Of Platinum Card Breaks
Platinum Breaks has a history of controversy and alleged misdeeds.
The Handling Of Cards By Platinum Breaks
Another concern regarding Platinum Breaks is their troubling handling of the cards. If you watch the video of the break, the first thing you will notice is that the breaker slams the cards on top of each other. It is harrowing to watch these beautiful National Treasures cards get manhandled in this manner.
There is indeed a record of Platinum Card Breaks destroying cards intentionally and unintentionally. So I wouldn't break with these guys for that reason alone.
Platinum Card Breaks Scams And Scandals: The Hot Packs Incident
Platinum Card Breaks has sold so-called "hot packs" on their breaks. These packs are known to have been resealed to guarantee certain hits. However, "hot packs" are known for having particularly weak hits so that the re-packers can make a tidy profit.
G presented the "hot packs" as an official Topps product in these breaks when they are clearly not. Indeed, some of the cards in these packs had been sold on eBay previously. Once again, you can see G using his sleight of hand to cover up the evidence of resealing on the packs he opens.
One Blowout Forums member noted the following problems with the break:
-Angles packs, so glare doesn't show details of crimped edges
-Quickly tears open packs
-Doesn't show serial numbers of Gold refractors
-Every Auto was a common
The only proof they weren't resealed was that the Upper Deck packs were hard to open.
Here is the relevant video. You can judge for yourself starting at around the 27-minute mark:
Alleged Criminal Actions By G
On the Mojo Cards Podcast, Dan Anderson of that organization recalled an unpleasant incident where he almost got into a fistfight with G and his wife. This seems to be part of a pattern of violent behavior.
Sports Talk Radio obtained a recording allegedly of G. He says that in 2010 when his pawnshop was robbed, he committed a kidnapping of the person he suspected of involvement. Then he claims to have intimidated and beaten a drug dealer who was in contact with another perpetrator of the robbery. He then robbed the drug dealer of jewelry and laptops worth a considerable amount of money.
Check out the Top 10 sports card podcasts
G ended the tape by saying, "that is a true story." However, the story sounds exaggerated and possibly wholly untrue. Whether G has committed multiple crimes or is prone to untruths, the story is not a good reflection of his character. Assuming the tape is genuine.
You can judge for yourself here:
The Response Regarding Platinum Card Breaks Scams And Scandals
The company released a video addressing the allegations on the break. G was notably defiant in the statement and flat-out denied any wrongdoing. First, he trashed Justin Fields, noting that he is a "bench player." That is misleading since Fields started 10 games for the Chicago Bears in 2021.
He also said, "if you don't want to break here, you don't have to." Then said, "do you really think I would be that stupid?" Regarding the incident details, G said that he keeps the box on the side to keep booklet cards that do not fit in toploaders or penny sleeves.
That sounds reasonable. But keep in mind that there was a box on the table that could easily have been used for that purpose. Instead, another box was hidden from view.
As for why he grabbed the box, the breaker said, "I just grabbed it; I don't know why." G also said that he has a tendency to throw out cards and has done so in the past five times.
In the video, g addressed the accusations that he had traded the Fields' redemption for a better one. He said that should be easy to prove because the camera caught the redemption before the box was moved.
Overall, the video was not a very serious response. G said, "I know it looks bad, so I should take it seriously." However, he did not appear to take the issue seriously. It included several references to the people accusing him as trolls and saying that he only cares about "what the people I fuck with think."
You can see the full video of G's response here:
Reaching Out To Platinum Card Breaks
I reached out to Platinum Card Breaks through their Instagram account. I left a message asking for comment on the scandal. Unfortunately, as of now, they have not gotten back to me.
However, they did respond in a highly unconventional manner. Their Instagram account liked several photos on my (deeply unpopular) Instagram account. They liked 13 posts in all. Is that a compliment, veiled threat, or just boredom on their part? Your guess is as good as mine.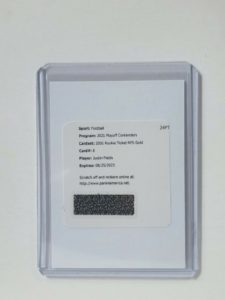 Did all this talk give you an appetite for a Justin Fields redemption? Look for one on eBay.
Should You Break With Platinum Breaks?
Honestly, no. These sorts of shenanigans are pretty common in the breaking world. By no means do we think that Platinum Breaks is uniquely corrupt. However, they have clearly shown that they are willing to get dirty.
Perhaps the most disturbing part of this scandal is the clear evidence that Platinum Breaks has a system in place for hiding big hits. If you compare this incident to the Backyard Breaks Trevor Lawrence incident or the Inside Deals scandal, this one appears significantly worse. The Backyard Breaks incident saw the guys involved make a rash decision on the spot. However, the Platinum Card Breaks staff seems to have a system designed, which they may have used on numerous occasions.
Bottomline On Platinum Card Breaks Scams And Scandals
There are so many cases of wrongdoing involving Platinum Breaks, that is it hard to focus on one. It appears that G and his wife are problematic individuals. They have allowed anger and greed to undermine their breaking business. Even among the many shady actors in the breaking sector, they stand out as the most problematic of all. In the latest incident, it appears that violence and intimidation occurred toward one of their employees. There is really no reason to tolerate this sort of behavior in the hobby.
Regarding the card pocketing scandal. It is incredible how often breakers with large volumes cannot resist pocketing big cards. It is not too different from purchasing a lottery ticket when buying a break spot. You realize that recouping the buy-in is unlikely, but you hope to have an unlikely massive hit.
Unfortunately, many breakers take away that slight chance of coming out ahead. This is not the first time we have seen that popular breakers have an entire system to cheat customers out of their biggest hits. Honestly, at this point, I would recommend that you buy into breaks for the entertainment value only. Do not expect a big hit, especially when the dice may be heavily loaded against you.
But we all know how this ends. There are no clear laws regarding breaking, so any complaints against Platinum Breaks are unenforceable. There will also be no meaningful consumer retaliation. These scandals have little effect on the economic viability of the perpetrators as well. Until they do, these acts will continue unabated.