PWCC Shill Bidding Scandal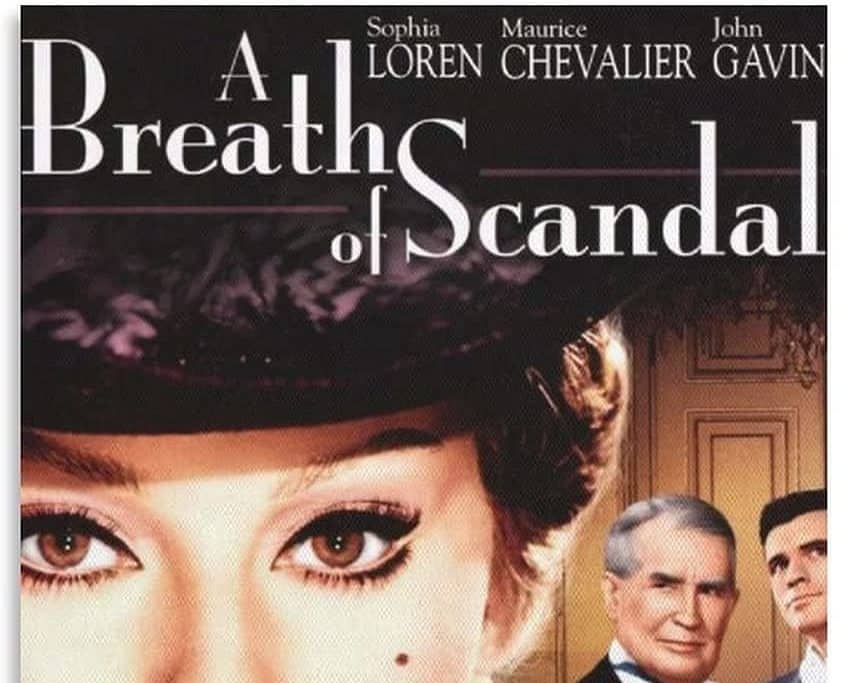 Hearing a lot about the PWCC shill bidding scandal? Cardlines gives you the lowdown.
When it comes to selling cards on eBay, there is no more prominent actor than PWCC. They often have the top listings for every card. The sheer volume of their offerings has made untold millions off the platform. PWCC reportedly sold over 150 million dollars worth of cards on eBay in the last year.
Therefore, it was big news when eBay came out and publicly announced that they were banning the Oregon company on August 17th, 2021.
All collectors should welcome the news. Cardlines and other media outlets have long identified PWCC as a bad actor in the hobby. Their penchant for consigning and selling trimmed cards knowingly has been common knowledge for some time now.
eBay Bans PWCC
eBay released the following statement explaining their actions:
Recently, it was determined that individuals associated with a trading card seller, PWCC, have engaged in "shill bidding," which is prohibited on eBay. As a result, eBay has restricted PWCC's selling privileges and listings, effective today. eBay's policies and standards were designed to ensure a trusted marketplace where our community can transact with confidence. If we determine that a buyer or seller is not acting in good faith, eBay takes this seriously and takes action. Our customer service team will work directly with anyone who has a question about a recent PWCC transaction.
The company has since confirmed the announcement.
This is a pretty amazing move. If you look for any high-end (and many medium-end) cards on eBay, PWCC will likely be selling the first listing you see.
While eBay is explaining the move as part of their commitment to collectors and transparency, that is somewhat disingenuous. Numerous complaints have been made against PWCC, and they were under investigation for card trimming. In addition, specific accusations of shill bidding have been bandied at PWCC for at least half a decade.
PWCC Issues A Response To Shill Bidding Scandal 
The accused company drafted a response relatively quickly. Within a few hours, they sent the following announcement:
"PWCC was shocked to see eBay's email today stating that unidentified "individuals associated with" PWCC engaged in "shill bidding." To PWCC's knowledge, its employees have never engaged in any behavior that violates eBay's agreements and policies. PWCC goes to great lengths to ensure that its employees follow eBay's rules and PWCC employees do not have access to eBay's bidding records or information."
The company also said it is, "is considering all available legal options in response to eBay's defamatory press release and its bad-faith action to restrict PWCC's privileges on eBay. PWCC has only just learned of these allegations and eBay has refused to share any details supporting its allegations. Despite eBay's unwillingness to explain its claims, PWCC will continue to conduct its own internal review to ensure that its employees have not violated eBay's rules.
PWCC is proud of the work it has done over the years to improve eBay's own processes and to ensure that the platform is one that users can trust. These efforts went well beyond the measures that eBay takes to ensure legitimate auction processes. For example, PWCC worked tirelessly with eBay for over 10 years to remove the bid retraction option for buyers, eliminate forced return policies for sellers, and reduce the Significantly Not As Described (SNAD) window from 30 days to 3.
While PWCC became the world's premier site for the sale of trading cards using eBay's platform, in recent months, eBay's increasingly competing interests prompted PWCC to begin the process of moving on. Today's unilateral action by eBay simply hastens PWCC's move to its new platform.
The new platform will be live on the PWCC website very soon. The August Premier Auction will still close on August 21st and the September Premier Auction is scheduled to launch on September 1st. PWCC is excited about the future, looks forward to launching all marketplaces on its new platform, and is confident in the benefits that will bring to buyers and sellers."
Why Did eBay Make This Move?
The response by PWCC confirms a persistent rumor that may explain some of eBay's actions. Already in 2016, there was talk of PWCC leaving eBay and starting their own selling platform. The Oregon company is a significant player. It has the pull and funds to damage eBay. Therefore, eBay may have lost its motive to protect PWCC.
This seems like the most likely explanation It is not clear what development prompted eBay to cave to pressure regarding PWCC's misdeeds finally. However, it must have been quite significant. By some estimates, PWCC accounts for somewhere between 1-2% of eBay revenue. That is why the online market giant has been hesitant to take action until now.
However, if it was due to lose out on this piece of action, eBay had little to lose by taking this action. After all, PWCC will have difficulty suing them for libel or wrongful practice over well-founded allegations.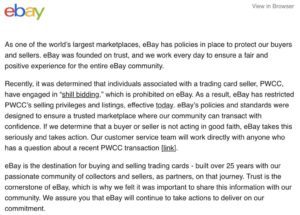 Shill Bidding
So, what exactly is PWCC being accused of? eBay defines shill bidding as "when someone bids on an item to artificially increase its price, desirability, or search standing."
As the company explains, "Shill bidding can happen regardless of whether the bidder knows the seller. However, when someone bidding on an item knows the seller, they might have information about the seller's item that other shoppers aren't aware of. This could create an unfair advantage, or cause another bidder to pay more than they should. We want to maintain a fair marketplace for all our users, and as such, shill bidding is prohibited on eBay."
It is easy to see why this practice would undermine belief in the fairness of auctions and harm eBays brand. However, as PWCC is hinting, the timing is not coincidental.
Long-Standing Allegations Of A PWCC Shill Bidding Scandal
PWCC involvement in shill bidding has not been secret. The good folks at Blowout Forums are highly alert to scams. They have suspected and even offered proof of PWCC shill bidding over the last five years or so.
In 2016 one member accused PWCC of employing a shill bidder. However, other community members at that time still believed it was a good actor. Therefore, they recommended reporting these issues to PWCC.

The Pokemon Community Wakes Up
In mid to late 2020, users on Elite Fourum (a Pokemon forum) noticed discrepancies between the final prices in PWCC auctions and prices in other auctions.
In August, some users on the forum reported that they do not bid on PWCC due to suspected bid shilling. One user shared a screenshot of their report to eBay on the issue. However, another user replied that it is "essentially useless to report PWCC… eBay doesn't want to lose their business."
One user noted that PWCC is driving up the prices with shill bidding. They explained, "pwcc def shills their auctions early.. towards the end of the auction, it's usually the actual owner of the card shilling at the end." Another skeptical user replied, "2 for 1 special: a public accusation of fraud and a completely unverifiable claim."
PWCC Goes Dark
In October 2020, PWCC responded by making all bidding info private. That way, its eBay bids were undetectable, and the practices of this shady company became even less transparent.
By this time, they were already under investigation by the FBI for card trimming. Therefore, PWCC was under more scrutiny. However, it did not stop them from continuing to shill bid and trim cards allegedly. Despite its alleged dealings and lack of transparency over the last two years, continued cooperation with this company has been remarkable.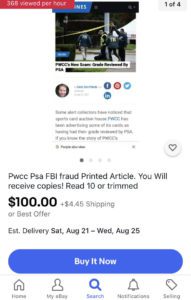 What Happens Now With The PWCC Shill Bidding Scandal 
If so, it has been common knowledge that PWCC has been engaged in alleged shill bidding for years. PWCC has a massive vault of cards in consignment. Despite all the allegations against them, many collectors and investors continued to use their services.
As of August 17th, however, PWCC listings are still up on eBay. No less than 17,879 items are listed on the platform. We assume they will gradually come down and that no new listings are allowed. However, we will be keeping an eye on that.
It is easy to see why. Practices of shilling and trimming raised the value of sales on PWCC. Therefore, many individuals were willing to overlook the allegations and use the Oregon companies' services to increase profit.
It now remains to be seen what happens when some of these investors try to remove their cards from the vault.
Bottomline On The PWCC Shill Bidding Scandal
There are no innocents in this scandal. eBay may not be directly involved in the years-long practice of shill bidding. However, it seems likely that they turned a blind eye to it for years. Meanwhile, PWCC has been involved in too many shady dealings. They are not a well-meaning actor in the hobby.
PWCC's move away from eBay at this time renders them vulnerable. Collectors and investors will now have to follow them to an independent platform actively. In addition, this time, they will have no excuse that they did not know about these alleged practices.
The best thing we can do as collectors is boycott PWCC. Otherwise, we are simply aiding and abetting allegedly fraudulent activity.
Also read: Platinum Card Breaks Scams and Scandals