The Ultimate SGC Grading Review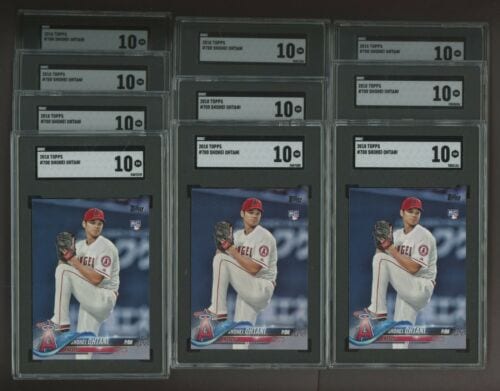 SGC is not a new grading company. However, they have enjoyed increased visibility lately, and therefore Cardlines was inspired to produce the ultimate SGC grading review.
SGC In The Current Marketplace
Back in late March, PSA announced that it was halting most types of submissions. BGS soldiered on for a bit, but they also announced a pause in accepting cards for grading in June. This turn of events presented the other grading companies have enjoyed an unprecedented opportunity to catch up with their more successful rivals.
However, most of the smaller companies have not taken advantage of the opportunity. One partial exception is SGC. They have begun to slip into conversations as part of the big three.
During the pandemic, while many other businesses shrank, SGC grew exponentially. Going into 2021, with 12 employees, the company now has over 90 employees.
SGC has been marketing itself quite aggressively as a more practical alternative to the big two. Their website claims (in big gaudy blue letters): "Get the service you deserve. No backlog, no bloated turnarounds, no games."
Check out these SGC 10s on eBay
Background On SGC
One of the reasons SGC has done better than most at capitalizing on current opportunities is that they are not a fly-by-night operation. They have been around for 22 years and are familiar to veteran collectors.
They were known for their own, more nuanced, 10-100 grading system. However, in 2018 SGC switched to the standard 1-10 version. SGC also changed the logo while they were at it. The old SGC holders featured a distinctive green. But the new ones have a more classic black and white look.
Over the years, they have developed a reputation as a strong presence in the vintage market. However, SGC has been trying to break into the modern and ultra-modern space as well. Their website claims this effort has been successful as: "The T206s, the '52 Topps, and the '33 Goudeys kept coming in, but now there were newer collectors sending in their Prizm, Optic, and Bowman Chrome as well."
So SGC is not satisfied with remaining the vintage guys. They want a bigger slice of the pie and seem the best positioned of all the competition to get it.
SGC Grading Review Of Slabs
I personally genuinely dislike the SGC slabs from an aesthetic perspective. To me, they look almost amateurish. And a brief perusal of some of the forums shows that many other observers agree.
However, they look a bit better in person. The slabs are significantly bigger than their PSA equivalents and seem well made. However, they are not quite as thick as the BGS ones.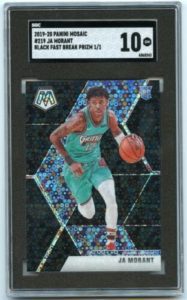 Submitting the Cards To SGC
Finding the correct cards was a breeze. Their database and interface work very well.
When submitting, you have two options. First, you can make a regular submission, which they promise will return in 20-25 business days for $30 a card. Or you can do express for $1,000 with a return estimated at 1-3 business days.
When shipping regular, you have a few options:
USPS Priority Mail – $15.
Ground FedEx- $25.
Two-Day FedEx $45.
Standard Overnight FedEx $60.
The prices will vary with the value of the cards enclosed. In my case, the submission was worth about $150.
They accept credit cards or PayPal for payment.
SGC Grading Review Of Processing And Shipping
SGC prides itself on its quick turnaround times. That is particularly important nowadays, as card prices fluctuate madly, and the value of some submissions is very much time-frame dependent. Meanwhile, many PSA submissions are taking over a year from door to door.
So how long do they take? According to their online reports, SGC users are pleased with their turnaround times. Some say the entire process took 2-3 weeks to complete. SGC estimates a 20-25 business day turnaround.
We sent in our submission on August 4th. The package arrived in the mail on September 3rd. It took longer than expected until the order appeared in their system. It looked as if the company did not receive the package, or at least logged its presence, until August 31st, when we received an email that the cards were in the company's hands. Just three days later, the cards were in our mailbox.
So how did they do? By my count, it was 22 business days from door to door. So SGC certainly delivered on their promise to provide graded quickly and efficiently.
SGC Grading Review: Grading Criteria
But how was the grading, you ask? SGC has a reputation for harshness in its criteria. It is also worth noting that they use subgrades (BSG style) rather than stick to whole numbers as PSA does.
So, we decided to test the SGC grading criteria by sending in a few cards.
The Cardlines Submission For The SGC Grading Review
I sent in four vintage cards in my submission. How did I do?
1980 Topps Ricky Henderson #482
I picked up a Ricky rookie on eBay for $45. The iconic card has terrific eye appeal and is quite well centered. The corners are decent enough. However, it does have some slight stains on the right side of the card. As a result, we expected a 3-5 grade, with 4 the most likely outcome.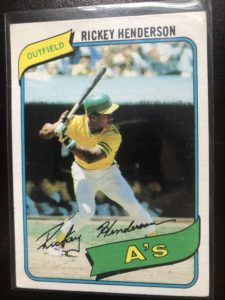 Final Grade
The card came back a 4 (VG-EX). That was exactly what we expected. I made a quick check, and the resell value for an SGC 4 Henderson card is $58. Interestingly, that is significantly higher than a PSA 4, which most recently went for $35.
1964 Topps Frank Robinson #260
This card has an almost flawless surface. However, the corners could be better. Each one is a bit dull, and the top left one has a crease. We were expecting it to get a 4 or possibly a 5.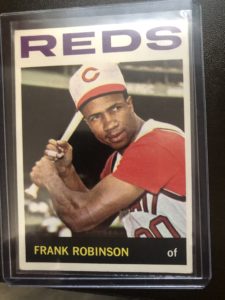 Final Grade
The card got a 4, which was again on the lower end of what we expected. What does this mean in terms of resale value? Unfortunately, we could not find any comps on the card.
On an unrelated note, look at the arms on Frank. The man was built
1956 Topps Frank Thomas #153 Gray Back
It wouldn't be a review without one crossover card, right? We sent in a Frank Thomas gray back from the classic 1956 Topps set. It was a PSA 3. However, we couldn't shake the feeling that it deserved a better grade. So, we cracked it out of its slab. Something we at Cardlines are low-key experts on.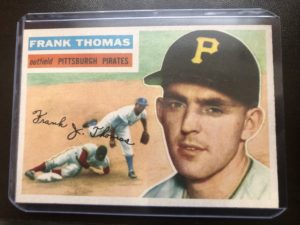 Final Grade
The card got a 2 from SGC. To be frank (see what I did there?), this one seems kind of harsh. The card has no immediately visible flaws. The main problem I see is a jagged edge on the right side. Honestly, it looks like a 4 to me. We couldn't find exact comps on this, but considering that a PSA 6 went for $15, it would be pretty negligible.
1970 Topps John Unitas #180
Legendary quarterback Johnny Unitas deserves better than this. We sent in a train wreck of a card, just to see what would happen. It has no border on the top and a real dent on the bottom left corner. Speaking of corners, none of them are very sharp. We judged this would be a 2-3 if PSA graded it.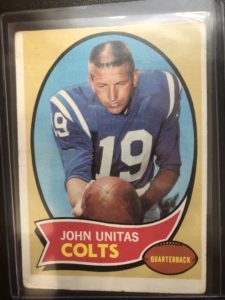 Final Grade
We wanted to see if SGC would be soft on this card. The answer was a resounding no. They gave it a 1.5. Honestly, I don't blame them. But considering the massive difference between the Unitas and the Frank Thomas, it is hard to believe that they got such similar grades.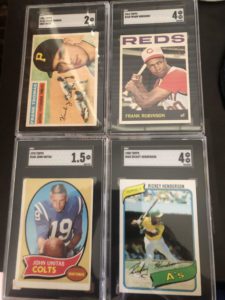 SGC Grading Review Of Card Value 
Since SGC is known for its vintage grading, we separated eras to see how the cards stacked up with their rivals. We wanted to see if there is a difference in the value of ultra-modern SGC slabs.
Vintage Cards
It is definitely harder to find SGC comps than PSA ones, as there are far fewer slabs in circulation. But we found plenty to make comparisons.
| | | |
| --- | --- | --- |
| | PSA | SGC |
| 1952 Topps Willie Mays RC | $3,975 for a PSA 2 | $3,000 for an SGC 2 |
| 1955 Topps Sandy Koufax RC | $1,500 for a PSA 4 | $1,051 for an SGC 4 |
For those vintage 1950's cards, a PSA label adds around 33% to the card's overall value. So let's see how that holds up through the decades.
| | | |
| --- | --- | --- |
| | PSA | SGC |
| 1968 Topps Nolan Ryan RC | $1,026 for a PSA 5 | $790 for SGC 5 |
| 1965 Topps Joe Namath RC | $5,500 for a PSA | $4,000 for an SGC 6 |
It is the same story as the 1960s. The PSA continues to enjoy a value of 25%-33% higher.
| | | |
| --- | --- | --- |
| | PSA | SGC |
| 1972 Topps Julius Erving RC | $610 for a PSA 5 | $530 for an SGC 5 |
| 1973 Topps Mike Schmidt RC | $399 for a PSA 4 | $325 for an SGC 6 |
At least according to these comparisons, the gap between the two companies narrows for 1970s cards. At this point, the differential is around 15%-20% in favor of PSA.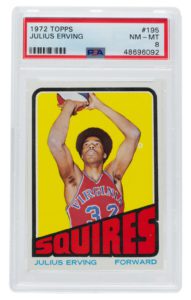 Modern Cards
| | | |
| --- | --- | --- |
| | PSA | SGC |
| 1981 Topps Joe Montana RC | $230 for a PSA 5 | $170 for an SGC 6 |
| 1986-1987 Fleer Patrick Ewing RC | $76 for a PSA 5 | $51 for an SGC 5 |
The gap for 1980s cards seems pretty similar to the 1960s era. So most likely, the results we got for the 70s were a mere aberration.
| | | |
| --- | --- | --- |
| | PSA | SGC |
| 1996-1997 Topps Kobe Bryant RC | $2,424 for a PSA 10 | $1,550 for an SGC 10 |
| 1993 Topps Derek Jeter RC | $78 for a PSA 9 | $37 for an SGC 9 |
The 1990s is where you see the differential start to increase significantly. In the case of the Jeter card, the PSA is worth twice as much, and the Kobe card is also a far higher differential than the one found in previous decades.
| | | |
| --- | --- | --- |
| | PSA | SGC |
| 2000 Pacific Tom Brady RC | $249 for a PSA 8 | $150 for an SGC 8 |
| 2001 Topps Ichiro Suzuki RC | $265 for a PSA 9 | $100 for an SGC 9 |
Once again, one of the PSA cards sells for twice as much. There is also a significant difference between Brady cards. It seems that with modern cards, the differences are very substantial.
Ultra-Modern Cards
In recent months, people have been submitting their ultra-modern cards to SGC. Of course, they knew that they are losing value by doing so, but it is tempting considering how difficult and expensive it is to get cards graded by PSA.
But how much value are you giving up when you grade ultra-modern with SGC? Let's take a look at some examples.
| | | |
| --- | --- | --- |
| | PSA | SGC |
| 2007 Topps Kevin Durant MBA Silver Diamond RC | $820 for a PSA 10 | $420 for an SGC 10 |
| 2011 Topps Update Mike Trout RC | $3,100 for a PSA 10 | $2,750 for an SGC 10 |
| 2017 Donruss Patrick Mahomes RC | $411 for a PSA 9 | $310 for an SGC 9 |
| 2018-2019 Prizm Luka Doncic RC | $900 for a PSA 10 | $640 for an SGC 10 |
These comps are all over the place. The PSA is almost twice as valuable in some cases, while most others are comparable to the vintage. The bottom line is that the market does not really know how to price modern SGC cards because they are not used to seeing them.
You have to ask yourself how the prices will settle in the longer term. The best bet is that it ends up with a differential of roughly 33% in favor of PSA.
Bottomline Of The SGC Grading Review 
The resale value and the quality of the grading all point in the same direction. SGC has earned its place as the third-placed grading company in the business. With their grading solid and unforgiving, there is no particular reason why their cards should resell at lower values than their BGS or PSA equivalents.
You also cannot argue with the main advantage of SGC. I have my slabs in hand within a month. And since SGC adds value to the cards, that is a strong argument in favor of SGC. However, you cannot ignore the price differential. For cards over $300 or so that will likely maintain their value, it is probably still worth waiting for PSA. For now.