The Top Sports Card Breakers In 2023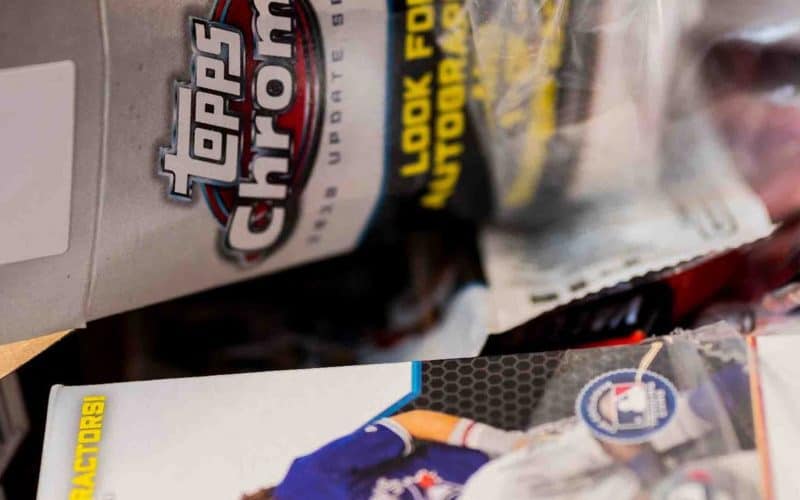 Sports card breaking has become increasingly more popular year after year, and to help you navigate sports card breaking in 2023, CardLines has put together a list of some of the top breakers to consider.
CardLines is also getting into breaking, but we will be humble and not pat ourselves on the back (yet), but definitely keep an eye out for news on the latest CardLines breaks.
Please note, breaking is an increasingly-crowded space and there are a lot of different options. While we're suggesting reputable breakers or those we have personal experience with, always do your due diligence and read for yourself before you buy into a break.
Many breakers have previous breaks published on YouTube and you can always go watch those, too, for a feel for each break works.
First, what are sport card breakers?
A sports card break can be done a couple of ways, but they almost always mean opening up a few boxes (or even a case) of sports cards and dividing the cards among the "team" purchased before the break.

In a random break, participants purchase one or more random spots that represent the number of teams in the league. For example, an NBA random break has 30 teams. Then, at the beginning of the break, all the teams will be randomized among the participants. A participant will get all the cards from the team or teams he/she ends up with.
In a pick-your-team break (often abbreviated PYT), the rules are the same except the participants buy specific teams. Since all teams (and rookies) aren't equal, some teams can sell for significantly more than others.
Once every spot has an owner, the cards are opened live on stream and shipped out to the "team owners."
What should you look for in sports card breakers?
As you probably can guess, there are a lot of ways the breakers can go.
When you're opening high-dollar cards for other people, there is plenty of opportunity for foul play. Thankfully, there are a lot of great people in the card space and many breakers you can trust.
Here are a few things best practices to look for in a good breaker, as originally published in this extremely well-written article about how to be a good breaker:
Keep both hands on the screen.
Use two cameras to cover more angles.
Show an empty box
Communicate well with your viewers
Gather reviews and feedback
Be professional
The CardLines list of sports card breakers in 2023
Now that you know what to look for, here are a few breakers that are well-known in the space for doing right by the customer. 
Iron Lion Breaks
I'm starting with my top choice and the only company I break with anymore. Andrew and Shelly at Iron Lion Collectibles in Colorado Springs are my favorite breakers in the game, and that says a lot.
Iron Lion doesn't break the volume of cards that some power-breakers do, but the breaks are well-paced, feel personal, and Andrew's like the cool-Uncle we all wish we had.
Their release-day prices are always a great deal (and sell out accordingly), and they do amazing monthly giveaways with thousands of dollars of sealed product and graded cards. When it comes to breaks, nobody goes without, either. If you don't pull a card, they still send some awesome surprises. 
Customer Testimony: "My testimony is above." – Jesse

Layton Sports Card Breaks
Layton Sports Cards is a volume breaker that rips a lot of cards at a pretty reasonable price. The breaks are well-paced and very professionally done, streamed on YouTube, Twitch and Instagram.
These guys break cases per day, as noted by their break schedule, so it's a good place to go if you're not looking to wait. At the speed, though, you lose a bit of the personal charm.
Customer Testimony: "I love breaking with Layton Sports Cards. I like to break there because Rich is a really fun breaker who really gets into each break. He's always honest about products and is wiling to throw in some bonuses if you get a really bad beat. I also love the excitement of a BOOM! when one gets pulled. He has a very quick shipping time and is extremely reasonable to work with." — Nate

DA CardWorld Breaks
As one of the biggest names in sports card resell, it only makes sense for DA CardWorld to have a great breaking presence, too. The site (and Twitter: @DACWLiveBreaks) breaks some of the hottest products and ships next day.
You can buy team breaks, or you can buy a box to have ripped as a personal – one that's all to yourself. It's great instant gratification if you're itching to open a box but don't have the cards. Check out live breaks right here.
Customer Testimony: "I use DACW Live. Fast, free and safe shipping." — Stephane St-Pierre

Mojo Breaks
MojoBreak has been at it since before it was cool. They've been breaking since 2010 and have accumulated quite a positive track record over the years.
While the Mojo Breaks website is a bit outdated, the good prices and great customer service keep people coming back for break after break. Browse upcoming breaks right here.
Customer Testimony: "Doug, Dan, Billy, and Shane at mojobreaks.com are the best hands down. Great prices and even better customer service. I have never had a complaint with anything and they do whatever is needed to keep your business and trust." — Tim
Blowout TV
Much like the DA CardWorld Breaks, Blowout TV is an extension of the super-seller Blowout Cards. Most of these breaks are personal breaks, so you'll buy a box of your liking and a member of the Blowout team (usually Matt) will rip it live on stream.
The cards are sent to you. It's a fun way to open cards, but it can also be addicting since there are essentially endless boxes to unwrap. Don't go too hard with personal boxes!
Customer Testimony: "Blowout TV is a lot of fun and very well done! The host is super knowledgeable and spends the right amount of time with the cards. I'm a frequent!" – Craig L
Blez breaks
Blez Sports Cards is becoming a giant in the space. Blez card breaks is one of the best-produced breaks, from professional recaps to a very modern website.
Blez is "three Brothers/Sports Cards Breakers who just wanted to bring our enjoyment for card unboxing and group breaking straight to other hobbyists. Three years later, we're still doing live streams and providing between 12 and 15 hours of new content for our viewers each day."
Blez is an environment that's fun enough to attract non-participants, too. Some hobbyists hop in the streams just to enjoy.
Customer Testimony: "Amazing and honestly the best pricing in the Cardboard game. I dare you to compare prices with any of your favorites. They have every option of card: Baseball, Basketball, Football, Hockey and even Soccer if that's your fancy. They always have the product on the day it comes out. The actual people running the Breaks are so down to earth and are very respectable of EVERY single person that enters their Break Rooms. Don't miss out on THE BEST BREAKERS in the WORLD!

Conclusion: There are lots of great places to break cards
We're sure you can find all the card break action you're seeking on this list of six top breakers, but if you have another favorite breaker we missed, tell us who and why on Twitter @card_lines. And don't forget to sign-up for our free newsletter! Happy Breaking!