Are Sports Illustrated For Kids Cards Worth It?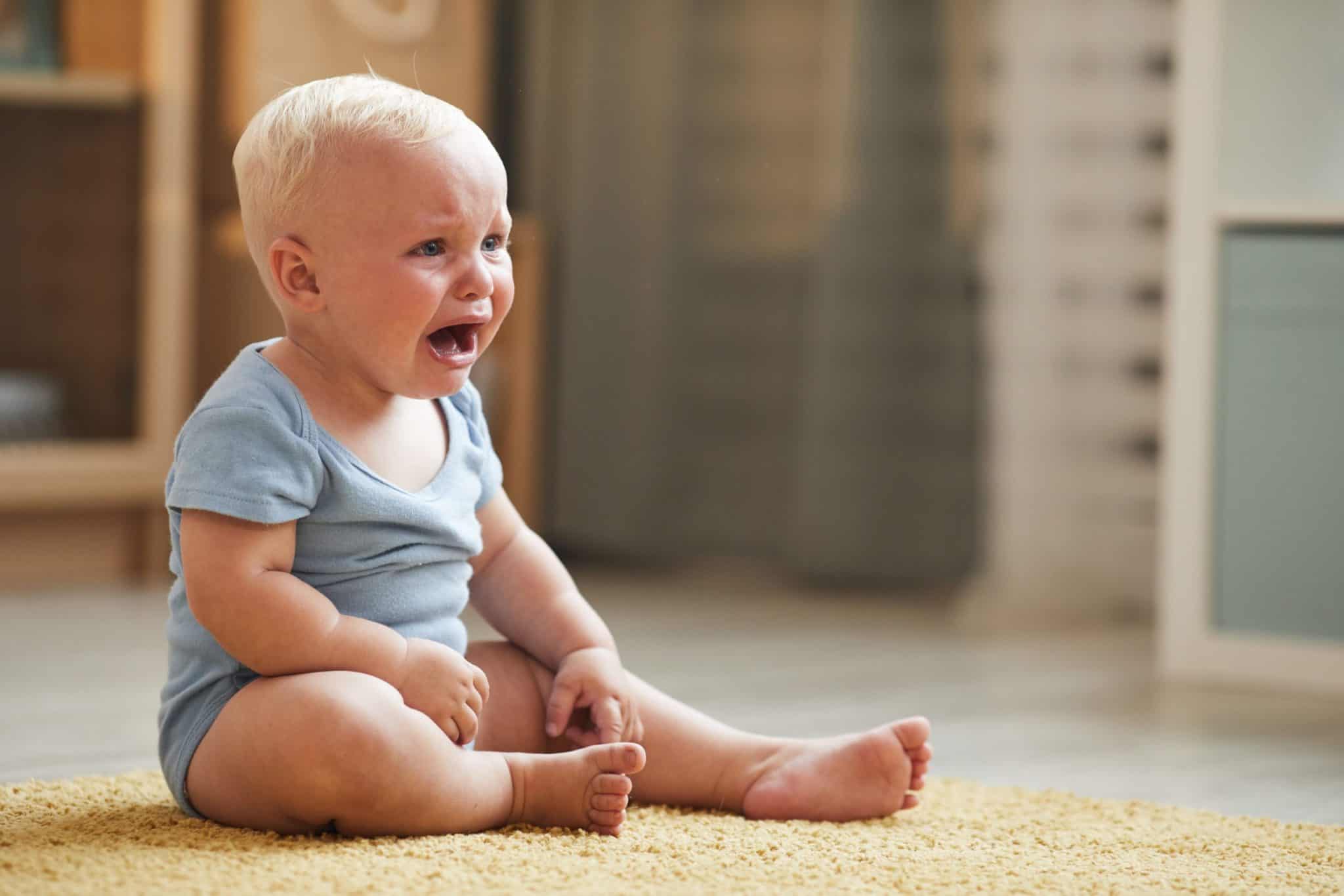 The Sports Illustrated for Kids magazine debuted in January of 1989, and with it brought a new type of trading card. These cards include the more traditional sports such as football, basketball, and baseball. But they also include cards from niche sports that rarely produce cards, such as track and golf. Over time these once niche cards have become a permanent fixture of the hobby.
History Of Sports Illustrated For Kids Cards 
Sports Illustrated for Kids is a monthly spin-off from the well-known sports periodical, with a less complex vocabulary and humor. Every edition of Sports Illustrated for Kids has featured a set of cards within the magazine.
Over the years, they featured various card designs, and the cards include some of the most iconic athletes of the past 30 years. Since 2006, these cards have been issued as part of an alliance with Topps.
Are Sports Illustrated For Kids Cards Worth It?
An official manufacturer did not make the early Sports Illustrated for Kids cards; it has not stopped them from reaching high values. Especially valued cards come from rookie seasons of star athletes or cards of athletes from sports without regular cards issues, such as swimmer Michael Phelps.
In fact, the most expensive female sport's card in history was a Sports Illustrated for Kids card. Legendary Team USA player Mia Hamm saw her rookie card sell for $34,440, doubling the previous record for female sport's cards. That is another indication that women's soccer cards are coming into their own.
Some athletes from the main collecting sports have valuable cards as well. A Lebron James featuring him in his high school uniform is another widely desired card from the Sports Illustrated Kids collection. A little over a month ago, the card sold for $1,525, one of the highest values for these cards. A card from Kevin Durant's rookie year in 2007 also fetches a solid price, with one selling for $1,432 recently.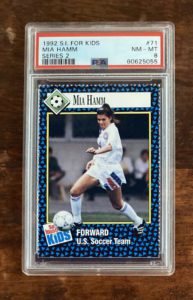 The Most Valuable Sports Illustrated For Kids Cards
However, the most valuable cards tend to feature athletes from sports with few mainstream releases. Thus, the conclusion is clear, Sports Illustrated for Kids cards are best used to collect high-value athletes outside the big four sports.
It is also notable that 5 out of the ten highest value athletes are female. From its start, Sports Illustrated for Kids has shown an admirable penchant for gender equality. But aside from that, female athletes do not feature in many mainstream card releases, making their cards rare and sometimes quite valuable.
| | | | |
| --- | --- | --- | --- |
| Card | Year | Value for PSA 10 Unless No Price Found | Population |
| Mia Hamm #71 | 1992 | $34,440 | 1 |
| Tiger Woods #536 | 1996 | $29,710 | 26 |
| Michael Phelps #360 | 2004 | $21,200 | 2 |
| Usain Bolt #294 | 2008 | $20,000 | 2 |
| Naomi Osaka #779 | 2018 | $13,400 (PSA 9) | 5 |
| Serena Williams #814 | 1999 | $8,000 | 8 |
| Tony Hawk #152 | 1990 | $6,136 (PSA 9) | 12 |
| Jordan Spieth #430 | 2015 | $2,000 | 3 |
| Diana Taurasi #268 | 2003 | $1,575 | 2 |
| Andre Aggasi #47 | 1989 | $1,500 | 5 |
Separating Sports Illustrated For Kids Cards
Due to these cards' unique packaging, confusion exists about opening them and removing individual cards. The cards come packaged in a sheet of 9, with perforation for ripping between them. Despite cutting the perforation with scissors seeming like the safe choice, it is best just to pull them apart. Cards that maintain their perforation tend to grade better, so any perforation lost from scissors will decrease the card's value. This is just another reminder that scissors shouldn't be anywhere near your cards.
There are a few techniques you can use to pull the perforation apart without damaging the cards correctly. Practice due diligence while doing these and be careful. One standard method is folding one row on top of the other to make pulling apart the perforation easier. Alternatively, you can isolate the card you want and fold it in each direction repeatedly until it practically falls off the sheet.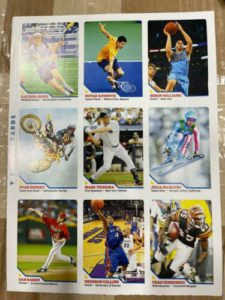 Grading Sports Illustrated For Kids Cards
Grading for Sports Illustrated for Kids cards is unique, especially compared to cards acquired in more traditional methods. The presence of plastic perforation around the card presents a unique twist to the card, and as said above, is an essential factor in grading. If you take a look at a few cards on eBay, you will see that ones with completely intact perforation tend to grade better.
In addition to this, they are not made of the thicker material seen in chromium-style cards, so they don't have improved durability. Unfortunately, this means the chances of damage to the card are increased, so a perfect grade becomes rarer.
Print Runs And Checklist Data
 Sports Illustrated for Kids print runs is relatively easy to calculate. Since every issue comes with a set, the print runs should be identical to the circulation numbers. It currently has a circulation of 950,000. Unfortunately, numbers on earlier circulation are challenging to find. And the pop reports are not very helpful in extrapolating early runs since there are very few graded versions of most cards.
The cards have had several designs over the years. Some have lasted for several years, while others were switched after a few issues.
There have been sequences of cards numbers thus far:
1989-1991: 324 cards.
1992 – 2000: 963 cards.
2001 – 2005: 540 cards.
2006 – 2010: 531 cards.
2011-Current: 934 cards.
The Cardlines Pick
 It was tough to make a selection here, but we are going with the Usain Bolt card. The sprinter is one of the greatest athletes (in the narrow sense of the term) in modern history, with 8 Olympic gold medals. In addition, bolt's speed has earned him 19 Guinness World Records.
With a record like that, you would expect him to feature on his share of cards. But Usain is not American and does not play a 'major' sport. Therefore, he is featured on few cards. However, with all of his records, and iconic name, we expect Bolt cards to be sought out for many years to come.
Bottomline On Sports Illustrated For Kids Cards
Overall, cards from the Sports Illustrated for Kids magazine are a unique aspect of this hobby and are valued as such. Their unique designs, distribution method, and niche sports stars all contribute to a highly sought-after product.
However, keep in mind that most Sports Illustrated for Kids cards are pretty much worthless. The ones with value are unique cards without clear equivalents in major releases.