The Coolest Cards On eBay Right Now (June 22-28)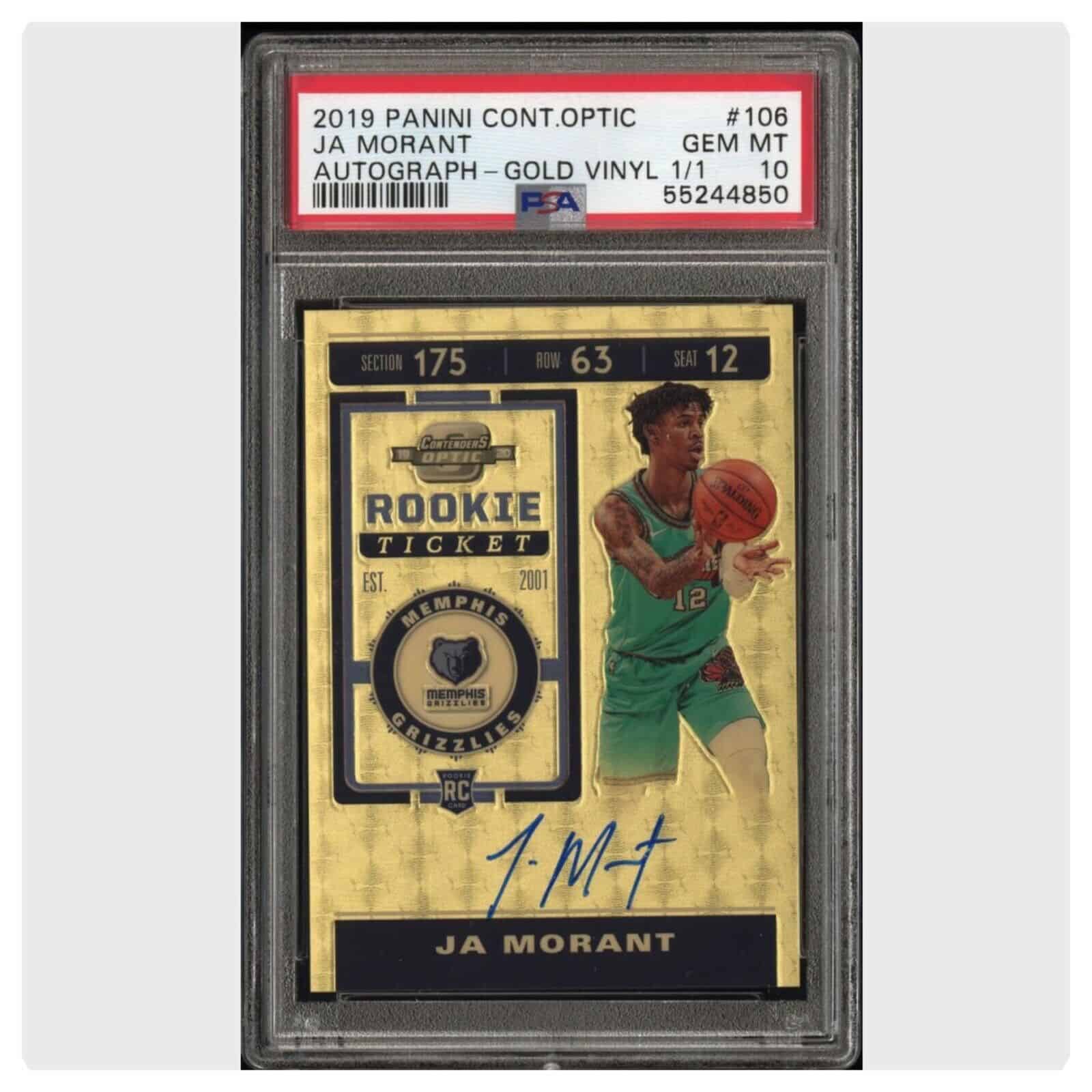 A few gems might slip by millions of listing on eBay every month. To help you stay tuned to some of the best auctions on eBay, Cardlines will be featuring some of the best listings of the upcoming week. Here are the 5 coolest cards on eBay right now.
The 5 Coolest Cards On eBay Right Now
Add them to your watch list and bid if interested!
Ja Morant had a breakout season. He went from star player to superstar. Then for a while, he even flirted with an MVP (at least he had his name in the race). Nobody expected the Grizzles to land the 2 seed in the West. But, between Morant's exceptional play and the talented team around him, the Grizzlies defied expectations all year long.
The current Memphis core is so young and talented that they'll be perennial contenders for years. As far as investments go, that makes Ja as intriguing of a player as anybody. Unfortunately, he has a propensity for getting hurt. Likely because Morant tries to jump over everybody. However, assuming good health, Ja is an excellent investment.
This Optic card is /10 and gold, plus a PSA 10. I can't think of a much better combo for an investment opportunity. Optic is perhaps the second-best set to invest in, behind Prizm. However, I am not a fan of the "fast break" version with bubbles on the card. They are worth less than the all-gold base /10 prizm.
The auction ends Wednesday, June 22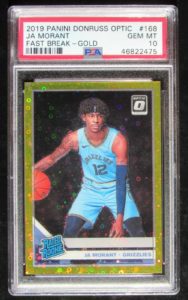 Get your Tom Brady rookies on eBay. 
There are a lot of good Brady cards ending this week from the seller question. However, this one was the most intriguing because it's a fantastic card that should sell reasonably. After all, there is no point in excluding a card that few readers can consider.
This non-chrome Bowman Brady rookie has proven to be a tough grade. And this one is a PSA 10. Unfortunately, only 461 PSA 10s on this card, and the median falls between 7 and 8. Because of that, it's a special card. Best guess? It sells for north of $8,000.
While that's a high price to pay, it's also as safe of an investment as you can make in sports cards right now. Brady's legacy is set in stone, and as we wrote about, even high-end cards are seeing a drop as we enter a recession. So buy now, hold, and in the (near?) future, this will easily be a five-figure card.
The auction ends Thursday, June 28
What Bobby Witt Bowman 1sts can you get off eBay? Only one way to find out. 
Bobby Witt Jr. is a fun, young player with a lot of upside. Our guess is he will be in MVP consideration for years to come. However, he has yet to prove himself in the MLB. Therefore, this may be an excellent time to buy-in.
This Bowman Chrome green refractor is one of his best rookie cards, and on top of that, it's numbered to just 99. With a gem grade from PSA, that could translate into good value. The last one of these cards sold Buy It Now for $2,500. So you can expect a similar price point for this one. However, the upside for Witt is tremendous. He recently hit the longest home run of his career and is only getting better.
The auction ends Friday, June 24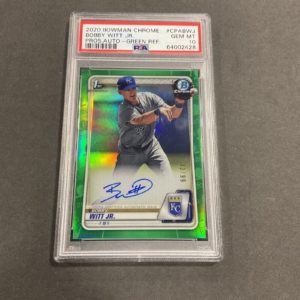 Primarily due to exposure through the recent Netflix show, Formula 1 racing has become increasingly popular. That has translated into trading cards as well. At this time, the 2020 Topps Chrome set is one of the most valuable and sought-after of any F1 cards.
For those who aren't up to speed with F1 (not sorry for the pun), many hobbyists consider Lewis Hamilton to be the GOAT. That's why these refractor cards – yes, basic refractors – can sell for thousands of dollars as PSA 10s. Better yet, these values could continue to rise as F1 becomes increasingly popular.
The auction ends Sunday, June 26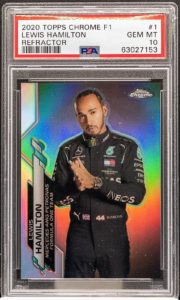 Side-stepping into pop culture, we have this great William Shatner Star Trek card. Shatner is one of the most recognizable faces in sci-fi, so this 1979 autograph is a very cool collectible.
Star Trek cards may have a smaller buying audience than mainstream sports cards. However, the buyers are passionate – that's something you can guarantee with Trekkies! So if this is your cup of tea, scoop up this rare autograph.
The auction ends Wednesday, June 22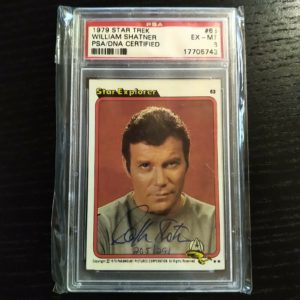 Will You Buy Any Of The 5 Coolest Cards On eBay?
While these are unique cards, understand that the decision to buy them falls on you and you alone. In no way are we endorsing the sellers or guaranteeing a satisfying transaction. Invest at your own risk. But you gotta admit, these cards are pretty cool.