2021 Panini Chronicles Football Review And Checklist

Chronicles Football is a popular brand but also sometimes an overwhelming one. As you probably know, the selling point of Chronicles is that it combines a lot of other brands into one box – from out-of-print Panini brands to spin-offs of popular brands. So, how does this year's release hold up? To find out, read our 2021 Panini Chronicles Football review and checklist.
While many collectors look forward to Chronicles every year, should they? We are here to answer that question and look at investing in 2021 Chronicles football.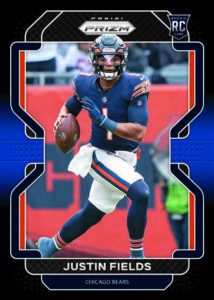 Justin Fields is just one of the crop of promising rookie QBs in 2021 products. 
An Introduction To The 2021 Panini Chronicles Football Review And Checklist

Chronicles has been around for over five seasons (football since 2019), and it seems to get crazier and bigger with every passing year. As Beckett puts it, "The anthology-style release takes brands and designs from across the card maker's portfolio and puts them into one product."
That's an excellent way to think about it. In some ways, Chronicles is like a ghost graveyard, full of spooky reminders of brands that couldn't last forever while adding more versions of existing brands (Clearly Donruss, Prizm Black) that nobody asked for, nor do they want.
Chronicles has its own cards that feature the stylized C as the logo, and these cards have parallels, but the other subbrands in Chronicles also feature parallels. That's why, as a whole, this product can be a lot to keep straight.
The boxes, preordered for $659, contain 6 packs of 8 cards. In the 48 total cards, you can expect to find 2 autographs, 1 memorabilia, 4 numbered parallels, 26 inserts, and 2 silver parallels, but remember, all of these cards can come from different "sets."
What sets are worth the pursuit? Let's check them out.
2021 Panini Chronicles Football Review: The Checklist
Want a 2021 Chronicles Football hobby box? Get one on eBay. 
Or check them out on StockX, which has some great prices. 
This year's Chronicles will contain Score, Legacy, Dynagon, Prizm Black, Panini, Gridiron Kings, Crown Royale, Timeless Treasures, Playoff Momentum, Clear Vision, Flux, and Chronicles.
That's thirteen confirmed brands, each bringing unique styles to the overall product.
For Score and Legacy, note that these brands were already released in 2021. However, they feature the rookies in their college uniforms. This is an "update" release that will bring the same style cards back with NFL jerseys, instead.
If you're opening a Chronicles box, it's also essential to understand the checklists. Given the nature of the product and the wide variety of cards contained therein, it is understandably impossible for Panini to have a deep checklist featuring all the rookies or veterans you'd expect. While most sets, such as Prizm, have a checklist of around 300, Chronicles gives each set somewhere between 30-50 cards.
Are Earl Campbell autos your thing? Look for them on eBay. 
Too Much Of A Good Thing?
It means you should expect to pull a lot of duplicate players. So, for example, you might pull a Trevor Lawrence Score, Flux, Clear Vision, and Crown Royale card.
Oh, so you're saying I will get a lot of good rookies?
If you think that, the answer is yes – but that's not always a good thing. My biggest complaint against Chronicles is that it floods the market with less-desirable rookie cards from the top-ranked rookies.
Also, if you're into buying breaks, note that Chronicles is a risky buy. If you hit a team with a top rookie, you will get a lot of his cards, but if not, you might not get any cards at all. Finally, keep in mind that autographs can be no-name, guys. Indeed, that's how it usually goes.
Chronicles' checklist is too chaotic to walk through in an article that doesn't match the length of Moby Dick, but we'll look at the high points, at least.
It's important to note that most of the base sets of Chronicles cards have a rainbow series of parallels, which are numbered as follows:
Red – /399
Blue – /99
Purple – /49
Black – /25
Gold – /10
Platinum – 1/1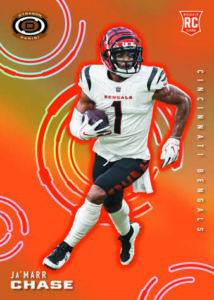 Looking for a Ja'Marr Chase rookie card? See what is up on eBay. 
The Value Of 2021 Panini Chronicles Football Numbered Cards
That said a word of caution on all these numbered cards. First, remember that each set has a unique parallel rainbow, so the numbered cards, as a whole, are much less rare than they seem.
For example, if there are 10 "brands" in Chronicles Football 2022 and each brand has a /25 Justin Herbert rookie, then Herbert has 250 Chronicles rookies /25 – see how that's a problem? In other sets, such as Prizm, there are only 25 cards numbered to 25, as there should be. For somebody opening a Chronicles box, pulling lots of numbered cards is a lot of fun. Just keep in mind the nature of the product and how the parallels aren't as rare and valuable as in other products.
Prizm Black is another big draw for Chronicles, but the cards aren't worth as much as you'd think. It's a black version of the typical Prizm cards and only features the top players, per Chronicles' quota, so there's minor deviation. On top of that, many collectors don't view these as "real cards."
For example, a Joe Burrow Prizm Black silver recently sold for $155. However, the standard Prizm version sells for around $400.
To oversimplify: newer collectors love the product because of its variety. However, more seasoned collectors – those that this nostalgia trip is supposedly for – would not bat an eye if Panini announced the end of the product. Sure, it's fun, but it's also unnecessary and parasitizes other brands.
2021 Panini Chronicles Football Review Of Value
Looking to invest in Chronicles? Let's talk through your options and see what's the best move for you.
Wax
If you're looking at sealed boxes, the first place to start is considering the current prices of hobby boxes from the previous years. Here's what the numbers are saying.
2021 Chronicles, $659 (current year, preorder)
The comparison does not provide a great sample size. I wish 2018 had a box because I think the 2018 draft class is the best comparison with the 2021 class (shoutout to Josh Allen and Lamar Jackson). 2019 is weaker, and 2020 is arguably stronger.
Still, I see nothing from these numbers that make me want to buy a dozen sealed Chronicles boxes at release day prices. However, if my expectations for the 2021 rookie class hold, I'd probably be able to pick up a box for the same price in a year.
Remember, Joe Burrow (2020) is one of the hottest players to collect right now after the Super Bowl trip, and Herbert (also 2020)  is an early favorite to win MVP. So if the 2020 box is only selling for marginally more than 2021, that's a stay-away for me.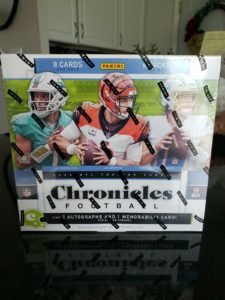 Looking for a 2020 Chronicles football box? Try eBay. 
Singles
Thanks to the reasons I outlined above, Chronicles is a stay-away for investing in singles, at least for me.
The one exception I'd suggest if you're a big-ticket investor is possibly considering a 1-of-1 rookie autograph from Chronicles. Why? Because each player has about a dozen 1-of-1 rookie autos coming out of the product, you can get one at a significant discount, but they're still really cool. Indeed, I suspect those cards might be a better investment if made in a more legitimate brand.
In short, invest in Chronicles singles at your own risk. They're cool cards and often look amazing, but the nature of the product itself makes it tough to retain too much value.
Bottomline Of The 2021 Panini Chronicles Football Review And Checklist
Chronicles is a flashy brand with a lot of big-name rookies. If you want a piece of the action, they're probably a better rip than a long-term hold, but there's no "smart" option for making money on Chronicles. So instead, you'll either open a box and get lucky with a big hit or strike out but have fun in the process.