Top 10 Sports Cards of 2021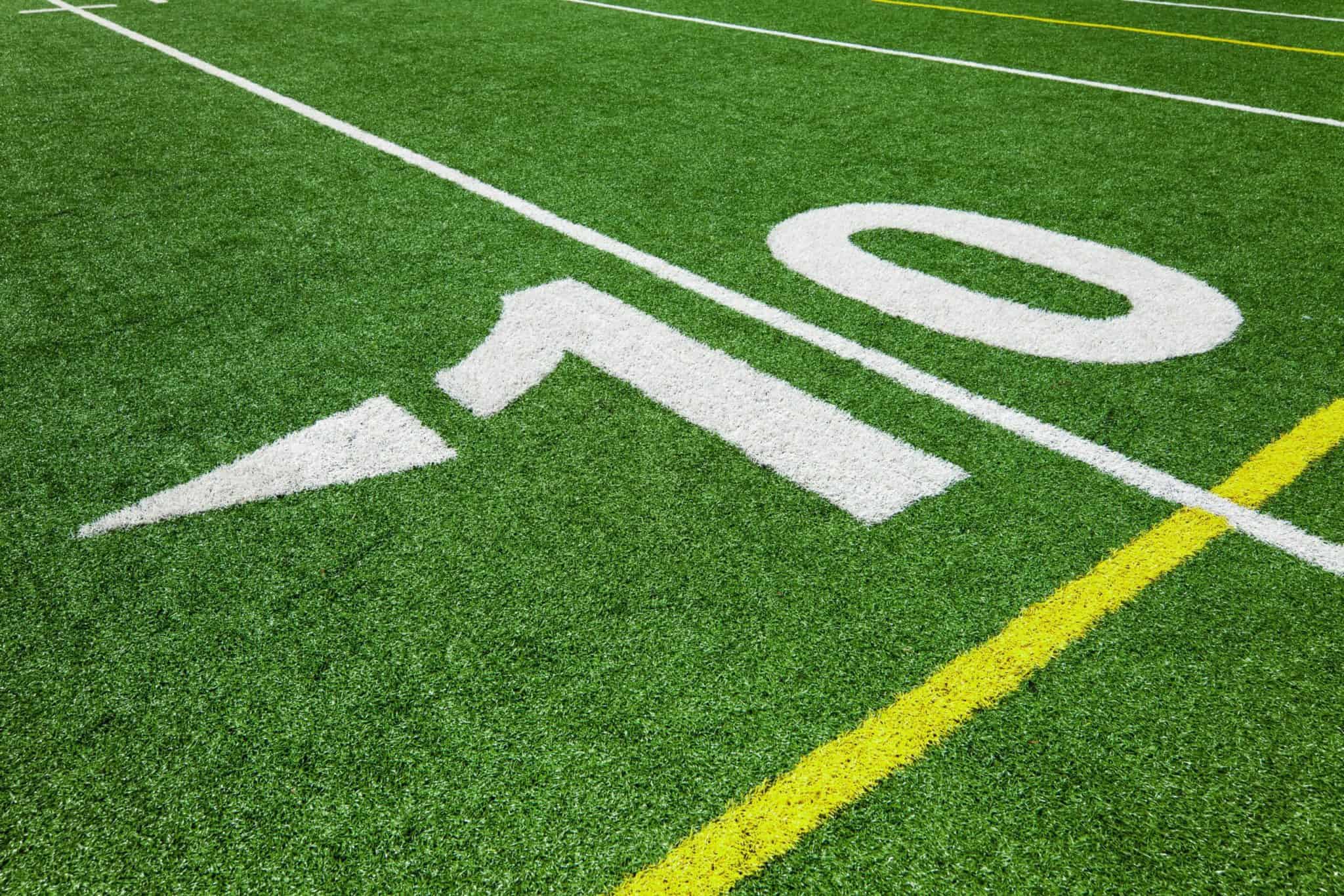 Before we leave 2021 entirely in the rearview, we first want to recap the top 10 sports cards of 2021. Did your favorite card make the list? Find out below with our top 10 Sports Cards of 2021.
Top 10 Sports Cards of 2021: The Rules
First, before we start this countdown, I'll lay a few ground rules.
For one, this is a measurement that tries to factor in the initial excitement of the player and set combined with the long-term potential value of these cards.
Also, remember that Panini was really behind with the release schedule this year. Therefore, we never saw any rookie cards of NBA players in the pro threads for 2021-22, and we even got some older cards (Optic 2020) in the opening months of 2021. This list tries to measure the best cards in the calendar year. So, you will see some "older" cards on it.
Next, note that it's always better to invest in the parallels when listing the base rookie.
Finally, this list is just the opinion of the writer. You know, me. Your list will look different than mine. I am a basketball and football collector primarily. That's why most of my list matches those preferences. Also, a reason why basketball and football boxes sell for 5x as much). Moreover, I welcome contrary views. Just Tweet @card_lines with your thoughts.
And, with that said, here's my list.
The Top  10 Sports Cards Of 2021
10. Donruss 2021 Ja'Marr Chase Rookie
We start things out with a receiver —  a position that is finally getting a bit more love in the hobby. Ja'Marr Chase had a legendary season. He smashed several rookie and Cincinnati records after reconnecting with his college quarterback, Joe Burrow. In addition, Chase is the favorite to cap the season with the Rookie of the Year trophy. He was anything but consistent throughout his first year, but the big end-of-year stat line is inarguable. So why is the likely 2021 ROY at the very bottom of the top 10? Because all though receivers are getting some love in the hobby, they'll never get as much love as top quarterbacks.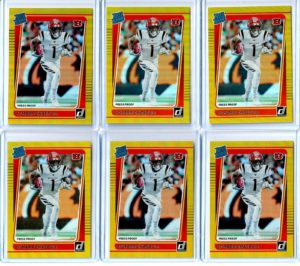 9 Donruss 2021 Trevor Lawrence Rookie
Trevor Lawrence was probably the most-hyped NFL recruit since Andrew Luck. However, he didn't set the NFL on fire. If anything, Lawrence's rookie season was disappointing. Therefore, his stats don't suggest he's worthy of a spot on the Top 10 list. But given the turbulence of the Jaguars organization (s/o Urban Meyer) this year and what we saw in glimmers from Lawrence (s/o Week 18), I'm still a firm believer in his long-term value. There's a chance, even, that Lawrence at some point becomes the most-chased rookie on this list.
8. Optic 2020 Justin Jefferson
Another receiver – another LSU product, even – is making a list at #8. Justin Jefferson has become one of the brightest (and swaggiest) young stars in the NFL. He was electrifying throughout his first two seasons, even with Kirk Cousins as his quarterback. He just set the NFL record for the most yards in the first two seasons of a player's career, and the young man is just scratching the surface on what could be a long and exciting career. Most importantly, though, Jefferson has appeared in Fortnite. That's when you know you've made it.
7. Bowman Chrome 2021 Austin Martin Rookie
This year's Bowman Chrome didn't quite have the level of hype around the rookie class as previous years (2020 was particularly juicy), but Austin Martin is the best bet to be a standout from this class. We know somebody will define 2021 Bowman Chrome for years to come. If it's not Austin Martin, another young prospect like Blaze Jordan will be. These investments often feel like a guessing game, which is why I tend to invest in sealed products for this brand.
6. Donruss 2021 Mac Jones Rookie
I love Mac Jones. His personality, the way he carries himself – he's got everything going for him. Still, as I put together this list, I couldn't help but feel a twinge of guilt for putting this card so high up. Jones is great, but how much of his greatness is due to being in a great system? As I've written on here before, a rookie quarterback's success is often like winning in NASCAR: a lot comes down to who's driving the best car. Jones, through most of the year, was driving the best car. It seems that collectors digging into the stats aren't as high on Jones as the casual football fan. However, there is still a chance he could be a long-term star. We'll have to wait and see.
5. 2020-21 Prizm LeBron James (Kobe Dunk Tribute)
This card will go down in the history books as one of LeBron's most iconic Prizm cards. After all, it's the "Kobe Dunk Tribute," and fans have closely associated it with the legend of the Black Mamba. It doesn't necessarily look like a typical Prizm card. However, that's entirely intentional. With the rainbow of color varieties on its side, this card will be chased by both LeBron and Kobe fans for a long time.
4. 2020-21 Prizm Anthony Edwards Rookie
I'm still a believer that, long-term, Anthony Edwards will be the most valuable rookie coming out of the class of 2020-21. LaMelo is dynamic and crazy efficient, but not a clear "best player on his team" type. Meanwhile, Edwards has all of that and more. He might not be as efficient, but Anthony has crazy athleticism and coy confidence alongside superstar-level talent. Furthermore, he improves every game and already plays like a savvy veteran. The ceiling for Edwards is sky-high.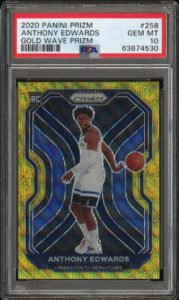 3. Optic 2020 Joe Burrow Rookie
Justin Herbert and Joe Burrow have a similar dynamic to the two top NBA rookies we discussed. Herbert won Rookie of the Year in 2020 after putting up some eye-popping stats. However, I'm not convinced Joe Burrow won't be better in the long term. But, either way, I think something else is even more important. Instead of picking between Burrow and Herbert, there is a strong likelihood that both remain Top-3 quarterbacks for years. Investing in either is a safe bet.
2. Prizm 2020-21 LaMelo Ball Rookie
Despite sustaining an injury and missing a good portion of his rookie season, Ball captured Rookie of the Year. That is how impressively efficient his campaign was. He is a remarkably mature player and sees the floor better than many seasoned vets. While LaMelo might not ever be hands-down the "best" player on a championship-level team, he's a triple-double threat every time he steps on the floor. The scary part is that the point guard game will improve.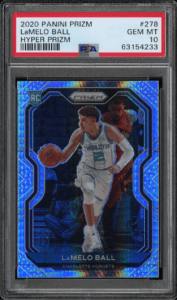 1. Optic 2020 Justin Herbert Rookie
This card has everything going for it: it was released during peak sports card boom, came out near the ROY announcement, and Herbert is genuinely unbelievable. He puts up highlights packages in single games that are more impressive than many quarterbacks compile in a season. Indeed, Herbert has never run into a throw that's too off-balance or improbable to attempt. Yes, he'll occasionally make questionable decisions, but he's also still incredibly young. There's no doubt Herbert, and the Chargers have a bright future ahead. 2022 might be the last playoffs they miss for a very long time. Therefore, it takes the pole spot amongst the top 10 sports cards of 2021.