Topps Loyalty Program and Montgomery Club: Worth It?
As I am sure you all know, Topps specializes in baseball and does not have licenses to other major US sports. While they also make Garbage Pail Kids, F1, and European Champions League cards, baseball remains at its operations center.
Therefore, if you are not a baseball collector, the Topps loyalty clubs may not be worth investing time and effort.
Looking for details of the 2023 Montgomery Club program? Check here.
How Do You Join The Topps Loyalty Program?
I was trying to figure out how to join and realized that I was already a member. I even had a few hundred points available due to my unhealthy Bowman obsession. So, writing this article was very useful to me!
All you have to do is make and activate an account with Topps.com. Then provide them with info such as your full name, mailing address, email address, and date of birth and create a password to create an account.
You will also need to agree to their terms of service. I sat with my large team of high-priced lawyers and examined every word before agreeing to the terms. I am sure you will as well.
Earning Points on the Topps Loyalty Program
The Topps website says, "You can earn Points by logging in to your account and then making qualifying purchases or taking qualifying actions. We may also, at our sole discretion, provide additional Points in connection with certain transactions and promotions."
Here is how you earn points:
Buy items: 1 point per 1$ spent. In general, this applied to every purchase. However, Topps notes that "some purchases may be excluded from the Program, at Topps' discretion."
Celebrate a birthday as a member: 200 points. However, this only applies if you sign up more than a month before your birthday.
Follow Topps on Instagram: 50 points.
Follow Topps on Twitter: earn 50 points.
Share on Twitter: share that you have joined the club and earn 25 points.
Signup: 100 points for becoming a member.
You know we always have your back at Cardlines. So, we found you a hack: you don't have to have a social media account to get the points.
For example, I have never had Instagram in my life. Not super into pictures of food. But I clicked on it, and their dumb AI algorithm gave me the points anyway.
However, the best way to earn rewards consistently is to buy products. Obviously.
What Topps Loyalty Rewards Can You Get?
Once you have earned rewards, you can redeem them at any time. We have made this handy chart of available rewards. Remember that discounts do not apply to gift certificates, charitable items, promotional value sets, sales tax, or shipping charges. You also cannot combine points from different accounts without approval from Topps.
| | |
| --- | --- |
| Number of Points | Reward |
| 500 points | $5 off coupon – Only on Topps Now |
| 500 points | Free Topps Now 'Card of the Month'- 1 month only |
| 1000 Points | $10 off coupon – Only on Topps Now |
| 2000 points | $20 off coupon – Only on Topps Now |
| 2000 points | Free Topps Now 'Card of the Month'- 1 per month each month of the baseball season |
| 4000 points | $40 off coupon – Only on Topps Now |
I am sure you can see what all of these rewards have in common.
The Levels of Topps Rewards Membership
Like any good club, the Topps Loyalty program has levels. It reminds me of the time I joined the Illuminati.
You can advance in membership. You need to accumulate points. However, your ability to redeem points is limited annually. In other words, if you are missing 10 points to qualify for the next level at midnight on New Year's Eve, you lose your eligible points. Bummer.
There are three levels: rookie, all-star, hall of fame. They each have perks, but they improve as you advance in the ranks.
| | | | |
| --- | --- | --- | --- |
| | Rookie | All-Star | Hall of Fame |
| Points Needed | 0-500 points | 501-2000 points | 2001 and up |
| Rate of Point Accumulation per $ spent | 1 point | 2 points |  4 points |
Is The Topps Loyalty Program Worth It?
Though Topps Loyalty Program sounds like a general rewards program for all of their products, it isn't. Topps gear the program towards their Topps Now collection. The program is a glorified Topps Now funnel.
However, that doesn't mean that the Loyalty Program isn't worth it. Joining the program is free. If you are buying Topps products anyway, you may also get some extra cards out of it.
Honestly, Topps Now is not a bad product. Some people swear by it. In addition, you can get free shipping for other products by throwing a Topps Now card into the order.
However, collecting these cards is an entirely different experience than breaking open packs. Anyone can buy the specific card they want, albeit for a limited time.
If you buy strategically, you can end up with valuable cards.
The Topps 582 Montgomery Club
The Topps Loyalty program is open to everyone, including for 2023. But the 582 Montgomery Club is more exclusive and has limited membership. 582 Montgomery is the original Brooklyn address of Topps. Many of the cards they send members feature older designs that the company didn't use for various reasons.
Joining the 582 Montgomery Club costs $300, up from the original $200 price. For 2023, it will be $150 for existing members and $200 for new members. We don't know exactly how many members the club has, but membership sells out in about 24-48 hours.
Membership is closed for the year. So, if you want to join, you will need to wait till 2022.
The benefits of joining in 2021 were:
Gift with Membership: 20-card Set + Autograph
Two 20-Card Sets
A 20-Sticker Set
One 20-Card "Members Vote" MLB Set + Autograph
A "582 Montgomery" stamped 2021 Topps Baseball Complete Set
Exclusive access to purchase "2020 Topps Brooklyn Collection" featuring all-new configuration on Topps.com
Collectible Pin
Exclusive Access to Pre-Sale window for select Topps 2021 Online Exclusives including Sapphire, Finest Flashbacks, Ginter X, and Archives Snapshots.
The first option for membership renewal
The Members Vote MLB set is a cool touch. The members get options for the enclosed autograph and decide which one they want.
Is The Topps 582 Montgomery Club Worth It?
On paper, one of the best perks of the club is that it allows early access to hard-to-obtain products. However, members have repeatedly found that they are unable to obtain them.
Indeed, there is no shortage of screw-ups on the part of Topps. Some members haven't had boxes arrive or had orders canceled. If you want to see what some members complain about, you can read this thread. However, you may find War and Peace more informative and less time-consuming.
However, the sets are generally delivered on time and are kind of awesome. They feature a lot of rookie cards and a good number of autos. You will find yourself with some rare variations on rookies that may be worth the price of admission alone.
If you are into the vintage look, you will absolutely love the design of the Montgomery Club cards.
The Montgomery Club is not for everyone. However, it looks like they have no trouble filling up the spots. Based on the comments from members I have talked to and posts online, it seems like the vast majority of the members renew their membership and greatly enjoy the benefits.
Below is an example of a Montgomery Club auto taken from COMC.COM.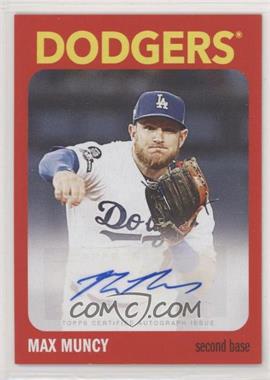 Bottomline On Topps Memberships
If you are a serious baseball card collector, both clubs are worth the effort. The perks of the regular Loyalty Program are not that great. But then, there is very little investment required.
The 582 Montgomery Club is self-selecting in a way. People who are happy to shell out $300 on a program with uncertain ROI generally spend a good deal of money on cards.
If your collection focus is on modern baseball and you spend a few thousand on cards annually, it is a fun way to spend a few bucks. It may get you access to some products you would not get a shot at otherwise (though this isn't guaranteed). And it is definitely fun to get those exclusive-looking packages a few times a year.