How To Track Your DapperLabs NBA Top Shot Transactions
Although Top Shot is trendy and lucrative for many investors, it still has a significant number of kinks to work out. One of those is the transparency and clarity in tracking your DapperLabs NBA Top Shot transactions.
NFT's have a great many advantages over traditional cards. While our cardboard cards do not contain any data, NFT's do. Indeed, they include the entire history of transactions concerning that individual NFT.
However, accessing all of the information on your NBA Top Shot transactions is not always as easy as it should be. Indeed, it often requires using other websites and resources.
Which ones? Stick with us for a handy guide.
The Problem with Tracking NBA Top Shot Transactions
Considering the large amounts of money that change hands on the NFT (around $4 million a day as of this article's writing and over $40 million a day at its peak), the lack of transactional clarity is inexcusable. Transactions of the magnitude require a proper ledger to keep track of all trades, and the sums exchanged.
If you try to use the DapperLabs' NBA Top Shot to examine your transactions, the options they provide for you are limited. By going into the "collection" tab on NBATopShot.com, you can view all of the moments in your possession. You can sort them by serial number, when received, and the lowest/highest ask for each.
You can also go into your user profile and view the moments you bought and sold in order of their execution.
Using Cryptoslam! to Track NBA Top Shot Transactions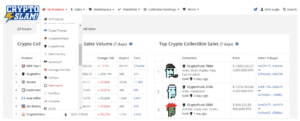 Cryptoslam! is an excellent source for Top Shot as well many other NFT investments. Just like NBATopShot.com, you can view all of the moments you or any other collector owns in order.
It is by no means a perfect ledger of transactions, but it has a few significant advantages over the official website.
As soon as you make a transaction, you can go into Cryptoslam! where you can see it on the live sales board. To search for older sales, go into the list of Top Shot sales, where you can search for any of your deals by seller, buyer, series, team, price, or category.
It is easily the most comprehensive and searchable database of individual sales available and provides you with the information needed to track NBA Top Shot transactions.
Note that while I could find all my sales, the website does warn that "it does not guarantee the inclusion of all sales." So, your results may vary.
Other Uses of Cryptoslam! in Tracking NBA Top Shot Sales
First, it contains more information. The website provides the difficulty rank and difficult rating of each moment. They also have the jersey number and serial number, both of which can be a massive component in the moment's overall value.
More importantly, a click on any specific moment provides a history of the sales and transfers of the individual NFT. The information contained here includes the date and value of the sale and each user's identity who owned the moment. It even has the exact date the moment was minted.
Therefore, Cryptoslam! is a far better source for tracking your NBA TopShot transactions (and everybody else's) than the official website.
However, while Cryptoslam! It is excellent in terms of providing the history of each moment. It could use some improvement in giving details on complete collections of moments.
Using Evaluate.Market to Track NBA Top Shot Transactions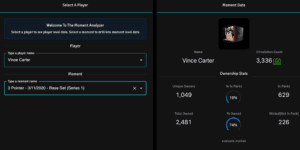 Using Cryptoslam! we know how to get the essential deets at any particular moment. But what about your overall collection and its value? Neither the official website nor the better equipped Cryptoslam! cover that information adequately.
Evaluate.Market complements the strengths of Cryptoslam! nicely. While the latter focuses on the history and value of specific moments, evaluate.market provides an up-to-date overview of the value of your collection.
The website provides the most critical collection-focused information and makes them easily accessible. All accounts are ranked and dissected according to their current account value, profit/loss ratio, and investment return.
The website's moments section also makes it easy to see how your transactions compare to similar ones. You can see how the moments involved in any of your transactions have shaped up. For example, it includes the Market Cap, % of Packs/Owned, Average Sale Price Trend, and Volume Trend stats so that you can evaluate every transaction you make and other comparable ones.
Easily the most addictive element on this website is the account value feature. As soon as you complete a transaction, you can check how it changes your account's value. Be careful, though. You may find yourself refreshing endlessly to see the value of your collection go up (or down in my case).
I certainly learned a lot from the valuable tools of Evaluate.Market. For example, I realized that I have an uncanny ability to lose money in any given situation, even in an inflated market. Go on it now and see what you learn…
Using MomentRanks to Track your NBA Top Shot Transactions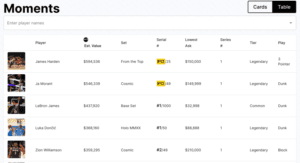 One of the less well-known, but most valuable resources for tracking deals is MomentRanks. The website focuses on the value of specific moments rather than the entire market or collections (although it has many stats).
It updates all info on transactions immediately onto its deals live feed. According to the highly scientific hot peppers measure, you can view the deals feed by hotness level. You can dig into older transactions in the aptly named sales section.
The great thing about MomentRanks (why is every company against spaces between words nowadays) is the ease with which you can examine and compare the value of moments according to their serial number. The MomentHQ feature allows you to track every deal and price of the moment involved in your agreement since DapperLabs minted it.
MomentRanks uses machine learning to evaluate and reevaluate every moment in real-time. I'm surprised this website is not better known. And no, they are not paying me kickbacks.
Other NBA Top Shot Resources
Another great place to view all the moments you own and where you got them is intangible.market. It groups all of your similar moments and transactions so you can evaluate them in the context of the entire collection.
However, we have to say that intangibles.market seems to be having some technical trouble and is often down.
Summing Up NBA Top Shot Tracking Resources
What are the best tools for tracking your NBA Top Shot Transactions?
Here is a useful short-form list:
Cryptoslam! – Most searchable database of transactions
Market – Best tool for the effects of your transactions on your collection
MomentRanks – The best tool for searching for all transactions and values by serial number
market – best for grouping together large numbers of moments and transactions into categories
Unfortunately, DapperLabs does not provide us with the tools to keep track of NFT sales. After all, Blockchain technology was literally designed to make transaction information readily available.
Thankfully, many helpful and bright individuals have created the tools you need to get the job done elsewhere.