The Ultimate Guide To Starting Lineup Figures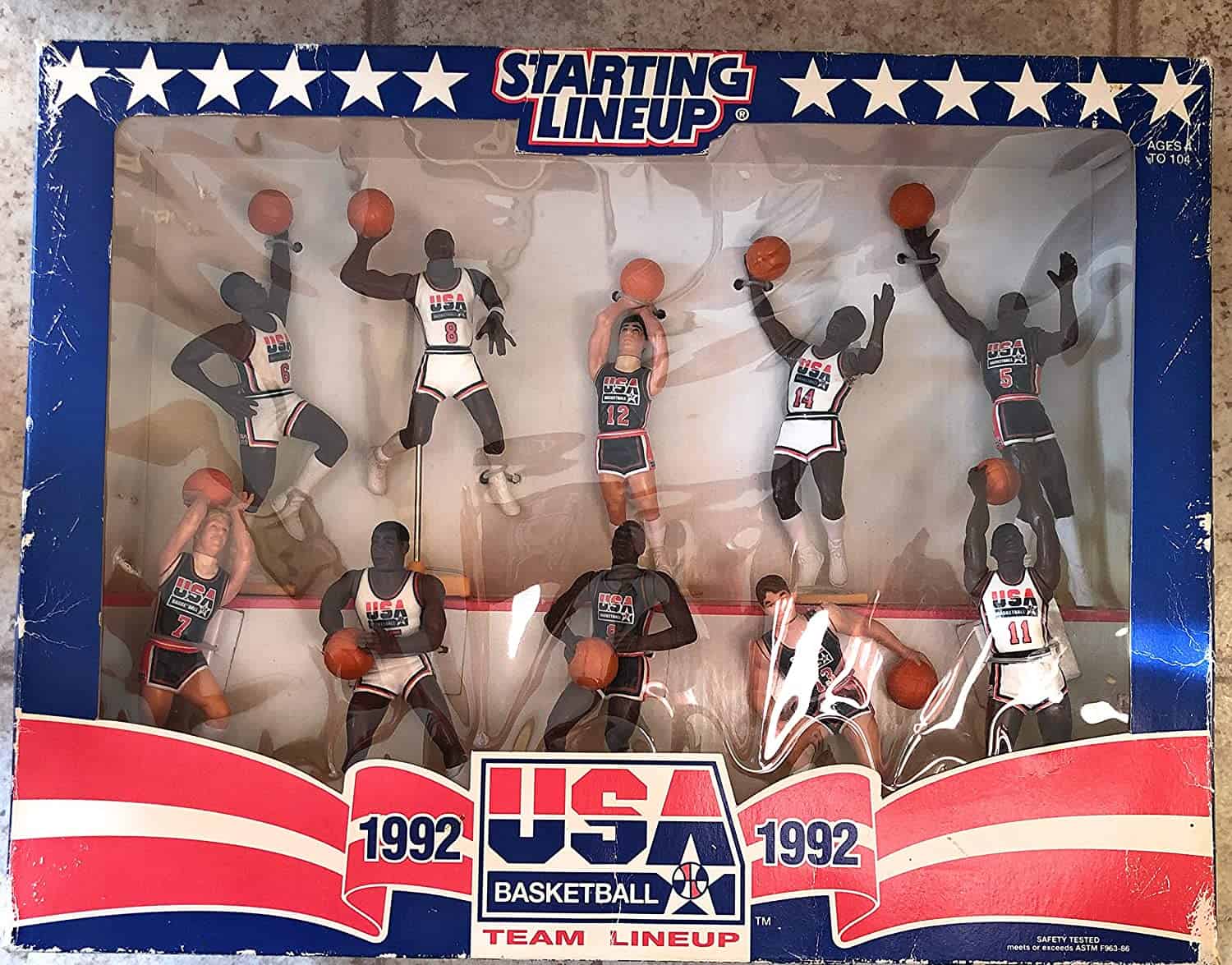 Starting Lineup figures were the pride of Cincinnati. Conceived by former Bengals punter Pat McInally (700 punts for 29,307 yards) and produced by Kenner from the city, they were a sensation in the 1980s.
In 1988, Kenner launched Starting Lineup, a series of action figures portraying the most notable athletes of the time.
History of Starting Lineup figures
When McInally retired from football in 1985, he sold his Cincinnati condo to a Kenner Products executive. The two struck up a conversation that turned to the toy company's famous Star Wars figures.
Kenner was a big player in the toy industry. They are perhaps best known for the production of the Easy-Bake Oven starting in 1962. The company was bought by General Mills, better known for its massive industrial foods division.
It was the beginning of the big sports card boom, which would become the infamous "Junk Wax Era." Meanwhile, it was also the peak of the action figure craze. So the marriage between the two was natural.
Pat later remembered, "I was talking to him about my idea for working with kids and writing books. He took me to a toy store, and we picked up a G.I. Joe. I thought, 'Why not a sports figure? Everybody knows who Walter Payton, Michael Jordan, and Magic Johnson are.'"
Before they did Starting Lineup, Kenner made a very popular Star Wars series. Look for them on eBay.
The idea becomes reality
It did not take much convincing for the McInally to convince the local company to produce the figurines. Luckily they didn't punt on the idea (ok, I apologize).
It took three years for the awesome sports figurines to show up in the shop. But that wasn't because Kenner was unenthusiastic about the idea. One of the significant delays was related to the takeover of Kenner from General Mills by toy company Tonka. They reorganized Kenner as an independent division.
However, the new owners of Kenner were excited by the Starting Lineup idea. In fact, the Cincinnati-based toy company launched a massive line of athletes. The toys were a gigantic hit and proved a worthy competitor to the primary action figures of the time.
Ultimate guide to Starting Lineup figure cards
One of the coolest things about the original Starting Lineup releases was the enclosed trading cards. The cards were unique to the release, coming with the Starting Lineup logo. As a result, they can be worth quite a bit of money when graded.
Here is a look at some of the prices they have gone for (prices current as of posting):
However, these are the exceptions. Most of the Starting Lineup cards are worth a few bucks.
The Kobe Bryant figure and card are the gems among the later releases. Look for them on eBay.
Why did the Original Starting Lineup Figures lose their popularity?
The popularity and broad scope of the original release were part of the problem. The 1988 class included well over 300 figures (124 MLB players, 137 NFL players, and 85 NBA players in all). So everyone got their favorite athletes early on. Later releases were far more limited and generally included lower-profile names.
Even when new sports were included, things didn't go very well. For example, in 1993, the first hockey set was released but did not include the legendary Wayne Gretzky, who wanted more money. His figure finally arrived in 1997, but the release was well past its sell-by date by then.
The kids who grew up on Starting Lineup had grown up and gone to college. Younger consumers were more enamored with video games. Indeed, the golden age of action figures was gone. Sonic the Hedgehog had replaced G.I Joe.
And, of course: Big money
But the real killer of the series was the sports licensing fees. Until the late 1990s, leagues charged (relatively) affordable rates. But the costs began to escalate as the league owners encouraged monopolies. The same process killed off the smaller card producers and left us only with the giant companies.
In 2000 toy giant Hasbro bought Kenner and essentially dismantled the smaller company. In 2001, Starting Lineup produced the last set of MLB figures and quietly left the scene. At least for a while.
Starting Lineup Figures new releases
The new release is part of an emerging partnership between Hasbro and Fanatics.
A Hasbro press release celebrated the new initiative: "We're thrilled to be bringing back one of the most beloved sports collectibles brands of all time, Starting Lineup, and to be teaming up with Fanatics for its highly anticipated return this fall," Eric Nyman, President, and COO of Hasbro said in a press release.
"The fast-growing sports collectibles category presents great opportunities to connect with fans of all ages, and we've got many exciting announcements to come from the brand in the months ahead."
Unfortunately, we do not know which athletes will be included in the new release. However, Fanatics already owns the baseball and several soccer licenses. In addition, it will soon hold the NBA and NFL licenses. Therefore, Fanatics will have its choice of athletes.
Starting Lineup Figures new release date
The new line made its long-awaited debut on September 22, 2022.
Update: The Starting Lineup Figures are back and they are much better than you remember.
Hasbro and Fanatics kick off the new Starting Lineup era with an all-NBA release. These new toys are instantly recognizable, and you can adjust them in different poses. Check out this article where we reviewed the new release to find out more on the 2022 Starting Lineup Series 1 release.
What did the original Starting Lineup releases include?
The original releases were pretty cool. However, they had their limitations. Due to the use of old-school industrial molds, they only had ten poses for the different athletes. Over time, more poses were introduced, but none were all that imaginative.
Of course, each figure can stand independently (unless you broke it). The base was made to look like the field in that particular sport. So baseball players on grass, basketball on a court, and hockey players on the ice.
A figurine
At least one trading cards
Some contained a mini-poster or small medallion
Starting Lineup Figure conventions
Conventions focused on the product popped up around the country in the late 1980s and early 1990s. They also garnered a good deal of attention at The National Sports Collectors Conventions of the day.
To mark these conventions, Kenner released unique limited figurines starting in the mid-1990s.
Starting Lineup Convention Figurines Checklist
Barry Sanders – 1999
Brett Favre – 1998
Cal Ripken Jr – 1996
Christian Laettner – 1997
Dan Marino – 1998
Derek Jeter – 2000
Glen Rice – 1997
Jason Kidd – 1997
Jerry Rice – 1998
Jerry Stackhouse – 1997
Joe Montana – 1995
John Elway – 1999
Johnny Bench – 1997
Larry Johnson – 1997
Mark McGwire – 2000
Pat Mcinally – 1997
Shaquille O'Neal – 1997
Wayne Gretzky – 1999
This Joe Montana was only available at conventions. Look for more convention figures on eBay.
What Was The SLUCC?
The SLUCC was the Starting Lineup Collectors Club. It offered special deals to members, including figures not available to the general public. Some of these were unorthodox releases with helmets instead of figures. Many of them are exceedingly rare today.
SLUCC Release Starting Lineup Checklist
AFC Helmet Collection
Brett Hull & Bobby Hull Classic Double
Cade McNown
Joe Montana Freeze Frame
Joe Namath
John Vanbiesbrouck
Junior Seau Dan Marino One on One
Larry Bird Backboard King
Mario Lemieux
NBA Centers 3 Pack: Shaq Wilt Kareem
Nolan Ryan Freeze Frame
Nolan Ryan Jacksonville Suns
Reggie Jackson Stadium Star
Shaquille O'Neal Slam Dunk
Ted Williams Cooperstown Collection
USA Basketball 3 Pack: Barkley Payton Richmond
Wayne Gretzky Freeze Frame
Willie Mays Stadium Star
Starting Lineup Figures value
As with most figurines, the value is determined by the condition of the box. An unboxed figure is worth very little. So are figurines in heavily damaged packages. So you will want to look at these boxes the way you look at cards when considering grading.
The value depends mainly on availability. So the widely circulated Michael Jordan is worth a lot less than some of the more obscure athletes to feature in Starting Lineup.
The Ultimate Guide To Starting Lineup Figures Grading Scale
If so, the box is the most critical part of the condition. Although, of course, a broken figure in a pristine box (don't ask me how that happens) wouldn't be worth much either.
Mint – Mint has no significant blemishes and would be suitable for sale as new.
NM – Near mint has some scratches or flayed corners, but the box generally looks like it was kept protected over the years.
EX – An excellent condition box has notable flaws or discoloration, maintaining its integrity.
Poor/Distressed – The package is bad, including holes or punctures.
What Do Starting Lineup Figures Sell For?
So, what do these babies get on the open market? First, let's take a look at some recent eBay sales.
Here are some of the highest recent acquisitions:
| | |
| --- | --- |
| | |
| 1988 Tony Dorsett (Graded 85/85/85) | $1,025 |
| 1988 Michael Jordan | $1,000 |
| 1996 Honus Wagner | $1,000 |
| 1989 Michael Jordan/Isiah Thomas One on One | $800 |
Here are some more typical sales:

Kenner made a ton of these Michael Jordan's. Nonetheless, they remain very popular. Look for one on eBay.
Ultimate Guide To Starting Lineup Figures Storage
These figures, especially early ones in good condition boxes, can maintain value. So you will want to keep them well protected.
Avoid weight – the boxes are not very strong. Do not place anything on top of them, or the condition of the box (and possibly the figure) will deteriorate.
Avoid heat or smoke – Either can corrode the wrapper or the figure.
Use a clear display case – Your best bet for protecting these figures is to place them in a clear display case.
Bottomline of Starting Lineup figures
The Starting Lineup figures are coming back, and the enthusiasm among veteran collectors is palpable. These toys meant a lot to fans of a particular generation. And it is easy to see why. These campy but awesome little figures just scream 1980s culture. It's like watching the Breakfast Club. In addition, Kenner made these with love and care. It is notable in the details they included with every figure.
The return of Starting Lineup will add to their visibility in the future. So, this may be an excellent time to get some of the early figures. First, however, make sure you get ones in good condition and, of course, in their original box.
Below we have provided a complete checklist of the starting lineup figures we believe are worth an investment. They include the first generation of releases and the Cooperstown series, a particular favorite.
Who was included in the original 1988 Starting Lineup release?
The 1988 release is the OG and, therefore, generally the most valuable and beloved one. Here is a complete list of all of the action figures included in that class.
1988 NFL Players Checklist
Al Toon
Albert Bentley
Alonzo Highsmith
Andre Tippett
Anthony Carter
Anthony Toney
Art Monk
Aundray Bruce
Bernie Kosar
Bill Brooks
Bob Golic
Billy Kenney
Billy Ray Smith
Bobby Hebert
Boomer Esiason
Brent Fullwood
Brian Bosworth
Brian Brennan
Bruce Smith
Carl Ekern
Carlos Carson
Charles White
Chip Banks
Chris Burkett
Christian Okoye
Chuck Long
Cornelius Bennett
Cris Collinsworth
Curt Warner
Dan Marino
Danny White
Darrell Green
Darrin Nelson
Dave Krieg
Dave Waymer
Deron Cherry
Dexter Manley
Doug Cosbie
Doug Williams
Drew Hill
Duane Bickett
Earnest Jackson
Ed Jones
Eddie Brown
EJ Junior
Eric Dickerson
Eric Martin
Floyd Dixon
Freeman McNeil
Gary Clark
Gerald Carter
Gerald Riggs
Harry Carson
Henry Ellard
Herschel Walker
Howie Long
Jack Trudeau
Jacob Green
James Brooks
James Jones
Jay Schroeder
James Wilder
Jeff Chadwick
Jeff Davis
Jerry Gray
Jim Everett
Jerry Rice
Jim Kelly
Jim McMahon
Joe Montana
Joe Morris
Joey Browner
John Elway
John Offerdahl
JT Smith
Karl Mecklenburg
Keith Byars
Kellen Winslow
Ken Davis
Ken O'Brien
Kevin Mack
Lawrence Taylor
Louis Lipps
Marc Wilson
Mark Bavaro
Marcus Allen
Mark Clayton
Michael Carter
Mark Duper
Mark Gastineau
Mickey Shuler
Mark Lee
Mark Malone
Mike Merriweather
Mike Quick
Neal Anderson
Mike Rozier
Mike Singletary
Neil Lomax
Ozzie Newsome
Phil Simms
Phillip Epps
Randall Cunningham
Randy White
Randy Wright
Ray Childress
Reggie Rogers
Reggie White
Richard Dent
Rickey Jackson
Rod Jones
Rod Woodson
Ronnie Harmon
Ronnie Lippett
Roger Craig
Ronnie Lott
Roy Green
Rueben Mayes
Rulon Jones
Sammy Winder
Scott Campbell
Stanley Morgan
Steve Grogan
Steve Jordan
Stump Mitchell
Tim Krumrie
Todd Blackledge
Todd Christensen
Tony Casillas
Tony Dorsett
Tommy Kramer
Tony Eason
Troy Stradford
Vance Johnson
Vinnie Testaverde
Warren Moon
Willie Gault
1988 MLB Players Checklist
Alan Ashby
Alan Trammell
Alvin Davis
Andre Dawson
Andy Van Slyke
Barry Bonds
Benito Santiago
Billy Hatcher
BJ Surhoff
Bobby Bonilla
Bret Saberhagen
Brian Downing
Buddy Bell
Cal Ripken Jr
Candy Maldonado
Carlton Fisk
Carney Lansford
Charlie Hough
Chris Brown
Cory Snyder
Dale Murphy
Dan Quisenberry
Danny Tartabull
Darryl Strawberry
Dave Parker
Dave Righetti
Devon White
Dave Winfield
Don Mattingly
Donnie Moore
Dwight Evans
Dwight Gooden
Eddie Murray
Ellis Burks
Eric Davis
Fernando Valenzuela
Frank Viola
Franklin Stubbs
Fred Lynn
Gary Carter
Gary Gaetti
George Bell
Gary Redus
George Brett
Glenn Davis
Greg Walker
Harold Baines
Howard Johnson
Jack Clark
Jack Morris
Jeff Reardon
Jeffrey Leonard
Jim Presley
Jim Rice
Jody Davis
Joe Carter
John Franco
John Kruk
Jose Canseco
Juan Samuel
Julio Franco
Kal Daniels
Ken Griffey Sr
Ken Oberkfell
Keith Hernandez
Ken Phelps
Kevin Bass
Kevin McReynolds
Kent Hrbek
Kevin Seitzer
Kirby Puckett
Larry Parish
Lenny Dykstra
Leon Durham
Lou Whitaker
Mark Langston
Mike Boddicker
Mark McGwire
Mike Dunne
Mike Marshall
Mel Hall
Mike Schmidt
Mike Scott
Matt Nokes
Mike Witt
Ozzie Guillen
Nolan Ryan
Ozzie Smith
Ozzie Virgil
Pat Tabler
Paul Molitor
Pedro Guerrero
Pete Incaviglia
Pete O'Brien
Rick Reusche
Pete Rosel
Rick Sutcliffe
Rickey Henderson
Rob Deer
Robin Yount
Roger Clemens
Ruben Sierra
Ryne Sandberg
Shane Rawley
Shawon Dunston
Sid Bream
Steve Bedrosian
Steve Sax
Ted Higuera
Terry Kennedy
Tim Raines
Todd Worrell
Tom Brunansky
Tom Herr
Tony Gwynn
Vince Coleman
Von Hayes
Wade Boggs
Wally Joyner
Willie Hernandez
Will Clark
Willie McGee
Willie Randolph
Zane Smith
1988 NBA Players Checklist
Adrian Dantley
Alex English
Alvin Robertson
Armon Gilliam
Bernard King
Bill Laimbeer
Brad Daugherty
Buck Williams
Michael Cage
Charles Barkley
Chris Mullin
Chuck Person
Cliff Robinson
Clyde Drexler
Dale Ellis
Danny Ainge
Danny Manning
David Greenwood
Dennis Hopson
Dennis Johnson
Danny Schayes
Derek Harper
Derrick McKey
Doc Rivers
Dominique Wilkins
Eddie Johnson
Eric Sleepy Floyd
Gerald Wilkins
Hakeem Olajuwon
Isiah Thomas
Jack Sikma
James Worthy
Jeff Hornacek
Jeff Malone
John Paxson
John Stockton
Joe Barry Carrol
John Williams
Johnny Dawkins
Kareem Abdul-Jabbar
Karl Malone
Kenny Smith
Kevin McHale
Kevin Willis
Kiki Vandeweghe
Lafayette Lever
Larry Bird
Mark Agguire
LaSalle Thompson
Magic Johnson
Mark Eaton
Mark Jackson
Michael Adams
Mark Price
Maurice Cheeks
Michael Cooper
Michael Jordan
Mike Gminski
Moses Malone
Otis Thorpe
Patrick Ewing
Paul Pressey
Ralph Sampson
Reggie Miller
Reggie Williams
Robert Parish
Rod Higgins
Rodney McCray
Rolando Blackman
Ron Harper
Sam Perkins
Scottie Pippen
Sidney Moncrief
Spud Webb
Steve Johnson
Steve Stipanovich
Terry Cummings
Terry Porter
Thurl Bailey
Tom Chambers
Vinnie Johnson
Walter Berry
Wayman Tisdale
Winston Garland
Xavier McDaniel
Baseball greats and Cooperstown checklists
There is always a market for collectibles of the Hall of Fame greats. Starting Lineup has released a few fantastic series of this sort.
1989 MLB Baseball Greats
Babe Ruth & Lou Gehrig
Carl Yastrzemski & Hank Aaron
Don Drysdale & Reggie Jackson
Eddie Mathews & Hank Aaron
Ernie Banks & Billy Williams
Johnny Bench & Pete Rose
Mickey Mantle & Joe Dimaggio
Stan Musial & Bob Gibson
Willie Mays & Willie McCovey
Willie Stargell & Roberto Clemente
1994 Cooperstown Collections
Babe Ruth
Cy Young
Honus Wagner
Lou Gehrig
Reggie Jackson
Ty Cobb
Willie Mays
1995 Cooperstown Collection
Babe Ruth
Bob Feller
Bob Gibson
Dizzy Dean
Don Drysdale
Eddie Mathews
Harmon Killebrew
Rod Carew
Satchel Paige
Whitey Ford
1996 Cooperstown Collection
Babe Ruth 12 Inch
Cy Young 12 Inch
Grover Cleveland Alexander
Hank Aaron
Hank Greenberg
Harmon Killebrew
Honus Wagner 12 Inch
Jackie Robinson
Jimmy Foxx
Joe Morgan
Lou Gehrig 12 Inch
Mel Ott
Richie Ashburn
Roberto Clemente
Robin Roberts
Rod Carew
Rogers Hornsby
Steve Carlton
Ty Cobb 12 Inch
1997 Cooperstown Collection
Brooks Robinson
Carl Yastrzemski
Dottie Kamenshek
Duke Snider
Hoyt Wilhelm
Jackie Robinson
Jackie Robinson 12 Inch
Johnny Bench
Josh Gibson
Mickey Mantle
Mickey Mantle 12 Inch
Rollie Fingers
Walter Johnson
1998 Cooperstown Collection
Buck Leonard
Frank Robinson
Jim Palmer
Lou Brock
Phil Niekro
Roberto Clemente
Roy Campanella
Tom Seaver
Tris Speaker
Warren Spahn
Yogi Berra
1999 Cooperstown Collection
Bob Gibson
Earl Weaver
George Brett
Juan Marichal
Nolan Ryan
Pepper Davis
Ted Williams
2001 Cooperstown Collection
Brooks Robinson
Nolan Ryan
Reggie Jackson
Robin Yount
Tom Seaver
Willie McCovey
Willie Stargell