Ultimate Mosaic Parallel Guide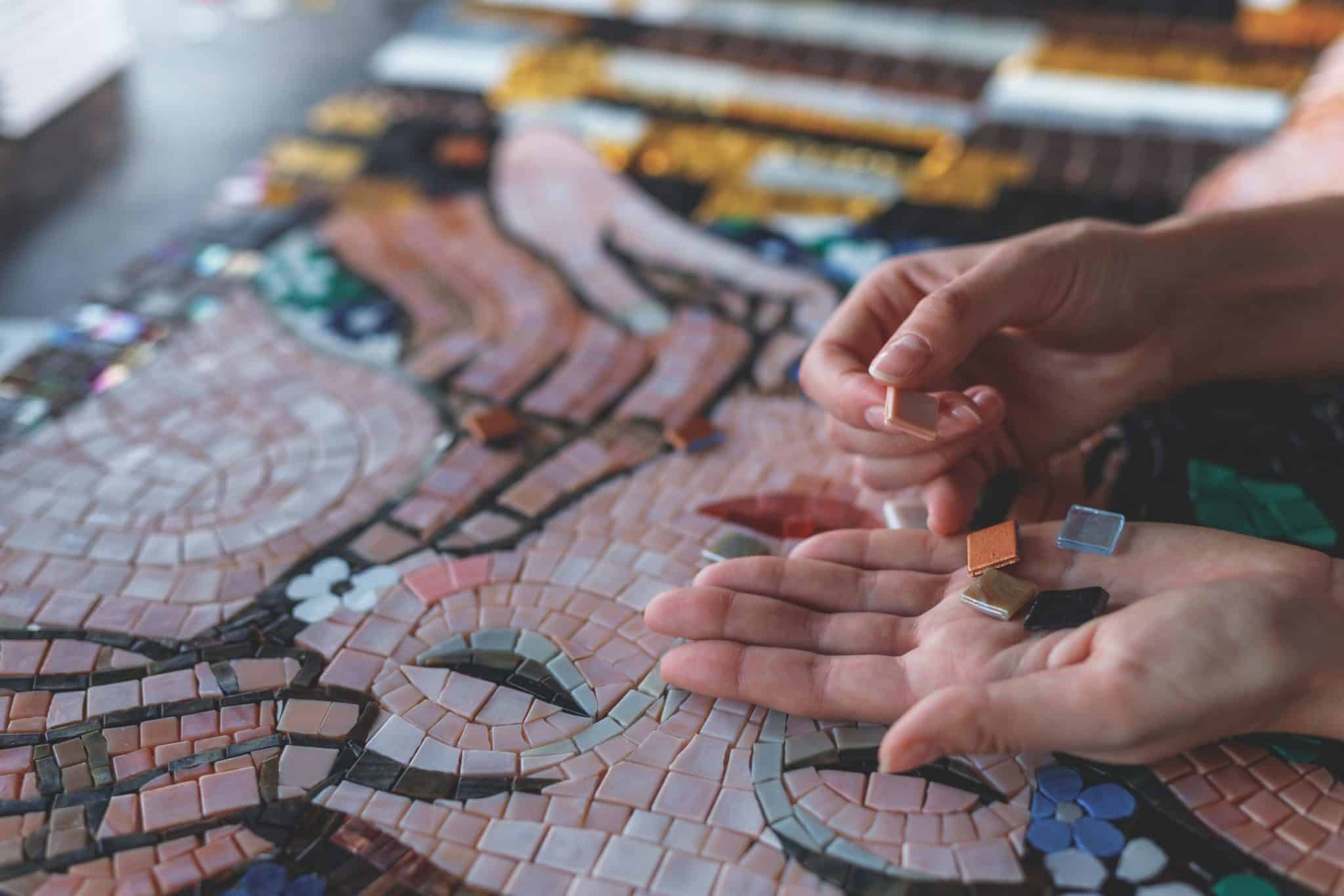 Mosaic originally launched as a basketball product. However, it has since expanded into football, soccer, and baseball. The popular product has gained favor with collectors worldwide – and from several sports. Therefore, we will look at the Mosaic rainbow in the ultimate Mosaic parallel guide.
What Is Mosaic
Mosaic Basketball was released for the first time as a standalone product in 2019-20. With Zion Williamson plastered on the box, it was a product that had many collectors camping out in their local Walmart. From the design to the number of nice parallels, it was a solid opti-chrome product for both hobby and blaster products.
"Mosaic" cards trace roots back to 2015-16 and the release of "Prizm Mosaic" basketball boxes, which were released from then until 2018-19. Those boxes contained 3 packs of ten cards. They didn't guarantee an autograph but offered the big-pull potential for several Mosaic inserts. However, it was a (somewhat strange) sub-brand of Prizm at the time.
As Mosaic takes on new forms in new sports, the sky is the limit (or at least, the sky is the limit as long as Panini has the brand).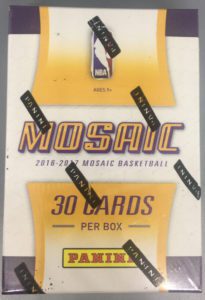 What Are Parallels?
Thankfully, the Mosaic parallels are very straightforward, which helps when writing the ultimate Mosaic parallel guide. Basically, they are colored base card variations. In opti-chrome cards look like the standard base version of the card, except they have colored borders. There are various colors of parallels, and some are rarer than others. Often they are numbered as well.
Opti-chrome card parallels can be traced back to the Topps Chrome Refractor. And here's a bit of history: The Topps Company, Inc. registered a trademark for their brainchild to prevent other companies from copycatting it.
Of course, other companies still mimicked the rainbow-foil, but they couldn't legally call them refractors. So, therefore, Panini started calling them "prizm" cards. So, when we talk about Mosaic parallels, we're talking about Mosaic "prizms," technically.
Telling Parallels From Other Cards
The prizms are easy to identify because they refract light from Mosaic. In other words, if you shine a bright light down on the surface of a base card, it will look silver.
On the other hand, if you shine a light down on the color of a prizm (parallel), it will shine with a rainbow wave of color. They are great-looking cards – no doubt about it.
That's only with the "silver" prizm, though. The rest of the Mosaic Prizms are even easier to identify because they have a refractive, box-like pattern in the background. Mosaic, possibly more than any other opti-chrome brand, has parallels that are easy to pick out.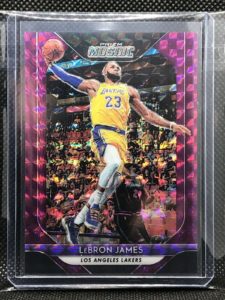 Parallels In Mosaic
The official line-up of colors for the 2020-21 basketball set has yet to be announced. However, it will presumably be close to the products already released.
With that in mind, here's a look at the parallels you can pull and where you'll find them:
HOBBY BOX MOSAIC PARALLELS
Red
Blue #/99
Purple #/49
White #/25
Pink Swirl (FOTL) #/11
Gold #/10
Green Swirl (FOTL) #/10
Black 1/1.
RETAIL MOSAIC PARALLELS
Camo Pink
Genesis
Green
Reactive Blue
Reactive Orange
Orange Fluorescent #/25
Blue Fluorescent #/15
CHOICE MOSAIC PARALLELS
Peacock SSP
Fusion Red #/88
Black Gold #/8
Nebula 1/1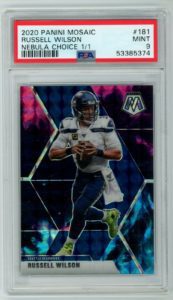 FAST BREAK PARALLELS
Silver
Blue #/85
Purple #/50
Pink #/20
Gold #/10
Black 1/1
TMALL MOSAIC PARALLELS
From what we know of the 2021 releases, our expectations should be similar.
Ultimate Mosaic Parallel Guide To Value
One of the best ways to rank brands is to compare the value of parallels between brands. So that's what we're going to do here.
First, we take a comp from a PSA Mosaic Ja Morant Card, and then we'll compare it with the value of similar cards from different products.
Let's give it a look.
Remember, these cards are all Ja Morant PSA 10's
| | | | | | |
| --- | --- | --- | --- | --- | --- |
| Card | Value | Prizm | Value | Optic | Value |
| Base | $60 | Base | $220 | Base | $125 |
| Silver | $400 | Silver | $1,800 | Holo | $750 |
| Green | $145 | Green | $600 | Blue Velocity | $350 |
| Blue /99 | $800 | Blue Ice /99 | $18,300 | Red /99 | $2500 |
| Red /88 | $1000 | – | – | Red Fusion /88 | $2800 |
| Average | $481 |   | $5,230 |   | $1,305 |
First, a few notes:
There's no Prizm /88, so I left it blank because no comps exist.
Also, with Optic, I chose to do the Blue Velocity because it's the same kind on the non-numbered retail insert as the Green Mosaic and Prizm.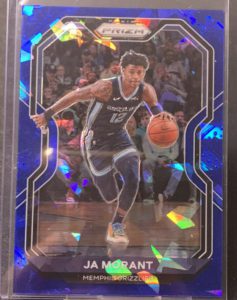 Bottomline Of The Ultimate Mosaic Parallel Guide
The numbers surprised me here – I'll be the first to admit it.
I've always thought of Prizm as the brand that's easily ahead of the rest. So I assumed that Select, Optic, and Mosaic are nestled together with pretty similar comps.
That's not the case. In this sample – which is admittedly small but should at least give us pretty good grounds for comparison – Optic cards proved to be THREE TIMES more valuable than similar Mosaic parallels.
And we mustn't overlook that Prizm was over TEN TIMES as valuable as Mosaic. That is a staggering number!
Note that Optic Hobby boxes from 2019-20 sell for about $1100. Meanwhile, Mosaics only sell for about $900, but the cards themselves are worth a lot more in Optic than Mosaic.
So, here's your takeaway: if you want the most bang for your buck, always pass on Mosaic and pick up a similarly priced Optic product.