Breaks of the Past: 1996 Best Franchise Player Signature Edition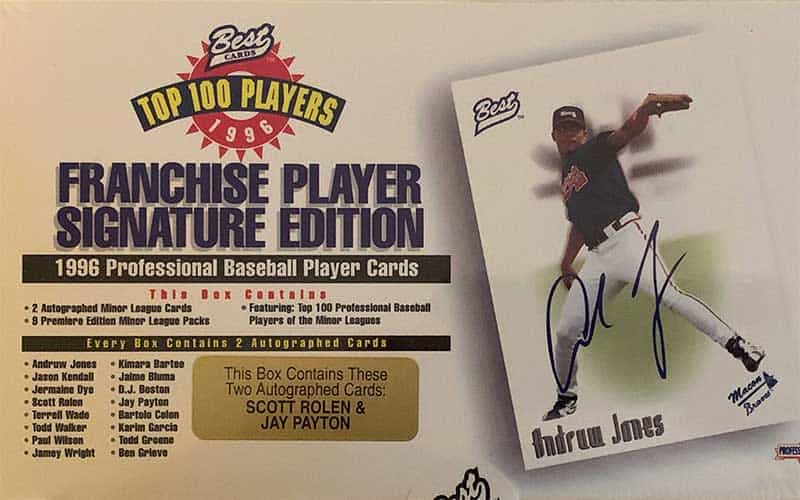 Welcome to the first "Breaks from the Past" post. Maybe the last. If you enjoy this, maybe there will be more. I do love the smell of old packs!
After my recent break of a 2022 Topps Archives Hobby Box, I wanted to try something a little different. While I hadn't ripped a current year wax box in a decade, I do occasionally buy a wax box from the past.
The idea is usually to find some reasonably priced box from the past. The box should have something of interest in it worth pulling. This can be a key rookie card, interesting parallel or insert, or maybe an autograph. Often it's something fun and low population that I can submit to PSA.
So, not breaking the bank while scratching the pack ripping itch, with a little something of interest to "chase". It's like a low cost, old-fashioned version of ultra-modern breaking.
Shop for 1996 Best Franchise Player Signature edition boxes on eBay
1996 Best Franchise Player Signature Edition – What is it?
The box we're talking about today is 1996 Best Franchise Player Signature Edition.
These are interesting for a number of reasons:
1996, except for the 1995 parts: This box contains 9 packs, each containing 12 cards. The cards are from the 1995 Best Top 100 Prospects set. Yes, this 1996 box has packs of cards from 1995 in it.

Prospects: The base set consists of 100 cards, representing the top 100 prospects in the minor leagues at that point as ranked by Baseball America.

Autographs: Each box contains TWO autographed cards. The autographed cards ARE from 1996, from the 1996 Best Autographs insert set. Interestingly enough, the autograph set has 97 cards, making it just a hair smaller than the base set.

They tell you who the autograph are: "Two autographs per box" sounds like something you'd see on many modern hobby boxes. What is different about this one is that the autograph subjects are actually listed on a sticker on the outside of the box.
The box cost me $50 on eBay with free shipping. With tax it came to $53.50.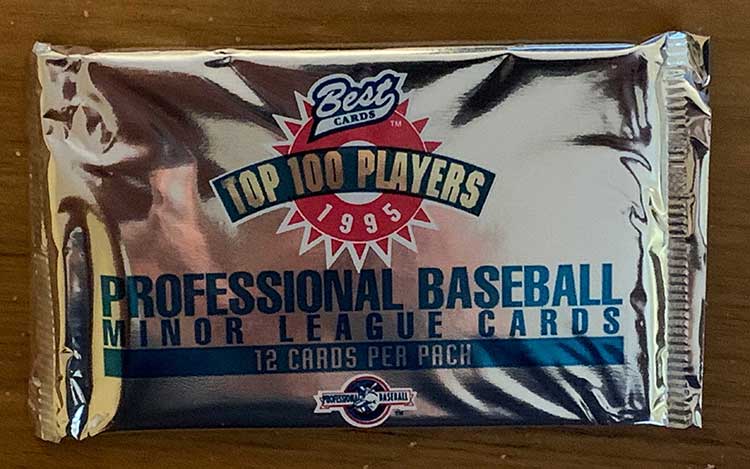 Why did I buy the 1996 Best Franchise Player Signature Edition box?
Why did I buy the box? Well, you know how I mentioned the autographs and prospects above? That's why!
In particular, I bought this box because one of the two autographs advertised on the outside of the box was Scott Rolen, who I think has a very good chance of making the Hall of Fame this year. The other advertised autograph was Jay Payton.
Beyond the autographs, there were a few interesting prospects in the base set, some of which I thought might make decent PSA subs. We'll talk more about those in the next section.
Shop for 1996 Best Franchise Player Signature edition boxes on eBay
1996 Best Franchise Player break results
So, what did the box contain? As expected, autographs of Scott Rolen and Jay Payton. The Rolen will get sent to PSA in my next submission. It was the main draw of this box and I was happy to see it was in gradable condition despite spending the last 25 years in a top loader without a penny sleeve in this box.
Shop for 1996 Best Autographs on eBay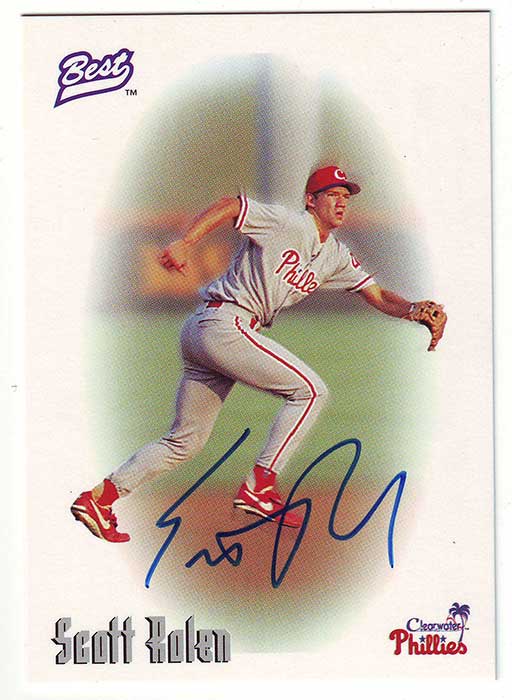 Also found in the 9 packs was another "hit", this one a Todd Greene autograph. Interestingly enough, this is a 1995 autograph.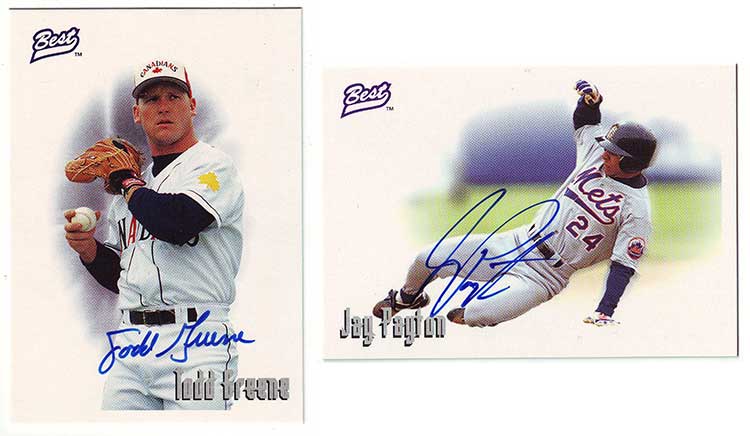 From a base card side, I also pulled a Rolen that looks good, and goes into the PSA pile. Beyond that, I pulled a few other cards that go into the "maybe" pile for PSA submission. One is borderline Hall of Fame candidate Bob Abreu. The other two are Red Sox icons Nomar Garciaparra and Trot Nixon.
Nomar of course was at one point one of the vaulted "Big Three" shortstops in the game, along with Arod and Derek Jeter. Are these three worth grading? Probably not at PSA's current rate of $18/card, but if grading prices continue to go down, these would be a fun addition to this Red Sox fan's graded collection.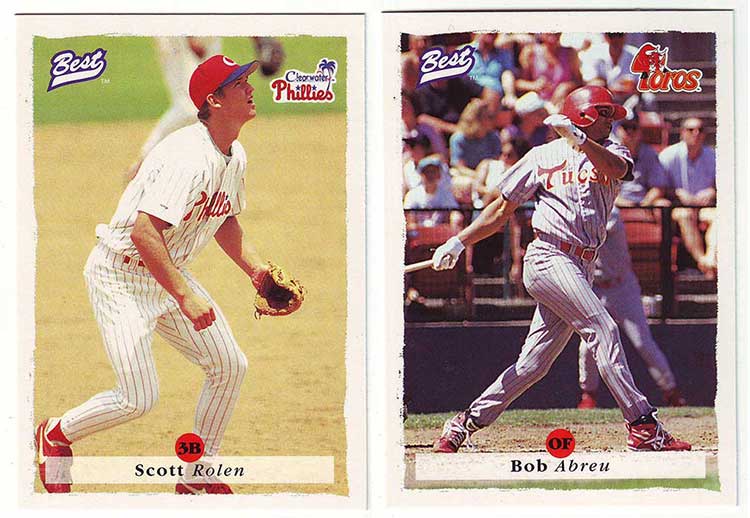 There is apparently a 6-card insert set called "Franchise Players" in addition to the SP #'s 101-135 and the autographs. I did not pull either an insert or an SP.
As one would expect when opening a box of nine packs with 12 cards each that consist of a base set of only 100 cards, collation issues and duplicates rule the day. For example, I pulled four cards each of former Braves prospects Ron Wright and Damien Moss. I pulled doubles and triples of many other players, although sadly not of Rolen.
Shop for 1996 Best Autographs on eBay
Thoughts on value
So, was the box worth it? It was fun to open and research, for sure. I can't find any record of the Scott Rolen Autograph on PSA, which would make my sub a 1/1. So, while a comp isn't available, obviously, it'd be a pretty cool card of a future Hall of Famer.
The Rolen base card has been graded 349 times by PSA. PSA 9s seem to run the gambit on prices…with the last sale being for $45, but over the summer a couple sold for $15 each.
A PSA 10 of the Abreu sold for only $18 this summer, so that card clearly isn't worth subbing at current rates.
To reclaim a bit of the value of the box, I've listed the other two autographs on eBay. If they sell for $3 each I'll consider that a win. I'll also list some lots of these cards on eBay cheap as well. In this way, the duplicates, triplicates, and even the quads help me.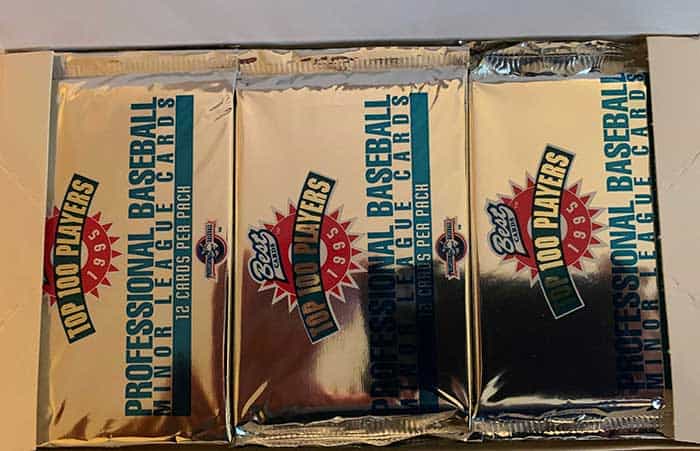 A word on prospects
1995 was 27 years ago. Ouch, that hurts to write. But the point is that we now have over a quarter of a century of time to look at the "top prospects" of 1995.
Generally speaking, people overvalue prospects. That goes from everyone from casual fans to major league general managers. People tend to expect a far higher percentage of prospects, even top ones, to pan out than is reality. Even what a successful prospects career looks like is often misunderstood.
Of the "top 100" prospects in 1995, from our view in 2022 we can see one Hall of Famer (Vladimir Guerrero Sr.). Three other players are Hall of Fame caliber: Scott Rolen, Andrew Jones, and Bobby Abreu. We talk about all three in the Cardlines Guide Of The 2023 Baseball Hall Of Fame Returning Candidates And The Player Who Is Likely To Get In.
Beyond that, there are a number of players who had long and successful careers. Examples beyond those already mentioned include Derrek Lee, Jermaine Dye, Ben Grieve, Todd Greene, Jason Kendall, Richie Sexson, Bartolo Colon, Daryle Ward, and Edgar Renteria.
Many of the other players in the top 100 had very short major league careers, if they made the major leagues at all.
So what does that tell us about prospects? An awful lot of prospects will break your heart. Some will becomes everything you thought they would be and more. But that number is very low, on a percentage basis.
Some will go on to become major league regulars for a number of years, and maybe even make a couple of All-Star teams. Those that follow that path are not busts, but rather success stories. So, if your team's best prospect turns out to be Derrek Lee (34.6 WAR), Jason Kendall (41.7 WAR), or Edgar Renteria (32.4 WAR), that's a huge win.
It's just unlikely that their rookie cards are going to fund your retirement, or even buy you lunch at a fast food restaurant, 25 years in the future.
Shop for 1996 Best Autographs on eBay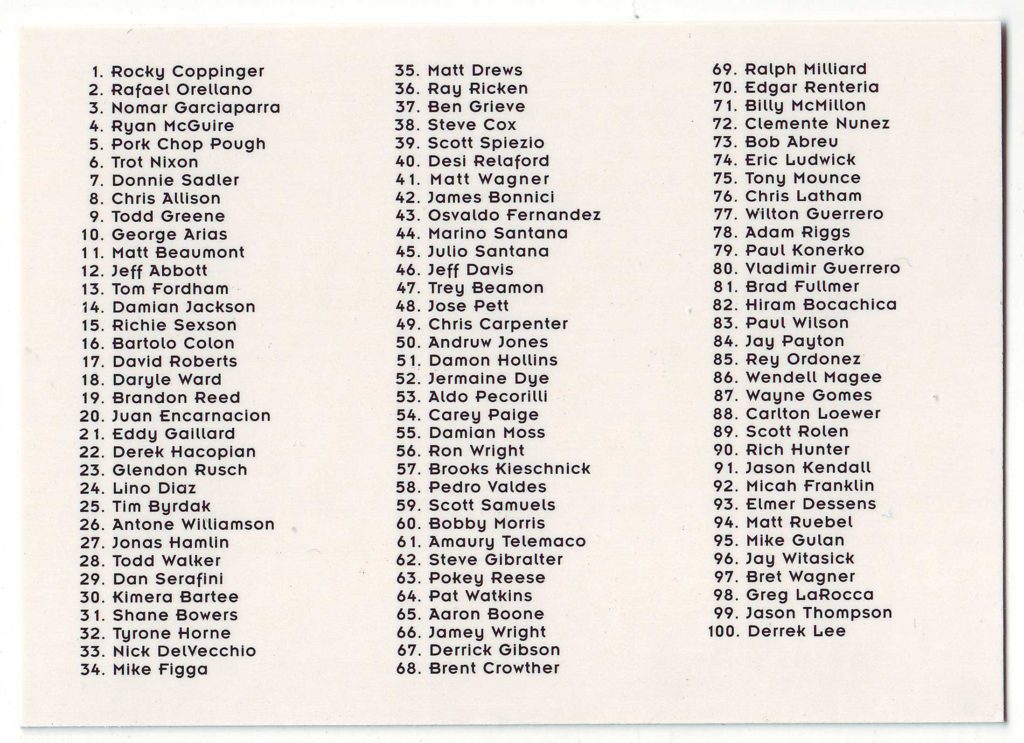 Final thoughts on this Break from the Past
The 1996 Best Franchise Player Signature Edition box was a fun break. The base card collation wasn't very good, although I guess if I got four Scott Rolen cards I wouldn't be complaining.
But with one autographed and one base card to submit to PSA, plus a few more to consider, I'd consider this a worthwhile break although certainly not a huge win. That's OK…it's provided me enough goodness to want to keep searching out and breaking old boxes when the right ones come up.
Did you enjoy this Break from the Past? Have a suggestion for a future break? Let us know at card_lines on Twitter.
Shop for 1996 Best Franchise Player Signature edition boxes on eBay
More Cardlines Breaks
What Does A Long Time, Primarily Vintage Collector Think During A Topps Archive Hobby Box Break?