Cardlines Guide Of The 2023 Baseball Hall Of Fame Returning Candidates And The Player Who Is Likely To Get In
Baseball Hall of Fame season is right around the corner. Here at Cardlines, we love the Hall of Fame election.
The chance to argue about the relative merits of some of the greatest players of their eras, the whims of the writers who get to vote, and the effects of the dark clouds hanging over several of the players makes for a fascinating way to pass the cold, baseball-free winter months.
We already talked about the Hall of Fame in our Early Preview Of The 2023 Baseball Hall Of Fame Election. Today, we'll take a deep dive into the returning candidates on the 2023 Baseball Hall of Fame ballot, including their credentials, negatives to their candidacy, and of course, their rookie cards!
The returning candidates
Let's take a closer look at each of the returning candidates, working from the highest vote total in 2022 to the lowest.
Scott Rolen
Position: 3B
2022 Result: 63.2%
Career WAR: 70.1
Scott Rolen's 70.1 career WAR ranks 10th all-time among third basemen. The 15 third baseman in the Hall of Fame averaged 68.4 WAR, which puts Rolen well within the conversation for the Hall of Fame.
Rolen was a 7-time All Star, 8-time Gold Glove winner, and won a Silver Slugger award. He was the 1997 NL Rookie of the Year and won the World Series with the St. Louis Cardinals in 2006. Hit hit .281/.364/.490 over his career with a .855 OPS. He hit 316 home runs and drove in 1,287 runs.
The knock against Rolen is that he had a number of injuries over the years, so some of his raw career numbers may not scream "Hall of Fame. Since debuting on the Hall of Fame ballot in 2018, Rolen has seen his vote total rise from 10.2% to 63.2% in 2022. The voting consensus has gone from unsure about his credentials to a general agreement that he belongs.
Rolen also appears in the regular Bowman offering in 1995, but the "Best" is, well, his best rookie card. With strong sales and a moderately low PSA Pop and PSA 10 count, this feels like a solid pickup.
View listings for Scott Rolen rookie cards on eBay
Todd Helton
Position: 1B
2022 Result: 52.0%
Career WAR: 61.8
Many will disregard Todd Helton's candidacy based solely on the fact that he played his home games at Coors Field in Colorado. To do so is not giving him a fair shake, however. Sure, his home stats are somewhat inflated by his ballpark, but even ballpark-adjusted stats suggest Helton was a superstar. Also, the fact that he'd be the first career-long Rockies player* in the Hall of Fame proves it's no easy task.
Helton was a 5-time All-Star, won 3 Gold Glove awards, four Silver Sluggers, and won a batting title. He put up a .316/.414/.539 line during his career, good for a .953 OPS and 133 OPS+. He finished his career with 2,519 hits, 369 HR, and 1,406 RBI. Those career power counting stats may feel light to some, but the rate stats are certainly there.
Helton's 61.8 career WAR ranks 17th among first basemen all time. It is slightly below the average of all Hall of Fame first basemen (65.5), but that number is skewed slightly by Lou Gehrig's insane total of 113.6.
* – Hall of Famer Larry Walker played about 59% of his career games for the Rockies.
While it wouldn't be his rookie card under modern RC standards, Helton's 1993 Topps Traded "Team USA" card is considered his rookie card, and appears three years before his first major league card. While 19% of all PSA graded cards are 10s, the reasonable going rate makes this a solid buy.
View Todd Helton rookie cards on eBay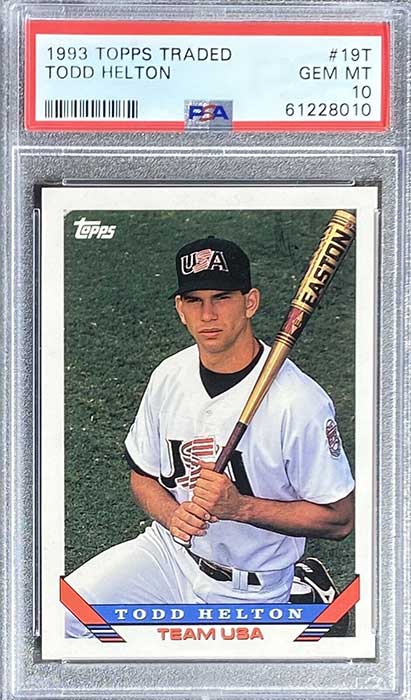 Billy Wagner
Position: RP
2022 Result: 51.0%
Career WAR: 27.7
Wagner was the model of consistent excellence during his career, a tall order for closers. While he never led the league in saves, Wagner's 422 career saves ranks 6th all-time. He was a 7-time All Star and finished his career as a 2.31 ERA.
Billy Wagner ranks 14th on Baseball-Reference's list of relief pitchers by WAR, but if you remove pitchers who started 100 or more games, he quickly jumps to 8th. His career WAR is in the neighborhood of Hall of Famer's Lee Smith (28.9), Trevor Hoffman (28.0), and Rollie Fingers (25.6).
The knocks against Wagner are that he's a reliever, and has fewer than 1,000 career innings pitched. But if you think a modern closer can be a Hall of Famer, Wagner is likely the best candidate out there. The voters seem to be coming around to this. After vote totals in the 10-11% range his first three years on the ballot, he has steadily climbed to 51% last year.
Don't adjust your screen, those low PSA pops are accurate. These Wagner's can be tough to find graded. If you are interested in a Wagner rookie, I suggest if one comes up in the grade you're after, pick it up if it's reasonable. It might be a bit before you see another one.
View listings for Billy Wagner rookie cards on eBay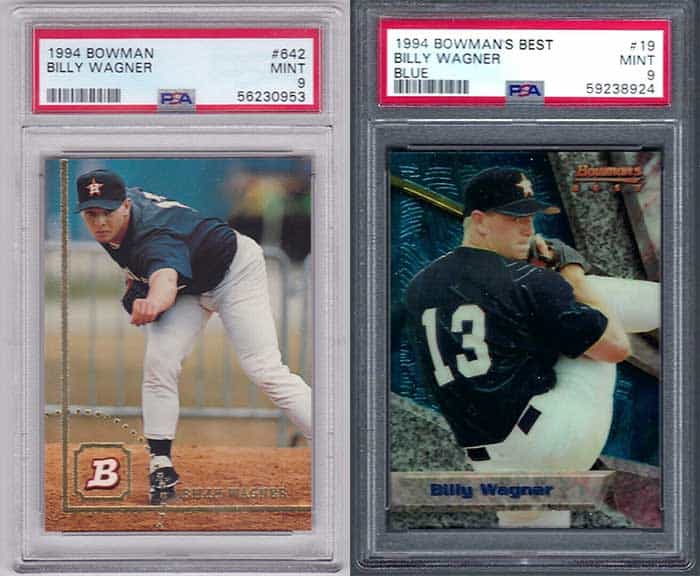 Andruw Jones
Position: CF
2022 Result: 41.1%
Career WAR: 62.7
Andruw Jones hit 434 home runs in his career, and was one of the top defensive center fielders in the history of the game. An intro like that may make him seem like a slam dunk Hall of Famer, but Jones is an imperfect candidate, although I do believe he should and will eventually make it, although it may not be with the writer's vote.
Jones won 10 Gold Glove awards, was an All-Star five times, and won a Silver Slugger award. His 62.7 career WAR put him in the Hall of Fame conversation but is lower than some other candidates such as Kenny Lofton (68.4) and Carlos Beltran (70.1).
His career batting average was only .254, however, and while the first part of his career was full of soaring highs, the latter half was lacking. He accumulated 58 WAR before turning 30, but only 4.7 WAR thereafter. He also had some post-career legal troubles that turned some voters off.
When taken all together, Jones was a great but flawed player. Which side of the Hall of Fame divide he lands on will be interesting to see.
Despite Jones' up-and-down career, his rookie cards remain strong sellers, especially in top grades. There's nothing alarming on the pop reports here, with reasonable total pop and PSA 10 pops.
Find Andruw Jones rookie cards listed on eBay
Gary Sheffield
Position: RF
2022 Result: 40.6%
Career WAR: 60.5
Sheffield was one of the most feared right-handed sluggers of his era. While he didn't have much defensive value, few could match him as a hitter.
Sheffield finished his 22-year career with 509 home runs and 1,676 RBI to go with a .292/.393/.514 line, good for an OPS of .907 and a 140 OPS+. He even racked up 252 stolen bases in his career.
His career WAR of 60.5 is right around the borderline of Hall of Fame discussions. Sadly, Sheffield's candidacy is not without issues. Sheffield was exposed in the BALCO investigation as a user of performance-enhancing drugs.
The 1989 Upper Deck Sheffield has a fairly high PSA pop at 8,936, and a full 30% of those were graded PSA 10. The high pop and the cloud of PEDs keeps this one very reasonable, even in PSA 10.
Find listings of Gary Sheffield rookie cards on eBay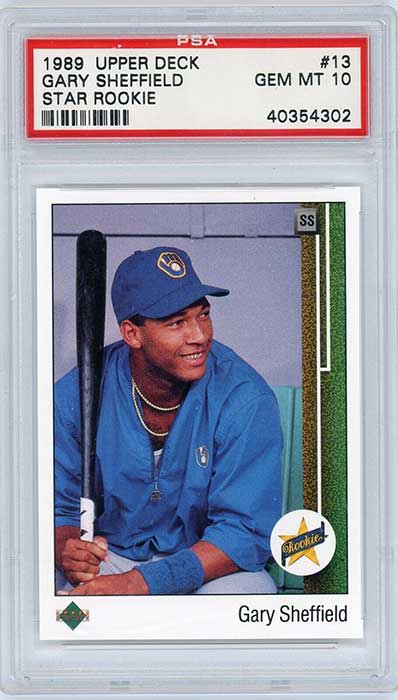 Alex Rodriguez
Position: SS/3B
2022 Result: 34.3%
Career WAR: 117.6
Sadly, the story with Arod is not about his performance, it's about performance-enhancing drugs. Based purely on his stats, Arod would be a Hall of Fame lock.
Arod ranks 4th all-time in home runs (696), 4th in RBI, 8th in runs scored, 7th in total bases, and 22nd in hits. He put up 117.6 WAR in his career and won 3 MVP awards while playing in 14 All-Star games.
Will opinions on PED users and the Hall of Fame continue to evolve? Yes. Will it happen fast enough for Arod to make the Hall of Fame via the writer's vote? Time will tell.
Arod's rookie cards used to be some of the most popular and high-priced in the hobby. Sadly, this led to high pops, and when he became associated with steroid use, the bottom fell out. Still hard to find in PSA 10, but 9s are very affordable.
Find listings of Alex Rodriguez rookie cards on eBay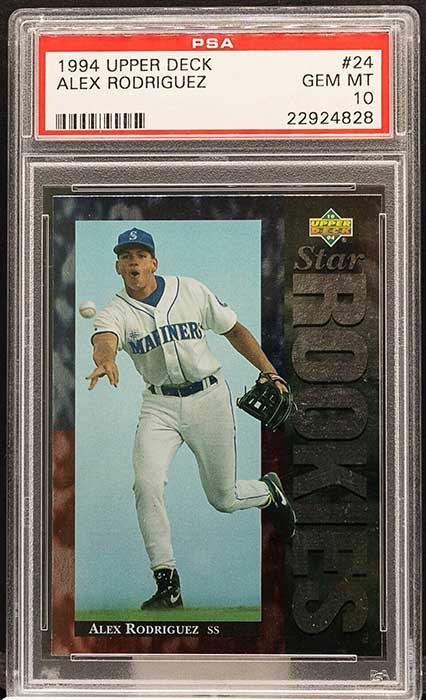 Jeff Kent
Position: 2B
2022 Result: 32.7%
Career WAR: 55.4
2023 is Jeff Kent's 10th and final year on the Hall of Fame ballot. With only 32.7% of the vote in 2022, it's unlikely that Kent gets enshrined in 2023. But does he have a solid case for eventual enshrinement?
Kent is the all-time leader for home runs among second baseman, with 354 of his 377 career homers coming at that position. He was a five-time All-Star and four-time Silver Slugger award winner, who also won an MVP award.
While his 55.4 WAR may feel on the low side, it's not out of the Hall of Fame range for second basemen, falling between Joe Gordon (55.8) and Bobby Doerr (51.5).
The 1992 Fleer Update set was a rarity. A set that was underproduced during the junk wax era. Because of that, you see low total pop and strong sales here. Kent's other 1992 update set cards sell for a fraction of this price, due to overproduction.
Find listings for Jeff Kent rookie card on eBay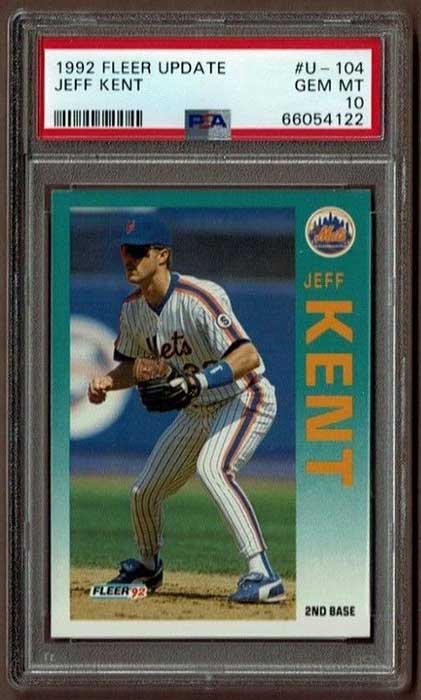 Manny Ramirez
Position: LF
2022 Result: 28.9%
Career WAR: 69.3
In a similar vein to Arod, by the raw numbers, Manny Ramirez would be a Hall of Famer. He hit .312/.411/.585 with a .996 OPS and 154 OPS+. He hit 555 HR and drove in 1,831 RBI.
Sadly, Manny Ramirez also tested positive for steroids and was banned for using. Twice. AFTER the league instituted testing. Sadly, it will be a long time before Manny makes the Hall of Fame.
Steroids took a big chunk out of the value of Manny's rookie cards. The 1992 Bowman has a high-ish pop and close to 20% of the population being PSA 10ss. Any time you can buy the 30-year rookie card of a player with 555 home runs in a PSA 10 slab for around $25, you know something is up.
Check out Manny Ramirez rookie cards on eBay.
Omar Vizquel
Vizquel, a defensive wiz who played long enough to compile 2,877 career hits, looked to be on the path to election, hovering around 50% of the vote in 2020-21.
Domestic assault allegations have since surfaced, which have torpedoed Vizquel's vote total and Hall of Fame outlook.
PSA has graded 1,816 copies of Vizquel's rookie card. A shocking 62.3% of these were PSA 10s. Because of this crazy high percentage and the allegations against Vizquel, a PSA 10 copy can be had for about the price of a delivery pizza (here at Cardlines we recommend tipping well).
Find Omar Vizquel rookie cards on eBay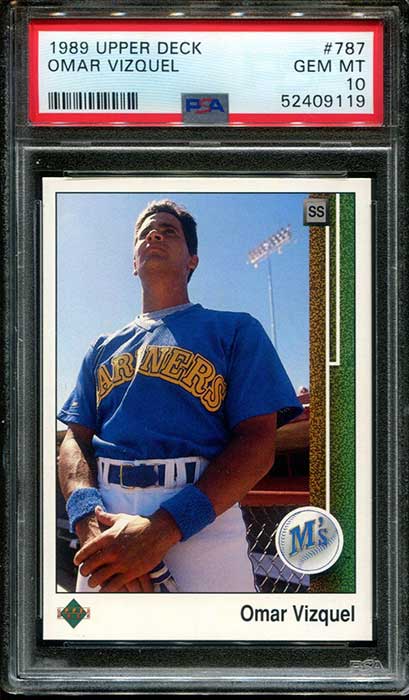 Andy Pettitte
Position: SP
2022 Result: 10.7%
Career WAR: 60.2
Pettitte had a 256-153 record and a 3.85 ERA (117 ERA+). He made three All Star teams, and played on five world championship teams with the New York Yankees. He put up 60.2 WAR in his career and twice won 21 games. All in all, it points to a borderline Hall of Fame case that probably would have led to eventual enshrinement.
Sadly, Pettitte also has the stain of PED use on his record, having admitted to using Human Growth Hormone (HGH) while rehabbing from an injury. That will hurt his chances for the foreseeable future.
1993 doesn't feel like that long ago, so it's downright surprising that the 1993 Bowman is Pettitte's ONLY major league rookie card. It's a fairly low pop, and sells well at around $150 despite HGH usage. Of note, Pettitte is one of the few players who popped for PED use and admitted it and apologized. Time will tell how that affects his Hall of Fame chances and card prices.
Andy Pettitte rookie cards can be found in great quantity on eBay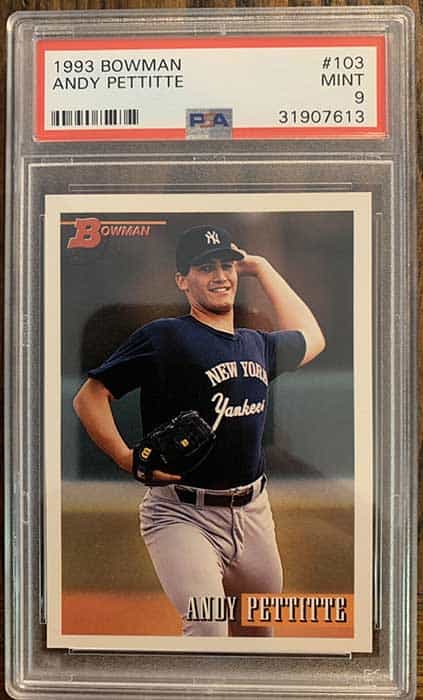 Jimmy Rollins
Position: SS
2022 Result: 9.4%
Career WAR: 47.6
Rollins was a three-time All-Star and four-time Gold Glove winner who won a Silver Slugger award and an MVP award during his career. He had 2,455 career hits, 231 home runs, and stole 470 bases.
Rollins career WAR of 47.6 is only 26th all-time for a shortstop, and some will point to his .264 career batting average as a demerit. But the combination of power, defense, and speed are hard to beat. It's a long climb ahead for Rollins if he is to get elected. It'll be fun to watch.
A surprisingly low population for the rookie card of a popular Phillies player. This is another example of an oddly high PSA 10 percentage (44.4%). Despite all this, it is a strong seller when you can find one.
Find Jimmy Rollins rookie cards on eBay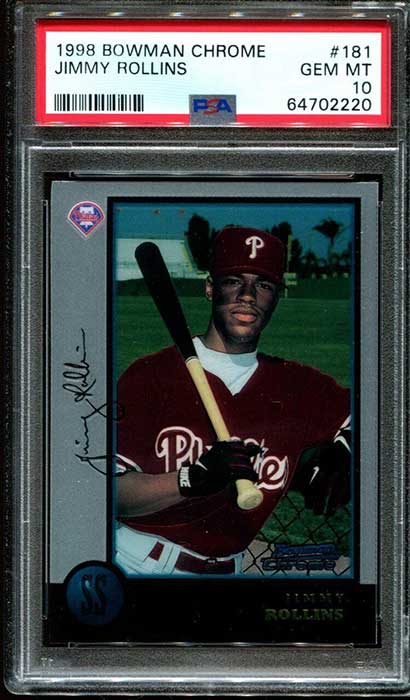 Bobby Abreu
Position: RF
2022 Result: 8.6%
Career WAR: 60.2
Bobby Abreu's Hall of Fame candidacy snuck up on a lot of people. Sure, he was a good player…but he only made two All-Star teams, won one Silver Slugger and one Gold Glove. But Hall of Fame?
But if you dig deeper? 2,470 career hits, 288 home runs and 400 stolen bases. A .291/.395/.475 career line. 60.2 career WAR, which ranks 19th among right fielders, just above Hall of Famer, just above players like Ichiro, Vlad Guerrero Sr., and Sammy Sosa.
Abreu debuted on the ballot in 2020 and got 5.5% of the vote, just enough to remain on the ballot. The last two years, he saw that total rise to 8.7% and 8.6%. It's a long climb, but with a little luck voters will keep giving him a chance to be considered for a number of years.
Another fairly low-pop rookie card of an under-the-radar Phillies star. These don't come up that often, which is why our comp has a larger-than-usual range.
Check out prices of Bobby Abreu rookie cards on eBay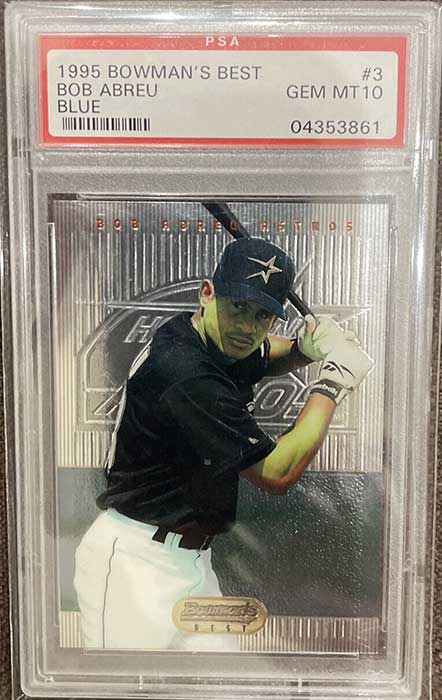 Mark Buehrle
Position: SP
2022 Result: 5.8%
Career WAR: 59.1
Buehrle is another guy whose Hall of Fame case may have snuck on him. Burhle was consistently very good during his career, although from a "peak" perspective he only had one top-5 Cy Young finish and no 20-win seasons.
But he managed to go 214-160 with a 3.81 ERA in his career and was worth 59.1 WAR. That WAR total is right around the point where you start considering a starting pitcher for the Hall of Fame. There are a good number of Hall of Fame pitchers with a lower WAR total, but also several non-HOF pitchers with a higher total.
Add in five All-Star selections and four gold gloves, and maybe. Like Abreu, we can hope he hangs on the ballot a bit longer so the passage of time can provide context.
Another low population Bowman rookie card with a surprisingly high PSA 10 percentage (52.4%). I'm not sure what was going on with those late 90s and early 2000's Bowman sets, but clearly PSA submitters were really good at only subbing the 10s. Even in a 10, Buehrle's rookie card is reasonable buy for an under-the-radar star.
Check eBay for Mark Buehrle rookie cards on eBay
Torii Hunter
Position: CF
2022 Result: 5.3%
Career WAR: 50.7
Torii Hunter was a very, very good player for a long time. A 9-time Gold Glove winner in center field, he made five All-Star teams and won two Silver Slugger awards. He hit 353 home runs and stole 195 bases while hitting .277/.331/.461 with a .793.
It all adds up to 50.7 career WAR, which is only a hair below that of another former Minnesota Twins center fielder, Hall of Famer Kirby Puckett (51.2).
That being said, while I'm a big fan of Torii getting a handful of Hall of Fame votes, the chances of him getting elected don't look very good.
The tiny PSA pop here probably gives you a good picture of how likely collectors consider Hall of Fame election. Puckett was a very good player for a long time, though, and is a Twins icon. I'm going to guess not a lot of these come out of packs these days, as 1994 Bowman is known for bricking.
Find Torii Hunter rookie cards on eBay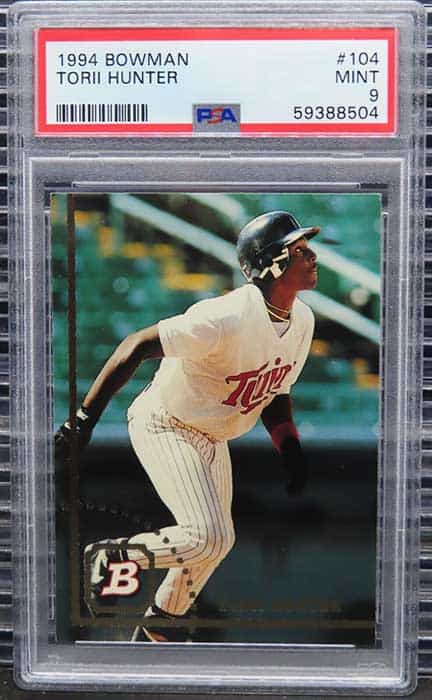 Investment thoughts
When any of these players make the Hall of Fame, they'll see at least a temporary bump in their card values, and one that may persist.
If you think any of these players will make the Hall of Fame, be it in 2023 or further into the future, picking up most of their rookie cards won't break the bank, even in a PSA 10 holder.
When you are buying or trying to determine which to buy, keep an eye on the PSA populations. Many of these cards fall into the total pop range that's completely reasonable. A few though, have really high populations (check out that Manny Ramirez card) and other really low ones (those Wagners are downright hard to find).
Who gets elected?
From our Early Preview Of The 2023 Baseball Hall Of Fame Election here's my prediction:
"I think that this is the year that Scott Rolen crosses the 75% threshold and is elected to the Hall of Fame. Based on the trajectory of his candidacy to date, which has seen him go from a borderline candidate to a consensus frontrunner, I think he makes the 11.8% jump.
I think the next three vote-getters are Helton, Wagner, and Beltran. I'll go with that order. There's a slight chance that Todd Helton also squeaks in, but that may be too big a jump to ask for."
The final word on 2023 HOF Ballot returning candidates
The 2023 Baseball Hall of Fame ballot has some very strong returning candidates. Based on just their pure stats, I could make an argument that 12 or 13 of the 14 returning players on the ballot BELONG in the Hall of Fame.
Of course, with PED and other dark clouds hanging over some the names, the actual number who will eventually be enshrined will be far lower. Exactly who gets the "call to the hall" remains to be seen and will be fascinating to watch.
Cardlines 2023 Hall of Fame coverage