A 2021-22 Donruss Optic Basketball Review And Checklist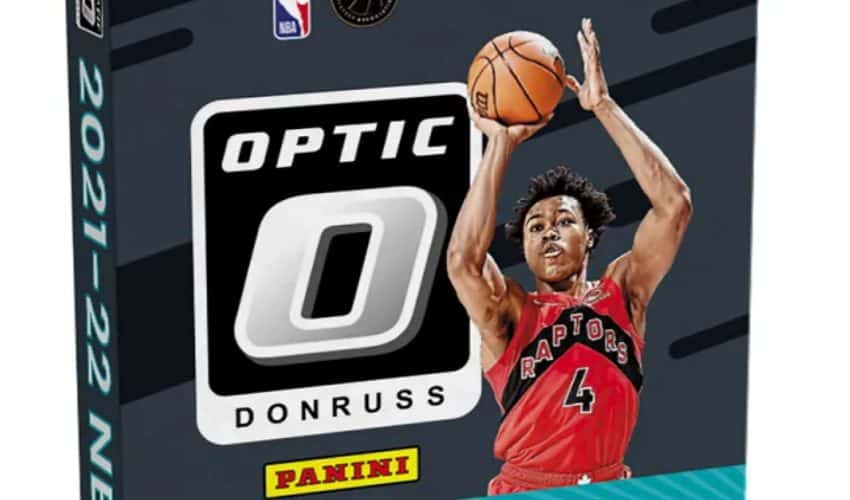 Optic Basketball 2021-22 was officially released on August 31st, 2022. Here's everything you need to know about why basketball card collectors like this release and what you can expect to find in boxes.
Check out the latest prices on Optic Basketball 2021-22 hobby boxes and cases
2021-22 Optic Basketball product introduction
Optic has been a collector favorite since its release in 2016 as a football and basketball product.
When collectors think of mass-market cards (cards that have both a retail and hobby release), it's widely considered in the top-tier of mass-market sports card royalty along with Prizm and Select. In fact, we recently called Optic the second-best overall brand for investing in our popular CardLines newsletter, which you can join for free right here.
Just like Prizm, Optic features chromium cards and Prizm-based inserts and parallels, giving layers of scarcity and different eye appeals for collectors to pursue enthusiastically.
It's also important to note that this is technically Donruss Optic – most collectors just call it "Optic" for short. This means it's the chromium version of the Donruss cards, and it's important to note the difference because there's also Contenders Optic, which brings chromium and rainbows to Contenders.
Optic basketball is best known for its Rated Rookie cards and on-card rookie autos, which are some of the most iconic rookie cards every season. Much like Silver Prizm rookies, Optic has a Silver parallel as well (which is called the "holo," to add an extra layer of confusion.).
The Optic holos are rare, valuable, and amazing looking and always have a lower population than Silver Prizms on the PSA pop reports.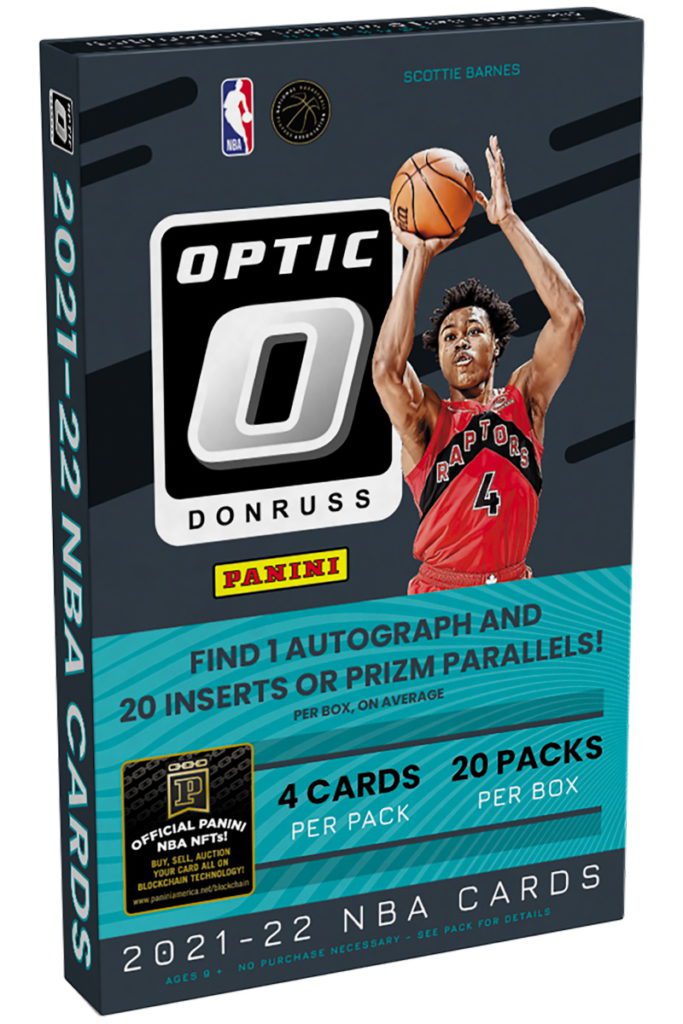 What to expect from 2021-22 Optic
If you like ripping packs, you'll love Optic.
This year's hobby product mirrors the previous iterations of Optic: a box consisting of 20 packs with 4 cards per pack. Each box averages 1 autograph, 20 rated rookies, 10 parallels (with 8 that are numbered), and 4 inserts.
The boxes can be preordered for $750, a price that has slightly dipped as we close in on release day.
Find the latest prices on Optic Basketball 2021-22 hobby boxes and cases
2021-22 Optic checklist information
What's new with Optic in 2021?
Not much, honestly. But that's a good thing. If you've opened either Optic 2020-21 Basketball or Optic 2021 football, you'll this product will be a very similar experience.
The popular product is adding a new super-short print (SSP) called the Photon, which features half-circles of a red/orange/tan pattern that is sure to be eye-catching in person.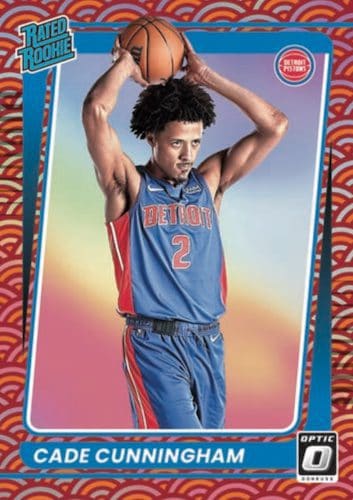 The other hobby-only parallels include:
Orange – #/199
Lime Green – #/149
Red – #/99
Pink Velocity – #/79
Blue – #/59
Black Velocity – #/39
Gold – #/10
Green – #/5
Gold Vinyl – 1/1
There are also a handful of Hobby-exclusive inserts, including All-Stars, Elite Dominators, Lights Out, Raining 3s, Star Gazing, and The Rookies.
2021-22 Optic is the same ol' formula that collectors love with new rookies and just enough tweaking to keep it feeling fresh and interesting.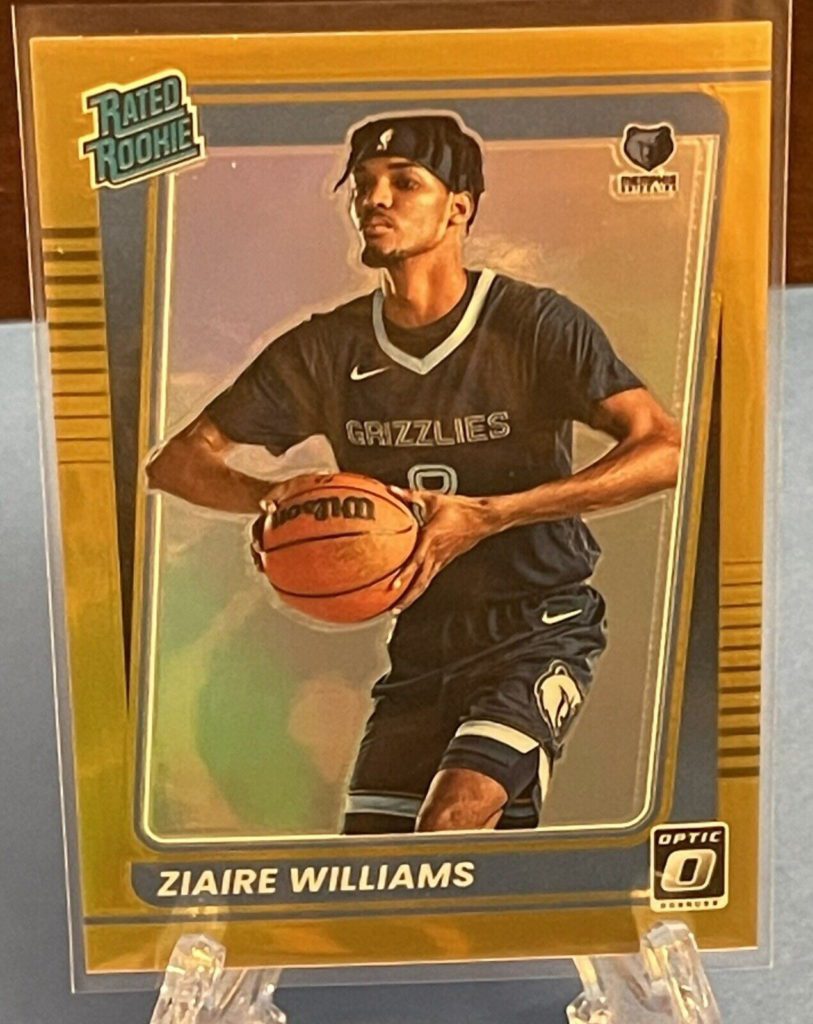 Investing in Optic Basketball
With a pre-order price of $750, buying a box of Optic is a significant investment you should take time to contemplate. To help, we've done some of the research for you.
The nice thing about Optic and the rest of the opti-chrome brands is that you at least get quite a few cards. Personally, I'm scared of the four-figure boxes that have less than a dozen cards because it feels a lot easier to strike out entirely, especially if there are only one or two "big hits." With a product like Optic that has 80 cards, at least you'll get something.
So let's look at Optic as an investment, but first, let's discuss why Optic could be a better long-term investment than the current golden boy, Prizm. A few of these we've discussed in our head-to-head article.
3 Reasons to Invest in Optic over Prizm
While Prizm is the favorite child in both basketball and football cards, Optic is the next best bet for a long-term investment… and many collectors think it can overtake Prizm.
Here are three reasons to choose it.
The populations
Silver Prizms are significantly more common than Optic's Holo. For example, Luka Doncic has 2,142 Silver Prizms in a PSA 10 and only 296 Optic holos. That's nearly 8X more silvers than holos. Collectors will eventually become more perceptive of this large discrepancy.
The design
Again, this is subjective, but many collectors (including many members of the CardLines team) will argue that the Rated Rookies and optic design look far superior to Prizm's design. In a hobby based on eye appeal, this will have long-term impacts.
Optic is less complicated than Select
The other Prizm rival is Select, but with three different tiers of cards (Concourse, Premier, Field Level for Football), Select takes a bit of work to understand year-to-year. For busy collectors who work and have families, it's too much trouble to mess with. Optic's checklist is a lot cleaner and simpler.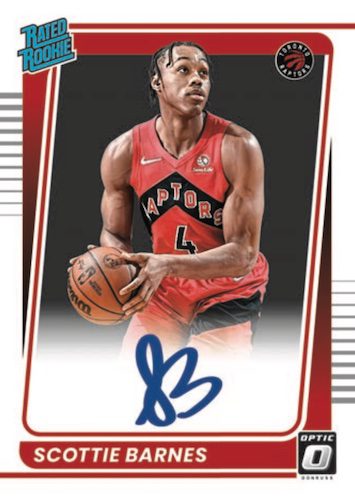 Investing in sealed 2021-22 Optic Basketball Hobby Boxes
If you're investing in sealed boxes with the intent of holding them, here are some numbers to consider.
What can we learn from this?
Most importantly, it looks like, based on the assumed release cost of $750, that investment cost will be very hard to recoup. The only box that sells for more than $750 now is the 2018-19 box, which has a stacked rookie class headlined by Luka.
As we've written before, the rookie class always matters when investing in sealed boxes. Yeah, this might sound like a no-brainer, but when you're investing in a product to hold, it has to be said.
And this hasn't been verified by Panini, but there are definitely more boxes being printed in 2021 than there were in 2017 and 2018. This alone will help cap the potential if you are buying this product sealed with the hope to flip in 5 – 10 years.
In short, Optic 2021-22 seems like a risky long-term investment at $750/box.
Investing in 2021-22 Optic Basketball rookies
Optic rookie cards are one of the blue-chip investments of modern Panini rookies – perhaps second to only Prizm. If you're going to invest in just one card of anybody, Optic is a great way to go.
Your best bet of making a guaranteed profit on this product is finding a few holos of players you believe in, buying them raw (after asking the seller for more pictures), then getting them graded.
If you can scoop up silvers of the rookies you like and grade, then you'll be set for a long-term hold. Collectors go nuts for Optic PSA 10s.
But caution: as with all new releases, don't buy the first Optic cards that appear on eBay for this year. The price will inevitably drop as the supply meets the demand.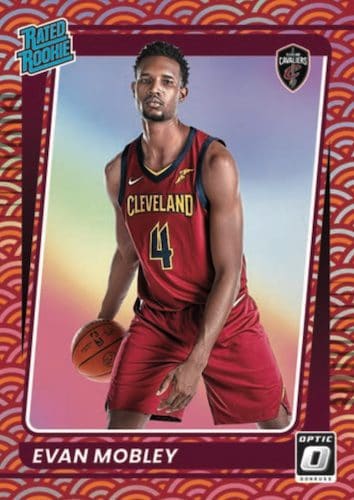 Bottom line: Rip, hold or pass?
Optic is my personal favorite brand (particularly basketball), and it keeps getting even better year after year while still capturing the magic of what makes the product special.
With more scarcity than Prizm and still strong appeal, it has good investment potential or could make a fun rip. But, as noted, buying sealed optic to hold could be dangerous at release-day pricing.
What do you think of this product? What will it be worth in 5 years? Let us know on Twitter @card_lines.
Check out the latest prices on Optic Basketball 2021-22 hobby boxes and cases