What You Can Expect From The 2021-22 Panini Chronicles Basketball Release And Checklist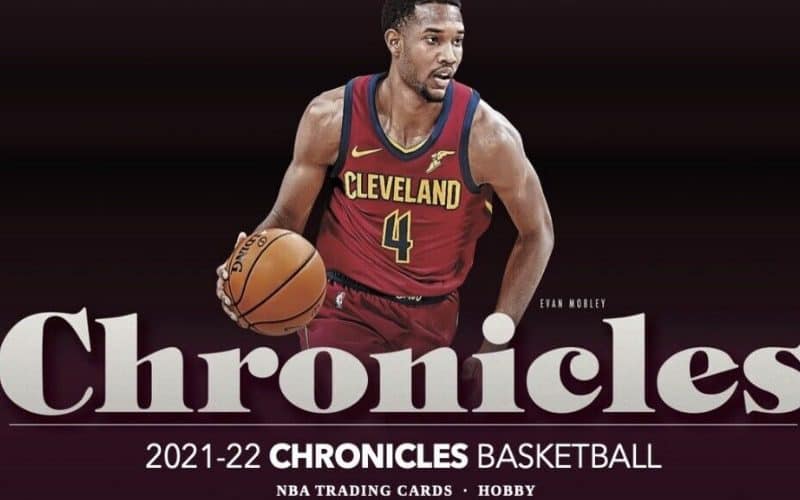 Chronicles Basketball is one of the most popular releases of the year, but particularly for new collectors, it can be a confusing one. The pitch for Chronicles is basically this: it's the one brand that combines a lot of other brands into one box – from out-of-print Panini brands to spin-offs of popular brands.
While many collectors look forward to Chronicles every year, should they? We're here to answer that question and look at investing in 2021 Chronicles Basketball.
Check out the latest prices on hobby boxes of 2021-22 Chronicles Basketball
2021-22 Panini Chronicles Basketball introduction
This is the fifth Panini Chronicles Basketball release, and the brand continues to get bigger and more chaotic every year. As Beckett explains,
"Chronicles allows Panini to dig into its banks and provide cards for brands that don't have their own standalone release this year or bring others over from different sports."
(The article also makes a metaphor about soup ingredients not always going together well, which also feels very on-brand for Chronicles).
Chronicles is kind of like a ship graveyard, haunting collectors with spooky reminders of brands that couldn't last forever, but somehow the recipe works well enough for a lot of collectors to buy in.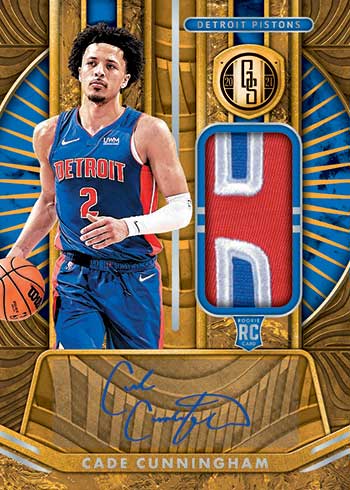 The boxes, which you can preorder for about $350, contain 6 packs of 8 cards. Within 48 total cards, you can expect to find 2 autographs and a good deal of parallels, but remember, all of these cards can come from different "sets."
What sets should you be looking for? Let's check them out. 
Check out the latest prices on hobby boxes of 2021-22 Chronicles Basketball
What to expect from Panini 2021-22 Chronicles Basketball
This year's Chronicles will contain Cornerstones, Elements, Gala, Gold Standard, Limited, Luminance, Phoenix, Plates & Patches, Timeless Treasures, Titanium, and XR. That's a "sampling" of brands, per Panini, so don't be surprised to see other sets, too. It's a safe bet that there will be a Chronicles brand, too.
Each of these brands brings its own unique style from years past and drops them into the new product. 
If you're opening a box of Chronicles, it's also important to understand the checklists. Given the nature of the product and the wide variety of cards contained therein, it is understandably impossible for Panini to have a deep checklist featuring all the rookies or veterans you'd expect.
While most sets, such as Prizm, have a checklist of around 300, Chronicles gives each set somewhere between 30-50 cards. 
So what's that mean if you're opening the box?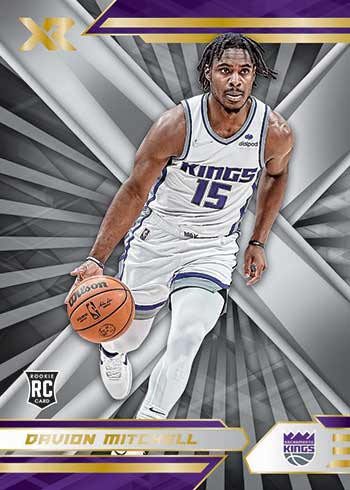 For one, it means there aren't a lot of players represented in the product. Most of the brands only have the top 20 – 25 veterans, and then a similar amount of rookies represented.
If you're buying into breaks, Chronicles will be either a home run or a miss based on what team you pull. The big-name vets and rookies will be repeated over and over, while lesser-known players might not appear at all in a case. 
But that's not always a good thing. As I've written before, my biggest complaint against Chronicles is that it floods the market with cards with less-desirable rookie cards from the top-ranked rookies.
While it might be fun to pull several LeBron cards in a box, it's overall a bad thing for the supply and demand side of collecting.
2022 Chronicles basketball checklist information 
Chronicles' checklist is chaotic due to the nature of the product, but here's an overview. 
As far as parallels go, you can look for Red (#'d/149), Blue (#'d/99), 75th Anniversary (#'d/75), Purple (#'d/49), Gold (#'d/10), and Platinum (1/1).
But here's something to keep in mind: Remember that most of the sets have their own parallel rainbow, so the numbered cards, as a whole, are much less rare than they seem.
For example, if there are 10 "brands" in Chronicles Football 2022 and each brand has a /25 Cade Cunningham rookie, then Cunningham has 250 Chronicles rookies /25 – see how that's a problem?
Worse still, almost all the brands have a 1/1 auto of all the top rookies, so each rookie has 10 – 15 "one of ones" in Chronicles. This might not impact the values in the short-term, but long-term it could very well water down the 1/1 Chronicles value.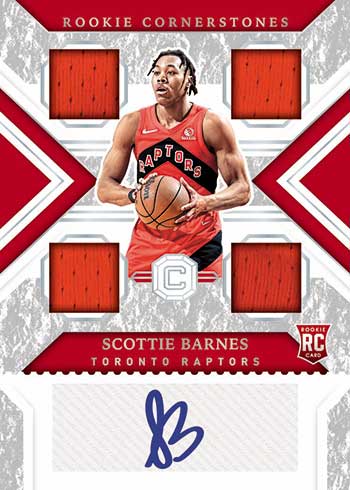 To oversimplify, here's what I sense is the pulse of most of the industry regarding collectors: newer collectors love the product because of its variety, but the more seasoned collectors – those that this nostalgia trip is supposedly for – would not bat an eye if Panini announced the end of the product. Sure, it's fun, but it's also very unnecessary and parasitizes other brands while flooding the market.
While there will be a blaster release for 2021/22 Chronicles, the best cards will be found as hobby-exclusive sets: Plates & Patches, Timeless Treasures, Limited, Gala, Titanium, and Gold Standard.
Value of 2022 Chronicles Basketball
Let's look at investing in Chronicles as a potential investment, both sealed and singles.
Investing in Chronicles Basketball 2021 wax
Let's assume a release price of $350 for this sealed product as we try to value it as a potential investment.
With that in mind, here's the value of sealed Chronicles boxes for the last few years:
There's a discernible downward trend in the price of Chronicles releases over time. Yes, the 2018-19 box is demanding a pretty penny, but that's a Luka-powered rookie class.

Apart from that class, there's not a box that is reselling for enough to be interested in holding for long-term at the $350 release-day price. If you buy enough of them at $350 and they end up reselling for $500 (the 2021-22 class is pretty strong), then there's money to be made. But there's another constraint…
Print run. While Panini doesn't officially release any numbers, it's safe to assume that the print run has swelled every year since 2019-20. It wouldn't be a surprise if 2019-20 to 2020-21 saw the print run nearly double, judging by the difference in resell price between the two years. 
Assuming a high production run once again for 2021-22, we'd consider this a stay-away for long-term investing.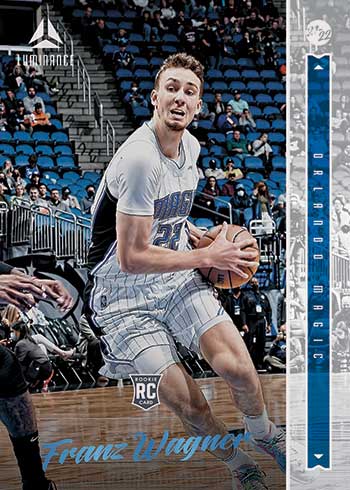 Investing in 2021-22 Panini Chronicles Basketball singles
Thanks to the logic I outlined above regarding the /25 cards, 2022 Panini Chronicles Basketball is also a stay-away for investing in singles, at least for me.
The one exception I'd suggest if you're a big-ticket investor is possibly considering a 1-of-1 rookie autograph from Chronicles. Why? As I mentioned, each player has about a dozen 1-of-1 rookie autos coming out of the product. That's not necessarily a good thing if you're hoping for a five-figure card, but it does mean you can get a discount compared to something like an Optic 1-of-1.
And, even at that, I suspect the same price of one of those cards might be a better investment if made in a more legitimate brand. It just depends on how much you're looking to invest.
In short, invest in Chronicles singles at your own risk. They're really cool cards and often look amazing, but the nature of the product itself makes it tough to retain too much value. It's a product that was clearly created by marketers – not economists.
2021 22 Chronicles Basketball bottom line: Rip, hold or pass?
2021-22 Chronicles Basketball is a fun product coming on the heels of the NBA season (by heels I mean "exceptionally late").
It's pre-ordering at an affordable price point, too, but it doesn't have a great deal of value for a long-term hold thanks to the print run. I hardly ever say this, but actually ripping a box or two is probably your best if you want Chronicles exposure. There are big hits in the product – don't get that wrong – but their value is better suited for the short-term. 
What do you think of Chronicles Basketball 2021? Share your thoughts on Twitter @card_lines.
Be sure to subscribe to our newsletter too for sports card updates, investment advice and industry news sent straight to your inbox multiple times a week.