A Retrospective Of The Top 10 Baseball Cards From The Topps 1957 Set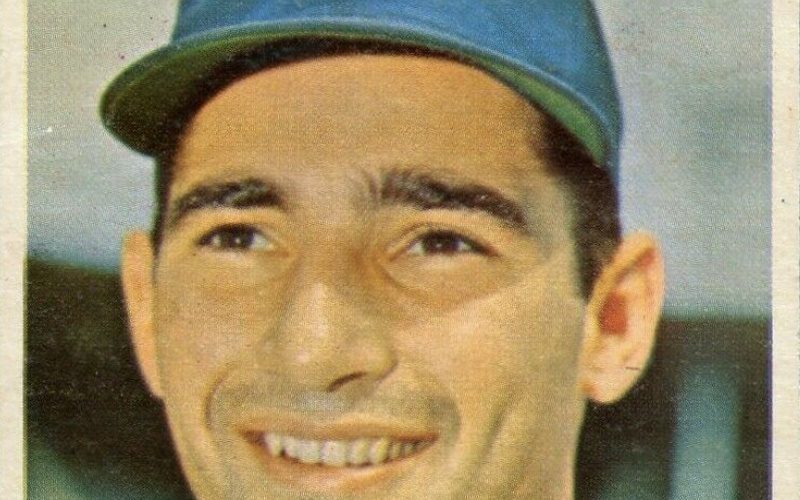 The 1957 Topps set ushered in many new features and brought back a few old ones. 1957 brought the debut of full-color photographs on Topps baseball cards, as well as an updated card size.
Statistics on the back of cards were greatly improved, and player combo cards were reintroduced. One even made our list for the most valuable cards from the 1957 Topps set!
The 1957 Topps set is a favorite among baseball fans and card collectors. Although it's more than 60 years old, the set stands the test of time and is described as "one of the most ground-breaking baseball card issues in history."
Check out eBay's huge selection of 1957 Topps baseball cards
The art of Topps 1957 Baseball cards
Up until 1956, the artwork displayed on Topps cards were paintings instead of photographs. With the 1957 Topps set, full-color photographs were introduced. The 1957 Topps set was also the debut of a new dimension of cards: 2-1/2 by 3-1/2 inch baseball cards. This is the standard size of baseball cards that are still made today.
The card design for the 1957 set has one main focal point, as opposed to the three previous releases that included both a portrait and an action shot for each player.
Returning to their roots with the simple design, Topps featured some players with a portrait shot (Sandy Koufax, Don Drysdale, Brooks Robinson) and others with an action shot (Mickey Mantle, Frank Robinson, Ted Williams).
Additionally, the name, position, and team of each player are printed in white and yellow. This provides a good contrast that is easy to read on dark backgrounds. Each card also includes a thin, white border.
Statistics on the backs of baseball cards also changed with the 1957 Topps set. Instead of two columns displaying the previous season and lifetime totals, the 1957 Topps set introduced career-wide statistics for the players. Rookie cards included the players' minor league seasons and veterans' cards display major league seasons.
The most valuable Topps 1957 baseball cards
Many of the popular players we know and love are featured on this list of the most valuable cards from the Topps 1957 set. Two wild cards also made this list. Check it out below…
These are the highest priced 1957 Topps cards listed on eBay right now.
1957 Mickey Mantle Topps #95
This 1957 Topps Mickey Mantle card, and the rest of the 1957 set, was the first time Topps used a full-color photograph design. This was the year Mantle put up some of his best numbers and won the latter of his back-to-back MVP awards.
A PSA 8 of this Mantle card recently sold for $9,840 at Goldin Auctions.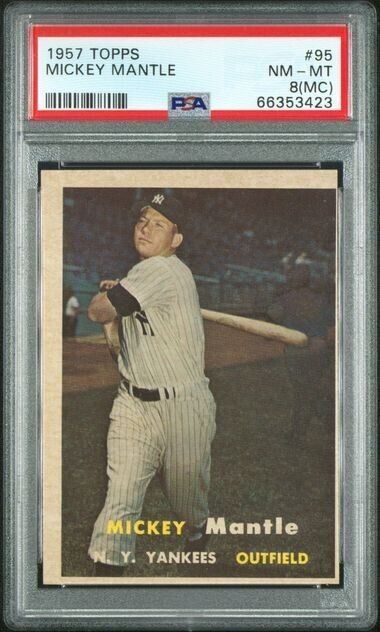 Mickey Manle 1957 Topps cards on eBay
1957 Topps #302 Sandy Koufax
Sandy Koufax's 1957 Topps card was the last to feature the Brooklyn Dodgers before the team relocated to Los Angeles. The lefthander's smile is the focal point of this simple, classic card.
A PSA 8 of this Koufax card sold for $4,080 at Robert Edward Auctions in July 2021.
Find 1957 Topps Sandy Koufax on ebay
1957 Topps #35 Frank Robinson rookie card
Frank Robinson's 1957 Topps Rookie Card was made after he unanimously won the NL Rookie of the Year Award. As good as that season was, he went on to accomplish a feat no one else has ever done: win an MVP in both the AL and NL. As a result, Robinson's rookie card remains a highly sought-after card.
A PSA 8 of this Robinson card sold for $3,840 at Robert Edward Auctions in July 2021.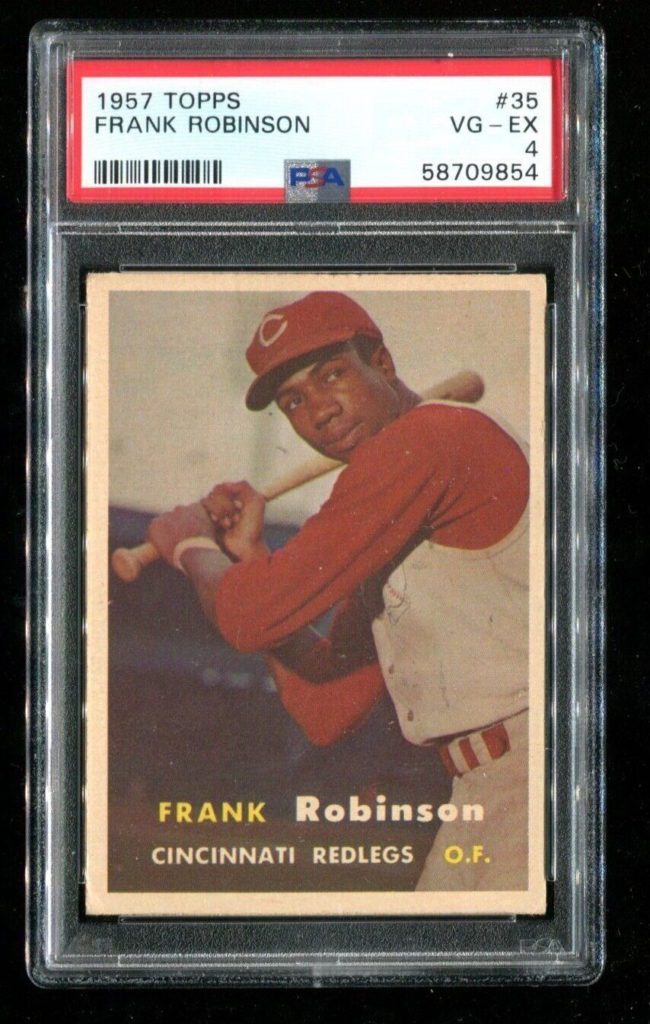 Check out the latest 1957 Topps Frank Robinson prices on ebay
1957 Topps #407 Berra/Mantle Yankees Power Hitters
The 1957 Topps set returned with player combo cards, and this one remains a very popular collector's item. The 1957 Topps Yankees Power Hitters cards featured Yogi Berra and Mickey Mantle, two players who would become all-time greats.
A PSA 8 of this Berra/Mantle player combo card most recently sold for $3,720 at Robert Edward Auctions.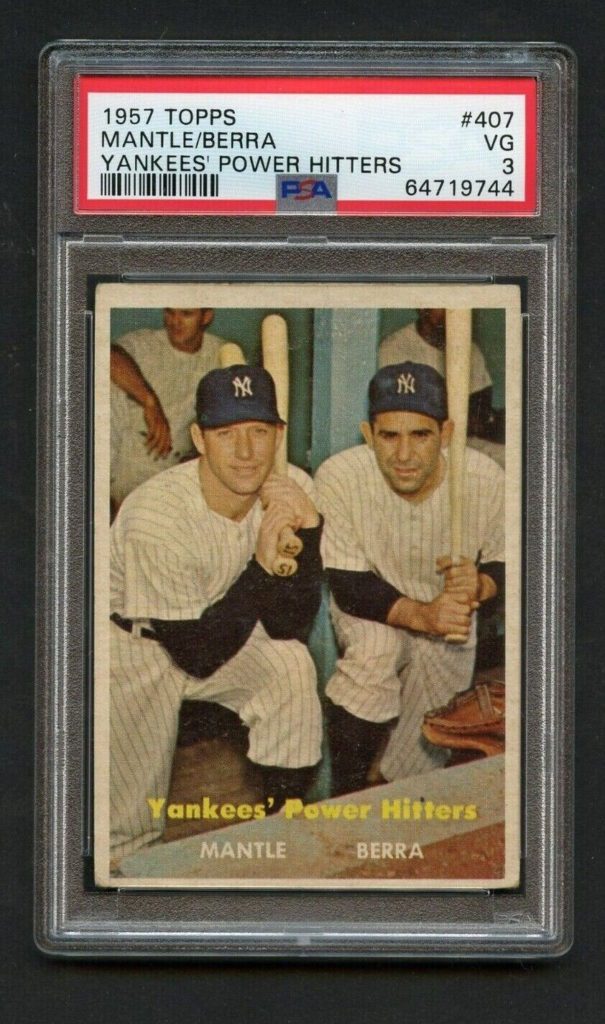 Buy a 1957 Topps card of Mickey Mantle and Yogi Berra
1957 Topps Ted Williams #1
Although Ted Williams' career was winding down by this point, Topps chose the veteran outfielder for the first card in their 1957 set. The on-base king is shown on this card following his swing and admiring the result. The statistics from 15 of Williams' 19-year Hall of Fame career are printed on the back of his 1957 Topps card.
A PSA 8 of the 1957 Topps Ted Williams card sold for $4,827 in 2020, but its most recent sale was for $2,951 on eBay.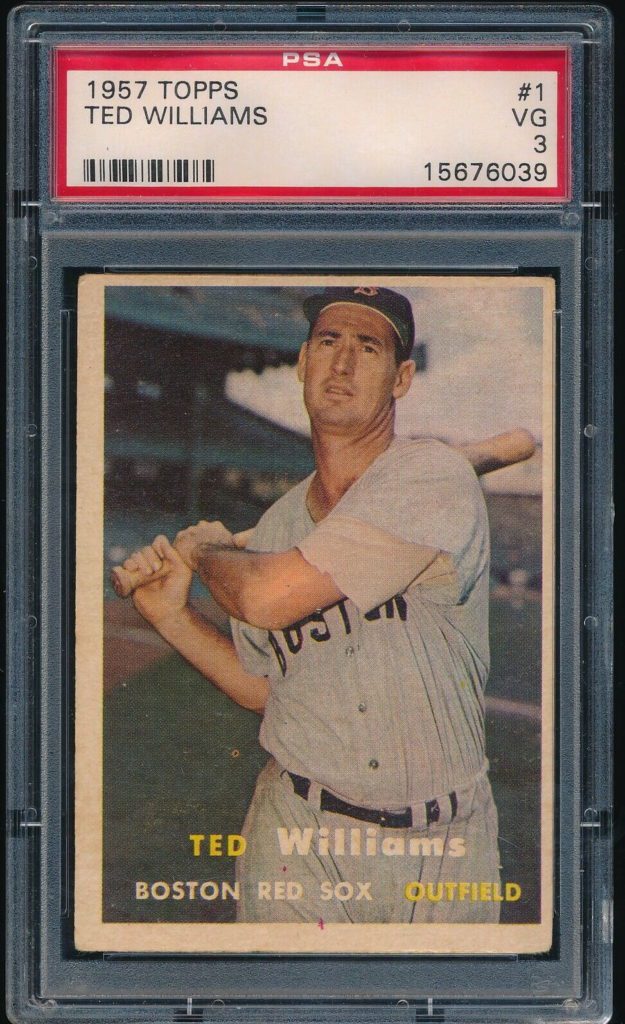 Check out 1957 Topps cards of Ted Williams on ebay
1957 Topps #18 Don Drysdale Rookie Card
The eventual 1962 NL Cy Young Award winner's rookie card is a hot commodity among collectors. This 1957 Topps rookie card is also the only one to feature Don Drysdale in a Brooklyn Dodgers hat. Teammates Drysdale and Koufax have two of the most valuable cards in the 1957 Topps set.
A PSA 8 of this Drysdale card recently sold for $2,719 on eBay.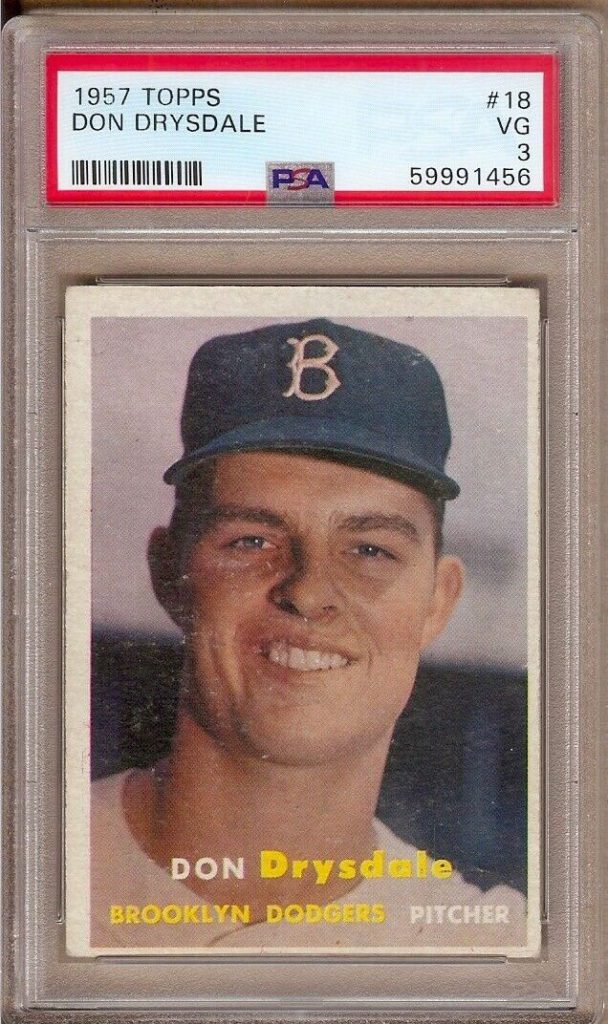 Find 1957 Topps Don Drysdale on ebay
1957 Topps #328 Brooks Robinson Rookie Card
With one glance at his Baseball-Reference page, Brooks Robinson's longevity is apparent. The 18-time All-Star and 16-time Gold Glove third baseman's career spanned three decades with the Baltimore Orioles. PSA calls Brooks Robinson's 1957 Topps rookie card "arguably the most desirable" of the set's rookies.
A PSA 8 of this Robinson card recently sold for $2,706 at Goldin Auctions.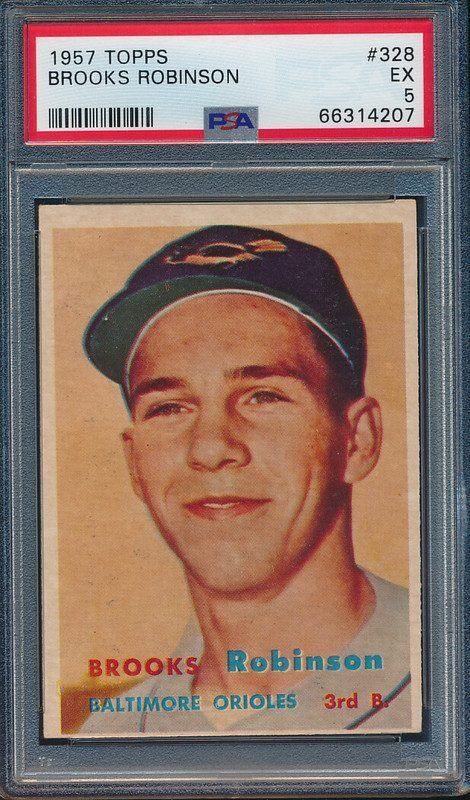 Check the latest prices for 1957 Topps cards of Brooks Robinson
1957 Topps #176 Gene Baker (Error Card)
Gene Baker's professional baseball career began with the Kansas City Monarchs of the Negro American League. Baker went on to play for the Chicago Cubs and, along with Ernie Banks, became the franchise's first Black players.
Baker also played for the 1960 World Series-winning Pittsburgh Pirates and later became the first Black manager in organized baseball in the United States.
Baker's regular 1957 Topps card can be purchased for a few hundred dollars, but cards with a printing error are currently more valuable. These cards misspelled his name on the back as Eugenf W. Bakep.
A PSA 8 of this Baker error card sold for $2,640 at Goldin Auctions in July 2021.
Find 1957 Topps error card of Gene Baker
1957 Topps Hank Aaron #20
Hammerin' Hank held the all-time home run record for 33 with his 755 home runs from the right side of the plate…right? If you look at Hank Aaron's 1957 Topps card, you might second-guess yourself because Aaron's photo shows him batting lefthanded.
The photo on his 1957 Topps card was accidentally reversed, showing him from the wrong side of the plate and the visible number on his jersey backward.
A PSA 8 of this Aaron card recently sold for $2,554 at Mile High Card Company.
Check the latest 1957 Topps cards of Hank Aaron on eBay
1957 Topps Willie Mays #10
Willie Mays' photo on the 1957 Topps card is similar to many others, showing his batting stance in a posed action shot. The card is rather simple, but it would be the last Topps card to show the great centerfielder as a New York Giant. The team relocated to San Francisco the following season.
A PSA 8 of this Mays card recently sold for $2,350 on eBay.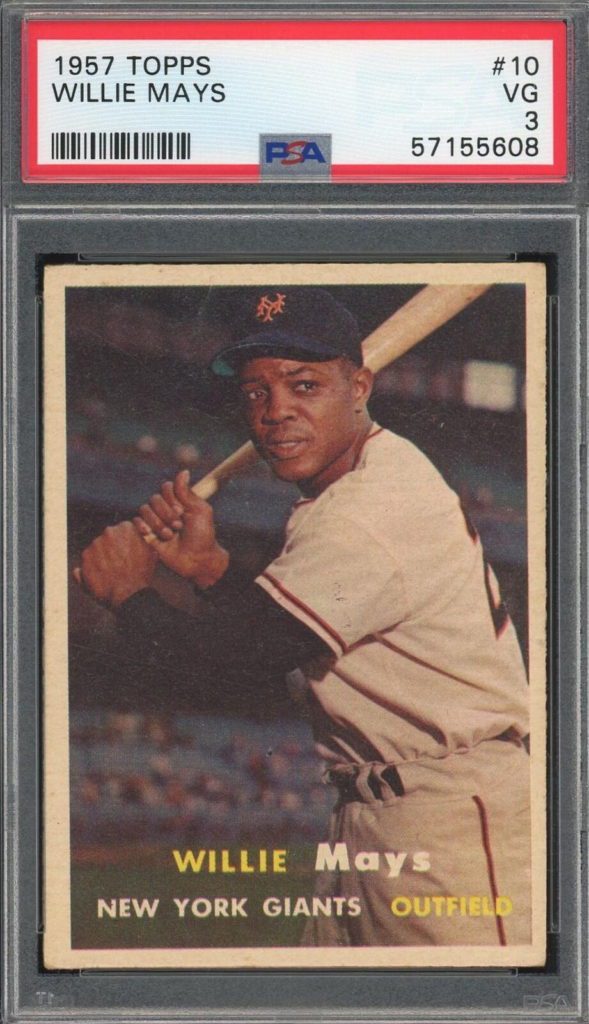 Check the latest prices for 1957 Topps Willie Mays cards on eBay
What is the population report for the most valuable Topps 1957 Cards?
| Card | PSA 7 | PSA 8 | PSA 9 | PSA 10 | Total |
| --- | --- | --- | --- | --- | --- |
| Mickey Mantle | 582 | 277 | 22 | 1 | 5,784 |
| Sandy Koufax | 501 | 188 | 11 | 0 | 2,741 |
| Frank Robinson | 697 | 324 | 26 | 0 | 4,580 |
| Yogi Berra/Mickey Mantle (Yankee Power Hitters) | 487 | 190 | 11 | 0 | 4,056 |
| Ted Williams | 452 | 190 | 15 | 1 | 4,442 |
| Don Drysdale | 546 | 197 | 17 | 0 | 3,600 |
| Brooks Robinson | 637 | 334 | 35 | 1 | 3,217 |
| Gene Baker (Error Card) | 20 | 9 | 0 | 0 | 168 |
| Hank Aaron | 594 | 310 | 34 | 0 | 3,831 |
| Willie Mays | 611 | 282 | 26 | 0 | 4,133 |
What was the print run of the Topps 1957 set?
There are 407 cards in the 1957 Topps set. Based on available PSA records, the authentication company has certified a total of 305,012 cards from the 1957 Topps set.
Topps does not release the number of total cards they print, so it's impossible to know for sure how many cards are floating around shoeboxes and our parents' attic.
The CardLines pick from the 1957 Topps Set
Ted Williams' card is my favorite in the 1957 Topps set. The simplicity of the design is great, but I love the back of the card even more. Topps transitioned to including career-wide statistics for their 1957 set which was an unprecedented move during that time.
Prior to Topps' 1957 baseball card release, the best statistical resource for die-hard fans was "The Official Encyclopedia of Baseball." The book weighed more than six pounds and provided just three total statistics, according to baseball writer Rob Neyer.
Players' statistics were just career totals. Games played were listed for all players. Wins and losses were noted for pitchers; batting average was noted for hitters.
So when Topps decided to include year-by-year totals, it became the most comprehensive research available. When Ted Williams' 1957 card came out, he was a 15-year veteran and one of the most popular players in baseball. This card helped children and baseball fans all over understand how great Ted Williams really was.
The final word of the Topps 1957 baseball card set
The Topps 1957 baseball set showcased many new features, some of which remain the standard today. Topps debuted popular rookies and portrayed future Hall-of-Famers with their 1957 release, making it a classic and highly sought-after set.