A Strong Rookie Class Highlights Panini Select Basketball 2021-22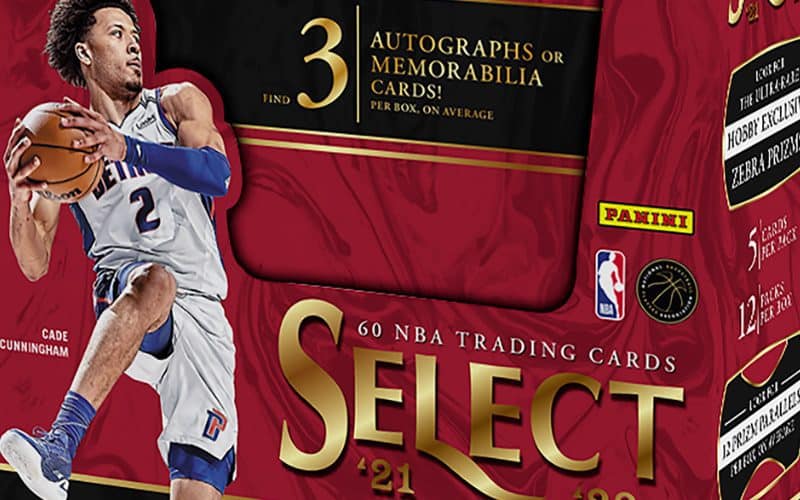 It's the beginning of September and we finally know something about 21-22 Panini Select NBA Basketball. Panini had been unusually quiet about one of the hobby's biggest products, leading some of us to worry about when, or even if, we would finally see Select hit the shelves.
Fortunately, Panini has released some tentative information about Select '21-22 up on its website, along with a few design mockups. Basketball fans exhale.
In this article, I'll give you the full rundown of what you can expect with this year's product including how Select compares to other flagship products, what's new with this release, and how the 21-22 rookie class will shape this year's investment outlook.
Check out the latest prices of 2021-2022 Panini Select Basketball on eBay
About 2021-22 Panini Select Basketball
For years, Select had dropped during the first week of March, just in time for the final few weeks of the regular season. Last year, due to industry-wide pushbacks, it wasn't released until July 30th.
This year, we didn't even hear a murmur until the beginning of August. As of now, the estimated release date is October 26, 2022. It will be interesting to see if Panini works to get back on track with their spring schedule, or if a fall release period is what we should come to expect.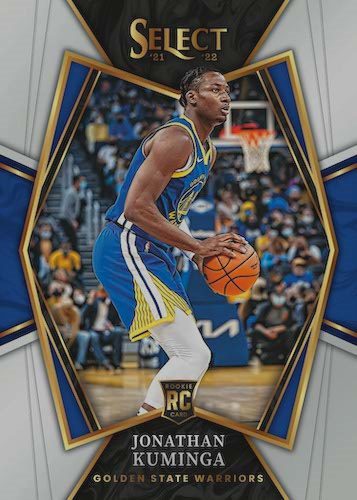 For those unfamiliar with the product, Select's base set contains 3 separate tiers: Concourse, Premier, and Courtside. Each tier features a lower print run than the one before it, with Concourse being the most common, then Premier, then Courtside.
No information has been released on what the breakdown of those 3 tiers will be. However, in the past, we've seen an average of 10 premier cards and 2 courtside cards in a hobby box, so I'd expect a similar breakdown this year.
Select is a hobby exclusive, meaning you won't be able to pick up a blaster box at a big-time retailer like Wal-Mart. If you're interested in picking up some Select, you'll need to get it directly from a hobby store.
Check out the latest prices of 2021-2022 Panini Select Basketball on eBay
How Panini Select Basketball compares to other NBA releases
After being discontinued in the '90s, Panini brought the Select brand back to life in 2013. Over the past decade, it has been billed alongside Prizm and Optic as Panini's top mass-market NBA products.
While Prizm has been Panini's golden child for NBA and NFL releases, there are some who believe Select and Optic could be poised to gain equal footing with Prizm in the near future.
One of Prizm's main pitfalls is that there's just way more of it in circulation. Take a look at the population reports of a couple of key rookies over the last few years:
Player
# of Graded Prizm
# of Graded Select
Zion Williamson
39,843 (Zion Williamson RC #248)
6,215
(Zion Williamson RC #1)
Ja Morant
37,946
(Ja Morant RC #249)
6,297
(Ja Morant #72)
As you can see, Prizm versions of popular base rookies are over 6 times as common as Select. Then when you take into account the tiered system, you realize just how rare a courtside rookie is compared to a standard Prizm.
If scarcity is important to you there's a case to be made that Select is the better product.
| Product | Cards in a hobby box | Autos | Parallels/Inserts/Relics |
| --- | --- | --- | --- |
| Select | 60 | 3 | 12 |
| Prizm | 144 | 2 | 32 |
| Optic | 80 | 1 | 20 |
Obviously, Prizm is offering more cards and more hits, but it all comes down to what you value. Select gives you more autos than either of the products and despite offering fewer inserts, a courtside parallel is going to be rarer than your standard fare hit in a Prizm box.
Panini Select Basketball 2021-22 featured inserts
Designs for four of Select's inserts have been released. Here's what we've got so far:
Unstoppable
Last year Unstoppable featured 15 cards and had parallels of Silver, Gold #/10, Black 1/1. I love the promise of this wavy and colorful Ja card that offers a distinct look from the other inserts in the set.
En Fuego
En Fuego was new to the Select line-up last year and it was very well received. The 15 players featured last year were primarily sharp-shooters and high-volume scorers, and the name "En Fuego" (Spanish for fire) is a nod to these players' hot hands.
The words En Fuego appear to be melting off the card on this mockup which aptly features the reigning Finals MVP.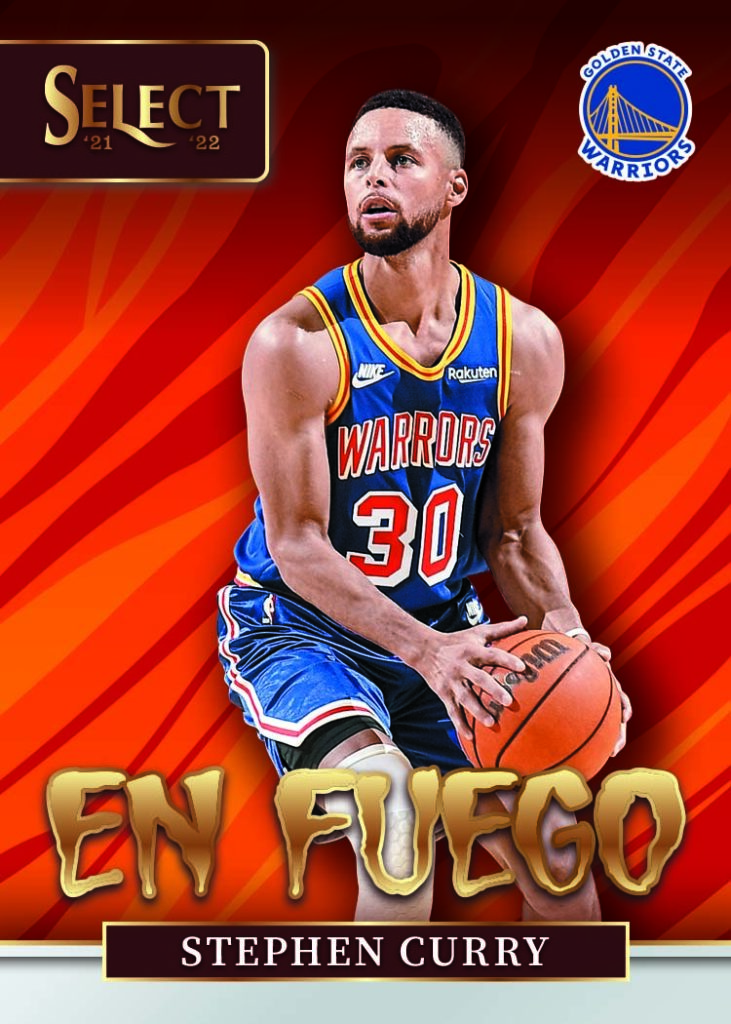 Select Future
As the name implies. Select Future sets its eyes on the rookie class. Historically this card has featured 30 of the top rookies. Parallels of Silver, Gold #/10, Black 1/1.
Look for Cade Cunningham, Jalen Green, Evan Mobley and Scottie Barnes to be amongst this year's most valuable rookies.
In Flight
In Flight is a perennial favorite among Select collectors that shows off the game's biggest leapers and most dramatic finishers.
The card features 30 players and has quite a few parallels such as: Neon Green #/99 or less, Neon Orange Pulsar FOTL #/30 or #/15, Tie-Dye #/25, Neon Purple Pulsar FOTL #/15 or #/10, Gold #/10, Black 1/1, Black Snake Skin Pulsar FOTL 1/1.
This mockup features a fully extended Anthony Edwards (or is it Kermit Wilts?) on a clean design that prominently features his auto.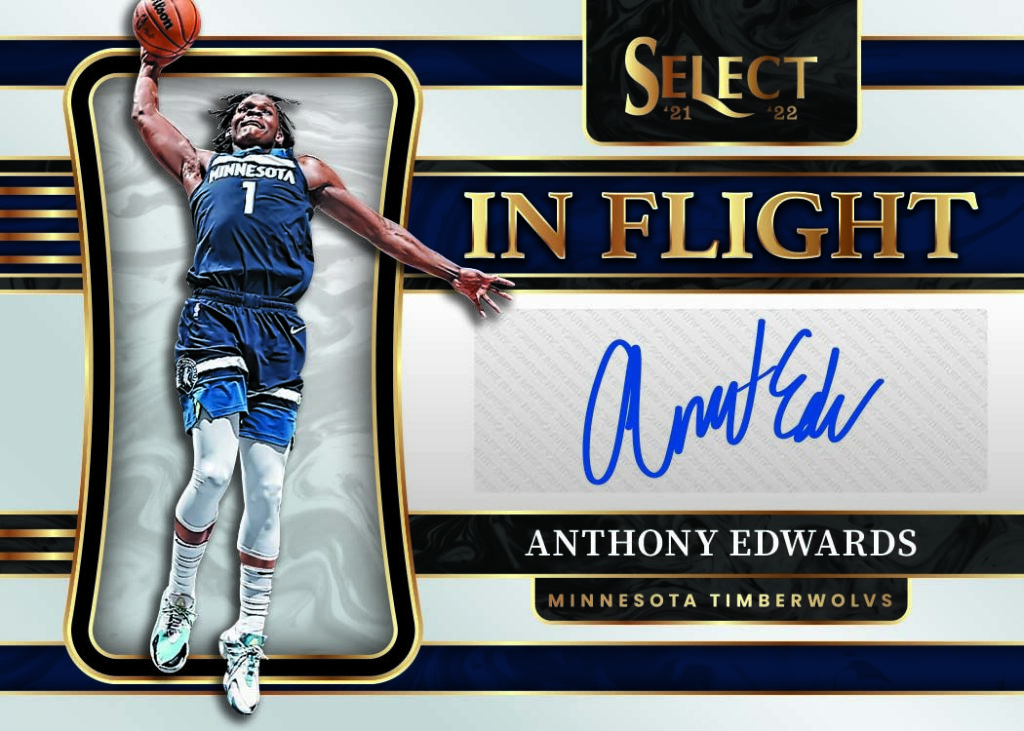 2021/22 Panini Select Basketball hobby box breakdown
21-22 Panini Select NBA will only be sold as a hobby box. The release date is September 23rd, and the pre-sale price has been hovering around $875.
Here's what each hobby box will contain:
5 cards per pack,
12 packs per box
60 cards total
And here's what Panini has released about the card breakdown inside:
3 Autos or Memorabilia Cards
12 Prizm Parallels
2021-22 Panini Select Basketball checklist info
As an unreleased product, we don't know exactly what the checklist of featured players will be. That said, last year's product should give us a decent idea of what will be included.
Base Cards
Last year's base set included:
These cards will either be "Association" or "Icon" editions.
Each of those cards were numbered to #99, and had to following parallels:
Holo Silver – #/35
Gold – #/10
Holo Gold – #/5
Platinum – 1/1
The Hits
This box includes 7 hits – 4 autos and 3 memorabilia cards. Some of those hits include:
Unstoppable
En Fuego
Select Future
Phenomenon
Check out the latest prices of 2021-2022 Panini Select Basketball on eBay
Investing in Panini Select Basketball 21/22
When investing in a sports card product you're making a bet. With a new release, you're betting that the product itself is going to be popular. With a fringe sport, you're betting that interest in the league is going to grow.
So, what are you betting on with an established product like Select in a popular sport like basketball?
The rookie class.
Every year we see the NBA products live and die by the demand for its rookies. In recent years we've seen this trend play out with the astronomical prices for '18-19 basketball products – a season that featured a rookie class headlined by stars like Luka Doncic, Trae Young, and Deandre Ayton.
This year's rookie class
There are a lot of reasons to be excited about this year's draft class. There were an unusually high number of instant impact rookies, as evidenced by the number of rookies who finished with positive win shares.
Guys like Evan Mobley and Scottie Barnes plugged right in as missing pieces, helping bump their respective teams from lottery dwellers to post-season teams in year 1.
High picks Cade Cunningham, Jalen Green, and Franz Wagner all showed superstar flashes. Even a few post-lottery players like Alperen Sengun, Bones Hyland, and Herb Jones seem to have all-star potential down the line.
Many around the league are viewing this as the deepest draft class since 2018, and still, there remains one glaring issue – the lack of a clear star.
Sure there were multiple rookies who have conceivable paths to being top 5 players in the league, but there's no one like Luka Doncic who stands out as an obvious star. Luka averaged 21/8/6 as a rookie; no one from this class was even close to that.
Don't get me wrong, I'm very high on the 21-22 NBA rookies, and I think the potential star power here makes this a good buy. But investing in this class means betting on one of these guys to break through and become a face of the league.
If they don't, all the depth in the world won't trump having a single Luka in your class.
Investing in 2021-22 Panini Select NBA basketball wax
Here's a chart with current retail prices on sealed Hobby Boxes of Select from the past 5 years:
A couple of things stand out:
1) Every year is selling for at least 20% more than the $875 that this year's product is going for. Some are obviously going for quite a bit more.
2) '18-'19 is a huge outlier. That's the Luka effect.
It's easy to look at this and think that all you need to do to turn a profit is buy a box, wait a few years, and sell it for an extra few hundred bucks. While that strategy has worked fairly well overall, in sports card investing, there's no such thing as a sure deal.
Unforeseen hurdles such as an industry-wide downturn or Panini over printing certain cards could cause this steady bet to falter.
That said, Select is a pretty safe bet because it's an established name and a sought-after product. More than likely your hobby box will be worth more in the coming years than it will be if you bought it now. Exactly how much more valuable? Well, that's for this year's rookies to decide.
Bottomline of 2021-22 Panini Select NBA Basketball
After a summer of silence, basketball fans can finally get ready to see 2021-22 Panini Select Basketball hit the shelves.
Select has been one of Panini's flagship NBA products for close to a decade, and while many don't view consider it as premier as Prizm, there are still a few reasons for basketball fans to consider Select over its competitors.
Select has lower print runs of valuable cards, and its three-tiered system (Concourse, Premier, and Courtside) adds additional layers of value within its base set.
The mock-ups look great, and Select's value has been going up year over year, making Select a great product for the collector and the investor alike.