2021 Absolute Football Review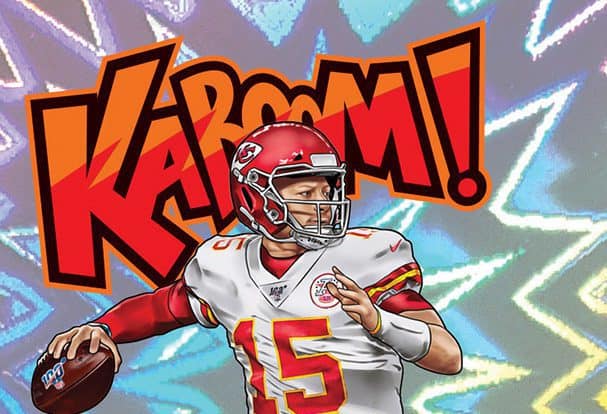 As we inch closer to the midway point of the 2021 NFL season, some of the more "classic" brands will begin coming out soon. The first of those is 2021 Absolute Football. While not as hyped as the optichrome cards, Absolute is a staple and has a big following. So let's dig into the 2021 Absolute Football review!
Looking for 2022 Absolute Football? Check out our review.
2021 Absolute Football General Information
Absolute has been a football brand for nearly thirty years. That means Absolute has had a remarkable run. How old is this brand? Tom Brady has an Absolute rookie card. Let that sink in.
The style, cards, and even parent company have changed over the years. However, Absolute has remained a consistently popular product.
All players are featured in their NFL uniform, vaulting it to the upper-echelon of football cards for the year, and the bright, colorful designs make Absolute a great product to buy.
The drawback?
A hobby box will cost you over $700 for 15 cards.
But if you're willing to take a chance, you'll be able to pick up a box on the release day of October 21.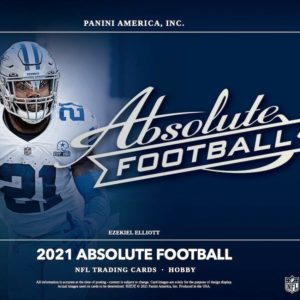 2021 Absolute Football Release Formats
This year's release will be hobby-only, and based on Panini's Absolute Product Information Sheet, it's just standard hobby boxes.
That means no blasters, jumbo boxes, hybrids, or even T-Mall boxes.
In other words, if you're looking to rip some Absolute, it's going to cost you big bucks.
2021 Absolute Football Expected Pulls
This year's Absolute Football is being released in cases of twelve boxes. Each box has three packs of five cards.
As far as box breaks go, you can expect to pull:
1 Rookie Premiere Auto
2 Memorabilia
2 Other Autos
1 Insert
2 Parallels
1 Kaboom and Explosive Per Case
The Kaboom! Cards are classes and can often be big money. They're flashy, superhero-style cards that collectors drool over. Don't miss our Kaboom! top ten list right here.
We don't know too much about the Explosive insert yet other than they're all-new and one per case, just like the Kaboom! It seems like Panini is trying to ride the success of the Kaboom with another SSP. Unfortunately, these don't look nearly as cool as Kaboom! cards. We'll see how the market reacts.
Checklist Info
Digging into the product itself uncovers an exciting checklist. Absolute features a 200-card set of all the hottest rookies, legends, and stars of the NFL, and while that may seem like a small checklist, keep in mind that you're only getting around 6 base cards per box.
Of course, the players to chase include Trevor Lawrence, Trey Lance, Mac Jones, Justin Fields, Zach Wilson (maybe?), Kyle Pitts, DeVonta Smith, JaMarr Chase, and the slew of talented rookies in this year's class, but there's also a pretty nice list of veteran autos you could hit in this product, too.
Inserts
Panini didn't take it lightly with the inserts, either. This product is loaded. You can pull sets like:
Introductions
By Storm
Unsung Heroes
Star Gazing
Red Zone
And there's a nice parallel set, too. Colors include:
Base Spectrum
Red Spectrum- #/100
Orange Spectrum- #/75
Blue Spectrum- #/50
Green Spectrum- #/25
Gold Spectrum- #/10
Purple Spectrum- #/5
Black Spectrum- 1/1
Printing Plates – 1/1
But, true to form for Absolute Football, the other big chase cards beyond Kaboom! will be the Rookie Premiere Materials Autograph, falling one per box.
We don't have a checklist quite yet, but these cards never fail to impress, with eye-catching patches and some beautiful designs.
The 2021 Panini Absolute Football Review Of Value
Finally, here's the big question:
Should you rip, sell, or pass with 2021 Panini Absolute Football?
To answer that, first, let's talk about the value of hobby boxes. How do they age?
Recent comps place the 2020 hobby boxes around $500. The 2019 release has resold for prices between $400 and $700. Those are not great prices considering the release price of the 2021 hobby. It is unlikely prices will hit the levels of the 2017 box because more people are holding them nowadays.
In fact, to find boxes that sell for more than the current $725 asking price of 2021 boxes, you'd have to go to 2017, which sells for $900.
If you're buying these to hold and resell, you better hope this is a legendary rookie class our you won't be making much profit for a long, long time.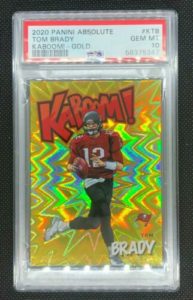 Single Value
So what about the singles?
Let's look at Justin Herbert's rookie cards from last year. Herbert is hands-down the best rookie from 2020 and one of the best we've seen over the last decade.
His base 2020 Absolute rookie cards sell for… $10. But, to be fair, the market was flooded with Absolute blaster boxes last year, which significantly watered down the value of base rookies.
Turning to the hobby-exclusive Herbert autographs from last year, here's what we find.
Rookie Premier Triple Jersey Auto /149: Sold for $505
Auto Red Spectrum /50: Sold for $805
Rookie Premier Triple Patch Auto /99: Sold for $748
The lesson? Pulling the equivalent to any of these cards is almost best-case for a box of Absolute football, and they still barely sell for more than the box itself. Unless you luck out with a Kaboom (Herbert sells for north of $2,000), you're not going to make much money ripping this product, either.
If I were to put a number on it, I'd guess you'll lose money about 9 out of 10 boxes.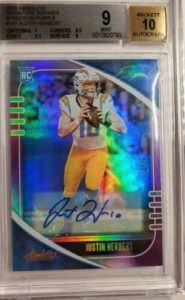 2021 Absolute Football Review: Rip, Flip, or Pass?
The cards look great, and the deep rookie class makes for an appealing checklist. Unfortunately, the release price of Absolute makes it too expensive to expect significant returns.
The boxes don't age well enough to flip down the road, the hits aren't valuable enough to justify ripping a box if you're trying to make a profit, so the answer is: Pass.
That said, the key phrase was "if you're trying to make a profit." If you're ripping a box for the rush or your love of collecting, go for it. Do not take this to mean you should stay away from the product altogether—simply stay away if you're solely trying to make a profit.