Your Full Panini Kaboom Insert Guide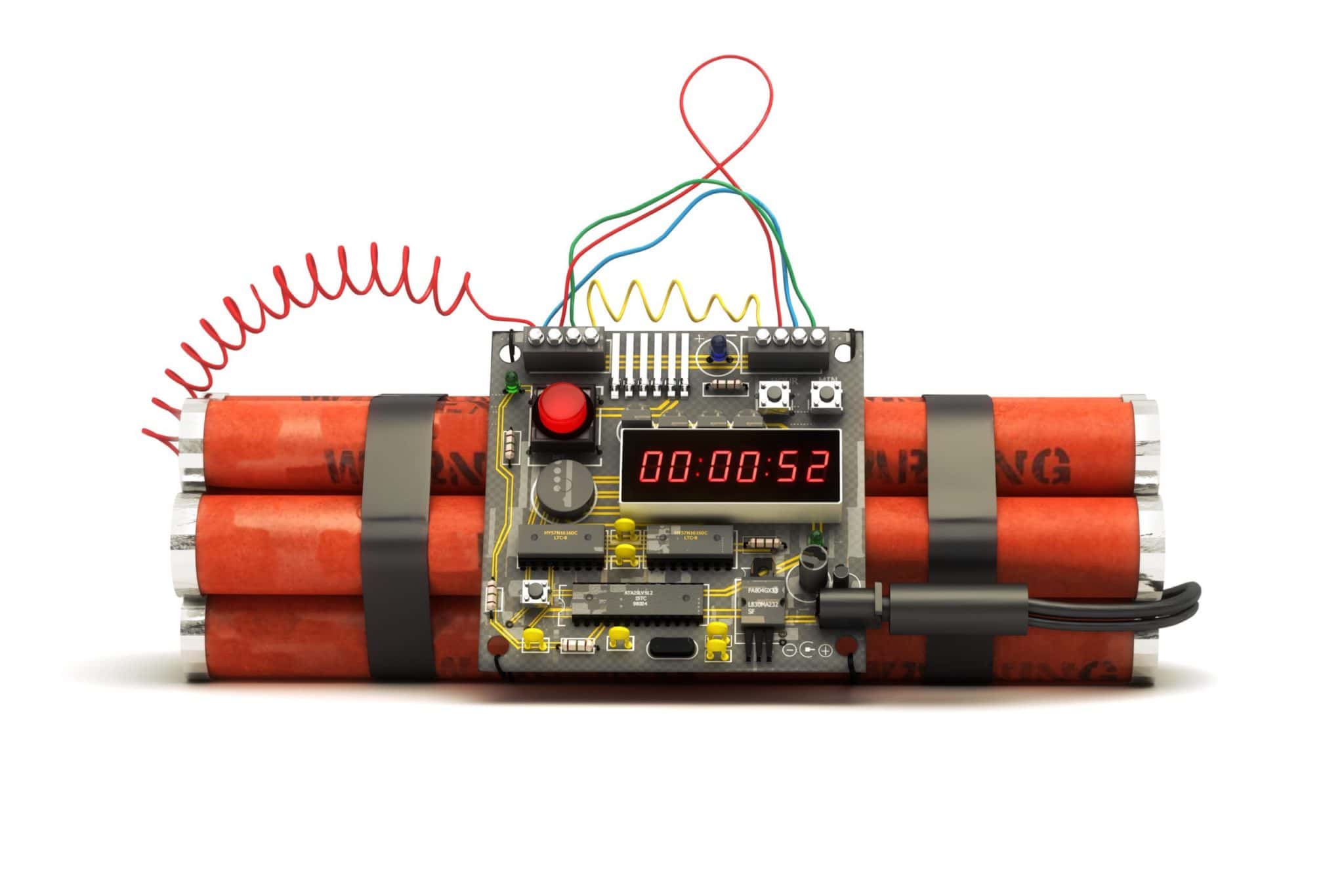 If you hit one of these cards, there's only one thing you can say: "Kaboom!" With that in mind, here is your full Panini Kaboom insert guide.
But that's the draw of the Kaboom insert, which is one of the most iconic case hits that Panini has ever created. In today's article, we'll be taking a look at what makes a Kaboom special, how to get one, and which ones you should chase.
Panini Kaboom Insert Guide To Its Uniqueness
Kaboom cards are everything collectors love: explosive shiny foil, eye-catching appeal, and art that turns our favorite athletes into comic-worthy superheroes.
When you consider all the factors that come together to make the cards unique, it's obvious why so many collectors love them.
Kaboom cards are also a testament to Panini's ability to continue to expand card offerings and value in ways that don't include autographs and relics. Kaboom cards are less personal than many "hits," yet they're still cherished and chased by so many.
How rare is a Kaboom?
Want to pull a Kaboom? Yeah, you and me both. Unfortunately, it's not quite as easy as you'd hope.
Kaboom cards have appeared in several iterations, but they're typically the case hit for the product, so pulling them takes either luck or making a big payment.
For example, in basketball cards, the last few years of Kaboom cards came in Crown Royale. As of right now, the Crown Royale 2019-20 hobby boxes are running about $750/box, or you can check live eBay pricing here.
Find prices for Kaboom cards on eBay
As I said, they're not easy pulls.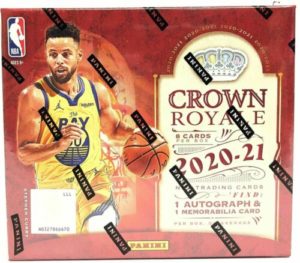 Are there other cards like a Kaboom?
While Kaboom cards might be the most popular of Panini's case hits, there are a couple of other cards like the Kaboom that collectors drool over.
These would be the Colorblast, typically found in Prizm and Obsidian, and the Downtown insert, which has appeared in a wide variety of products sporting college and professional uniforms. If a Kaboom is out of your price range, consider looking into either of these popular inserts.
Downtown, mainly, are a bit easier to pull than Kaboom, and while that makes them less rare, it also makes them more collectible.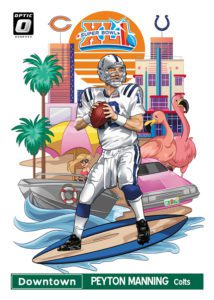 Panini Kaboom Insert Guide To Where To Pull Them
If you're trying to pull Kaboom cards, you'll need to know where to look. Unfortunately, there's no short answer since Kabooms have found different homes based on sport and product over the years.
Here's a master list of what products have Kabooms each year:
Basketball:
2017-18: Panini Rewards Exclusive
Football:
Baseball:
Panini Kaboom Insert Guide To The Top 10 Inserts
Now that you have the master's list and are ready to start your Kaboom hunt, here's my ranking of the Top 10 Kaboom cards to own. Remember, these are very rare cards, so any of these top ten will cost a pretty penny to acquire.
Keep in mind that while there are some very cool baseball Kabooms, they did not make the list. This is because unlicensed Kabooms don't have the same cache as the licensed ones.
Honorable Mentions:
10) 2019-20 Ja Morant Rookie
The rookies who land on a Kaboom card have a significant advantage, at least in terms of value. This is one of Ja's SSP rookie cards. Given his dynamic skills on the court and the energy he brings to every game, this card should have a long time to increase in value as Morant collects more accolades.
Shop for Ja Morant rookie Kaboom cards on eBay
9) 2019-20 Kobe Bryant
This card's appeal—and tribute—is closely tied to the fact that it was released just a short time after Kobe's tragic passing. If you're lucky enough ever to hold this Kaboom in your hand, you'll feel Kobe's winning attitude and his passion radiating from the powerful, fist-pumping pose.
Shop for 2019-20 Kobe Bryant Kaboom cards on eBay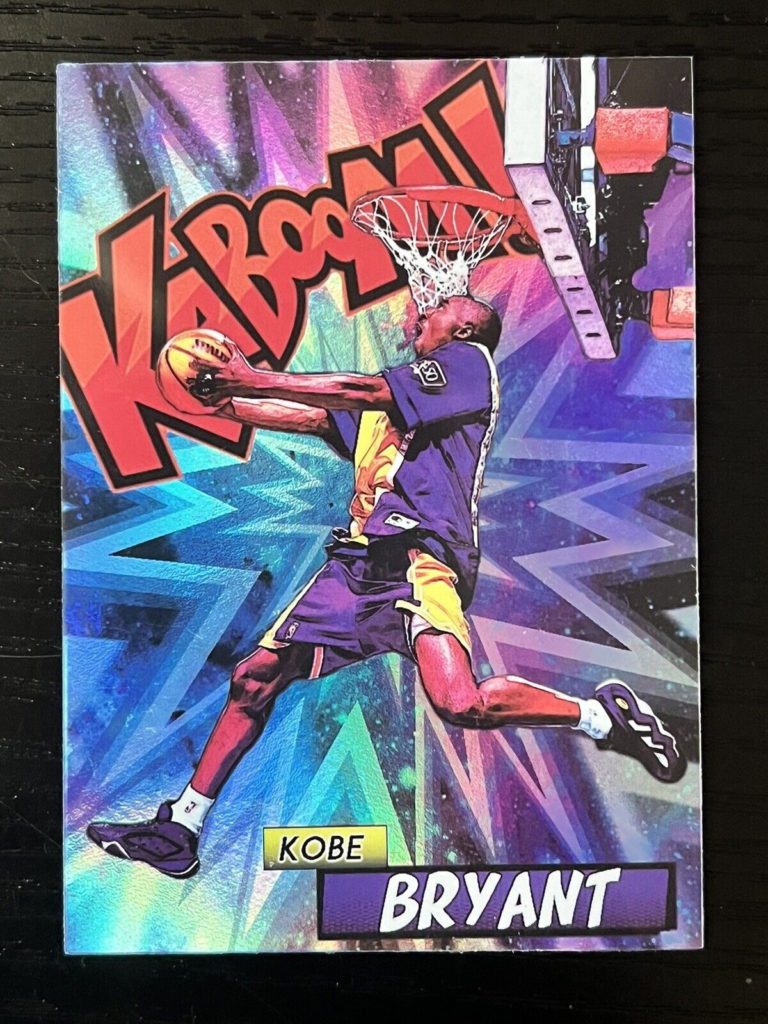 8) 2017 Cristiano Ronaldo
This is the only soccer card in the top ten on my list. It has two things going for it: it's the first year of soccer Kabooms, and it's Ronaldo. A classic combination.
Shop for 2017-19 Ronaldo Kaboom cards on eBay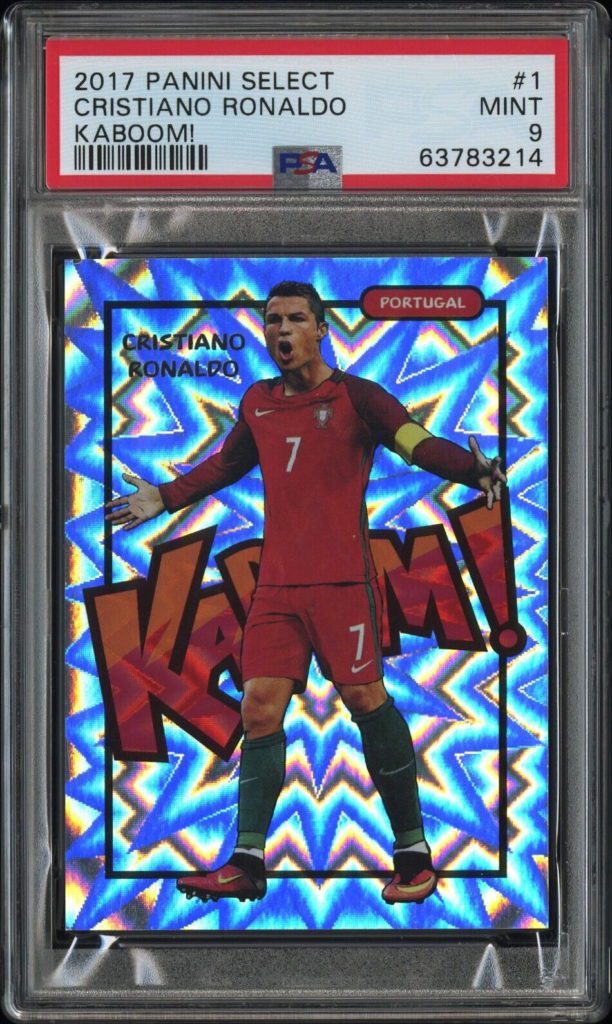 7) 2020-21 LaMelo Ball Rookie
The LaMelo is the most recent card on the list, and every year Panini seems to perfect the design a little more. The LaMelo rookie is an excellent blend of realism and cartoon design, while the background is truly explosive. Melo is a young buck in the league, but his future is undeniably bright.
Shop for 2020-21 Lamelo Ball rookie card Kaboom cards on eBay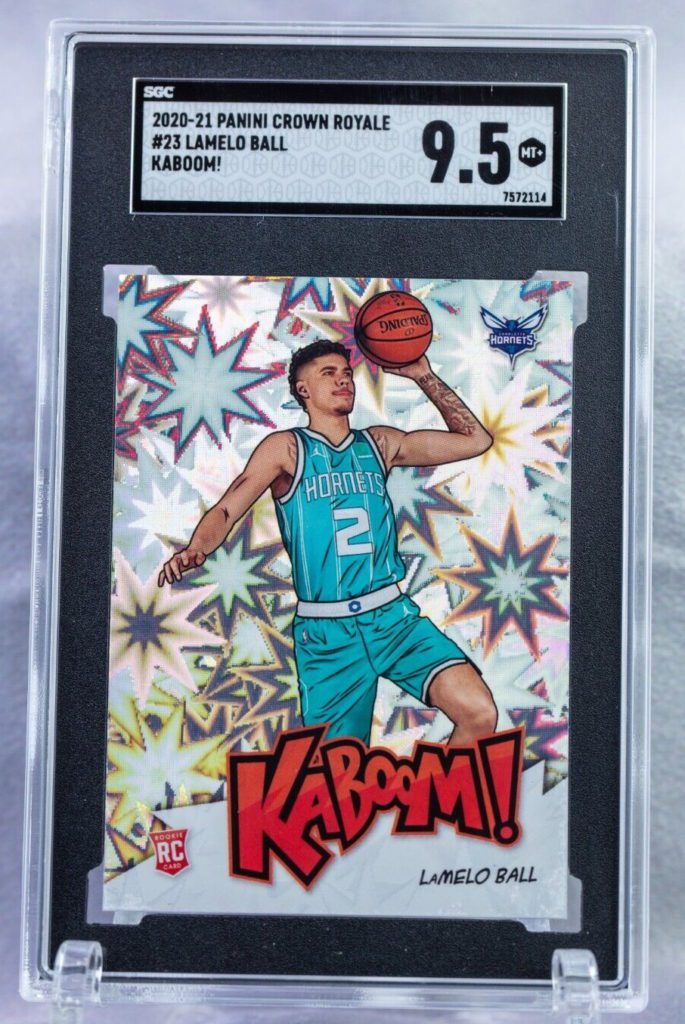 6) 2018 Patrick Mahomes
Baby Goat. 1st Year Football Kaboom. No further explanation is needed.
Shop for 2018 Patrick Mahomes Kaboom cards on eBay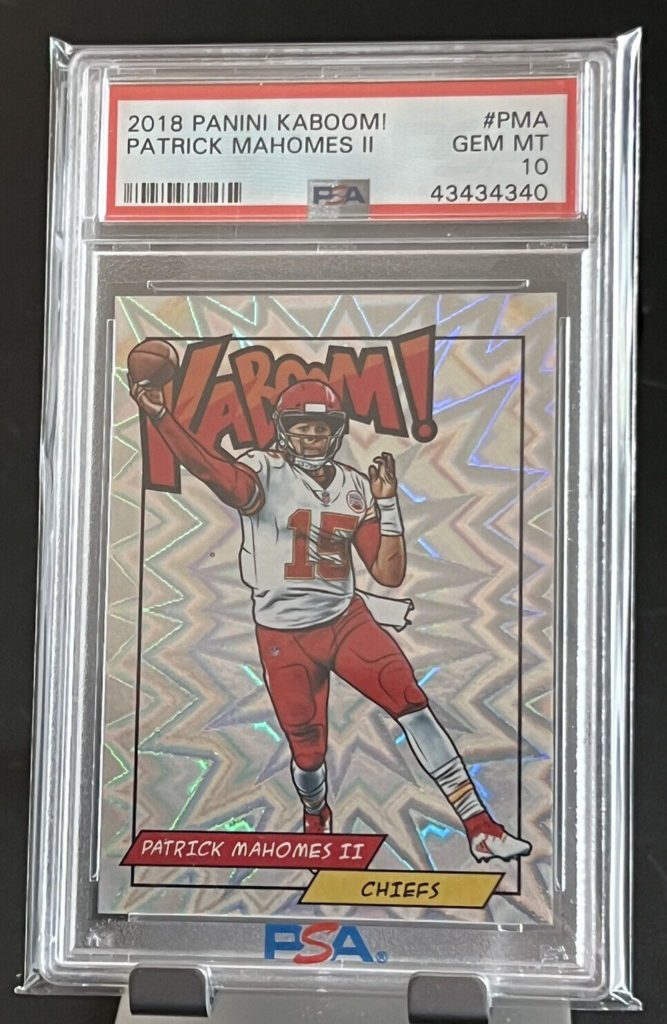 5) 2018 Kaboom Tom Brady
The Goat. 1st Year Football Kaboom. Wait, didn't we just…
Shop for 2018 Tom Brady Kaboom cards on eBay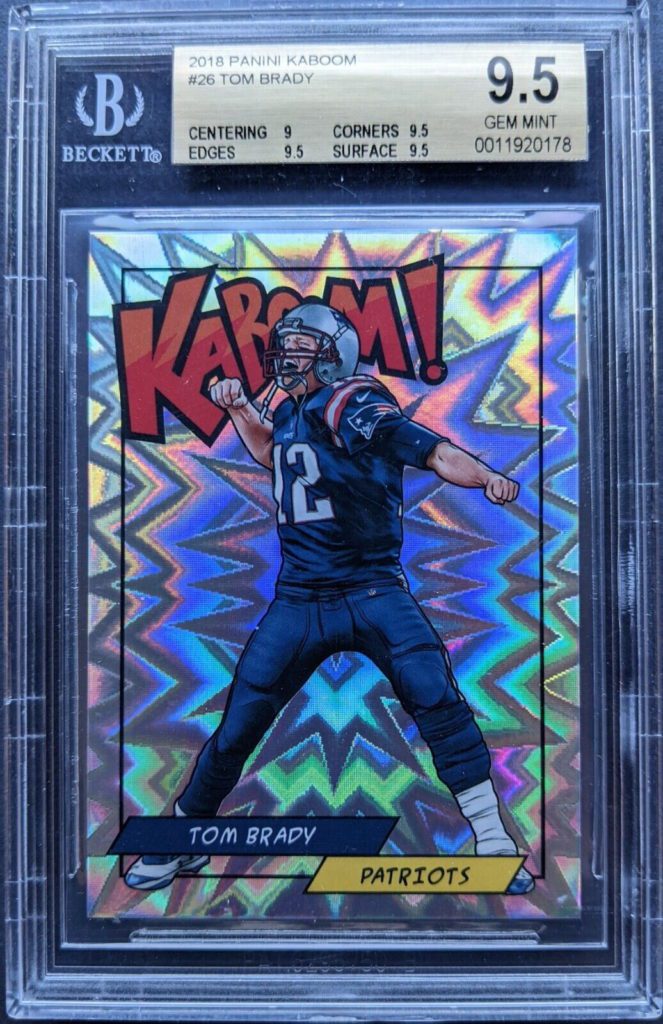 4) 2018-19 LeBron James
Any LeBron Kaboom is a treasure for a collection, but 2018-19 is particularly iconic because it commemorates LeBron's first year in LA. It might have been his worst season ever, but history will be more likely to remember the importance of the move to Los Angeles.
Shop for 2018-19 LeBron James Kaboom cards on eBay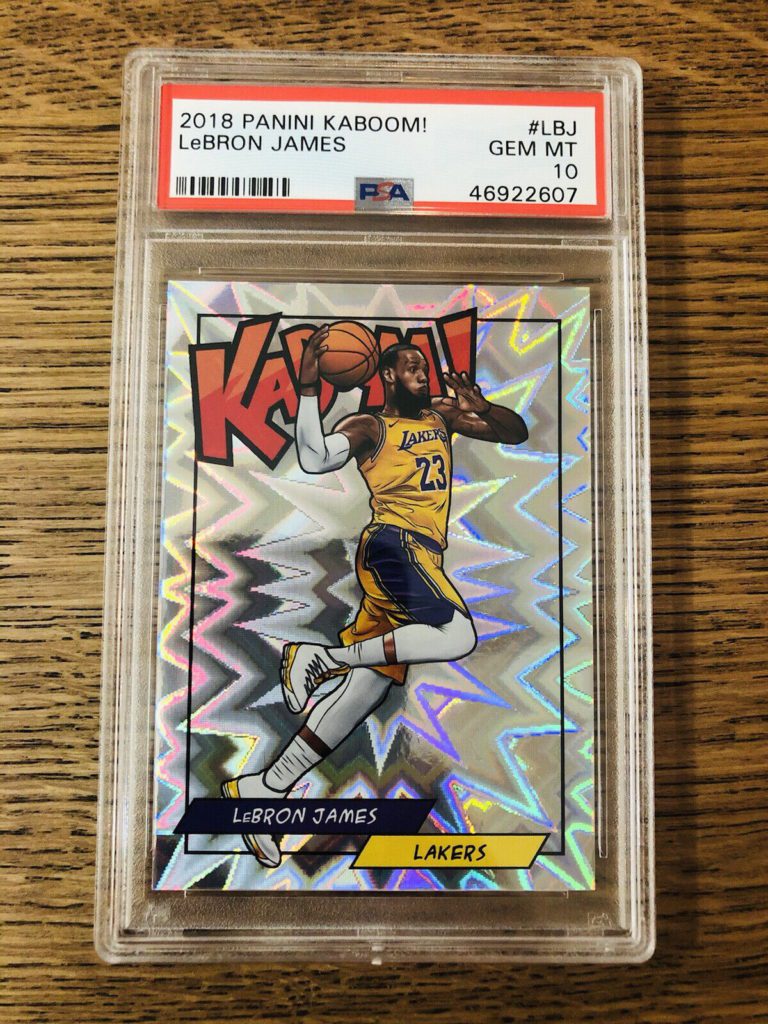 3) 2019-20 Zion Williamson Rookie
Zion is arguably the second-best rookie to grace a Kaboom card, which translates to #3 overall. Unfortunately, it also translates to comps around $12,000 for a PSA 10, so be prepared to spend a lot of money if you want to add this card to your collection.
Shop for 2019-20 Zion Williamson Kaboom cards on eBay
2) 2013-14 LeBron James
There are other lists about what Kaboom cards you should buy, and this card didn't land a Top-10 Placement from the Beckett List. That said, I'll tell you why that's crazy to me: this is the FIRST Kaboom card ever, making it a timeless piece of modern collecting.
The design has admittedly come a long way over the years, and LeBron does look like a cartoon on this particular card, but this Heat/villain LeBron card might end up being his most iconic from his time in Miami.
Collectors will eventually catch on to this as the inaugural Kaboom card, just as 2012 Prizm has seen a price rise. Or, maybe they already have, considering the PSA 10 version of this card has over 50 watchers at $150,000 (August 2021).
Shop for 2013-14 Lebron James Kaboom cards on eBay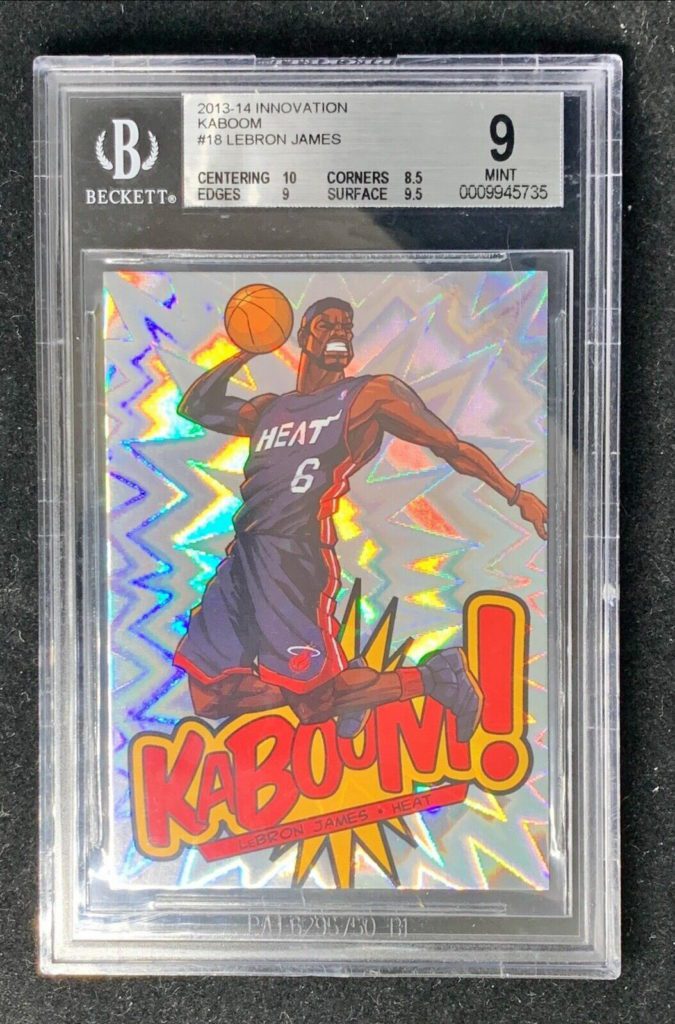 1) 2018-19 Luka Doncic Rookie
Luka has the potential to end up as one of the top-5 players of all time, and that might be a conservative statement. This Kaboom card is one of his most iconic rookies ever, and it's such a tough pull that there are no eBay comps at the time of writing this article.
The only two of these cards on eBay ask for over $25K, and neither one is a PSA 10. If you get lucky enough to come across this card, it is one of the best Luka rookies ever.
Shop for 2018-19 Luka Doncic Kaboom rookie cards on eBay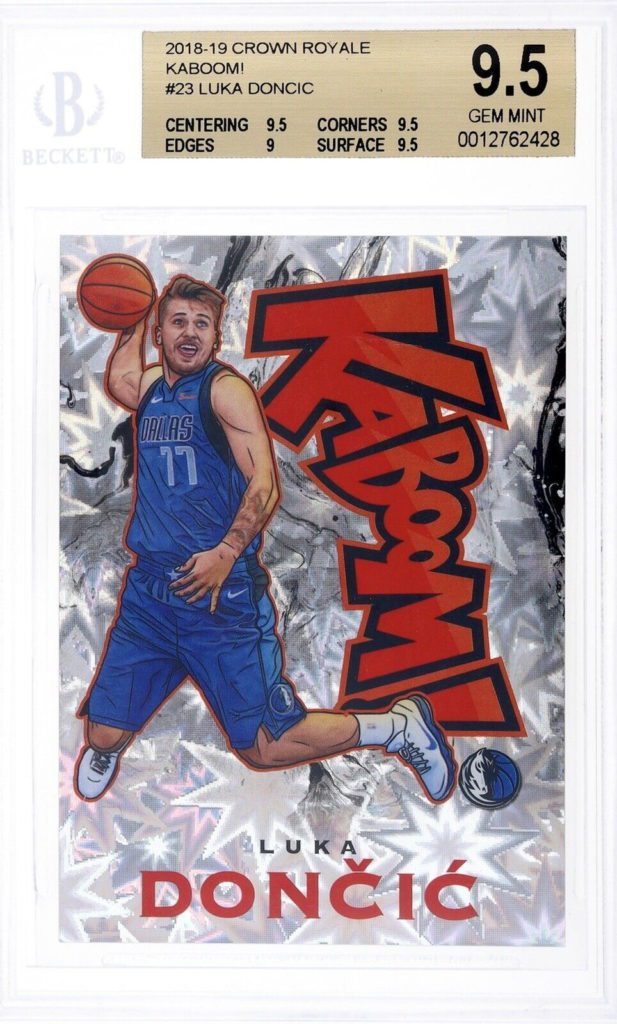 Panini Kaboom Insert guide to pop numbers
As we know, one of the best indications of future card value is its population. The pop numbers confirm what we already know. Panini is not lying when they say Kaboom cards are rare. When you buy or pull one, you are guaranteed to have a card with under a 100 pop and, in some cases, well below 50.
| | | | |
| --- | --- | --- | --- |
| Card | PSA 9 | PSA 10 | Total Pop |
| 2018-2019 Luka Doncic | 1 | 5 | 7 |
| 2013-2014 LeBron James | 19 | 10 | 52 |
| 2019-20 Zion Williamson | 9 | 10 | 20 |
| 2018-19 LeBron James | 35 | 17 | 63 |
| 2018 Tom Brady | 25 | 32 | 64 |
| 2018 Patrick Mahomes | 35 | 36 | 75 |
| 2020-21 LaMelo Ball | 10 | 26 | 43 |
| 2017-18 Cristiano Ronaldo | 23 | 9 | 40 |
| 2019-20 Kobe Bryant | 11 | 5 | 20 |
| 2019-20 Ja Morant | 10 | 17 | 33 |
Final thoughts on Panini Kaboom Inserts
It is hard to know which cards are likely to hold up or increase value. There are severe problems of overproduction and over grading. However, the Kaboom cards are a safe bet. They have become iconic, are highly sought after, and are pretty rare.