How The 2023 Super Bowl Could Dramatically Impact Some Football Cards
The Super Bowl 57 is finally upon us! The matchup is set between the Kansas City Chitefs and the Philadelphia Eagles, and collectors have plenty of reasons to get excited.
In this article, we'll look at all things Super Bowl: how it impacts cards, the best storylines to watch for, products to invest in, and more!
Shop for Patrick Mahomes rookie cards on eBay
The Super Bowl's Impact on Sports Cards
How much does a Super Bowl matter for cards?
Winning the Super Bowl is the single-biggest value boost for a player's cards over the course of the NFL season. It's even bigger than winning an MVP, although you can argue the value impact of an MVP season compounds more gradually than becoming an overnight champion.
We've written about this before, but the value of a card can double (or more) in price between the offseason and playoffs. Going one step further – winning the Super Bowl – will push the card to the next level. It's safe to estimate that the winning quarterback, either Patrick Mahomes or Jalen Hurts, will see their value increase 15% by end of game.
Shop for Patrick Mahomes rookie cards on eBay
But also note that these prices won't last forever.
I'd argue that right before the Super Bowl is actually the worst time to buy cards of the players in the big game. One team will lose and the value of their cards will drop off overnight.
The other team will win, experience a brief spike, and then prices will begin to trickle back down as the offseason approaches, the football world resets, and we begin looking forward to next year.
Prior to the AFC championship, this Joe Burrow Donruss PSA 10 rookie sold for $187 as an auction. After Burow and the Bengals lost, the card sold for $125 just two days later. That's nearly a 33% drop.
The Super Bowl will definitely impact cards, but let it impact cards you already own – not cards you're buying this week.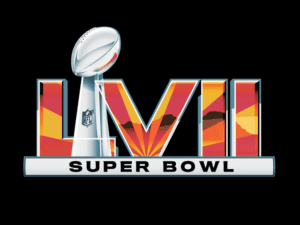 Best sports card storylines for the Super Bowl
Here are a few storylines that collectors can get excited about as the Super Bowl draws near. Let's see how they play out!
Shop for Patrick Mahomes rookie cards on eBay
Brock Purdy investors had perhaps the best outcome
The NFL championship game was a letdown. It wasn't fun to watch the Eagles blow out the 49ers, especially with Brock Purdy going down early (and not being able to throw later).
While we all felt bad for the rookie sensation, Purdy investors are in what is almost uncharted territory thanks to his injury: technically, Purdy hasn't ever lost a game in his NFL career. For now, he's frozen in a weird post-season limbo.
I predicted in our CardLines newsletter that the Eagles would win by 2 scores, and they very well could have done with Purdy playing. But since he didn't, his collectors will always have that caveat.
Get well soon, Brock!
Shop for Brock Purdy rookie cards on eBay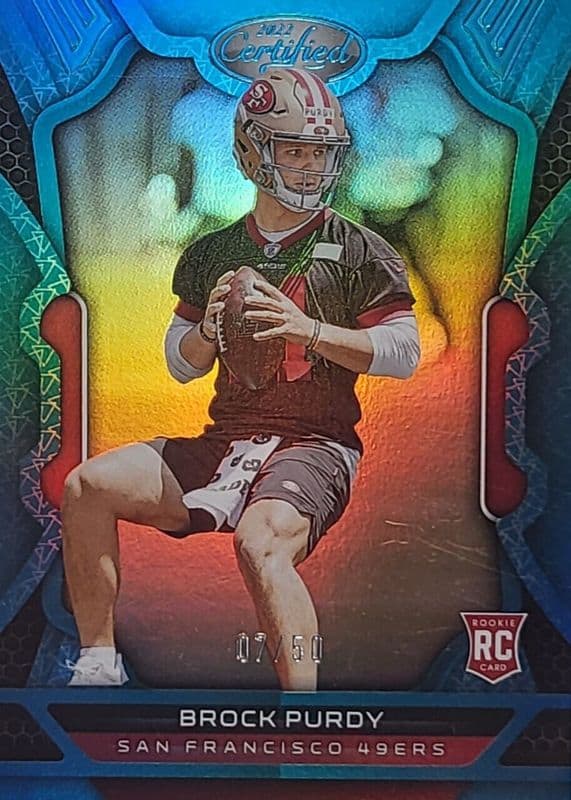 Will Jalen Hurts see a value surge?
Jalen Hurts is due for a value surge. Hurts has arguably been the best player in the NFL this year, but he still isn't getting as much hobby love.
For example, a Burrow Mosaic PSA 10 recently sold for $500 and the same card for Hurts sold for $300. Hurts is still underpriced, and perhaps that will catch up if he wins a Super Bowl.
Shop for Jalen Hurts rookie cards on eBay
A battle of two injured quarterbacks
It's hard to predict player health, even for the best analysts (and teams keep this understandably close to the vest). We're going into a Super Bowl where both players are not 100%.
Hurts missed two games to end the regular season with his injured shoulder, and Mahomes probably should have missed two or three games with a high ankle sprain.
As we draw near the big game, it's going to be interesting to see what two weeks' time does for both players and their road to recovery.
Rookies worth investing in.
For sports card collectors, there aren't too many rookies of note in this year's Super Bowl. I only recommend investing in skills players – and usually only quarterbacks, at that – so it's pretty limited.
Isiah Pacheco is hands-down the obvious choice. This first-year running back has cards in Donruss Elite and XR, mainly, but they're selling well because they're limited.
Shop for Isiah Pacheco rookie cards on eBay
His impact was minimal in the AFC championship, but Pacheco runs hard and could be the runningback the Chiefs have so desperately needed.
The other sneaky-impact rookie is Sky Moore. Moore was drafted with higher hopes but struggled to find his footing early in the season.
That said, injuries to Chiefs receivers in the AFC Championship helped him find the field for a punt return that helped set up the game-winning field goal. If Moore gets Super Bowl action, he could make an impact.
Shop for Sky Moore rookie cards on eBay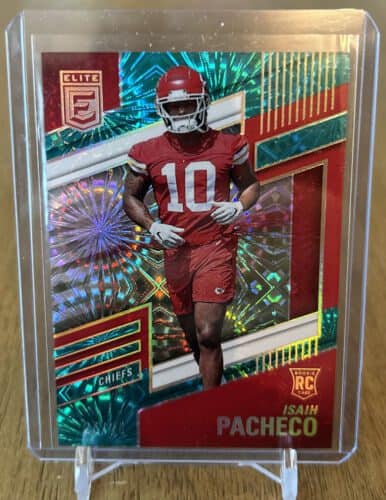 How much do receivers matter?
The Chiefs and Eagles couldn't be more different here. The Eagles drafted a Heisman-winning receiver in the first round in 2020 and then traded for AJ Brown, a top-5 receiver, before this season.
The Chiefs traded away their best receiver this offseason and trusted Mahomes' greatness. The path worked for both teams, but the contradiction is jarring nonetheless.
Players with the most to gain/lose at the Super Bowl

Jalen Hurts
Hurts is not the headliner here, but I'm listing him first because he stands to gain the most in the Super Bowl.
After punching his Super Bowl ticket, Hurt's 2020 Optic Holo PSA 10 rookie sold for $337. On the same day, the same Mahomes rookie sold for $2,299.
Yes, there are a lot of factors involved in this price disparity. Mahomes has proven his greatness over and over while Hurts is the new kid on the block. 2020 has a lot more optichrome rookie options and higher print runs.
But still, Hurts still seems undervalued, comparatively – especially quarterbacking a young team with many of its major pieces signed to long-term deals.
Shop for Jalen Hurts rookie cards on eBay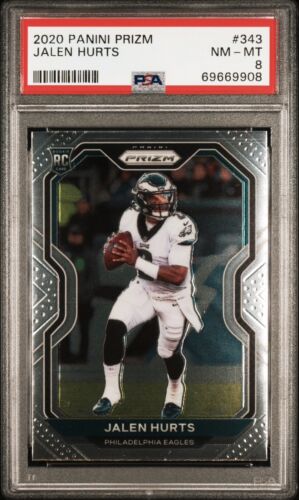 Patrick Mahomes
Mahomes is the best. Before the season started, I wrote an article comparing the value of his cards to many of his peers and building a case that he was overvalued compared to Josh Allen, Joe Burrow, Lamar Jackson, and more.
I take it all back.
His cards are more expensive than his peers because he's on a whole different level and there's nobody that can touch him in the league right now. He just had his best season ever after parting ways with Tyreek Hill. Then, on one leg, he beat Joe Burrow in the AFC Championship game.
Mahomes could add to his already staggering legacy with a Super Bowl win, boosting his value even higher, but his cards are already so valuable that the ceiling isn't quite as high as it is for Hurts.
Shop for Patrick Mahomes rookie cards on eBay
Travis Kelce
Travis Kelce probably deserves more love. Yes, he's a tight end, and tight-end cards don't get much value.
And yes, his Topps Chrome rookie card looks like somebody at Topps said, "Travis, man, we forgot to get a pic so could you go snap one in your backyard? Doesn't matter what you're wearing or doing."
But still, Kelce has been one of the best pass-catchers in the league over the last 5+ years regardless of position, and his decade-old rookie card should carry more value. Perhaps a monster Super Bowl performance is what it takes to get there.
Shop for Travis Kelce rookie cards on eBay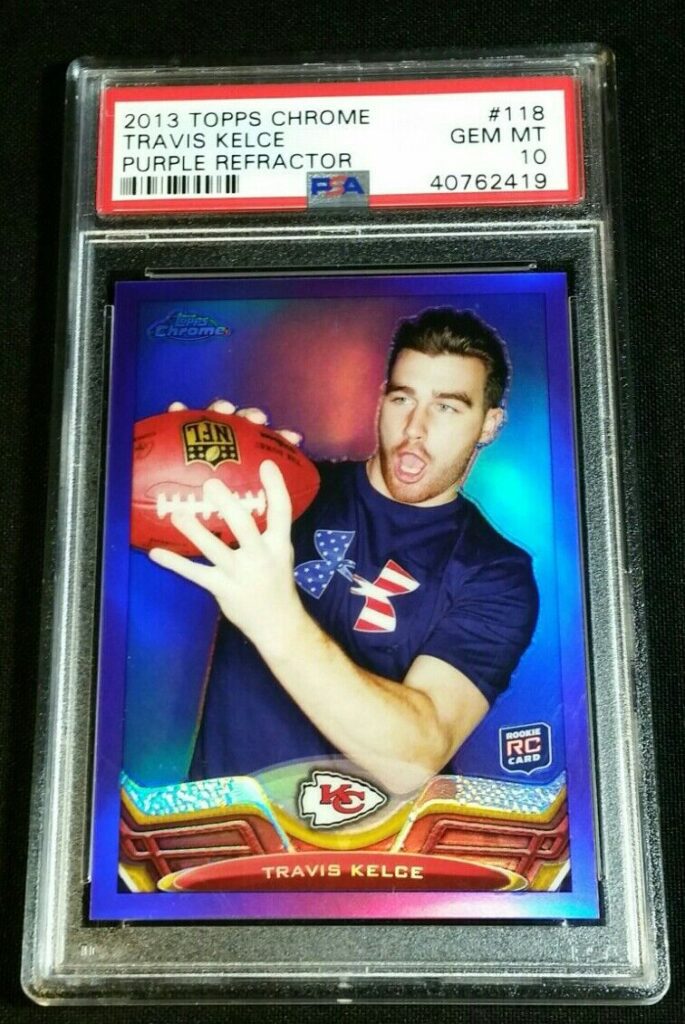 AJ Brown
AJ Brown is the poster boy for the argument that a superstar receiver can change a franchise. He's by far the most noteworthy addition to the Eagles this season, and unlike the Raiders and Davante Adams, this acquisition made the Eagles contenders.
If the Eagles win the Super Bowl, Brown has to play a huge part in it.
Shop for AJ Brown rookie cards on eBay
Top 5 Products to Invest in With Super Bowl Stars
If you're looking to invest in sealed products containing this year's Super Bowl stars, here's our Top 5 product countdown. But, as mentioned earlier, now is probably not the time to buy. Put these on your radar for this off-season!
5) 2017 Donruss/2020 Donruss
I wasn't sure which one to put here… so I put both years. Donruss made a lot of strides between 2017 and 2020, but either way, this is a great product for investing without spending thousands of dollars.
Shop for 2017 Donruss Football boxes on eBay
Shop for 2020 Donruss Football boxes on eBay

4) 2020 Optic
Optic 2020 is the lower-priced version of Prizm: lots of great cards and high-ceiling potential but at only half the cost. If you're not looking to go too all-in, this could be a great product at a reasonable price.
Shop for 2020 Opic Football boxes on eBay
3) 2017 Optic
If you're not looking to pay thousands of dollars for 2017 Prizm, perhaps you'd rather pay thousands of dollars for 2017 Optic. Joking aside, 2017 Optic is a great long-term hold at about half the entry price as Prizm. These boxes are asking about $3500.
Shop for 2017 Optic Football boxes on eBay
2) 2020 Prizm
2020 Prizm was the dawn of what, at some point, we'll probably look back on and consider a mass overprinting, but it still didn't get overprinted nearly as badly as the following Prizm sets.
And this box has a deep rookie class: Hurts, Burrow, Herbert, Justin Jefferson, and more. The overall strength of the class gives it great long-term value.
Shop for 2020 Prizm Football boxes on eBay
1) 2017 Prizm
The Silver Prizm is Mahomes' best rookie card and this is the product where you'll pull them.
The one chink in 2017 Prizm's armor is that this is the year that all rookies were silver (along with 2016), but that still hasn't kept the value of Mahomes down, either. These boxes are going for about $7,000.
Shop for 2017 Prizm Football boxes on eBay.
What are you most excited about for the Super Bowl?
We're all excited about the Super Bowl and what it means for sports cards! Let us know what you're most excited about on Twitter @card_lines, and subscribe to our free newsletter right here. Twice a week, we're bringing exclusive hobby news, offers and tips straight to your inbox.