An Analysis Of BGS 9.5 Vs PSA 10 + How Cards Get The Elusive BGS 10 Grade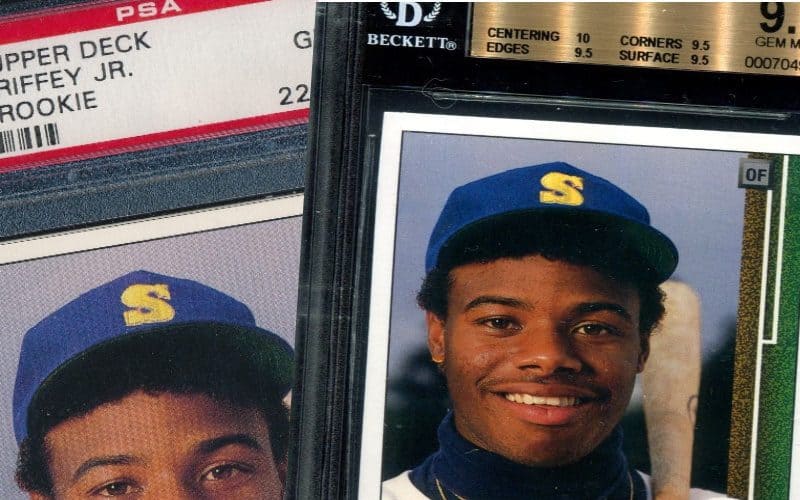 There's little difference in value between cards graded PSA 1 up to PSA 6. However, the condition is a big deal for collectors when it comes to higher grades (PSA 8 and above). At this level, your card's grade can be the difference between making a fair profit or making a fortune — an extra 0.5 score can bump your card value by thousands of dollars.
This can be seen in literally any card value comparison with a notable card. One example is the 1993 Upper Deck SP Derek Jeter card. While a PSA 9 costs around $3,000, a PSA 10 is valued at over $90,000.
In theory, grades from the two giant grading companies in the hobby PSA and BGS typically align. Indeed, some people will argue that they do. However, when it comes to value, that isn't the case. This article shall consider one of the most popular grading disparities, BGS 9.5 vs. PSA 10.
While the condition of a BGS 9.5 and a PSA 10 card might be similar, both grades are far apart. There's a vast difference in value and collectors' sentiment towards both card grades. In non-specialists' terms, 10 is a perfect score and thus much better than a 9.5. However, the explanation behind this is much more complex.

To correctly grasp this, we must understand how both companies grade their cards.
BGS 9.5
Beckett uses a unique algorithm to determine the grade of your card. This algorithm allows for sub-grades so that cards can receive grades of 1.5, 2.5, etc. They provide sub-grades for four aspects of your trading cards and grade each of these aspects over 10 grades
These aspects are corners, surface, edges, and centering. Dinged corners, scratches, and centering issues take points off the total grades. Each of these gets a grade, and the overall grade is then awarded.
Once all four characteristics aspect has been considered and graded, a final grade is then awarded on a scale of 1-10:
| Grade | Condition |
| --- | --- |
| 1 | Poor |
| 1.5 | Fair |
| 2 | G (Good) |
| 2.5 | G+ |
| 3 | VG (Very Good) |
| 3.5 | VG+ |
| 4 | VG-EV (Very Good-Excellent) |
| 4.5 | VG-EX+ |
| 5 | EX (Excellent) |
| 5.5 | EX+ |
| 6 | EX-NM (Excellent-Near Mint) |
| 6.5 | EX-NM+ |
| 7 | Near Mint |
| 7.5 | Near Mint+ |
| 8 | Near Mint-Mint |
| 8.5 | Near Mint-Mint+ |
| 9 | Mint |
| 9.5 | Gem Mint |
| 10 | Pristine (also known as BGS Black Label Pristine) |
However, this overall numerical grade isn't simply the average of the four. Let's consider an example of a card with the following subgrades.
Corners = 9.5
Surface = 8
Edges = 9
Centering = 9.5
This card would get a final grade of 8.5. Even if its surface was graded an 8, the 9.5 grades on corners and centering are strong enough to push its overall grade to an 8.5 level.
According to Beckett, the final grade rarely, if ever, exceeds two levels above the lowest sub-aspects grades. If a card has a ten on three aspects but gets a six on its corners, the final grade would likely be lower than an 8.
BGS 9.5 Gem Mint and BGS 9.5 True Gem Mint
Depending on the sub aspects grades, your card will get a BGS 9.5 grading if it scores anything from 91 – 96. Here are the three combinations that can give your card a BGS 9.5 grade.
91 – 92 = 9.5, 9.5, 9.5, 9.0
93 – 94 = 10.0, 9.5, 9.5, 9.0
95 – 96 = 10.0, 10.0, 9.5, 9.5
A BGS True Gem Mint scores at least 9.5 on all sub-grades, while a BGS Gem Mint has a 9.0 score on a sub-grade. In the Beckett score points, a BGS True Gem Mint are cards with a 95-96 score, while a Gem Mint scored between 91 – 94.
PSA 10
Since its inception in 1991, PSA has been a trusted trading card grading company. With over 60 million cards graded, and a standard that hasn't changed over time, it remains the most reputable name for card grading. PSA overlays its 10-point grading system with six qualifiers attributes which range from printing to general wear issues.

Unlike BGS, which has over 19 possible grades (counting subgrades), only 10 possible PSA grades exist.
| Grade | Condition |
| --- | --- |
| 1 | PR (Poor) |
| 2 | Good (Good) |
| 3 | VG (Very Good) |
| 4 | VG-EX (Very Good or Excellent) |
| 5 | EX (Excellent) |
| 6 | EX-MT (Excellent or Mint) |
| 7 | NM (Near Mint) |
| 8 | NM-MT (Near Mint or Mint) |
| 9 | MINT (MINT) |
| 10 | GEM-MT (Gem Mint) |
PSA considers four factors when grading the card, the centering, corners, surface, and edges. Off-centered cards or cards with frayed corners and scratched surfaces will get low grades. A PSA 10 cards rank anywhere from 91 – 100.
BGS 9.5 Vs PSA 10
While both grading companies grade cards using the same factors, PSA allows a greater leeway. A card graded a PSA 10 must have fallen anywhere on the 91 – 100 grade level. A card with a 92 score would receive a PSA 10 grade the same way a card with a 99 score would.
As a buyer, you have no idea if your PSA 10 card scored a 100 or a 91. However, Beckett revises this by introducing the BGS 9.5 subgrade. Cards that score 91 – 96 are graded 9.5 rather than a 10 the way PSA would.
While cards rated a BGS 10 are clear of PSA 10 cards regarding the value, there's been a bit of controversy concerning the value of PSA 10 vs. BGS 9.5 cards. Historically, cards graded PSA 10 have always sold for much more than cards graded a BGS 9.5 as this example shows.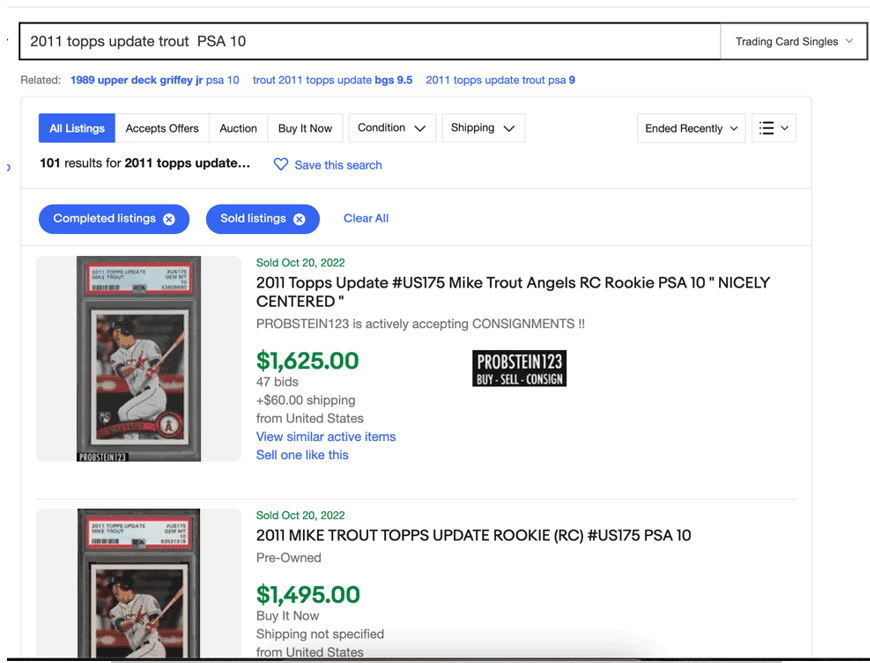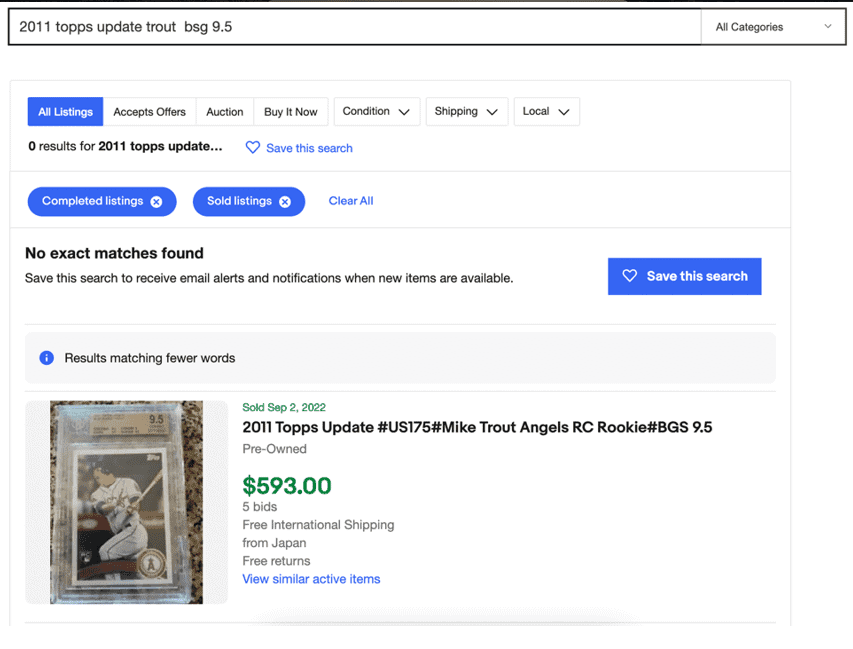 This value difference can run from a few extra hundred dollars up to several thousand dollars. So much so that several collectors are breaking their BGS 9.5 slabs and sending the cards to PSA in hopes of getting a PSA 10 grade. While most BGS 9.5 cards are in the same condition as cards with PSA 10 grades, the reasons for this disparity in value are pretty simple.
PSA is the leading card grading service provider, and its market effect is the biggest. Collectors are ready to spend more for a card graded a PSA 10 because they know they'll sell it at the same rates.
BGS are stricter in their grading. While cards with a 91 – 100 score would get a PSA 10 grade, half of it would be graded as a BGS 9.5. Collectors are willing to pay more on the potential that they'll get a card with a score closer to 100. This hope – however minute – is absent with BGS grading.
For new collectors, 10 is a nice even number and definitely "bigger" than 9.5. They do not care about sub-grades or how a card with a BGS 9.5 grade might get a PSA 10. They simply want the biggest possible number.
What About BGS 10?
BGS 10 is the second highest grade a card can receive on the BGS grading scale. For a card to be graded a BGS 10, it must have received a 10 in at least three of the four subgrades.
Below are the essential criteria to achieve a BGS 10 grade:
For a card to receive a BGS 10 grading, the front must measure 50/50 (50% of the card lies on the left/right side, and 50% lies on the top/bottom) on the front and 60/40 or better on the back. This is stricter than PSA.
A BGS 10 grade requires perfect corners. According to Becketts Grading Services guidelines, the card's corners must look pristine to the naked eye and under magnification. This is similar to PSA's requirement.
The card's edges must be flawless to the naked eye and perfect under magnification to receive a 10 grade.
For a 10 grade, BGS demands no print spots, zero focus imperfections, perfect gloss and flawless colour. It must also be devoid of scratches and have zero metallic print lines.
BGS 10 Black Label
In 2014, Beckett Grading Services introduced the Black Label grade.
Beckett Grading Services is now upping the challenge.
Today, Beckett introduces the ultimate label, for the ultimate card, for the ultimate collector.
A card worthy of four "10" subgrades is worthy of a special label. Starting today, each card that reaches this quad-10 level will receive a special black label showing that the ultimate grade has been reached. The black label is for modern cards only — and not valid for any BVG cards (1980 and older).
While a "10" is theoretically the highest overall grade a trading card can receive, a BGS Black Label is an even higher level. Black labels are rare tags reserved for cards that are flawless in every way. In order to receive a BGS 10 Black Label grade, your card must receive a perfect 10 on all four subgrades.
BGS 10 Black Labels are represented with a black label gold type. As expected, Black Labels grades are incredibly hard to obtain, which is reflected in their value.

Collectors are willing to pay a premium for BGS 10 Black Labels compared to a regular BGS 10 or a PSA 10. While it differs with each card, a BGS 10 Black Label is worth at least 3X the value of a BGS 10 and can be more than 8x the value of a PSA 10.
The 2017 Topps Chrome Refractors #169 Aaron Judge Rookie card is an example. Using recent eBay sales, a Black Label 2017 Topps Chrome #169 Aaron Judge RC recently sold for over $3,500, while a PSA 10 went for $305. That's a 10x difference between a Black Label and a PSA 10. Both sales happened within days of themselves, so the only differentiating factor was their grades.
Another example is the 2018 Topps Chrome #150 Shohei Ohtani RC Rookie card. A BGS 10 Black Label was sold for $3,550 a few weeks ago, while a PSA 10 Gem Mint went for a meager $120.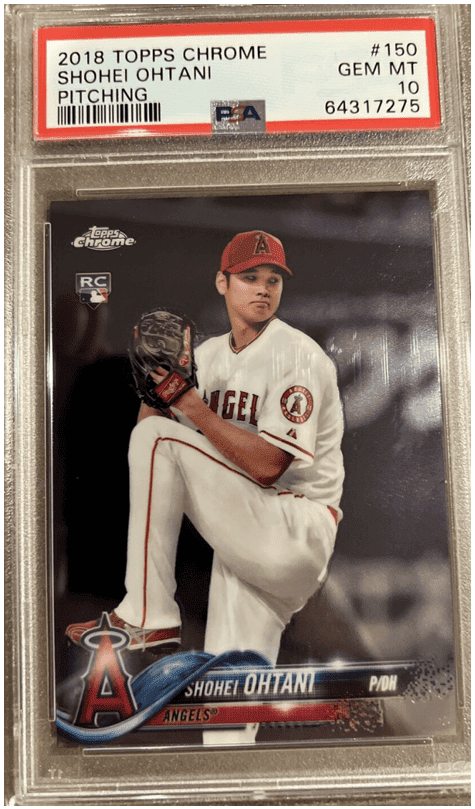 This vast disparity in value is due to how challenging it is to get a BGS 10 Black Label grade. The 2003-04 Topps #221 LeBron James Cleveland Cavaliers RC Rookie has a BGS 10 population of just 38 out of 4814 (0.79%) cards graded by Beckett Grading Service.
In comparison, over 1700 (31.21%) PSA 10 cards exist out of the 5401 cards graded by PSA. A 0.79% of getting a "regular" BGS 10 shows how hard it is to get the Black Label grade.
The bottom line of BGS 9.5 vs. PSA 10
According to professional analysis,
at least 60% of PSA 10 cards received a 91 – 94 grade score
27% received a 95 – 96 grade score
10% received a 97 – 99 grade score, and
3% received a perfect 100.
One would think that since Beckett has stricter requirements, they'll sell for more than a PSA. However, collectors still prefer and pay more for a PSA 10. The average PSA 10 sells at least 2.5x more than a BGS 9.5. Even though a few of those cards with a BGS 9.5 grade would typically get a PSA 10 when sent to PSA.
PSA 10 cards scored anything from 91 – 100 on the grading scale, while BGS 9.5 cards received 91 – 96. BGS reserves the perfect 10-score grading for really "perfect" cards without blemish, while PSA leaves a greater leeway.
While PSA is indeed more popular amongst collectors, one thing everyone agrees on is the fact that BGS uses stringent requirements when grading. This is why BGS cards have consistently been valued more than PSA cards of the same grade. A BGS 10 is at least 1.5x as valuable as a PSA 10, while a BGS 9 is as valuable as a PSA 9. A PSA 10 has historically been valued more than a BGS 9.5, this, too, is gradually changing.
While most people in the hobby would go for a PSA 10 over a BGS 9.5 before now, more collectors are familiar with reading BGS subgrades. That's where BGS sets itself apart from PSA 10 and is why a few BGS 9.5 cards are beginning to match their PSA 10 counterparts in value. A True BGS 9.5 (9.5s and 10s on subgrades) would easily get a 10 when graded by PSA. This has caused a shift in pricing where collectors are willing to pay as much as they would for a PSA 10.
Are you confused on going for a PSA 9 or PSA 10? This article helps makes your choice easier.