A Profile Of Phenom Bo Bichette And A Ranking Of His 5 Top Rookie Cards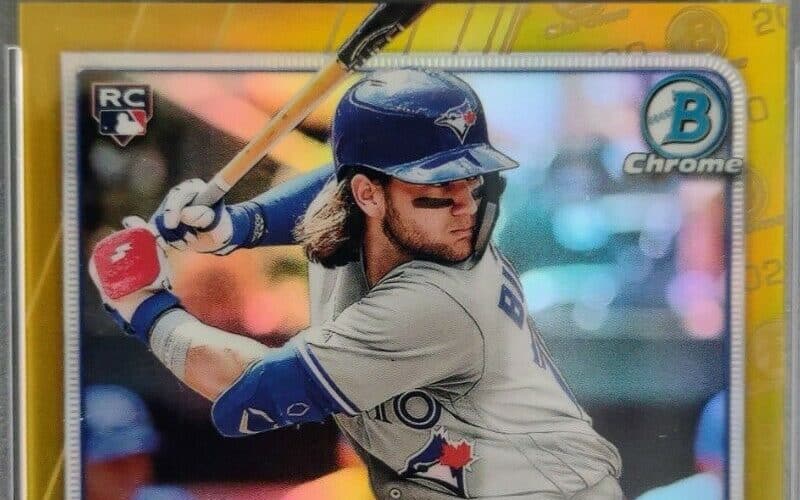 Three-quarters of the 2021 Toronto Blue Jays infield were second-generation Major League Baseball players. Bo Bichette often takes a backseat to Vladimir Guerrero Jr., but his contributions shouldn't be overlooked.
He was the team's third-most valuable player according to WAR, creating runs well above the league-average player. 2021 was Bichette's first full season in the big leagues and should be one that excites investors.
Check prices for Bo Bichette rookie cards in a PSA 10 on eBay
Who is Bo Bichette?
Bo Bichette is the son of four-time All-Star and 14-year veteran Dante Bichette. The Toronto Blue Jays drafted him out of high school in the second round of the 2016 MLB Draft. He made his big league debut and played 46 games in 2019, played in 29 of the 60 games during the 2020 season, and finally got his first full taste of the big leagues in 2021.
He did not disappoint on the offensive side, making extremely hard contact and hitting for both average and power. There are a few question marks in Bichette's game, but 2021 displayed the long-term potential Blue Jays fans are hoping for.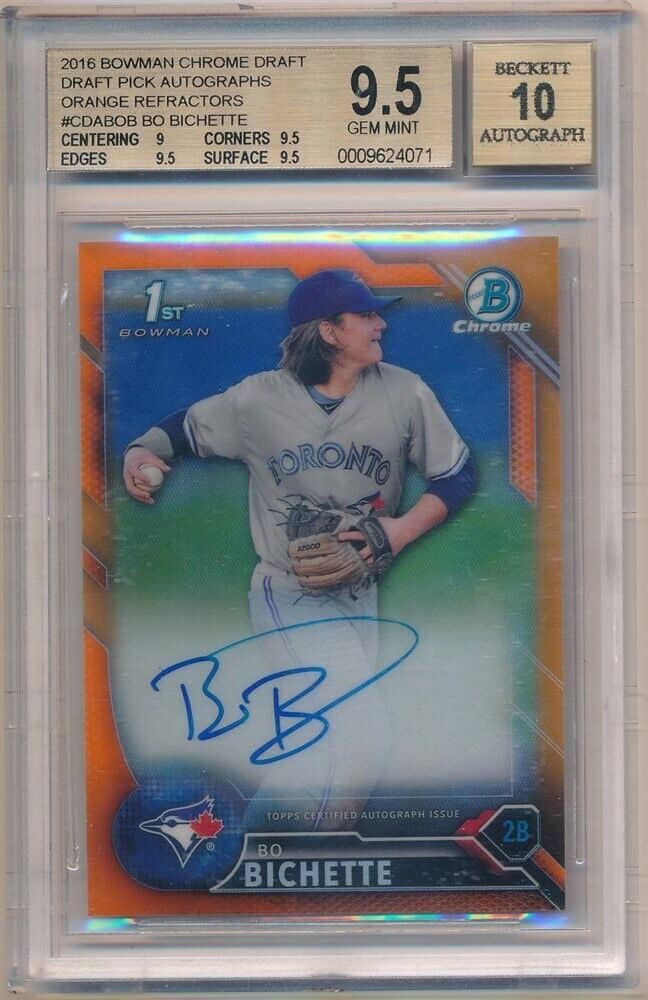 Bo Bichette as a prospect and in the Minor Leagues
Bichette was a highly ranked prospect coming into the 2016 Draft, with scouts noting his impressive bat speed and power potential. "Bo does things in an unconventional way, but he has had some success against good competition," MLB.com noted.
Despite a pronounced upper-cut swing and dramatic leg-kick, Bichette was making solid contact and flashing power as a prep prospect. He wasn't a good runner and scouts didn't see him as a shortstop in the long run, but Bichette had an impressive upside and the track record of coming from a baseball family.
FanGraphs had Bichette as the draft's No. 62 prospect; MLB.com ranked him No. 90. Ultimately, the Blue Jays selected him with the 66th pick.
Immediately after the draft, Bichette headed to rookie ball for his first taste of professional baseball. In a stellar 22-game stretch, the 18-year-old hit .427 with a 1.182 OPS. He began the following season in Single-A and, despite being a few years younger than most players, continued to dominate the opposition.
He split the 2017 season in Low- and High-A, holding a .362 average and .988 OPS between both levels. Bichette also stole 22 bases, something scouts weren't expecting to see. As he continued to impress, Bichette quickly climbed top prospect lists.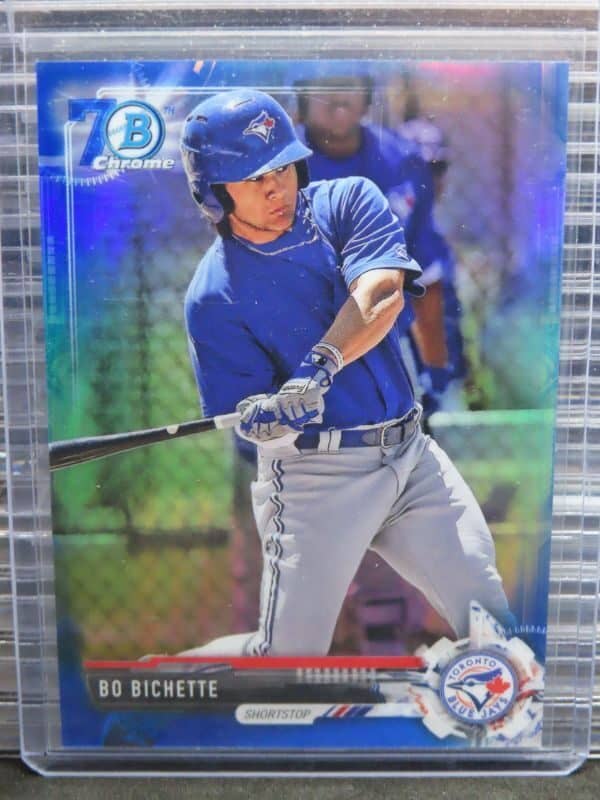 Coming into the 2018 season, Baseball America ranked Bichette as baseball's No. 8 prospect, FanGraphs as No. 9, and MLB.com as No. 14. The 20-year-old spent all of 2018 in Double-A and although his numbers weren't as eye-catching as his early seasons, he still displayed solid production: .286 batting average and .796 OPS with 11 home runs and 32 stolen bases.
Bichette held his top prospect rankings going into 2019 and continued his offensive production in Triple-A. Bichette's one glaring issue across all levels of the minor league was his defense. He made 21 errors at shortstop in 2017, 25 in 2018, and 11 in 2019.
When they called him up in 2019, however, the Blue Jays weren't getting much offensive production from their shortstop nor did he play elite defense. They hoped Bichette could provide average defense and offset that with production at the plate.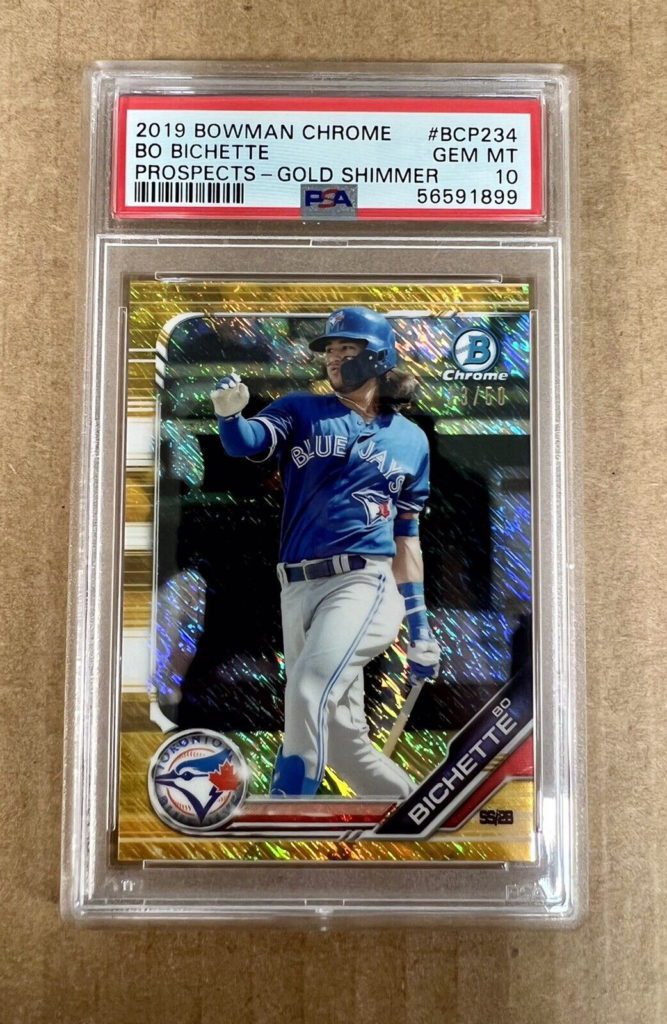 Bo Bichette's first 75 games
Bichette's call-up came rather fast, but he immediately extinguished any remaining doubts he wasn't ready for the big leagues. Playing shortstop and hitting in the six-hole, Bichette made his major league debut on July 29, 2019. He recorded his first hit in his first at-bat, and didn't stop hitting from there.
Bichette recorded 10 extra-base hits in his first nine games, an MLB record. If an 11-game hit streak to begin his big league career wasn't impressive enough, he also doubled in nine consecutive games during that stretch.
Check prices for Bo Bichette rookie cards in a PSA 10 on eBay
By the end of his rookie year, Bichette dominated opposing pitchers through 46 games. When the 2020 season finally rolled around, Bichette continued to hit well at the plate. A knee injury, however, sidelined him after 29 games. Below are Bichette's statistics through his first 75 games.
2019-2020 (75 Games)
| | | | | | | | | | | | |
| --- | --- | --- | --- | --- | --- | --- | --- | --- | --- | --- | --- |
| R | 2B | HR | RBI | BA | OBP | SLG | BB% | K% | BABIP | wRC+ | WAR |
| 50 | 27 | 16 | 44 | .307 | .347 | .549 | 5.6% | 22.6% | .361 | 134 | 2.6 |
A couple of things about those 75 games stand out. First, his walk rate is very low. League average hovers around 8.5% and, although the sample size is small, Bichette's 5.6% walk rate signals potential plate discipline issues.
The underlying numbers back this up: he swung at more than half the pitches he saw and didn't hesitate to chase pitches out of the strike zone. The vast majority of pitches he chased were breaking balls, often making poor contact or whiffing with two strikes.
One other thing that jumps out is the .361 BABIP, or batting average on balls in play. The "three true outcomes" idea has gotten attention recently as fans complain about the lack of action during games, so you might already be familiar with the concept.
With BABIP, the three true outcomes — strikeouts, walks, home runs — are removed from the equation. It gives us a greater understanding of the type of contact a hitter is making and how often that contact results in getting on base.
To provide context: an average BABIP is actually what fans consider the benchmark for a good batting average: .300. So what does it mean when we say Bichette's batting average on balls he hit into the field of play was .361?
Those 75 games were not only a fantastic stretch but a historic one. Blue Bird Banter noted before the 2021 season that Rod Carew's .359 BABIP holds the record for the highest BABIP in the modern integrated era.
Wait, so is Bo Bichette as good as Rod Carew?! Not exactly. There's a lot to be said about what BABIP is and is not, but that's beyond the scope of this article. If there's something to keep in mind, it's this: BABIP can… (1) point to a batter's quality of contact, (2) be influenced by factors out of the batter's control, and (3) fluctuate is small samples.
Regarding Toronto's shortstop, Bichette hit safely at a very high clip when he put the ball in play during his first two seasons. It's unrealistic to assume, however, that this incredibly high level of production is sustainable. Bichette did it over 75 games, Carew over 19 seasons.
It's likely that opponents' defense and a bit of good luck contributed to Bichette's batting average when he put the ball in play, but the hard contact he made shouldn't be discredited either. This will be something to monitor in the future.
Check prices for Bo Bichette rookie cards in a PSA 10 on eBay
Bo Bichette's 2021 & 2022 seasons and why investors should care
Before the 2021 season, Beyond the Box Score questioned what a good season from Bichette would entail. , 2021 was a test to see whether Bichette could maintain the production he displayed early on, and he passed with flying colors.
After the successful season, fans and investors bought in Toronto Blue Jays shortstop for 2022. The regression question loomed large, however. Should we have expected him to replicate his 2021 numbers in 2022 and beyond?
Below are a few points I want to consider when assessing his 2021 season and what that means for potential investors:
Plate discipline and contact
Production against breaking pitches
Fielding
Plate discipline and contact
Bichette has shown he's a free swinger, and his walk rate has proved that. At just a tad below 6%, he's drawing free passes at a rate among the worst in the league. His elevated chase rate can explain much of that.
It's been one of the few things that Bichette is consistently bad at. In 2021, he swung at pitches out of the strike zone 42.5% of the time. In 2022, he's done so a little less frequently (38.8%) but still at a rate much higher than average (32.5%).
Bichette is also swinging often at pitches inside of the strike zone. Between 2019 and 2020, his Z-Swing% (percentage of swings on pitches inside the zone) was 74.5%. In 2021, that number increased to 80.8%. His contact on these pitches increased a bit too, along with an improvement in his hard-hit rate on these swings.
In 2022, his second full season in the big leagues, Bichette's swing habits against pitches inside the strike zone are the same as in 2021. He offers at these pitches 80.5% of the time.
Despite his propensity to swing at bad pitches, Bichette's aggressiveness in the batter's box seems to lead to good results. When he makes contact, he's doing damage at a rate that's among the best in the league. Statcast measures hard-hit rate by the percentage of batted balls hit 95 mph or harder. The league average HardHit% is 35.8%. Bichette is significantly higher, sitting at 47.5% in 2021 and 50.1% in 2022.
| | | | | | | | | | | | |
| --- | --- | --- | --- | --- | --- | --- | --- | --- | --- | --- | --- |
| | G | R | HR | BB% | K% | BA | OBP | SLG | wOBA | wRC+ | WAR |
| 2021 | 159 | 121 | 29 | 5.8% | 19.9% | .298 | .343 | .484 | .354 | 122 | 5.1 |
| 2022 | 129 | 69 | 18 | 5.9% | 23.9% | .265 | .309 | .432 | .322 | 111 | 2.5 |
Hitting the ball hard leads to excellent results. Bichette's 2021 season was a success. He consistently ranked among the best hitters in a bunch of categories and had baseball fans and investors excited about 2022. This season, however, has been a bit of a letdown compared to last season.
The production isn't what we'd have hoped, but his underlying metrics — a good HardHit%, improved plate discipline, and continuing to hit the ball in the air and to all fields — signal that he's on the right track. For this reason, I'm not jumping ship on him just yet.

Bichette vs. breaking pitches
A glaring issue for Bichette during his first two seasons was against sliders and curveballs. He fared well against fastballs (.357 batting average) and off-speed pitches (.342) during that time, but struggled against breaking pitches (.236).
| | | | | | | | | |
| --- | --- | --- | --- | --- | --- | --- | --- | --- |
| Season | PA | XBH | BB% | K% | BA | OBP | SLG | wOBA |
| 2019-2020 | 131 | 11 | 3.8% | 28.0% | .238 | .267 | .417 | .289 |
| 2021 | 229 | 26 | 2.6% | 24.9% | .290 | .314 | .502 | .344 |
| 2022 | 209 | 20 | 5.7% | 28.2 | .256 | .310 | .441 | .322 |
In 2021, however, Bichette was most productive against the slider and curveball. There wasn't really a weakness against a certain pitch last season, which was part of the reason he was such a tough out. But this year, we've seen some regression against sinkers and sliders. Instead of crushing these pitches like he did last year, he's swinging and missing or making poor contact.
With opposing pitchers identifying and exploiting this weakness, it will be interesting to see how Bichette responds in future seasons.
Fielding
I'll preface this section by acknowledging that defense is a hard thing to evaluate. There are flaws with all metrics. Errors and fielding percentage don't accurately reflect true defensive talent. There are a variety of things to consider when assessing a player's defense, many of which are hard to quantify.
No statistic is perfect, and defensive metrics are inconsistent with small samples. Advanced defensive metrics need three years of data to be reliable. A position player logging 150 games in the field is roughly 1,350 innings, so three full seasons produce 4,000+ innings.
If we look at Bichette, he played 578 innings from 2019 to 2020. In a full season at shortstop in 2021, he logged 1,271 innings. This isn't nearly enough playing time to draw any significant conclusions from, but I watched video of Bichette on defense and noticed a few things.
Check prices for Bo Bichette rookie cards in a PSA 10 on eBay
Bichette's 24 errors in 2021 not only led all shortstops but were also the most errors of any defensive player. 13 were throwing errors, often on relatively simple plays where he took his time fielding the ball, then rushed the throw, sending it wide or airmailing it above the first baseman.
There were also multiple times where Bichette couldn't come up with routine ground balls cleanly, whether it popped out of his glove as he was charging in or he wasn't able to transfer it cleanly. Errors don't tell the entire story, but these were obvious ones that should have been made.
In 1,127 innings at shortstop in 2022, his defensive metrics are even worse. Bichette's fielding concerns go back to his prospect days when scouts believed he wouldn't stick at shortstop long-term, likely moving to second or third base. The lack of consistency is concerning, especially with the already mediocre Blue Jays defense.
Additionally, the Blue Jays lost their best defensive infielder (Marcus Semien) to free agency. Even if Bichette's defense doesn't improve and he ends up moving to a less demanding position, I don't see it affecting his card value as long as the offensive production remains.
Bo Bichette's top 5 rookie cards
The list below shows five of Bo Bichette's most valuable cards, along with the most recent PSA-10 sale for each card.
1. 2016 Bowman Draft Chrome Draft Picks Autographs Bo Bichette #CDABOB – Gold Refractor /50: $4,000.00
Find other 2016 Bowman Draft Chrome Draft Pick cards of Bichette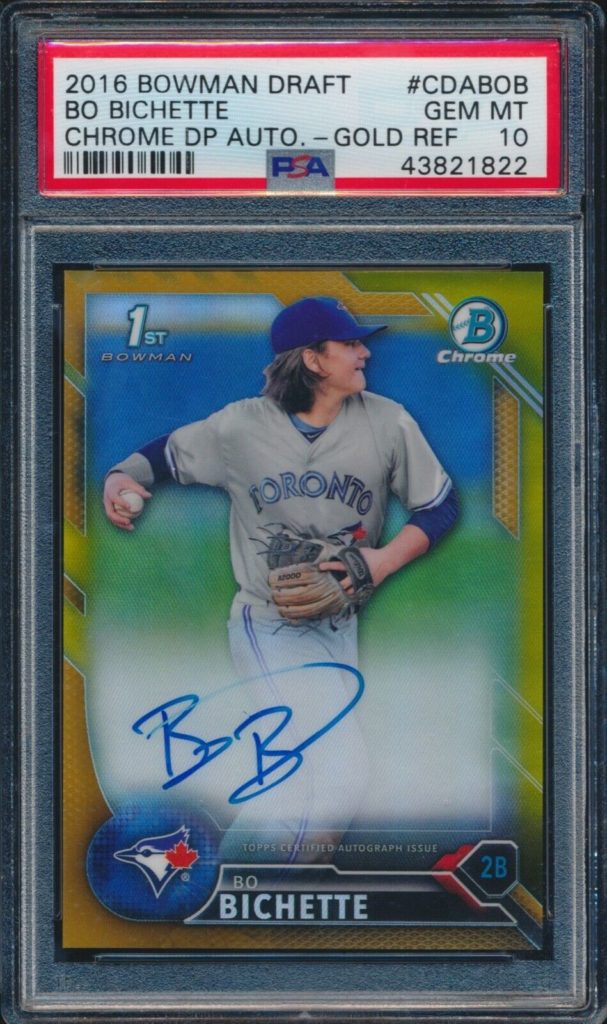 2. 2021 Panini Prizm Bo Bichette Color Blash #CB6: $2,000
Find 2021 Prizm Bo Bichette Color Blast cards on eBay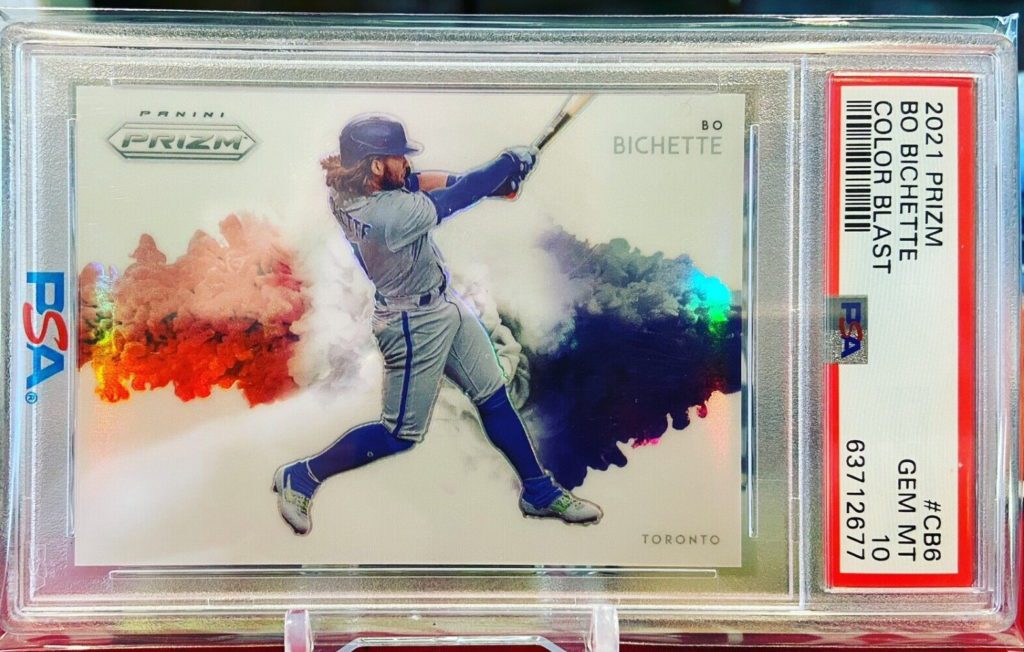 3. 2020 Topps Chrome Update Rookie Debut Auto Bo Bichette #BB – Orange Refractor /25: $1,749.95
Find prices on 2020 Topps Chrome Update Bo Bichette refractors on eBay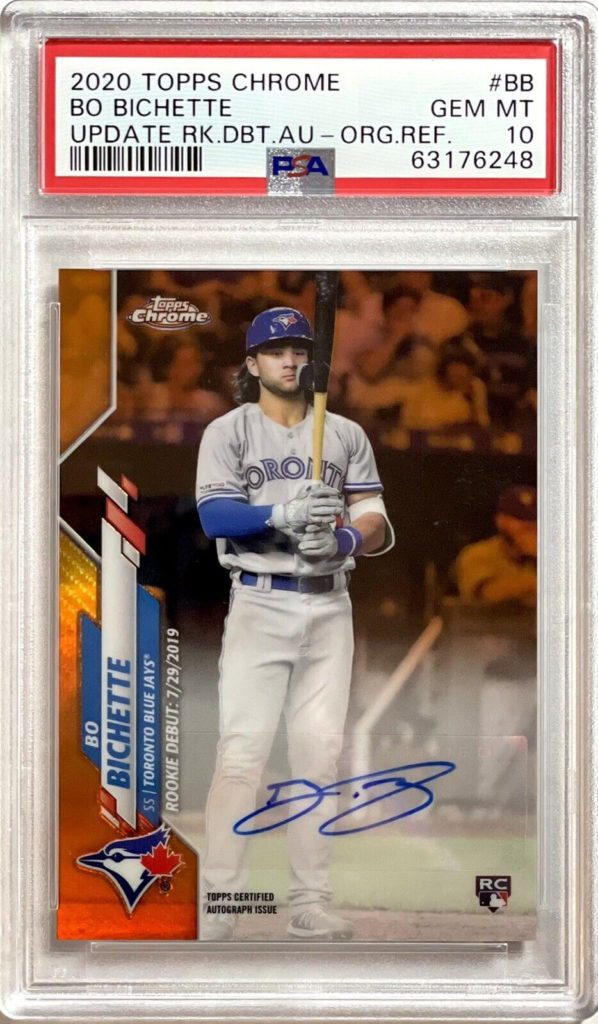 4. 2020 Bowman Transcendent Collection '55 Bowman Superfractor Auto 1/1 Bo Bichette #BBI: $1,550.00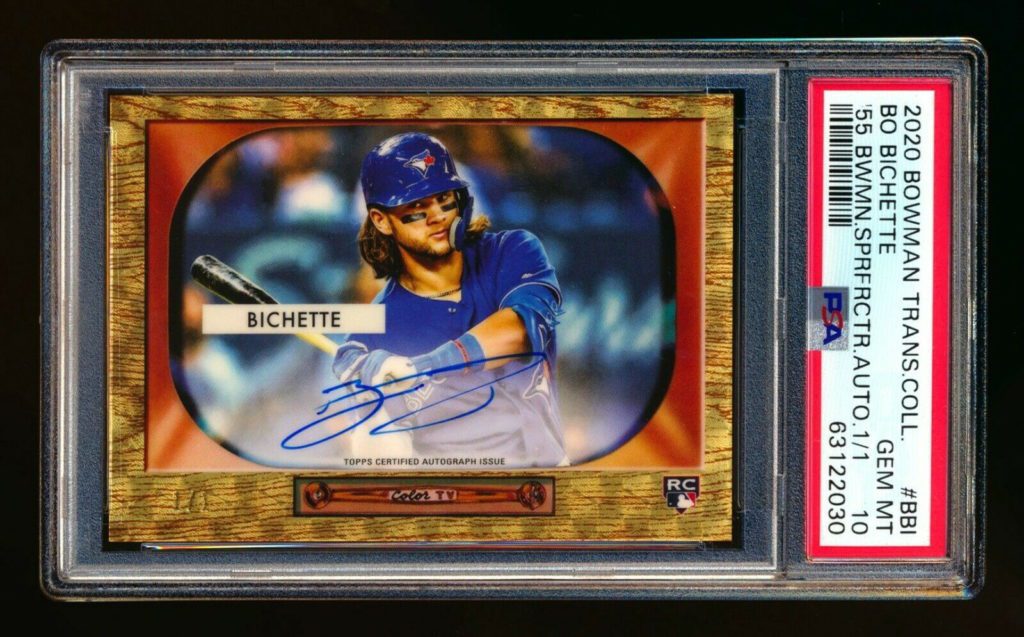 5. 2020 Bowman Chrome #50 Bo Bichette – Gold Refractor /50: $875.00
Check out the latest prices of 2020 Bowman Chrome Bo Bichette Gold Refractors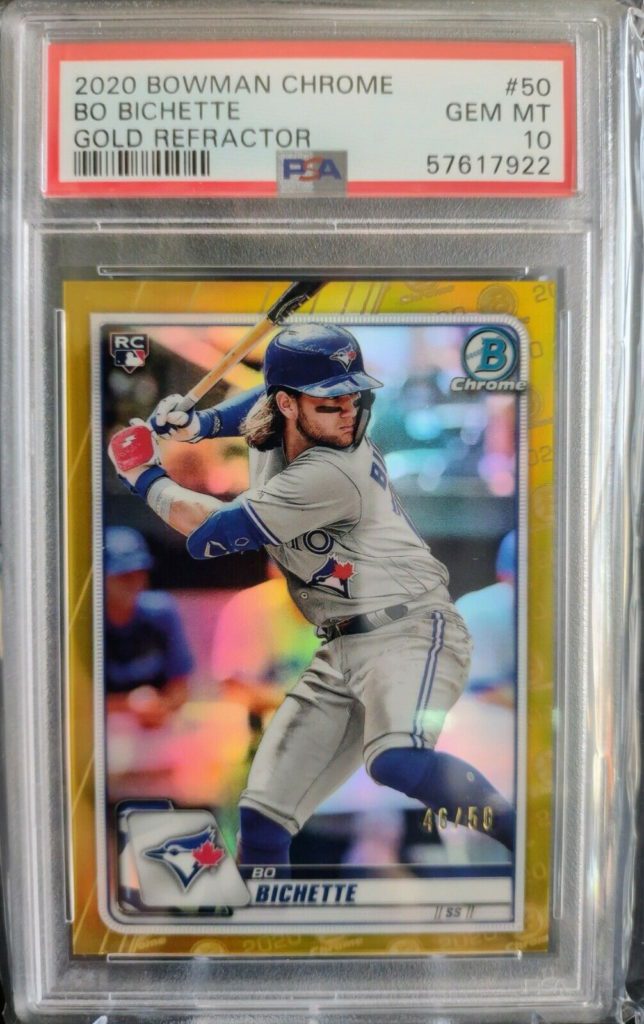 Bottomline — Are Bo Bichette rookie cards worth investing in?
Bichette's early success has made him a must-watch player. His card prices spiked last year, but have steadily declined throughout the 2022 season. Despite that, the most popular cards still carry a high price tag. Now, however, higher-numbered Bo Bichette prospect and rookie cards are more easily accessible.
Bichette's talent is undeniable, but there seems to be a lull in enthusiasm because his 2022 isn't matching the numbers he put up in 2021. There were extremely high expectations placed on Bichette because of his father's big league success and his highly ranked prospect status. More recently, his teammates have overshadowed him.
Vladimir Guerrero Jr. and Marcus Semien both put up MVP-caliber seasons in 2021, causing Bichette's stellar year to fly a little below the radar. With the way his 2022 season is going, now is a good time to invest if you're a Bo Bichette believer.
Other baseball card rookie pages
If you like this article on Bo Bichette rookie cards, be sure to check out some of these other features on rookie cards of some of the game's greatest players.