The Top 10 Baseball Cards Of Hall Of Famer Mickey Mantle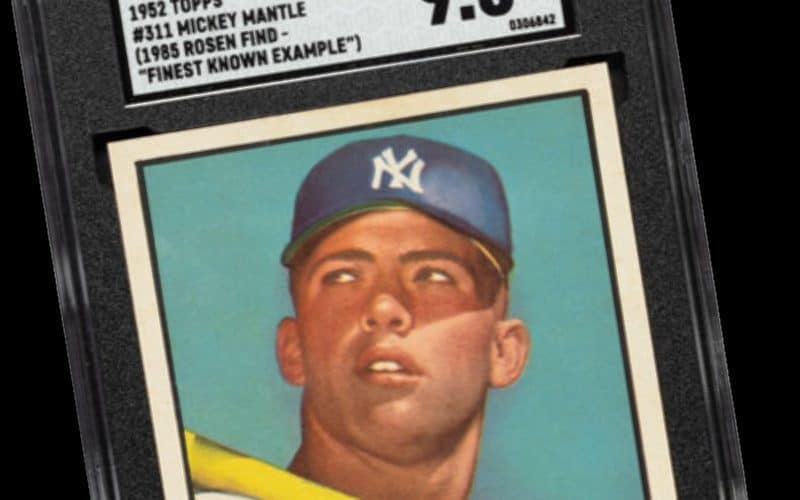 On August 28th, 2022, a 1952 Topps card, graded by SGC a 9.5 was sold by Heritage Auctions for a new all-time record for a sports card of $12.6 million.
The record-breaking card? It isn't a rookie card. It's not particularly rare (although high-grade copies are). In fact, it's actually a double print.
Despite that, the 1952 Topps Mickey Mantle is THE iconic post-war card baseball card, and one of the most well-known sports cards of all time.
But who was Mickey Mantle? What IS his rookie card? And what are the other nine Mickey Mantle baseball cards in our Top 10? Let's dive in!
Check out the huge selection of Mickey Mantle cards on eBay
Who was Mickey Mantle?
If the 1950s were the golden age of major league baseball, then if you were going to create the perfect superstar, it'd be Mantle. A classically handsome, small-town boy playing for the New York Yankees. Power. Speed. Just enough demons and injuries to add a little "what if" to the equation. Mantle was a sensation.
Over his 18 major league seasons, all with the New York Yankees, Mantle appeared in 20 All-Star Games and won three MVP awards, including back-to-back awards in 1956 and 1957. He added in a Triple Crown, a batting title, and a Gold Glove award.
Mantle put up a .298/.421/.557, good for a .977 OPS and a 172 OPS+. He hit 536 home runs in his career and drove in 1,509 runs. He played on seven World Championship New York Yankees teams.
Last year ESPN.com listed Mickey Mantle #7 on its list of the Top 100 MLB Players.
Mantle was elected to the National Baseball Hall of Fame in his first year of eligibility in 1974.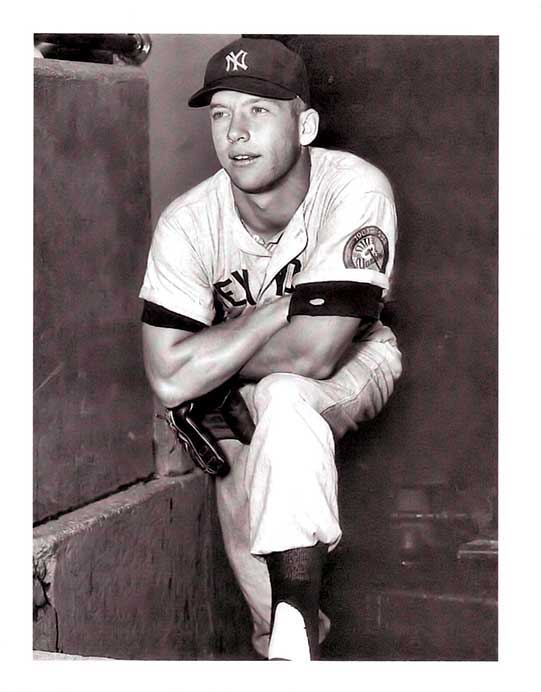 What is the Mickey Mantles Rookie Card?
The sole rookie card of Mickey Mantle is 1951 Bowman #253. PSA has graded 2,510 copies of the iconic card. Of those, only one has been graded a Gem Mint 10. There are also nine PSA 9 and 53 PSA 8's.
As you would imagine, when high-grade examples of the Mickey Mantle rookie cardcome available, they sell for exorbitant amounts of money. A PSA 8 sold in July of 2022 for $444,000. A PSA 9 sold back in 2018 for $750,000.
Even in lower grades, this card is in very high demand. Recent sales of PSA 1 graded copies have ranged from $5,000 to $11,000. As with many vintage cards, eye appeal makes a big difference in the price, even within a single grade range.
A few more recent sales include a PSA 3 for $14,600, a PSA 4 for almost $20,000, and a PSA 5 for close to $25,000.
Check eBay for listings for the 1951 Bowman Mickey Mantle Rookie card.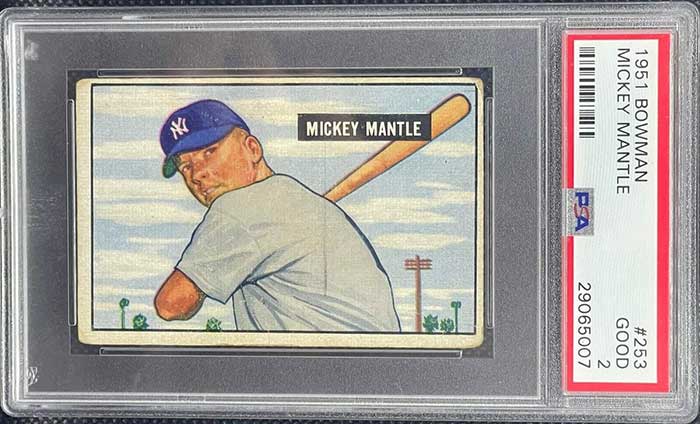 But why is the 1952 Topps Mantle so valuable?
The iconic status of the 1952 Topps Mantle vs any other Mickey Mantle baseball card really comes from a confluence of factors.
The popularity of Mantle is obviously a huge part of it. He is 21st All-Time in career WAR, but his popularity, both during his playing days and to this very day, exceeds that of many of the players above him. The Mantle card is the most expensive non-RC in most of the sets in which he appears.
Add in the status of the 1952 Topps set as one of the most revered in the hobby. While not the first Topps set, it was a huge step forward for the company and the hobby. At the time of its release, it represented the largest set around, both in terms of set size and card dimensions. And while opinions are subjective, most would consider the set to be downright beautiful to look at.
Check 1952 Topps Mickey Mantle cards on eBay (including reprints)
The Mantle card appears in the second series of 1952 Topps. The first series reportedly sold very well, but by the time the second series was released, it was late in the year and didn't sell well.
After the cards sat in a Topps warehouse for close to a decade with repeated attempts to liquidate them failing, the story goes that they were loaded onto a barge and tossed into the Atlantic Ocean.
Stories like that, plus a popular find by "Mr. Mint" Al Rosen in the 1980s, have helped the 1952 Topps Mantle remain one of the most iconic cards in the hobby.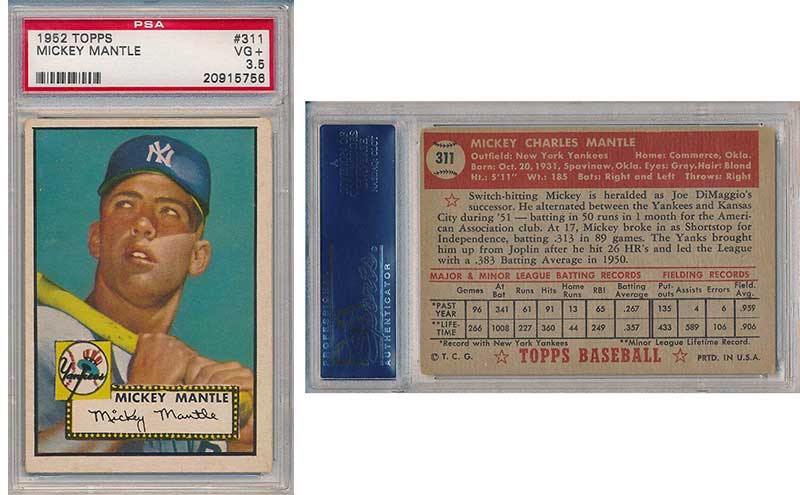 The Mickey Mantle card catalog
According to the Trading Card Database, Mickey Mantle has appeared on 15,664 cards over the years, many produced after his playing career.
Mantle appears on cards during his career from 1951 through 1969, followed by a large number of cards produced after his playing days. In 2021 alone, he appeared on 1,302 cards. With the ultra-modern offerings, you get all the trappings you'd expect with the era, with serial numbers, print plates, 1/1 and the like. Aaron also appeared on a number of certified autographs.
Mantle passed away in August of 1995, well before the current autograph chase card craze – but not before he helped start it, but more on that later. Because of this, most ultra-modern Mantle autographs are cut signatures, not signed on-card.
Cardlines' Picks for the Top 10 Mickey Mantle baseball cards
With over 15,000 Mickey Mantle cards to choose from, how do you possibly narrow it down to a top 10? It's not easy, but let's give it a try. The good news, with so many amazing options and Mantle being such an icon, we can't lose!
1952 Topps Mickey Mantle #311
On the shortlist for the most iconic card of all time. We mentioned the recent $12.6 million sale above. Sure it's not a rookie card. Sure it was double printed. But it's the key card in perhaps the most iconic set ever produced.
If you're an error and variation collector, there's even a variation here. One version has a more defined black border around the Yankees logo, a slightly different "e" on the signature, and the stitching on the card number baseball on the back points the other direction.
A word of warning to collectors. This card is probably the most counterfeited and most reprinted card of all time. The reprint offers a chance for the average fan to own a bit of the legend, but if you're looking for the real thing, educate yourself on counterfeits.
Check 1952 Topps Mickey Mantle cards on eBay (including reprints)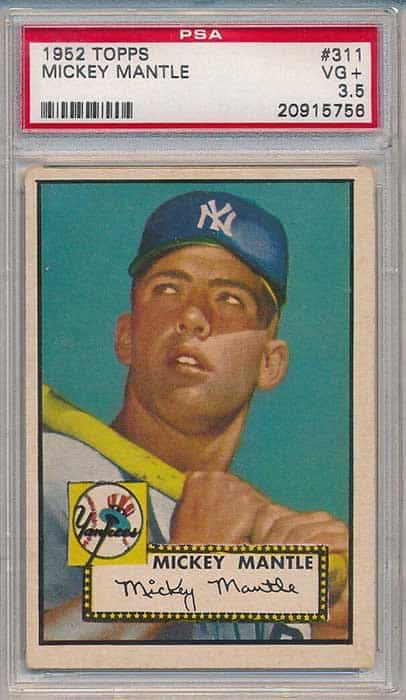 1951 Bowman Mickey Mantle #253 RC
We talked about this one above. It is sometimes overlooked compared to the Holy Grail 1952 Topps card, although it's hard to find a card that sells this strongly "underrated", it might just be both underrated and undervalued.
Find 1951 Bowman Mickey Mantle rookie cards on eBay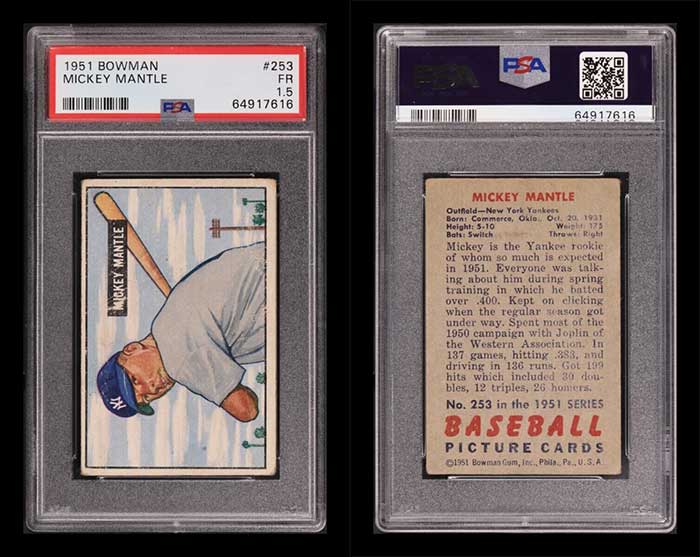 1952 Berk Ross Mickey Mantle
Berk Ross was an early competitor to Bowman and Topps, although they only lasted for two years (1951-52). The cards were sold in 1-cent packs and potentially used as an incentive in bags of popcorn. The New York-based company was sued by several players, and some still argue to this day whether they are a true licensed set or an unlicensed knock-off.
PSA has graded only 5,626 Berk Ross cards, with no PSA 10s. Of those, 345 Mantles have been graded by PSA. There are no straight 9s (one with a qualifier) and only 23 straight PSA 8s.
These cards are much lower pop than the Bowman or Topps, although lower demand makes them less pricy than their competitors.
Check out the latest prices of 1952 Berk Ross Mickey Mantle cards on eBay
1952 Bowman Mickey Mantle #101
The 1952 Bowman set is overshadowed by the 1952 Topps set. The set really does stand on its own. While its design is uncluttered, this allows the player portraits to stand on their own.
The fact that this card is underrated has the key advantage of making it far more affordable than the Topps offering. And we're not talking "a little cheaper", we're talking about a factor of 10 or more less than a similarly graded 1952 Topps card.
Find a 1952 Bowman Mickey Mantle baseball card on eBay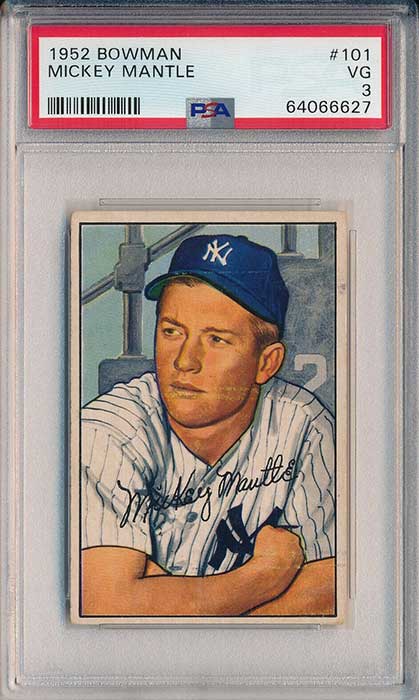 1953 Bowman Color Mickey Mantle #59
The 1953 Bowman Color set is another that is often overlooked due to some of the iconic sets from the 1950s. Its design is simple. But there's beauty in that simplicity. If you're looking for an early Mantle in better than terrible shape for around $2,500, this is a good bet.
Find prices on 1953 Bowman Mickey Mantle baseball cards on eBay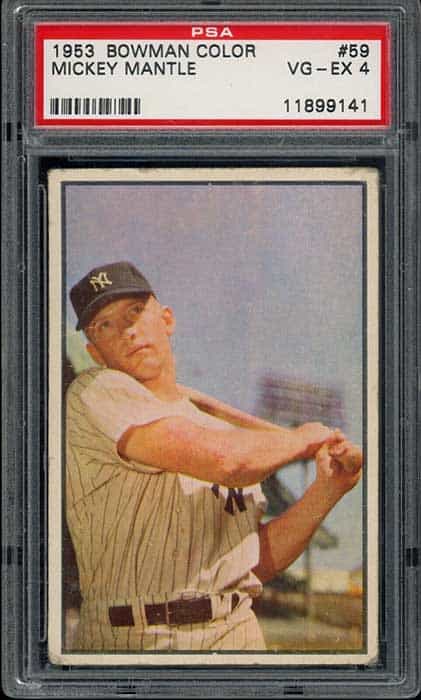 1953 Topps Mickey Mantle baseball card – #82
If by now you're noticing that Topps offerings from the 1950s are in higher demand and therefore reach higher prices, you're spot on. The trend continues here as the 1953 Topps Mantle has been graded almost 2,000 more times than the Bowman, and a PSA goes for about double what the 1953 Bowman does.
In addition to the Topps premium, the fact that this painted portrait card is a true work of vintage card art doesn't hurt demand any.
Check eBay for the 1953 Topps Mickey Mantle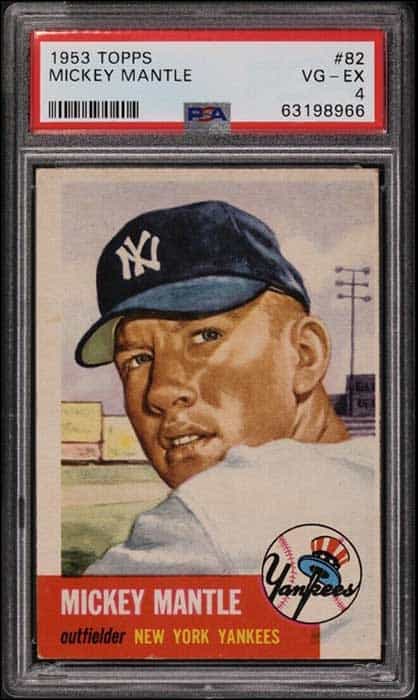 1956 Topps Mickey Mantle baseball card #135
In a decade full of absolutely beautifully designed sets, the large 1956 Topps may be the best. The iconic horizontal layout with a portrait in the foreground and an action shot in the background is pure magic.
Whenever you're talking about the most iconic player of an era in one of the iconic sets of that era, you're talking about a highly desirable card.
Looking for an even bigger challenge? The "white back" variation has only been graded only 803 times, or less than 10% as often as the "grey back".
Check out the various versions of the 1956 Topps Mickey Mantle baseball card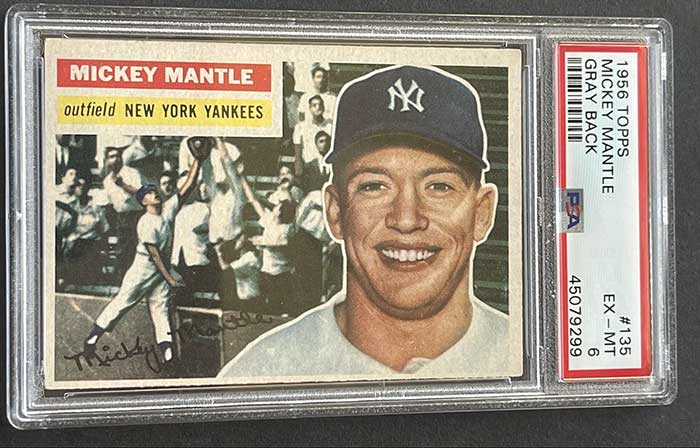 1991 Score Mickey Mantle signed baseball card
We mentioned above that Mantle passed away before the ultra-modern certified autograph boom. He may just have been a big part of starting that era and the insert era. Many would argue that the 1991 Score Mickey Mantle signed baseball card offering was the first modern insert.
The set consisted of randomly inserted unsigned cards, which in itself was an innovation. But Mantle signed 2,500 copies of each of the seven cards in the set, providing an amazing chase. 2,500 is a large number for modern autographs, but in 1991, that was an unheard-of low number to chase.
Due to the historic nature of the card, it still continues to sell well despite being from the mass-produced junk-wax era 1991 Score set.
1991 Score Mickey Mantle autographs are hard to come by — Check eBay for any that are up for sale.
1994 Upper Deck Mantle/Griffey Auto
What could be better than a certified autograph of the iconic superstar center fielder of the 1950s? How about if the card ALSO included an autograph of the iconic superstar center fielder of the 1990s?
Upper Deck went big here, no doubt about it. PSA has only graded 210 copies of this card, with only one PSA 9.
Versions of this card exist that are single-signed by both Griffey and Mantle, which are great cards in their own right, but the dual sig is a truly epic card.
Find various versions of the signed 1994 Upper Deck Mickey Mantle and Ken Griffey Jr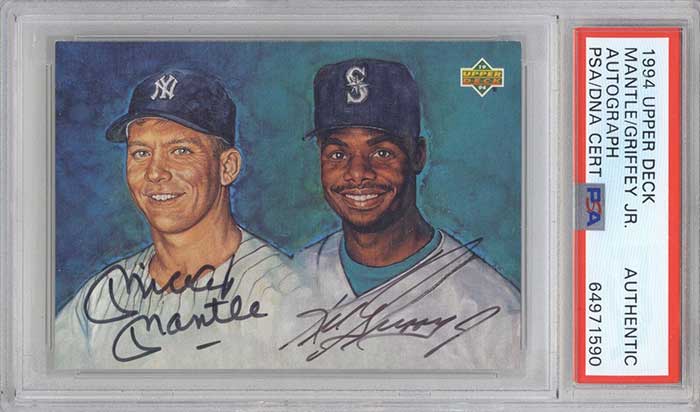 2003 SP Legacy Cuts Mickey Mantle 1/1
You'll find a few cut signature Mantle's from various brands over the years. The 2003 SP Legacy Cuts is a beautiful example.
| Card | PSA Pop | PSA Comp Pop | Recent Comp Sale |
| --- | --- | --- | --- |
| 1952 Topps Mickey Mantle #311 | 1,849 | PSA 1 = 315 | PSA 1 = $25,000-40,000 |
| 1951 Bowman Mickey Mantle RC #253 | 2,510 | PSA 1 = 227 | PSA 1 = $5,500-11,000 |
| 1952 Berk Ross Mickey Mantle | 345 | PSA 1 = 34 | PSA 1 = $2,500-3,500 |
| 1952 Bowman Mickey Mantle #101 | 3,554 | PSA 3 = 392 | PSA 3 =$3,500 |
| 1953 Bowman Color Mickey Mantle #59 | 2,816 | PSA 4 = 410 | PSA 4 = $2,200-2,700 |
| 1953 Topps Mickey Mantle #82 | 4,894 | PSA 4 = 625 | PSA 4 = $5,000-6,500 |
| 1956 Topps Mickey Mantle Gray Back #135 | 8,328 | PSA 6 = 1,070 | PSA 6 = $3,500-4,200 |
| 1991 Score Mickey Mantle Autograph | 179 | NA | RAW = $1,000-1,200 |
| 1994 Upper Deck Mantle/Griffey Auto | 210 | PSA A = 103 | PSA A = $9,500 |
| 2003 SP Legacy Cuts Mickey Mantle 1/1 | 1 | PSA 7 = 1 | PSA 7 = $15,000 |
A couple of honorable mentions
I know, it's supposed to be a Top 10 list. But we're talking about Mickey Mantle here, so I figured nobody would mind a couple of honorable mentions.
1955 Bowman Mickey Mantle #202
Another classic 1950s design, in this case the 1955 Bowman "TV set" design. The card pictures a young Mantle following through on a swing. Another example of Bowman's affordability compared to the Topps offerings of the era.
1955 Bowman Mickey Mantle baseball cards on eBay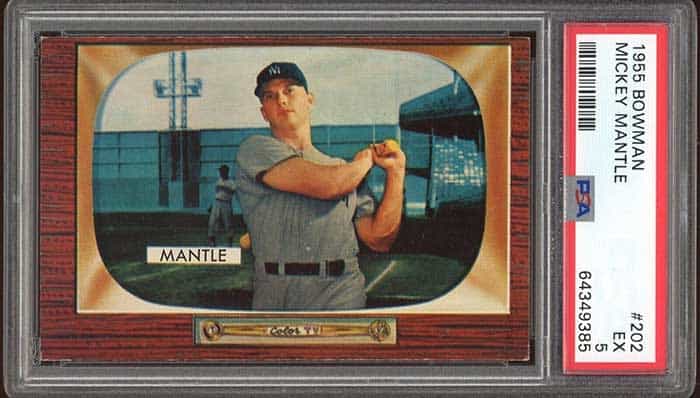 1969 Topps Mickey Mantle baseball card – #500
The 1969 Mickey Mantle baseball card from Topps is his final from his playing career. Mantle played his final game in 1968, so this card captures his final stat line.
In addition to the more common "last name in yellow" version, there is a rarer "last name in white" version to chase, as well.
1969 Topps Mickey Mantle baseball card on eBay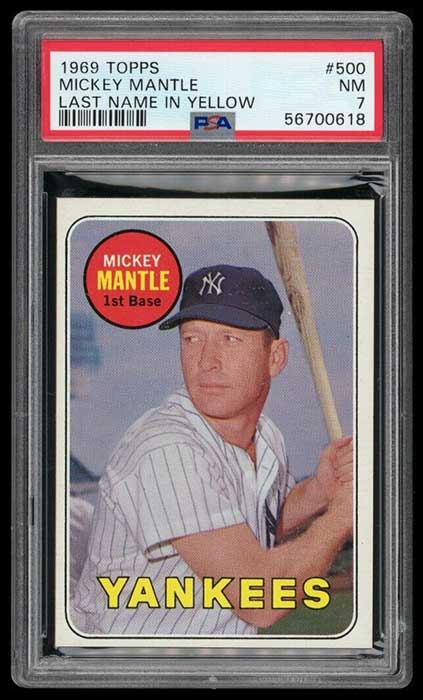 Multi-player Mickey Mantle Cards
I am an unapologetic fan of Vintage Topps League Leader Cards and other Vintage Multi-Player Cards, so I couldn't write this article on Mantle cards and not call out a few. There are many other examples, so look around and find your favorite.
1957 Topps Yankees' Power Hitters (w/ Yogi Berra) #407
This 1957 Topps card features Mantle along with teammate and fellow Hall of Famer Yogi Berra standing in the dugout with bats on their shoulders.
It is tough to find in higher grades, with no PSA 10s and only 11 PSA 9s, among the 4,700 total graded copies.
Check ebay for prices of the 1957 Topps Mantle/Berra.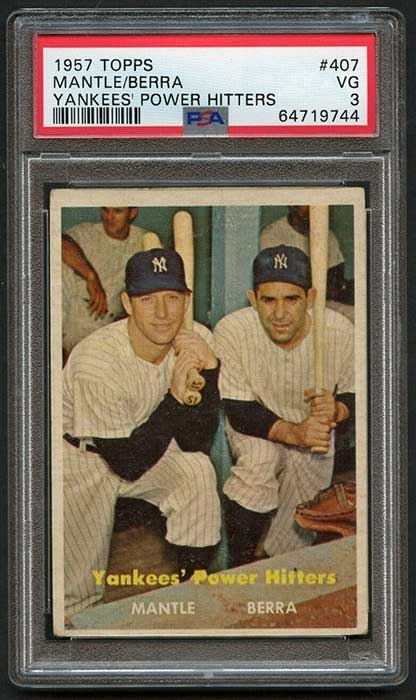 1958 Topps World Series Batting Foes (w/ Hank Aaron) #418
The 1958 Topps card featuring Mantle along with fellow all-time great Hank Aaron, this card represents 1,291 career home runs.
PSA has graded 5,290 copies of the Batting Foes card, with zero PSA 10s and only 15 PSA 9s.
Find 1958 Topps Mantle/Aaron cards on eBay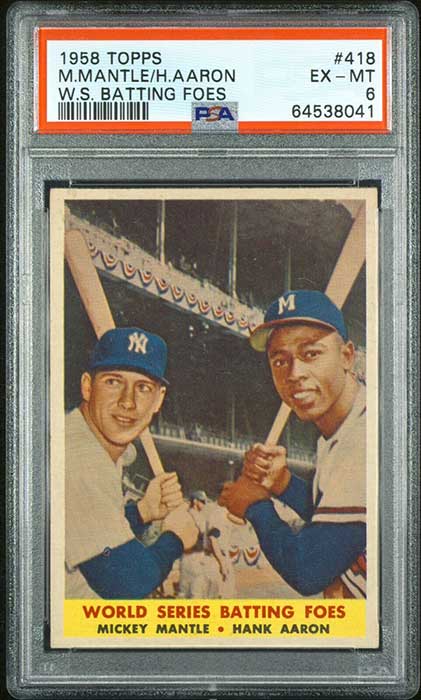 1962 Topps Managers' Dream (w/ Willie Mays) #18
This aptly named card pairs Mantle with the great Willie Mays. Judging by the array of uniformed players in the background, I believe it's safe to say this photo was taken at an All-Star game.
Of the 4,000 copies graded of the 1962 Topps card is graded by PSA, there is only one PSA 10 and ten PSA 9s, making the value of the 1962 Mickey Mantle baseball card value strong with Willie Mays inclusion.
1962 Topps Mickey Mantle/Willie Mays cards on eBay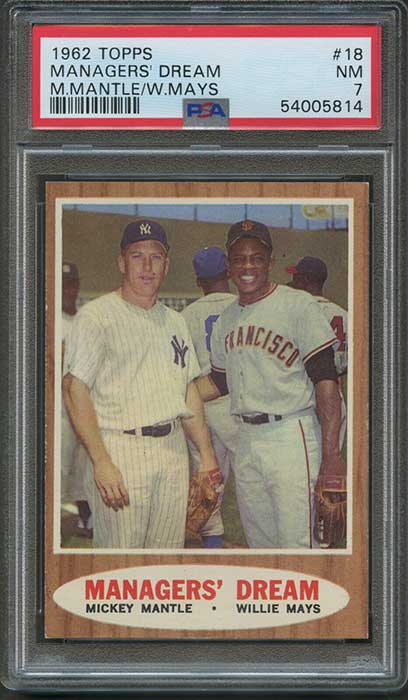 1962 Topps 1961 American League Home Run Leaders #53
This card features four players, pairing Mantle and teammate Roger Maris. You may remember their role in what was a rather exciting home run race in 1961. If you don't know what I'm talking about, please stop reading this article and go watch the movie "61*", right now. We'll wait.
OK. We're back. The historical significance of this particular leader card should now be clear.
Joining the Bronx Bombers on the leader card are Hall of Famer Harmon Killebrew and Jim Gentile, a six-time All-Star.
There are no PSA 10s among the 3,393 copies of this card that PSA has graded, although there are 29 PSA 9s.
Search eBay for 1962 Topps cards of Mickey Mantle with Roger Maris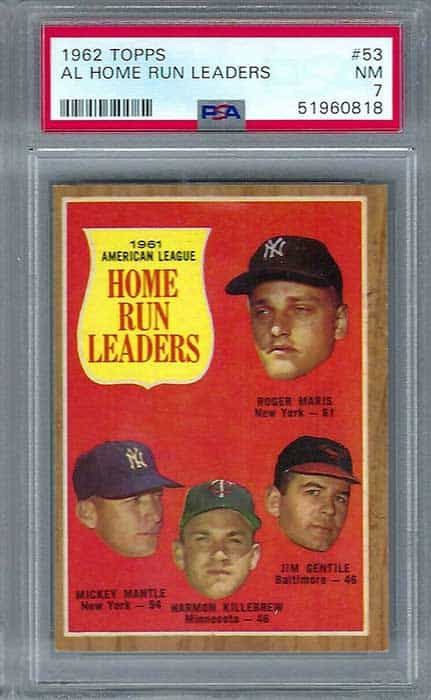 1964 Topps A.L. Bombers #331
Another card featuring four players. We get Mantle and Marris again, but this time they're joined by Detroit Tigers teammates Hall of Famer Al Kaline and Norm Cash.
PSA has graded 3,045 copies of the Bombers card, one PSA 10 and 65 PSA 9s.
Check eBay for 1964 Topps cards featuring Mantle, Maris, Cash and Kaline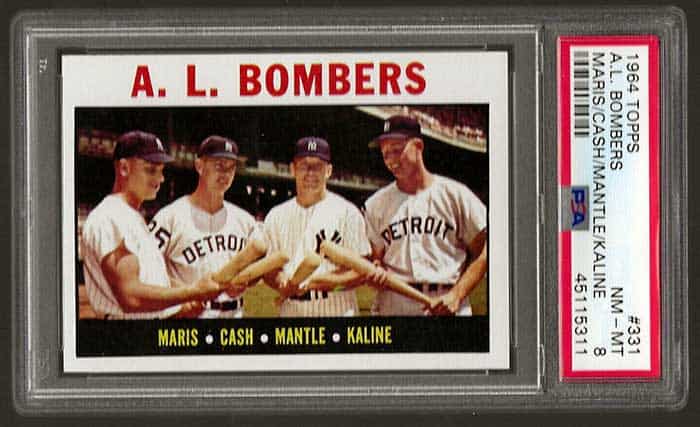 The final word on the Top 10 Mickey Mantle cards
Mickey Mantle was one of the greatest players in the history of the great game of baseball, and probably the most iconic player of his era. With almost 16,000 cards to choose from, there's a Mantle card for any taste and budget.
You can't go wrong with any of the cards we've highlighted in this article, but there are so many other amazing cards to choose from. If you have a favorite Mantle card, let us know at card_lines on Twitter.
Other Cardlines Top 10 Lists:
Top 10 Baseball Cards Of Hall Of Famer Hank Aaron
The Top 10 Juan Soto Rookie Cards To Add To Your Collection
A Guide To The Best Ronald Acuña Jr. Rookie Cards
A Retrospective Of The Top 10 Baseball Cards From The Topps 1957 Set