eBay Vault: How To Search For Cards You Can Vault
Sponsored by eBay
The idea of vaults isn't new to the hobby, but the new eBay vault improves on existing vaults while offering a service that is directly linked to the biggest sports card marketplace in the world. On top of that, collectors who take advantage of the vault now get in on some nice perks for being first-movers.

In today's article, we're going to discuss the process of searching for cards that are eligible to be stored in the eBay vault. And if that piques your interest, be sure to read our detailed overview of the eBay vault and our guide for buying cards with the eBay vault, our breakdown of the eBay vault's Authenticity Guarantee, or even our best practices for the eBay vault.
Reintroducing the eBay vault
If you haven't read our detailed overview, here's the 10,000-foot view of what you need to know.
eBay describes the vault as "a secure, climate-controlled, physical storage facility for graded trading cards purchased on eBay." Cards are backed by eBay's Authenticity Guarantee before ever entering the vault, and once they're in place, they can be sold "seamlessly" – we'll be looking at the selling process in a future article.
From there, any approved card that you purchase for $250 or more can be sent to the vault, where eBay will safely store it.
The vault is easy to use, and all you have to do to get going is enroll to use the vault here. From what we've seen thus far, we highly encourage you to do so.
Which cards can be vaulted?
Upon writing, the eBay vault is for cards that are graded by major companies and bought on eBay for more than $250.
"For now, the eBay vault will accept single, graded trading cards and graded, autograph, relic, and patch cards $250+ that are directly purchased on eBay. Only cards graded by the following graders will be accepted: Professional Sports Authenticator (PSA); Sportscard Guaranty Corporation (SGC); Certified Collectibles Group's affiliates, CGC Trading Cards, Certified Sports Guaranty (CSG); and Beckett Grading Services (BGS)."
It's very easy to remember – just find cards from your favorite grading company that cost more than $250, and they're vault-eligible.
What do eBay listings look like for vault-eligible cards or vaulted cards?
Want to be certain you can vault your cards before buying. Don't worry, you can!
Cards that can be vaulted are labeled underneath the price, like this.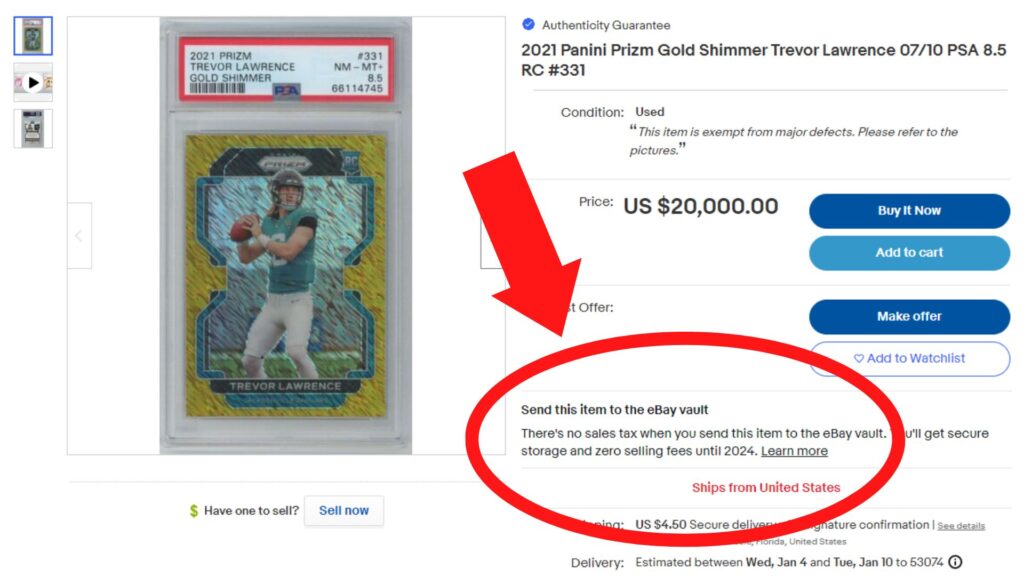 And what if you're buying a card that's already in the vault? You're in luck! Those are marked too. They look like this.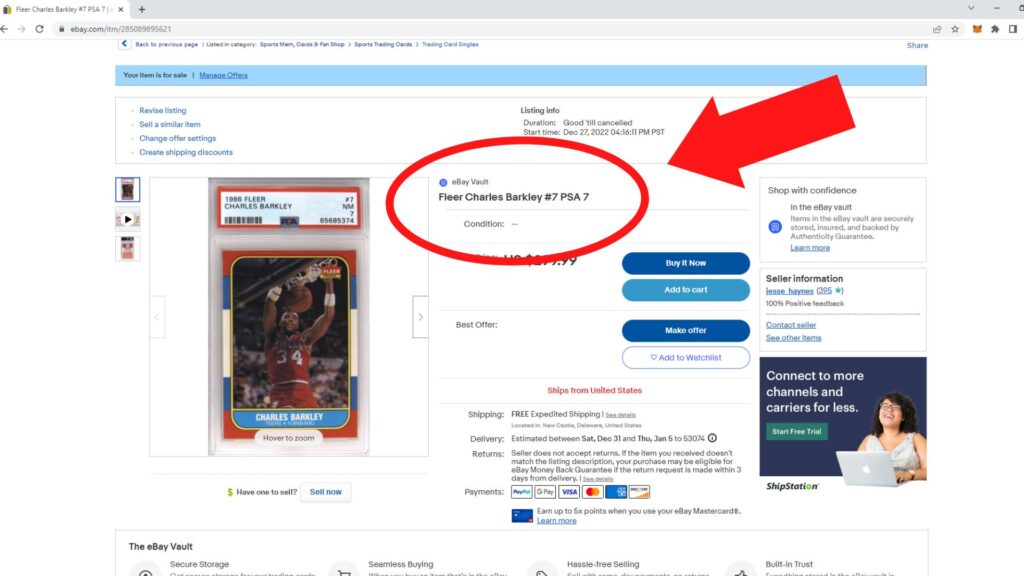 How to find cards on eBay that are vault-eligible
Finding cards to the vault is a breeze, you need to be aware of the requirements and no how to filter the results to meet those requirements.
First, search for whatever it is you're looking for. "Zion Williamson rookie," for example.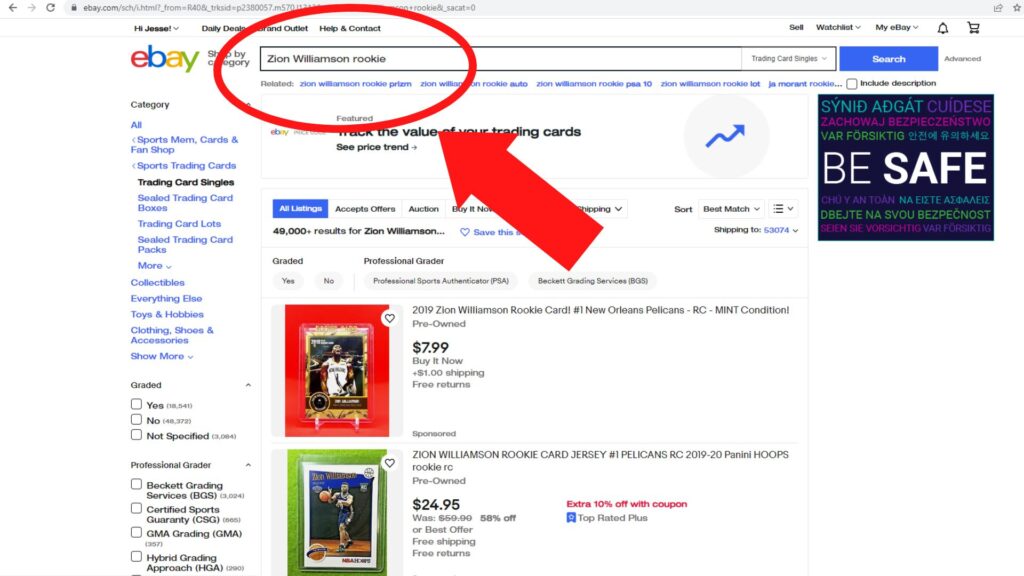 Next, filter the results by "Professional Grader" and pick your favorite grading company(s). This option will be on the left side of the screen if you're on a desktop or under the filter options on mobile.
Next, change the "Price" option to $250 as the minimum price. You'll type the number into the "min" box. After running the search again, this will leave you with nothing but cards that are vault eligible.
That said, note that there are some auction cards that will eventually end over $250 that do not appear when searching this way. This will only show eligible Buy It Now cards or auctions that are already bid at over $250.
Conclusion: Never run out of cards to vault with this search strategy!
You'll never run out of cards to potentially vault if you remember these search tactics. Find the cards you like, send them to the vault, and take advantage of all the great benefits, like no selling fees, free storage, and more.
If you're interested in signing up for yourself, be sure to sign up for the vault today to take advantage of eBay's awesome new service.