A Preview Of January 2023 Sports Card Auctions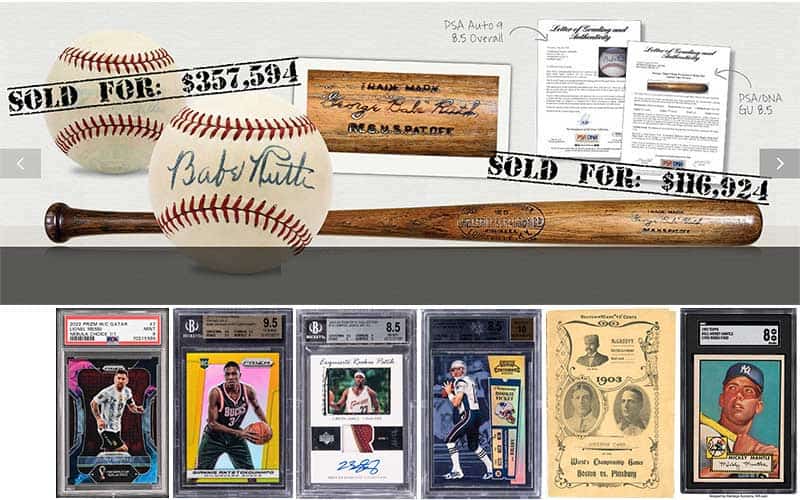 It's the New Year! It's time for cold weather, hot stoves, and New Year's Resolutions. It is also time for another month of great sports card auction action.
January is an interesting month for auctions. Call it the cold of winter. Call it a holiday hangover. Whatever it is, there aren't a large number of auctions ending this month. The good news is that the few auctions we do have this month are from major houses, and include a large number of lots.
Let's start the year in style with a look through January's Auctions!
Goldin Auction 2022 Holiday Monthly Sports Auction
Ending early in January, this one is a monster, with over 3,600 lots. With this many lots, it ticks a lot of boxes. This auction skews modern, but there's still plenty of vintage if that's your thing. Note that January 2023 will also be the first time the Goldin Marketplace is launched along with Weekly Auctions.
Goldin Auction basics
| | |
| --- | --- |
| Auction: | Goldin Auctions: 2022 Holiday Monthly Sports Auction |
| Website URL: | Goldin Auctions |
| Goldin Auctions Next Auction: | Ends Wed. 1/04/23, 10:00 PM |
| Bid Open: | Open |
| Number of Lots: | 3,657 |
| Bidding Guide: | FAQ |
| Buyer's Premium | 20% (an additional 3% for credit card payments) |
Goldin Auctions items of note
With so many items, we can't cover everything, but we'll hit a few highlights. The 2000 Playoff Contenders Tom Brady BGS 8.5/10 is going to sell for a handsome sum. So will some of the featured cards of LeBron James, Giannis Antetokounmpo, Lionel Messi, and Michael Jordan.
Beyond cards (of which there are over 3,000 lots) there are jerseys, memorabilia, and lots more, including the domain name KobeBryant.net.
Beyond the physical items, there are a number of game experiences up for bid. These include great tickets and pre-game access to a number of big sports events and arenas.
The 1953 Bowman Larry Doby PSA 6 caught my eye. Doby followed Jackie Robinson in breaking baseball's color barrier, just a few months after Robinson's historic debut. 1953 Bowman is a gorgeous, simple vintage set that always makes me smile.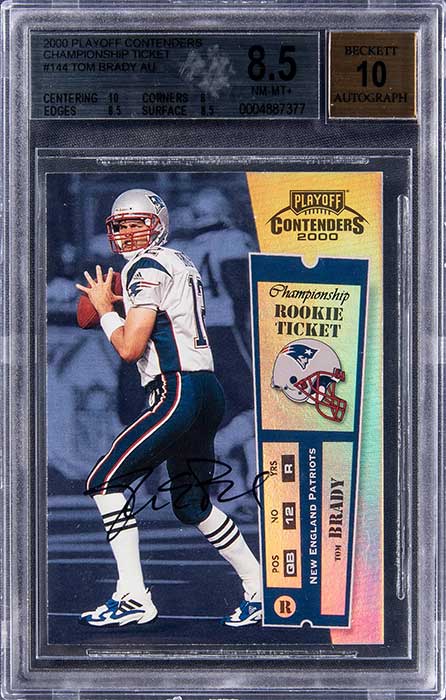 Memory Lane Winter Rarities '23 Auction
As the name implies, there are some rare vintage items in this auction, plus lots of great graded cards, unopened material, and a lot more.
Auction Basics
| | |
| --- | --- |
| Auction: | Memory Lane Winter Rarities '23 Auction |
| Website URL: | https://memorylaneinc.com/site/Lots/Gallery |
| Auction Dates: | Open (12/10/2022) |
| Bid Open: | 1/7/2023 7:00 PM ET |
| Number of Lots: | 1,818 |
| Bidding Guide: | Terms |
| Buyer's Premium | 20% |
Items of Note
There is lots to like here, for sure. One of the headliners is a program from the first game of the very first World Series (in 1903). There's a Babe Ruth autographed baseball, Ruth 1921 Exhibit, 1932 US Caramel, and a 1933 Goudey, along with many other Ruth items.
There is some impressive unopened material in this auction. These include a wax box of 1972-73 Topps Basketball, cello boxes of 1975 Topps baseball and 1976 Topps football. Derek Jeter fans will love the 10-box lot of 1993 SP.
One favorite is a program from a 1927 Barnstorming Tour led by Babe Ruth and Lou Gehrig. Another is a PSA 7 1933 Goudey Nap Lajoie card. Lajoie was a native of Rhode Island, my home state, so I have always had an interest in his cards.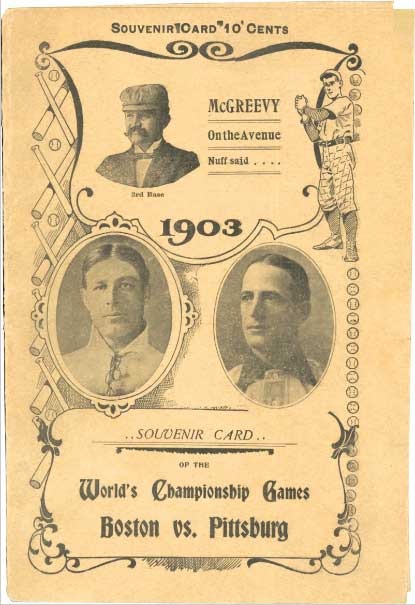 Heritage Auctions: January 26 – 27 Winter Sports Card Catalog Auction
Closing out the month, we have the Winter Sports Catalog Auction from Heritage Auctions. While as of this writing we don't have all the details, it's clear this one is going to offer up some vintage gems.
Heritage Auction Basics
| | |
| --- | --- |
| Auction: | Heritage Auctions January 26 – 27 Winter Sports Card Catalog Auction |
| Website URL: | https://sports.ha.com/ |
| Auction Dates: | Ends January 26 & 27 |
| Bid Open: | Opens on or around Jan 5th |
| Number of Lots: | TBD |
| Bidding Guide: | Heritage Auction Bidding Guide |
| Buyer's Premium | 20% (min $29) |
Heritage Items of Note
If you're a Mickey Mantle fan, check out the 1952 Topps SGC 8 from the Al "Mr. Mint" Rosen find of 1985. If that one is outside your price range, they also have a PSA 6, an autographed PSA 2, a PSA 2, and an SGC 4.
Staying with 1952 Topps, there's a Willie Mays PSA 8 that is a real beauty. The PSA 3.5 Jackie Robinson that is autographed is a very impressive piece, as well.
Vintage set collector? Check out the 1952 Bowman and 1956 Topps complete sets, with every card graded PSA 8. That's right, top condition graded vintage complete sets. Awesome.
The number of museum-quality pieces in this auction is impressive. My favorite? The 1973 Topps Roberto Clemente PSA 10 is a stunning example of Clemente's last regular Topps card, released mere months after his tragic death.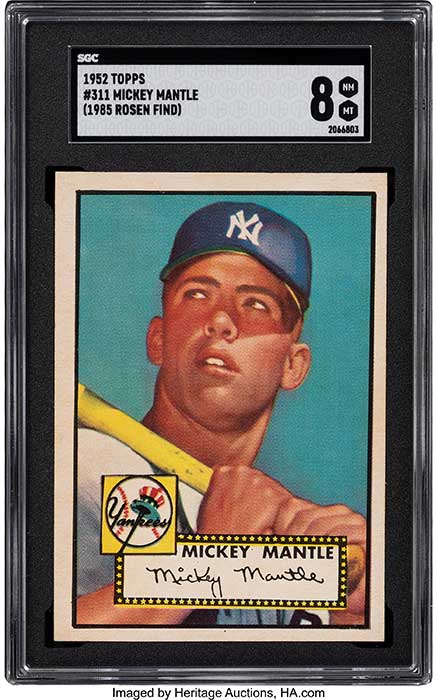 Final thoughts on January Auctions
Goldin, Memory Lane, and Heritage bring us some great auction lots for January. There are some really impressive, museum-quality cards in the auctions, but if you dig a little deeper, some more affordable, but still quite amazing, items are there to be found.
Bid on something in one of these auctions? Win something? Tell us about it at card_lines on Twitter.
Other sports card auctions by month