eBay Vault: Best Practices For Buying And Selling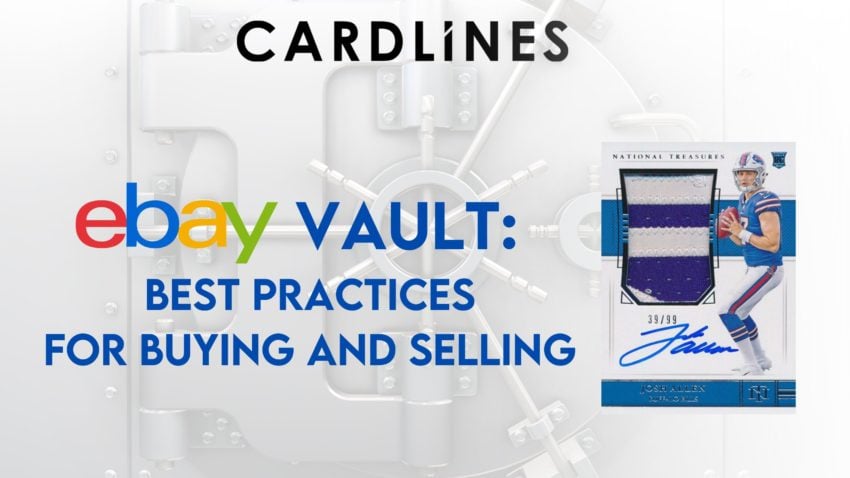 Sponsored by eBay.
The idea of vaults isn't new to the hobby, but the new eBay vault improves on existing vaults while offering a service that is directly linked to the biggest sports card marketplace in the world.

On top of that, collectors who take advantage of the vault now get in on some nice perks for being first-movers.
In today's article, the second in our eBay vault series, we'll be looking at general best practices for buying and selling cards with the eBay vault. And if that piques your interest, be sure to read our detailed overview of the eBay vault and our guide for buying cards with the eBay vault, and our breakdown of the eBay vault's Authenticity Guarantee.
Reintroducing the eBay vault
If you haven't read our detailed overview (pro-tip: you should), here's the 10,000-foot view of what you need to know.
eBay describes the vault as "a secure, climate-controlled, physical storage facility for graded trading cards purchased on eBay." Cards are backed by eBay's Authenticity Guarantee before ever entering the vault, and once they're in place, they can be sold "seamlessly" – we'll be looking at the selling process in a future article.
From there, any approved card that you purchase for $250 or more can be sent to the vault, where eBay will safely store it.
The vault is easy to use, and all you have to do to get going is enroll to use the vault here. From what we've seen thus far, we highly encourage you to do so. 
Best practices for buying using the eBay Vault
We've looked at in-depth buying and selling reports for the eBay vault, but today we wanted to zoom out and offer a bit more practical how-to advice.
In particular, let's look at general best practices for buying and selling. As you navigate the vault as a newcomer (remember, we all are!) here are things to keep in mind.
Sign up before you're ready to buy
It's important to sign up before you're ready to buy so that you'll be ready. No, it's not difficult to sign up, but it does take a bit of time, so take the time beforehand to make sure it's ready to go when you find a card you want to vault.
For what it's worth, you can opt-in to enroll in the eBay vault at checkout, but you have to be logged into your eBay account otherwise you won't get the option to send the card to the vault and enroll in the process.
It's easiest to just take care of the signup, first and foremost.
Understand the rules of the game
The eBay vault is very easy to understand and use. Even easier than I expected, honestly. But that doesn't mean you should go in blind.
To get the most out of it, understand the basic rules: you can store eligible cards for free and list them with just a few clicks, paying no selling fees when they sell.
What's an eligible card? Per eBay, "For now, the eBay vault will accept singles, graded trading cards and graded, autograph, relic, and patch cards $250+ that are directly purchased on eBay."
To make sure you're a vault expert, read this overview.
Buy for flipping
Thanks to the minimal fees, it's easy to make pretty significant profits when you buy singles to flip. As we've discussed in our "how to make money" article, the easiest way to do this is by buying auctions that are misspelled, listed out of season, or listed at a bad time of day.
To be fair, these are tipping flips that I've been using to make money on eBay for years. Now, thanks to the vault, you can make even better profits with the same old tricks.
Buy for holding
Alternatively, the eBay vault is great for buying for holding cards, too. The logic hear is this: your cards are protected, stored and insured in the eBay vault and backed by professional – doesn't that sound better than keeping them in your house?
I've been keeping all my high-end cards in the vault, and when they allow personal submissions, I'll send some from my safety deposit box, too.
Target specific cards and types of listing
When you're buying, you'll get the best bang for your buck by being intentional and finding cards that have higher ceilings – young stars that are still playing and have the chance to add to their legacy. (Or, if you're looking to play it safe, graded HOF vintage is a blue-chip investment). Also, always try to buy auctions instead of BIN cards. As we've shown, they typically sell for less.
Enjoy the perks
Finally, enjoy all the perks. eBay has a lot of great signup advantages for early-adopters, such as free storage and no selling fees, so sign up today and take advantage of that.
Best practices for selling using the eBay vault
Selling with the eBay vault is arguably easier than selling on your own – the listings are largely auto-populated based on the verified details. That said, keep these things in mind. 
Do market research
Like any listing, it's smart to do your homework before listing. In particular, look at recent sales and comps to price your cards – I wouldn't necessarily rely on eBay's recommended pricing to do that part of the job for you.
List BIN (most of the time, at least)
As mentioned above, BIN listings sell for more… so list that way. That only times you should list as an auction is if you a) really want to sell the card quickly, b) have a super hot card that will sell for a lot no matter what (PSA 10 Ja Morant silver prizm, for example), or c) want to plan the auction to end at a certain time – like right after a big game.
Other than that, BIN or Best Offer is the way to go.
Be responsive to questions
Be responsive to questions from buyers. You'll get offers and messages for eBay vault listings just like every other listing, so treat them with the same attentiveness as the rest of your listings.
Conclusion: The eBay vault is easy to navigate with a few best practices in mind
If you can buy or sell on eBay, you can easily use the eBay vault. In general, it's probably easier to list and operate than traditional selling methods on eBay thanks to the automation, and there's reduced responsibility for the buyers and seller, too.
If you're ready to hand over your listing and storage to the pros, now's a great time to do so. Sign up for the vault today to take advantage of eBay's awesome new service.