C3PO Topps Card's Rise As One Of The Most Collectible Error Cards Of All Time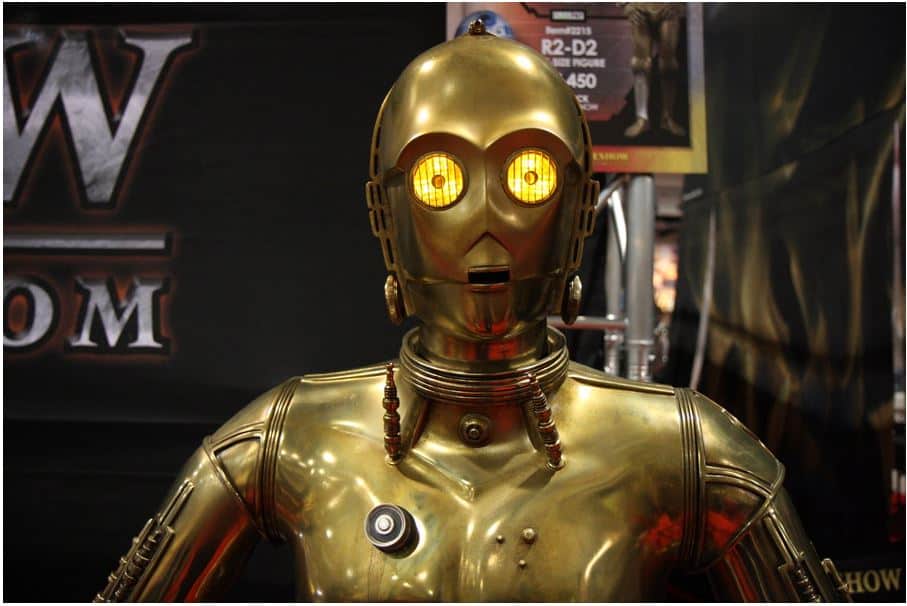 Star Wars is the most popular and culturally relevant movie franchise of all time and The 1977 Topps Star Wars trading card set is one of Topps's most popular and valuable non-sport releases.
Expectedly, cards from its first set are highly sought after by Star Wars collectors. However, while the Star Wars 1977 cards showcase several of Star Wars' OG characters, C3PO's card undoubtedly has the most exciting history.
This article shall review the most famous no-sport error card of all time – the C-3PO "Golden Rod" error card.
Get your hands on a C3PO error card by going to eBay
History of the C3PO error card
Preparations for releasing the original Star Wars movie, Episode IV – A New Hope, included plans for a set of cards. According to Star Wars fandom, Donruss had the first shot at the Star Wars trading cards since they were a subsidiary of Kenner. However, Donruss declined the opportunity, and Topps swopped in after some initial hesitation.
The set showcased stills from the movie and behind-the-scenes shots. It consisted of 66 cards and 11 stickers. The set was a hit for Topps, and cards from the set are some of the most south-after non-sports cards.
However, while some fans were impressed by Luke Skywalker in his Stormtroopers disguise and Darth Vader in his imposing helmet, a few noticed something much more imposing on C-3PO's card. While the card looked like a seemingly harmless picture of C-3PO, a closer look shows C-3PO rocking an extra appendage. While not remarkably noticeable at first glance, a closer look reveals the "golden rod" in all its glory.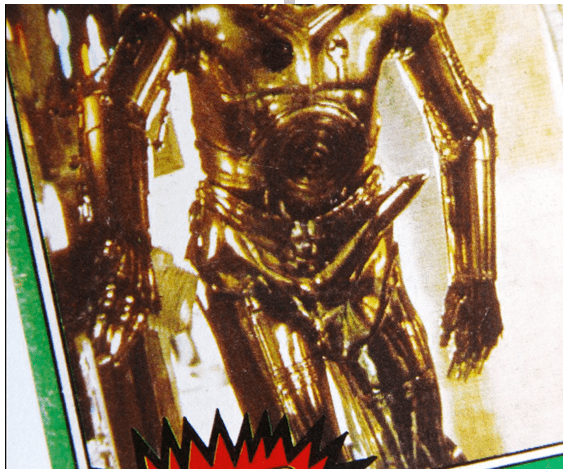 While CP3O's error card is somewhat humorous in appearance and far from being considered vulgar, news of an "obscene" Star Wars card circulated. Parents were not amused and sent several complaints to both Topps and LucasFilms.
Some people campaigned and succeeded in getting the C-3PO card "fixed" in subsequent print lots. However, C-3PO's #207 remains the most talked about card from the 1977 Topps Star Wars checklist.
How the C-3PO "Golden Rod" came to be
Various stories sprung up about how card 1977 Star Wars Topps card #207 happened. People at Lucas Films blamed a disgruntled Topps employee, while those at Topps said the pictures came that way from Lucas films. So how did the image end up on a trading card? Was it a trick of the light? Or a prank? Did Topps print the C3PO error card to boost sales?
Find prices on C3PO error cards on eBay
Gari Gerani weighs in
Gari Gerani was a director at Topps in 1977 and wrote about the C-3PO event in his book. According to Gerani, the card was a result of prop masters at LucasFilms pulling some shenanigans during filming for their amusement just before the photographer took the picture.
"…it was [Lucasfilm photo editor] Sherry Holstein who gave me the images. I'd go into this small room and go through these books of slides and hold them up to the light and look at them with a magnifying glass and select the images for the cards. Then they'd make copies, which were first generation originals, so they were of excellent quality."
He only found out about the card from a call from Len Brown, who was a part of Topps Product Development Department, sometime after the cards went on sale.
"I was off in California again and I get this phone call from Len Brown at Topps saying, "What did you do!? What kind of picture did you give us!?" I had no idea what he was talking about so I asked, and he said, "Apparently, there's a picture out there of C-3PO with an erection and we're getting all kinds of complaints!" Eventually, when I saw the image, I said, "Holy shit, you're right!" I just hadn't noticed this weird appendage coming out of him. But, in all fairness, neither did Topps art director Ben Solomon and neither did Lucasfilm, and they gave me the picture! Still, I was the editor, so the buck stopped with me."
According to Gerani, Topps President Arthur Shorin understood after he explained that "he didn't just notice it" and had them airbrush all future lots.
"the president, Arthur Shorin, …. a very down-to-Earth guy. He wasn't angry, he just wanted to understand what happened, so I explained that I just didn't notice it and that was really it. It was no big deal. That's the way Topps was back then. We were all just guys from the neighborhood in Brooklyn, and … they really stuck by you, they didn't throw you to the lions. This was no one's fault really, so it wasn't a big deal. All Topps did was, in future packs, they just airbrushed out the offending appendage."
This was in 1977, and quality control checks mostly amounted to one guy giving it a look over. These errors were commonplace and didn't warrant too much of a rebuttal.
Anthony Daniels comments on C3PO error card
In 2019, many years after the film's release, Mental Floss interviewed Anthony Daniels, C-3PO actor leading up to his book release I AM C-3PO: The Inside Story.
According to Daniel, there were no pranksters, prop masters, or disgruntled employees to blame for the C3PO card error. Instead, he blamed plain old vegetable oil and said the main culprit was Topps for enhancing a suit malfunction.
"It really was oil. I stood on a platform that gently lowered me into the green liquid. The crew had been kind enough to warm it. Not as much as was indicated by the steam. That was achieved with two electric kettles hidden behind me. The oil permeated the inner spaces between me and the costume legs…. At that time, the pants section of the costume was in two pieces of thin plastic. Front and back. A strip of gold-colored tape fixed them together, [which was] fine. But being immersed in vegetable oil dissolved the adhesive and the two parts sprung apart. The combination led to an over-exposure of plastic in that region."
Daniel believes a mischievous Topps employee noticed the protruding part and enhanced it to make it larger and more anatomically correct.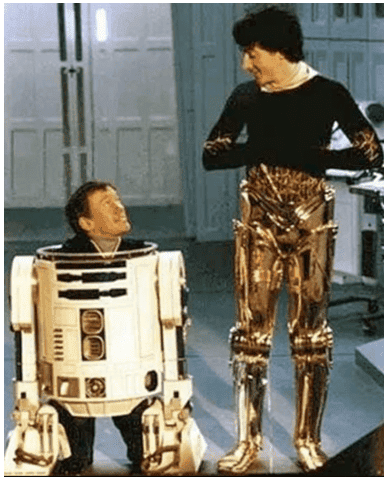 Snag a C3PO error card or variation on eBay
LucasFilm explains
In 2007, LucasFilm looked at the untouched archive photos from 1977, showing the image just as it appeared with the extra appendage. No disgruntled employee or any prankster artist edited the photo. Snopes referenced the now-deleted 2007 explanation.
"It appears that the extra appendage is not the work of an artist but rather a trick of timing and light. The untouched archive photo shows the image just as it appears on the card. The current theory is that at the exact instant the photo was snapped, a piece fell off the Threepio costume and just happened to line up in such a way as to suggest a bawdy image. The original contact sheets from the photo shoot attest to this. They are not retouched in any way, yet still contain the same image. Whatever the real explanation is, the "mischievous airbrush artist" scenario simply doesn't fit.
The C-3PO card became instantly famous and today is a must-have for any non-sport card collection. Gerani says it's the most famous card he's ever worked on!
"It's funny, I've worked on thousands upon thousands of cards over the past five decades, yet none is as famous as this card. I've seen T-shirts printed of this card and all kinds of stuff. Fans love it, and it's become a pop-culture classic in its own right."
Variations of the C-3PO error card
While some collectors got a good laugh at the expense of the Golden Rod card, public outrage ensured Topps had to "fix it," and they did. However, unlike most error cards, there were no recalls.
Topps merely airbrushed the extended appendage out in the future release of the sets. Unlike the Bill Ripkens "Fuck Face" card, there are just two variations of this card. The "Golden Rod" version and the corrected version that has the rod airbrushed out.
C-3PO Golden Rod card value comparison
Topps printed the Golden Rod card during a regular run of the Star Wars card series. This meant Topps had already sold thousands of boxes before they began airbrushing the rod out. Initially, since Topps didn't recall the cards, the corrected version was more valuable than the original Golden Rod versions.
Shop for C3PO error cards on eBay
However, as more and more collectors sought the original version to add to their collection, its value has soared past the corrected version.
There are just five graded PSA 10 copies of the C-3PO error cards, and it's valued at $4,999. The price for the more common PSA 6 to 8 grades ranges from $250 to $400. The corrected versions sell for less than $100. However, the value of the corrected version has experienced a spike since collectors began buying both cards to have a complete pair.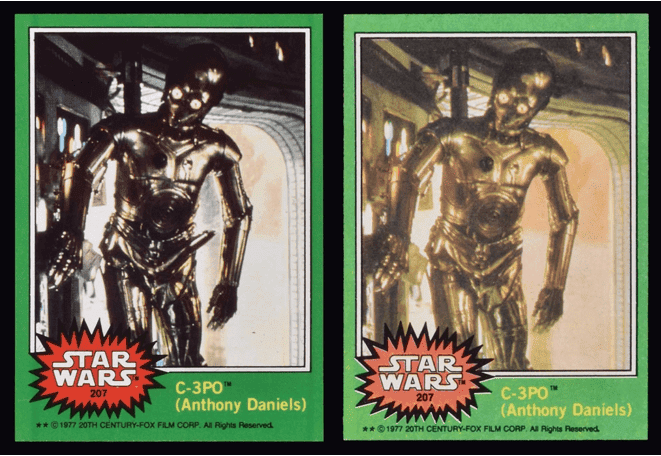 Final thoughts on the C-3PO Golden error card
The C-3PO Golden Rod card is Topps's most popular non-sport card and the most sought-after Star Wars trading card. Star Wars is the second biggest cinematic universe, only behind Marvel. It will keep growing in popularity every year, and the C-3PO card will continuously climb in value as long as the Star Wars universe exists. It's a great addition to any collection, whether you're a Star Wars fan or a collector looking for an ROI.
If you're in search of more recent Star Wars trading cards, we reviewed the 2021 Topps Chrome Star Wars Legacy here.
Shop for C3PO error cards on eBay
Other notable error cards