DraftKings Reignmakers Football Review: Everything You Need To Know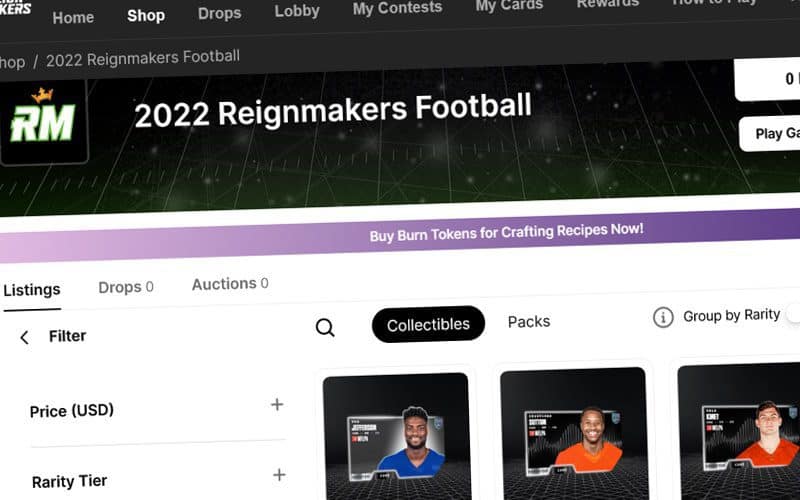 Sponsored by DraftKings
As we wrote about in our recent review of the product, DraftKings Reignmakers fuses the excitement of both sports card collecting and daily fantasy sports to create a never-before-seen experience for anybody who loves sports collecting and fantasy.

We covered everything from how the system works to tiers of rarity, how to get cards, and more. Plus, even the bigger questions, like defining Daily Fantasy Sports. If you haven't had the chance to read the first review, please do so right here. This Reignmakers Football article is supplementary.
Since then, we've tried the product out for ourselves and really enjoy it, and that's why we're working with DraftKings to give you a free pack just for signing up at this link.
But today we're diving into DraftKings Football to look specifically at the new offering featuring NFL players and the best sports cards meets Fantasy Football collaboration on the planet.
Let's give it a look.
Disclaimer: Gambling Problem? Call 1-800 GAMBLER. Marketplace & Daily Fantasy Sports age and eligibility restrictions apply. Reignmakers contests not available in CT, HI, ID, LA (select parishes), MT, NV, PA, WA, and CA-ONT. See marketplace.draftkings.com or draftkings.com for details.
What is Draft Kings Reignmakers Football?
As we mentioned in our original review, DraftKings Reignmakers Football is fantasy football in which you can only play players whose cards you have. This is much like standard fantasy football, in which you can only play the players on your roster. Only in this case, think of your deck of digital player cards as your roster.
And you don't have to have a huge deck of digital cards to win. According to DraftKings, "There are a wide variety of fantasy contests posted in the Reignmakers lobby that cater to participants with both large and small Reignmakers' player card collections. "
Thankfully, it's neither hard nor expensive to acquire player cards. The base cards of even Patrick Mahomes can be acquired for as little as $3 – $5, as we found in this recent video.
While these are 2022 cards in the video, they're still very affordable for building out a competitive roster.
DraftKings kicks off 2023 DraftKings Football with the Reignmakers Keynote.
Reignmakers DraftKings Football contest types
There are three types of Reignmakers Football Contest Types: Classic, Showdown, and Deep Roster. As we noted above, these can work for collectors with a deck of any size. Here's the DraftKings description of how they work:
Classic contests
Classic contests are multi-game slates where participants can complete their lineup from a number of different football games. The roster format for classic contests requires you fill 5 positions: 1 QB, 1 RB, 1 WR, 1 WR/TE, and 1 Flex. Need help creating lineups for many contests? Consider the bulk lineup tool.
Showdown contests
Showdown is a single-game contest where the rosters will have a CAPTAIN position, which gets a 1.5X fantasy score multiplier, and 3 FLEX positions. FLEX means players from all positions are eligible for that slot.
Note: Captain is also a "FLEX" position.
Deep roster contests
Deep roster contests include expanded roster sizes, allowing you to play a larger number of players. Deep roster contests require you fill 9 slots: 1 QB, 2 RB, 2 WR, 1 TE, 1 K, 1 DEF, 1 FLEX.
Contest type analysis
Classic Contests are a pretty standard DFS approach. Nothing fresh, but the old standby is still as fun as it was when it was first introduced.
Since they are same-game, Showdown Contests are a quick hit and will be fun for playing if you're really interested in watching one specific game, although the downside is you need several cards from the same team to make this happen.
Deep Roster Contests are a lot more like the traditional, season-long fantasy football you're used to playing with your friends. If you have enough cards, this will be a fun one.
Note: as far as we can tell, the flex can be "any position." Usually, Flex players must be RB, WR, or TE. With that in mind, if QBs are eligible to be played as flex, we'll monitor the scoring and see if it's advantageous to play a second QB as a flex.
Where do you get Reignmakers DraftKings cards?
Ready to build out your roster but unsure how? Don't sweat it.
Reignmakers cards are easy to come by because they can be acquired in several ways. One great way to get started for free is by taking advantage of our CardLines offer, where you can sign up right here and get a free starter pack.
What comes next? You can also get cards by joining pack drops, bidding on cards at auction, winning cards during Reignmakers contests or purchasing cards on the DraftKings Marketplace.
Also, note that these cards can also be resold if the value changes, much like your physical sports card collection. We drilled down into that in the full review article.
Tiers in Reignmakers Cards
Much like sports cards, Reignmakers cards have different tiers of rarity.
Fortunately, unlike a 30-something color checklist for Prizm, there are only five tiers of Reignmaker cards. Listing from most to least common, they are:
Core
Rare
Elite
Legendary
Reignmaker

The tiers do two different things. For one, it's a scarcity factor that affects their resell value, much like refractors. Different tiers mean different scarcity for a variation of a card, set, and athlete.
And, even more importantly, tiers can mean different contest entry eligibility. Each type of contest has a different requirement for how many of each tier of cards you need to play.

For example, here are the Tiers for Classic Format Contests:
CORE – Can draft cards from any rarity tier
RARE – Must draft at least four rare tier cards or better + one core tier card or better
ELITE – Must draft at least four elite tier cards or better + one rare tier card or better
LEGENDARY – Must draft at least two legendary tier cards or better + three elite tier cards or better
REIGNMAKER – Must draft at least two Reignmaker tier cards or better + three legendary tier cards or better
This means you need more rare/expensive cards to get into the more exclusive contests, but those contests also typically pay better and have less competition. It's a trade off.
A full list of contest-type tier requirements on the DraftKings website.
Superstar cards
Ready to open the wallet and spend vast sums of money to stack your lineup?
Hold on.
Before you do that, note that there are players denoted as "Superstars" and you can't play two superstars in the same lineup. Per DraftKings, "Each contest will have a limit where Reignmakers participants can only draft 1X player per lineup who qualifies as a "SuperStar".
Your SuperStar must also be the highest level of rarity in the contest you're entering, so that means they'll come at a premium.
The good news is that the SuperStar Player list is not very long. It's only six players at the time of writing.
Reignmakers Football is the fresh innovation we've been itching to find
Reignmakers Football is a positive, refreshing spin on DFS that can lead to big payouts while infusing daily fantasy sports with the excitement of sports card collecting that kept people chasing cards for over a century.
If you sign up today using this link, you'll get a free pack on us. Try out Reignmakers for yourself and let us know what you think on Twitter @card_lines. And don't forget to sign-up for our free newsletter!
Now, go make it Reign.