How To Use The DraftKings Reignmakers Bulk Line-Up Tool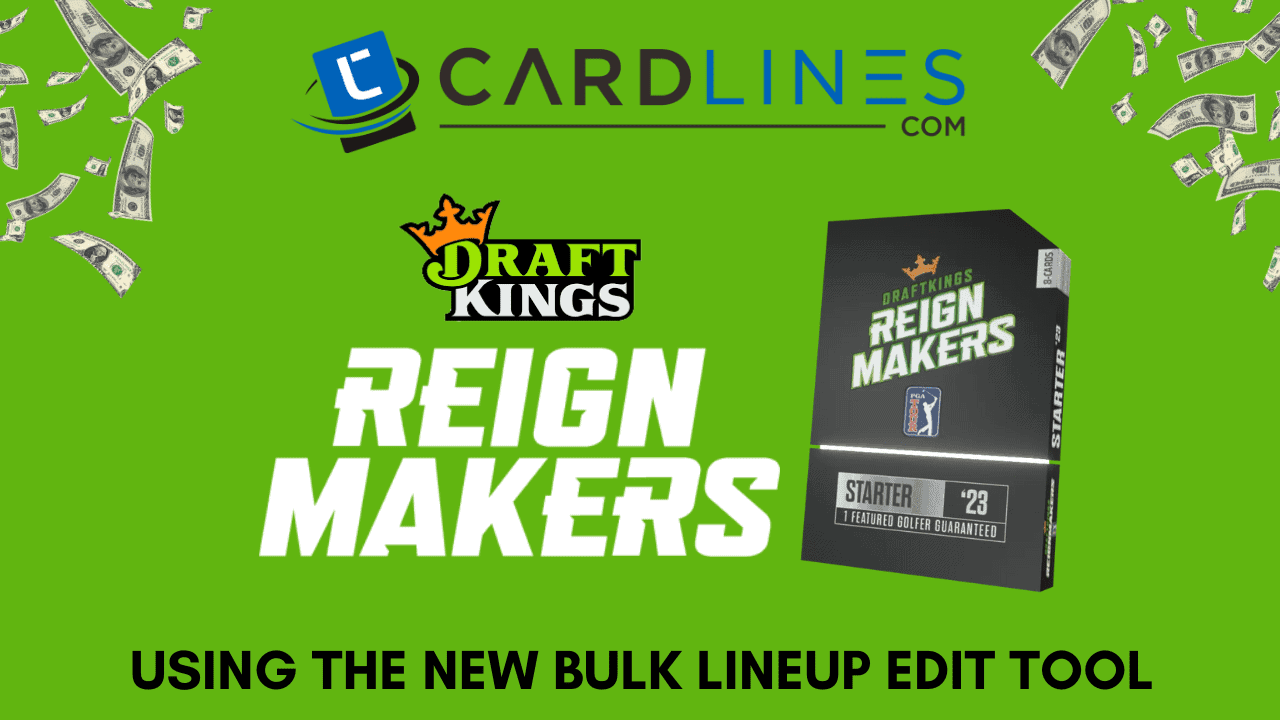 If you're playing in multiple contests and looking for a way to save time, the Bulk Line-Up tool is a brand-new feature from DraftKings Reignmaker that simplifies the process.
In this post, we'll look at the new tool and how it can help you.
As a reminder, we've teamed up with DraftKings to cover everything from how the system works to tiers of rarity, how to get cards, and more. Plus, even the bigger questions, like defining Daily Fantasy Sports. If you haven't had the chance to read the first review, please do so right here. We also have laid out how the Reignmakers Craft and Burn process works as well within Reignmakers.
Since we really enjoy Reignmakers, we're working with DraftKings to give you a free pack just for signing up at this link.
Sign-up for DraftKings Reignmakers here
Check out this Bulk Line-Up Tool video right here.

First, what is DraftKings Reignmakers?
DraftKings Reignmakers combines daily fantasy sports and sports card collecting in a refreshing way that allows collectors to build decks, then use players they have cards of to compete for cash prizes in Reignmakers contest.
And you don't have to have a huge deck of digital cards to win. According to DraftKings, "There are a wide variety of fantasy contests posted in the Reignmakers lobby that cater to participants with both large and small Reignmakers' player card collections. "
Another win for Reignmakers? There's no entry fee for Reignmakers contests provided you own enough cards to complete a lineup. And remember you can earn DraftKings Dynasty Rewards for participating in DraftKings Reignmakers.
Here's our full DraftKings Reignmakers review video.
What to expect with the Reignmakers Bulk Lineup Tool
The Bulk Lineup tool is perfect for players with a lot of cards looking to enter multiple contests. While it might seem a bit foreign of a process if you're used to the typical DraftKings UI/UX, if you take the time to understand it once, it will save you a lot of time moving forward (again, only if you're entering multiple contests).
In short, it allows you to download a spreadsheet that lists out your cards and the active contests, and from there you can mix and match the cards to contests, building out multiple lineups at once. Then, re-upload the spreadsheet and you're good to go!
Sign-up for DraftKings Reignmakers here
Where do you find the Reignmakers Bulk Lineup Tool?
Locating the Bulk Lineup Tool is simple. Just go to the contests tab, click on any of the contests, and then click on the link that reads "Bulk Entry Upload." (Or just click here.)
That will open up a screen that looks like this.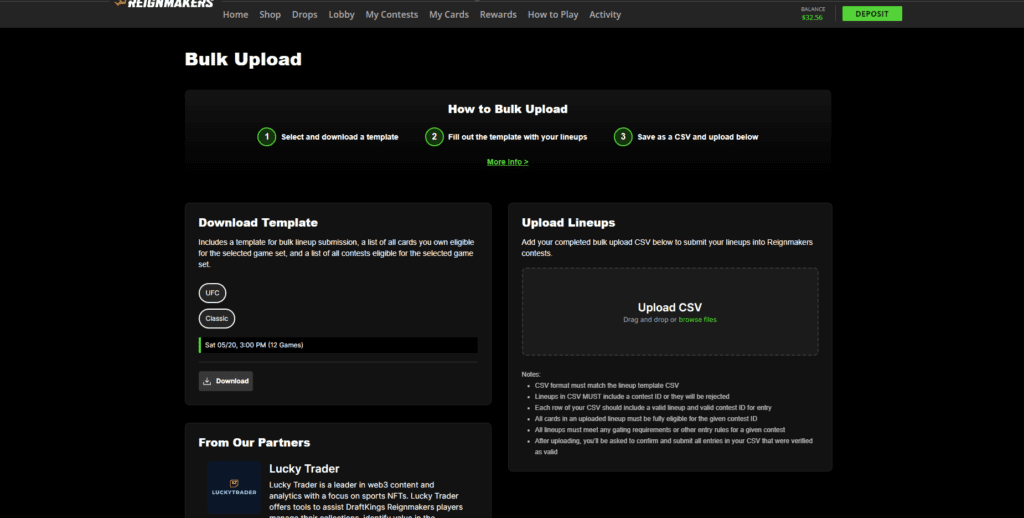 How do you use the Reignmakers Bulk Lineup Tool?
From the Bulk Lineup page, you'll get a choice of which spreadsheet you want to download, sorted by sport. Download the appropriate one to match the contests you want to enter.
Understanding the Reignmakers Bulk Lineup Tool
So you've downloaded the Bulk Lineup tool and now you have a spreadsheet that looks like this: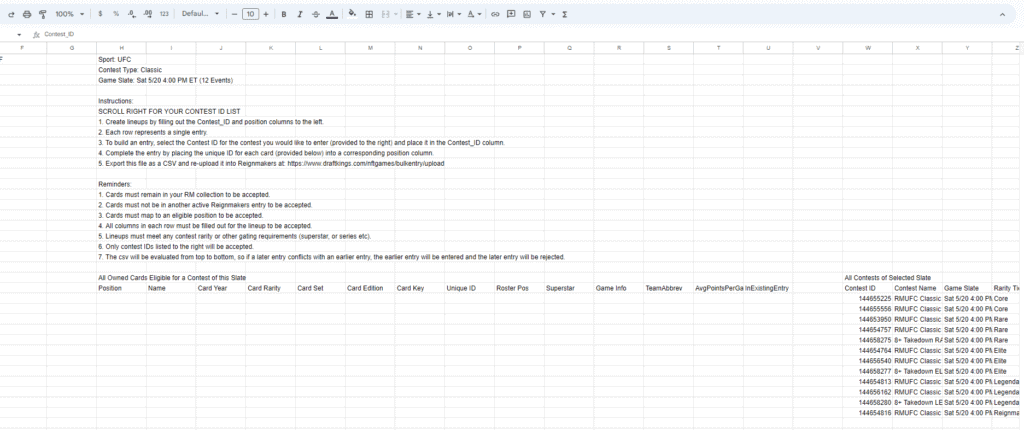 What's next?
The first set of columns shown in the CSV that gets downloaded will show positions tied to the contest type that was selected and blank rows underneath.
This is where you will add the unique ID attribute for each card you'd like to put in a given lineup.
Each row represents a lineup and all columns for the contest type must be filled out for the lineup submission to succeed.
You'll find two different lists on the sheet:
Eligible player card list
When downloading a bulk entry template, users will also get a list of all of the cards they own that are eligible for the corresponding contest slate in the CSV.
This includes:
Position
Name
Card Series
Card Rarity
Card Set
Card Edition
Card Key
Unique ID – this is the value that will need to be included in the lineup entry rows. Each unique ID represents a single Reignmakers card edition
Roster Position – positions within the roster format that this card is eligible for
Superstar – status of whether or not the player is in the "Superstar" bucket of players (only applicable for football)
Game Info
Team Abbrev
AvgPointsPerGame – Player's FPPG average
InExistingEntry – denotes *at the time of download* whether or not the given Reignmakers card is in use in another upcoming RM contest (and thus would be ineligible to use in an uploaded lineup)
Contest info section
Further to the right on the CSV template, users can find the list of all Reignmakers contests that correspond with the game slate they have selected.
This includes:
ContestID – Identifier for the contests. Used in the Input section to denote which contest each lineup row is for.
Contest Name – title of contest
Game Slate
Rarity tier – shows tier to map to rarity requirements for each contest
Entries per user – max number of entries per user for a single contest
Prizes
Contest type – defines contest roster format (example: classic, showdown, deep roster for football)
Portfolio gating rules – text description of any portfolio gating restrictions for a given contest
Lineup gating rules – text description of any lineup gating restrictions for a given contest
Filling contests using bulk entry
When filling out each lineup in the CSV, each row must have a contest ID in the correct column so the upload knows which contest the given lineup will be entered into.
Make sure you copy your information correctly when filling them out to ensure this process works, but if you do, it will save you tons of time!
This is another great example of how DraftKings is continually innovating with the customer in mind. We can't wait to put it to good use.
Conclusion: Entering multiple contests has never been so easy
The Bulk Edit tool seems a bit intimidating at first, but if you take the time to learn it once, the 5ish minutes invested in actually learning the process will quickly prove to be a great investment as you'll be shaving off a lot of time when you enter bulk lineups. 
More lineups, less time, and better odds of winning the big prizes.
Remember, if you sign up today using this link, you'll get a free pack, on us. Try out Reignmakers for yourself and let us know what you think on Twitter @card_lines. And don't forget to sign-up for our free newsletter!
Now, go make it Reign.