eBay Vault: Is It Better Than The PWCC Vault?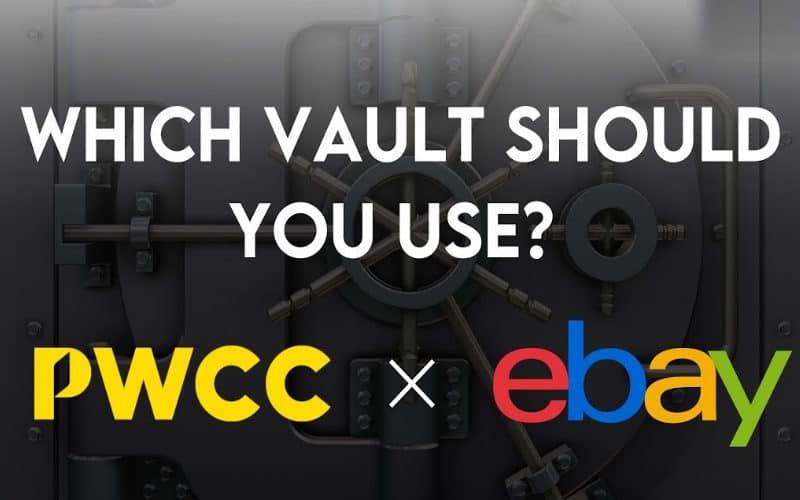 Content Sponsored by eBay
The idea of vaults isn't new to the hobby, but the new eBay vault improves on existing vaults while offering a service that is directly linked to the biggest sports card marketplace in the world. On top of that, collectors who take advantage of the vault now get in on some nice perks for being first-movers.

In today's article, we're going to compare the eBay vault to the PWCC Vault, answering questions about which one you should use and for what cards. And if that piques your interest, be sure to read our detailed overview of the eBay vault and our guide for buying cards with the eBay vault, our breakdown of the eBay vault's Authenticity Guarantee, or even our best practices for the eBay vault.
Reintroducing the eBay vault
If you haven't read our detailed overview (pro-tip: you should), here's the 10,000-foot view of what you need to know.
eBay describes the vault as "a secure, climate-controlled, physical storage facility for graded trading cards purchased on eBay." Cards are backed by eBay's Authenticity Guarantee before ever entering the vault, and once they're in place, they can be sold "seamlessly" – we'll be looking at the selling process in a future article.
From there, any approved card that you purchase for $250 or more can be sent to the vault, where eBay will safely store it.
The vault is easy to use, and all you have to do to get going is enroll to use the vault here. From what we've seen thus far, we highly encourage you to do so.
Introducing the PWCC Vault
The PWCC vault is "the original," per the PWCC website, and with 24 years of service, they certainly have experience in the business, however, one should note that it has not always been rosy.
The PWCC vault helped establish the foundation for what a vault should be: a place to archive cards and have peace of mind that they're safe and secure without keeping high-dollar cards in your house (or safety deposit box).
PWCC focuses on asset liquidity, allowing anybody who uses the vault to have access to Weekly Sunday Auctions, Monthly Premier Auctions, the Wax Wednesday Auctions, and the Fixed Price Marketplace.
PWCC also offers PWCC Capital, which offers collateralized lending against your vault portfolio. If you've assembled a large vaulted collection, this could be useful for extra flexibility.
PWCC fees and usage
Fees for using the PWCC Vault are a bit less straightforward with reports of some inconsistent pricing and special rates for PWCC VIPs.
While we can not verify, according to the PWCC website, Vaulting is free for any card with a market value of $50 or greater (or $3 if it's less than $50).
There is a "1% fulfillment fee applied to any asset which is fulfilled or transferred out of the PWCC Vault. This fee is increased to 3% if the asset is removed within 90 days of archival.
How does the PWCC Vault work?
The PWCC Vault is refined and easy to navigate. If you're interested in seeing what the experience looks like for yourself without submitting your cards (or even signing up), here's a demo of a 14-card collection that has a six-figure ensured value.
Not how you can filter the cards to your liking, and by clicking on any of the vaulted cards, you have the option to share, sell, or ship them.
Comparing the PWCC Vault to the eBay Vault
If you're reading this post, I'm going to assume you're already caught up on how the eBay vault works and we can compare the two: PWCC and eBay. If not, please read this article on the eBay vault to get up to speed.
And with that in mind, here is our comparison of the PWCC Vault and eBay vault.
Pros of the PWCC Vault
The PWCC Vault has been around for over two decades, and with that many years of development, there's a lot of experience and offerings.
It's sophisticated, too, with a customer-friendly interface that both looks great and is easy to navigate. The prices are fair, as well, and for insured peace of mind with card storage, most collectors are willing to pay what it takes – especially for their high-end cards.
Collectors can also submit their personal collections to the PWCC vault, too, which is a feature eBay isn't allowing yet (but we've been told it's coming).
It's very easy to list cards on the PWCC marketplaces from the Vault, too – something that can be done with just a couple clicks of the mouse.
But it does have one major limit: it's not eBay.
Pros of the eBay vault
The best thing about the eBay vault is the people in charge – it's eBay. eBay is, and will always be, the juggernaut in selling sports cards, and having access to eBay with its own vault is enough competitive advantage leaning in eBay's way.
Remember, eBay actually kicked PWCC off the platform late in 2021 after a shill bidding scandal, which inspired the weekly auctions on the PWCC marketplace. But those auctions are more of a "we'll just do it our own way" push-back movement and don't have near the audience as an eBay auction.
That's not to say the final sales aren't prices that should be taken seriously – they often are – but eBay still drives top dollar.
Think of it this way: if you were a street vendor, would you rather sell your product in a town that has a population of 5,000 or New York City? eBay, in this scenario, is New York City.
The eBay vault also has free storage and zero selling fees at the time of writing this article, and that's a plus too.
Conclusion: Which vault should you pick to store and sell your cards?
Because of its integration with the eBay platform, the eBay vault is the superior vault for collectors who buy and sell on eBay… which is most of the collectors.
PWCC is a good vault and if eBay is not your go-to source for sales you should consider it, but if you're like most of us, the eBay vault is the obvious choice. It's also offering some great perks to new sign-ups since it's still in its early days.
And if you have any questions, Tweet us @card_lines and be sure to sign up for the vault today to take advantage of eBay's awesome new service.